What George Carlin Was Really Like On The Set Of Bill And Ted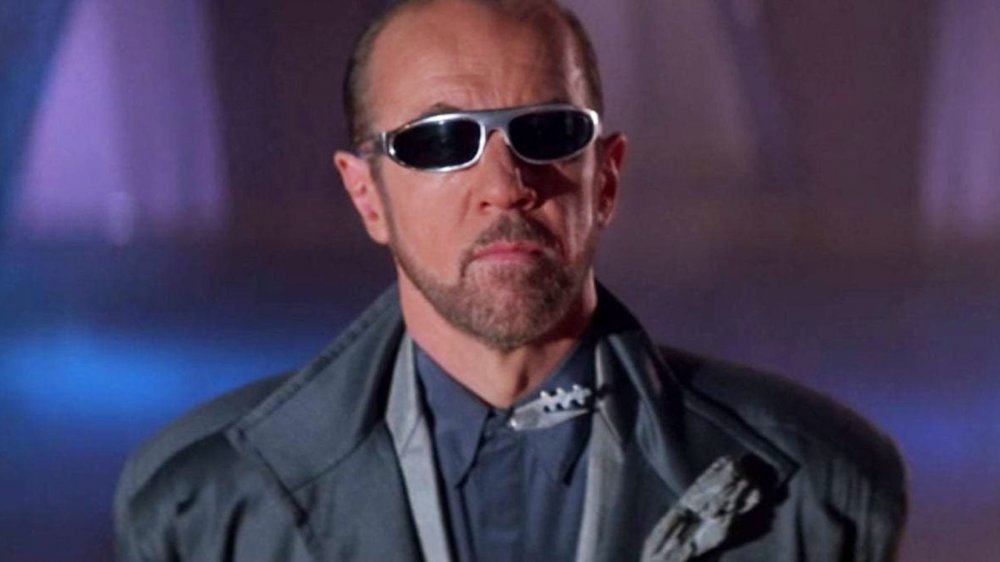 Orion Pictures
When you hear "Bill & Ted's Excellent Adventure," you immediately think of Keanu Reeves and Alex Winter, who played Ted "Theodore" Logan and Bill S. Preston, Esq., respectively. But there's another character who helped make Bill & Ted's Excellent Adventure an enduring '80s classic: Rufus, played by the late, legendary George Carlin.
Rufus is the time-traveling mentor who comes back from the future to tell Bill and Ted that they're meant to unite the world with their rock music, and who helps them finish their high school history presentation. The ensuing story sees the two slacker buddies criss-cross through time to scoop up various historical figures so they can pass their class.
Best known as a stand-up comedian, Carlin dabbled in acting, with Rufus ranking up there as one of his most memorable roles. He appeared in both the 1989 original and the 1991 sequel Bill & Ted's Bogus Journey. And although Carlin died in 2008, his memory lives on in Bill & Ted Face the Music, the 2020 follow-up to the iconic franchise where — spoiler alert — Carlin makes a brief posthumous cameo via archival footage from the previous films. (Bill & Ted Face the Music premiered on Friday, August 28, on both streaming services and in select movie theaters.)
During a recent Zoom interview attended by Looper, Reeves and Winter reminisced about working Carlin, revealing in the process what he was really like to be around.
Keanu Reeves and Alex Winter were starstruck by George Carlin on the Bill & Ted set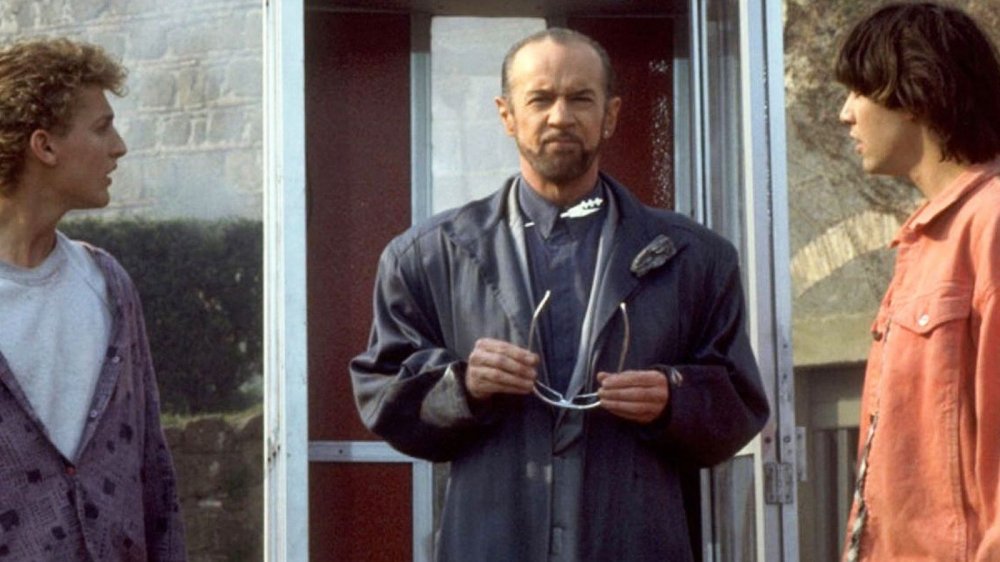 Orion Pictures
"He brought class," said Reeves with a laugh when asked what Carlin contributed to the Bill & Ted franchise. Joking aside, though, both Reeves and Winter have nothing but respect and admiration for the famed comedian-actor, who they said was a pleasure to work with.
"He was just down to earth and worked really hard on Rufus," Reeves shared. "And he brought a weight to it — I mean, it's George Carlin coming from the future. It was really extraordinary to have a chance to work with such an incredible person and artist."
Added Winter, "I have an overall warm and fuzzy memory and gratitude about having been able to work with George so closely. Keanu and I, we were young, but we had both been around famous people, even when we did the first Bill & Ted. But George was a different kind of famous."
Winter called Carlin a "rock star" within the comedy community, helping blaze a path for future counterculture comics to reach superstardom. Aside from, say, Lenny Bruce, "there'd never really been people like that before — they were godlike in a way," said Winter. "They were so much more than just a personality."
So, even though Winter and Reeves were the stars of the Bill & Ted franchise, the duo was "very starstruck" by Carlin's presence on the set and humbled by his personable nature.
"He was very open and accommodating; you didn't feel a wall with George at all," Winter concluded. "I just have an overall feeling of gratitude that we got that experience, and a huge gratitude that he's in the movie. He really elevated Bill & Ted just by his presence."
Bill & Ted Face the Music is out now in select theaters and on video-on-demand platforms.