The International Thriller Everyone's Watching On Netflix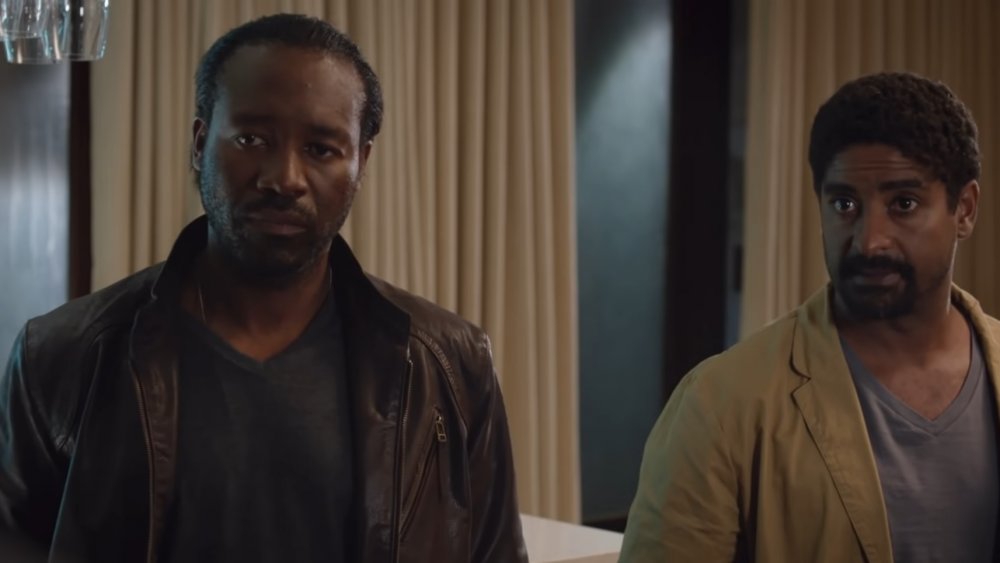 Gravel Road Distributing Group
One of the biggest benefits of the proliferation of streaming services is the opportunity to see films on which you might otherwise miss out. Case in point: On August 28, Netflix added a South African and Angolan action thriller called Santana. It's the first time the streamer has added a movie from Angola (via Ver Angola), and audiences are showing a clear interest in seeing what this international African blockbuster has to offer. At the time of writing, Santana was sitting comfortably on the list of the top 10 most viewed movies on Netflix.
The film stars Raul Rosario and Paulo Americano as Matias and Dias, two brothers seeking revenge against the drug lord who killed their parents. While the setup isn't exactly original, the film's southern African settings definitely give it a unique flair when compared to many other offerings on Netflix, which could be why viewers are flocking to the film. Here's what you should know about Santana, the crime thriller currently captivating Netflix.
What is Santana about?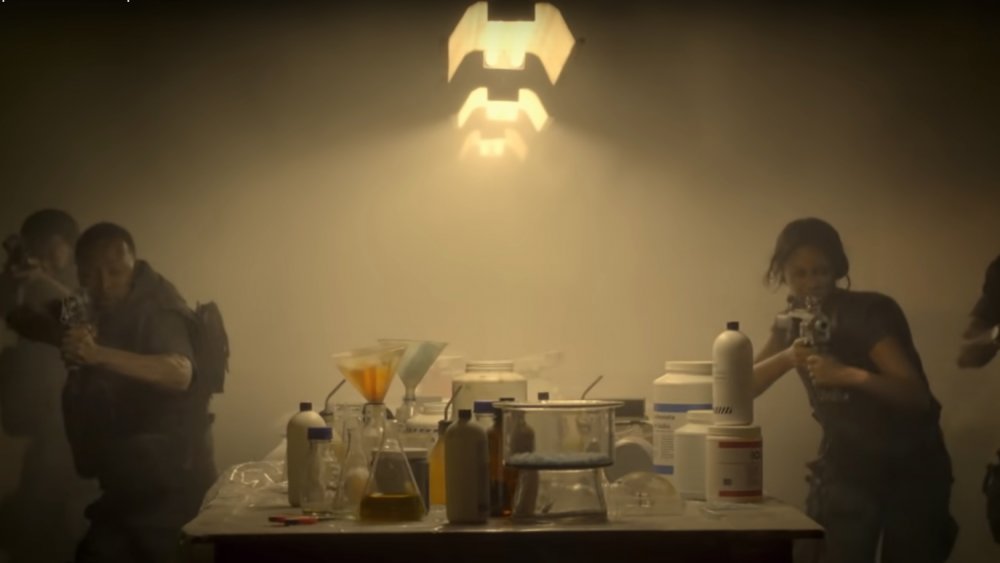 Gravel Road Distributing Group
Santana begins in Angola 35 years in the past. In the opening scene, we see a pregnant woman and her young son returning home from church, only to be ambushed by armed men. Both mother and son are shot. The traumatic event sends the mother into labor, which she unfortunately does not survive. Her newborn baby, however, does.
In the present day, the young boy and his baby brother, Mathias and Dias, are high ranking law enforcement officers in Luanda, Angola. While Mathias is a well-respected commander in the army, Dias is a troubled special forces operative who has turned to alcohol and an obsession with catching the people responsible for his parent's death to numb the pain of his stolen childhood. Dias' commitment to his personal investigation seems destined to result in disappointment until the brothers participate in a massive drug bust. While interrogating one of the criminals they've arrested, they learn that the kingpin behind the drug ring, Ferreira (Rapulana Seiphemo), is also the person responsible for their parents' deaths.
After the brothers track Ferreira to Cape Town, South Africa, they embark on a dangerous international mission to bring down one of the largest drug smuggling operations in the region and claim justice for their parents.
Santana is a proudly African production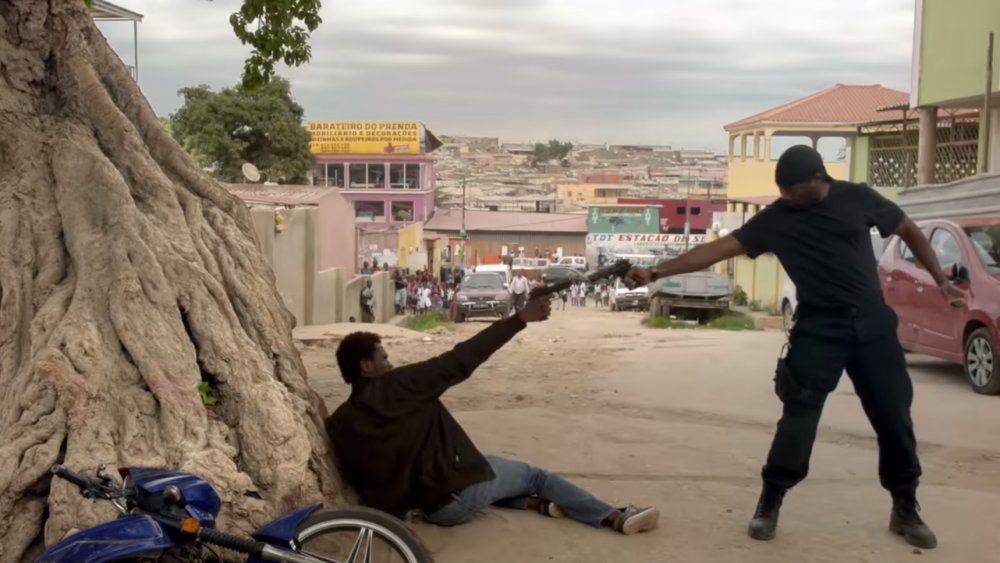 Gravel Road Distributing Group
While Santana has enough nerve-wracking gunfights and familial drama to draw viewers in, it also offers a unique perspective on the action genre. Rather than being an action movie set in Africa, co-director Chris Roland explained to Cape Town Etc that he and his crew, "Wanted to make an African action film."
Elements of the movie were inspired by the stories of co-director Maradona Dias Dos Santos' uncle, who worked in law enforcement in Luanda. The movie was filmed on location in the Angolan capital and Cape Town. According to Cape Town Etc, the crew for the Cape Town shoot was made up entirely of South Africans. The cast is a mix of actors from South Africa, Angola, and other African nations. Several actors from the movie, including Seiphemo, are well known in the world of South African TV and cinema. Others, such as Rosario and Americano, the two leads, were relative unknowns before they were cast.
While the success of the movie on Netflix is a boon for cinema across the continent, it's not the only example of African genre film available on the streamer.
Netflix has a great selection of African genre films and TV series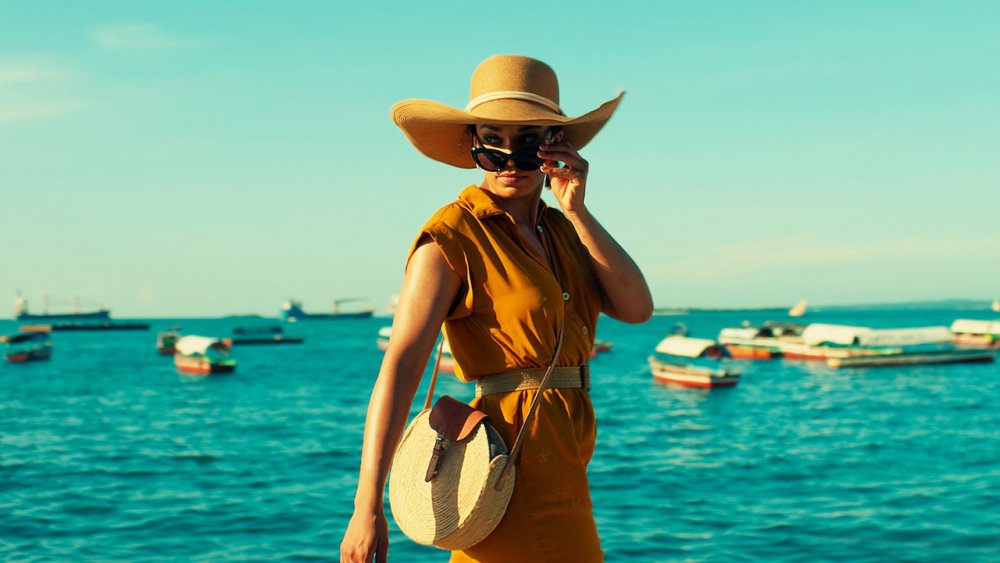 Netflix
If Santana gave you a taste of thrilling African cinema and you're eager for more, Netflix has a pretty impressive selection of action, suspense, and even horror options from all across the continent.
Those looking for more gritty action crime dramas should check out the Netflix original Queen Sono. This South African series tells the gripping story of a highly trained spy, Queen Sono (Pearl Thusi), whose covert work and personal life begin to clash. There's also Shadow, another South African series about an ex-cop with congenital analgesia, or the inability to feel pain, who turns to off-the-books operations to fight crime in Johannesburg.
For something a little more in the style of House of Cards, check out 4th Republic. This Nigerian political thriller is about a heated gubernatorial election that boils over into violence and intrigue after a deadly shooting at a polling site. Another Nollywood film with a narrative full of twists is The Set Up, which follows a con artist who realizes she's in over her head after being recruited to help secure a marriage between a powerful businessman and a wealthy heiress. And if you're looking for a straight horror flick, try out The Figurine, a classic "cursed object" thriller that, according to Nolly Silver Screen, "marked a turning point for the [Nigerian] film industry."
There are many more movies from which to choose — if you're not sure where to start, join the crowd and give Santana a try.