The Yellowstone Season 3 Detail That Could Hint At John's Fate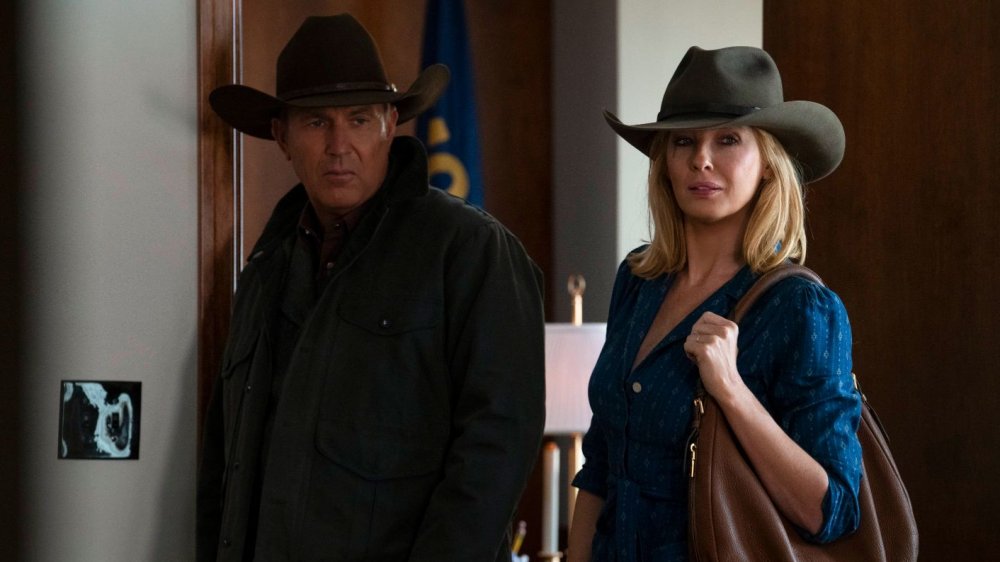 Paramount Network
Contains spoilers for the Yellowstone season 3 finale
Paramount Network's smash-hit neo-Western series Yellowstone ended its third season with a bang — both literally and figuratively. Episode 10, entitled "The World is Purple," featured one of the most devastating sequences in the history of a series prone to shocking twists. After what could rationally be described as a somewhat tame third season, the central conflict between John Dutton (Kevin Costner) and carpetbagging hedge fund manager Roarke Morris (Josh Holloway) rapidly intensified — culminating in a tense negotiation scene between all the interested parties, followed by a coordinated hit on the Dutton principals.
After leaving Governor Perry's (Wendy Moniz-Grillo) office, having rejected Roarke's final overture, John pulls off to the side of the road to help a road-tripping Californian with a young son and a flat tire. Just as John is finishing up the tire change, a sketchy van pulls up next to him and stops in the middle of the highway. As John goes to investigate, armed men pop out the back and gun him down in cold blood. While this shocking assassination is taking place, prodigal daughter Beth Dutton (Kelly Reilly) receives a mysterious package at her office. She tries to warn her naive assistant not to open the "gift," but it's too late; the mail bomb goes off, blowing Beth and her office sky high. As if that wasn't enough, Kayce Dutton (Luke Grimes), who settled into his father's role as Montana Land Commissioner this season, was also beset by an armed assassination attempt.
It's a lot for fans to process in the hiatus between season 3 and 4, but that hasn't stopped some eagle-eyed viewers from speculating about the tragic turn of events based on a few minor details that most casual watchers may have missed.
An unlikely mastermind behind the attempt on John Dutton's life?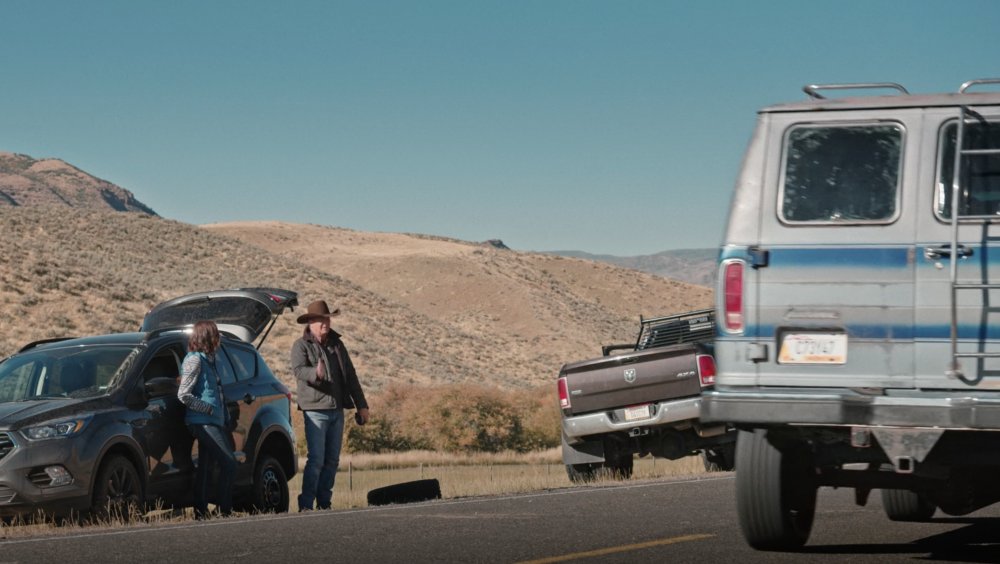 Paramount Network
Given the sequence of events that occurred on Yellowstone season 3, episode 10 — and Roarke Morris' essentially infinite supply of resources and money — we're certainly led to believe that he's the one behind the coordinated hit on the Duttons. Some viewers on Reddit, however, are pointing to a subtle detail in John's assassination scene that they say suggests a different culprit.
The community over at Yellowstone: 3x10 "The World is Purple" – Official Discussion Thread pointed out that both the woman that John stopped to help and the van that pulled up to shoot him were from California. The woman was a Californian by her own admission, whereas the van gave its origins away via a quick shot of its out-of-state plates. The fans think that this suggests two potential facts about John's shooting. First, perhaps the damsel in distress was set there as bait. (That seems a bit unlikely, though, since she had her child with her and ended up getting a few bullets in the back herself to cover up the crime.) Second, it's possible that Roarke wasn't behind the shooting at all, and that maybe John took all that lead in his chest as a result of an altercation earlier in season 3.
At the beginning of the season, John dealt with a few Californian bikers trespassing on his land. He taught them a harsh lesson about respect for property rights by forcing them to dig their own graves at gunpoint. He eventually turned them loose in exchange for a promise never to return. The symmetry between the biker gang's state of origin and the plates on the assassination van is a little too coincidental for some fans.
Still, it's certainly an interesting theory. Hopefully, we'll find out the truth as soon as Yellowstone season 4 airs its first episode.