Easter Eggs To Look For In Phineas And Ferb The Movie: Candace Against The Universe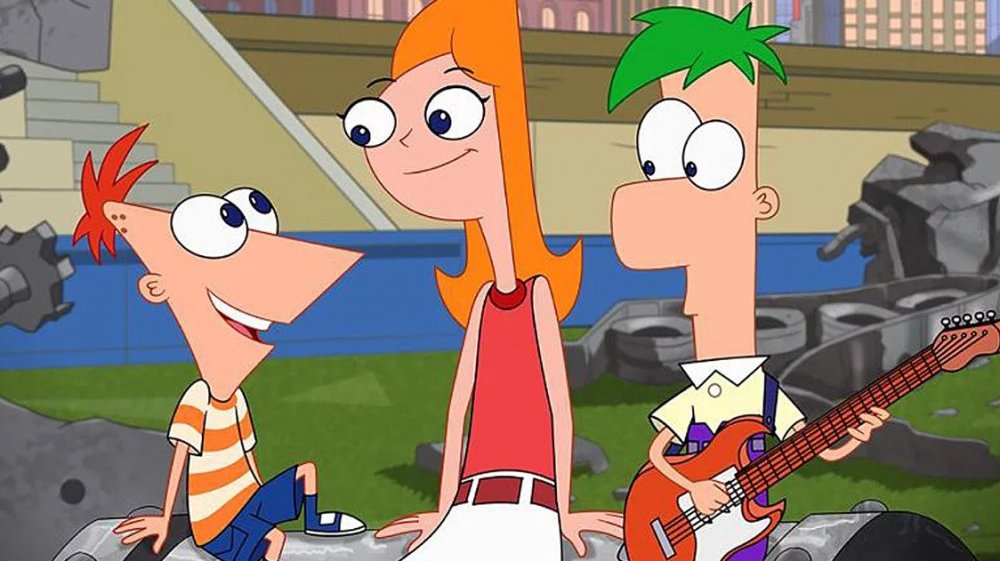 Disney+
Phineas and Ferb fans, get ready to sharpen your eyes.
The Disney+ original Phineas and Ferb the Movie: Candace Against the Universe is almost here, and we have received assurances from Mickey himself that the film will come absolutely loaded with Easter eggs for the series' dedicated fans — so many, in fact, that we're here to point out some of the best of the bunch to watch out for when the movie is released on Friday, August 28.
As you undoubtedly remember, Phineas and Ferb was a fixture on the Disney Channel (and later, Disney XD) between 2007 and 2015. Created by Dan Povenmire and Jeff "Swampy" Marsh, the series centered on young Phineas Flynn (Vincent Martella) and his stepbrother Ferb Fletcher (Thomas Brodie-Sangster on the series, later voiced by David Errigo Jr.) as they try to make the most of their summer vacation. They do so by taking on tremendously complicated, ridiculously complex, often straight-up impossible "projects" on a daily basis — to the outrage of Phineas' teenage sister Candace (Ashley Tisdale), who's bent on exposing the boys' activities to the always-oblivious adults in their orbit.
Each episode's B-plot nearly always involved the boys' pet platypus, Perry, who's secretly a spy for a shadowy agency called O.W.C.A. (Organization without a Cool Acronym). Perry's constantly tasked with foiling the plots of the evil-ish Dr. Heinz Doofenshmirtz (Povenmire), and their daily tussles virtually always have the curious side effect of wiping out all traces of Phineas and Ferb's activities before Candace can expose them.
Phineas and Ferb the Movie: Candace Against the Universe will see Candace kidnapped by aliens and whisked away to a "utopian" planet where she can be free of her pesky brothers — which, of course, prompts the boys to leap into action to save her. Easter eggs will fly fast in the upcoming film, so let's break down some them now.
Something strange in the opening song
The original songs by Povenmire and Marsh, both accomplished musicians, were always one of the best parts of Phineas and Ferb, and the new movie cues one up right off the bat: "Such a Beautiful Day," which Candace sings as she's cycling through the neighborhood. The tune veers between sparkly pop (as Candace sings about what an awesome day it is, and how nothing can spoil it) and metal-y rock (as she rattles off a list of all of her brothers' most annoying "projects").
Fans will be delighted by the references to some of the series' most hilarious episodes in the opening song of the movie, but check this out: We were able to find one project that Candace describes in her sunny tune that was never depicted on any episode of Phineas and Ferb. Can you catch it?
Finally, the theme song we've all been waiting for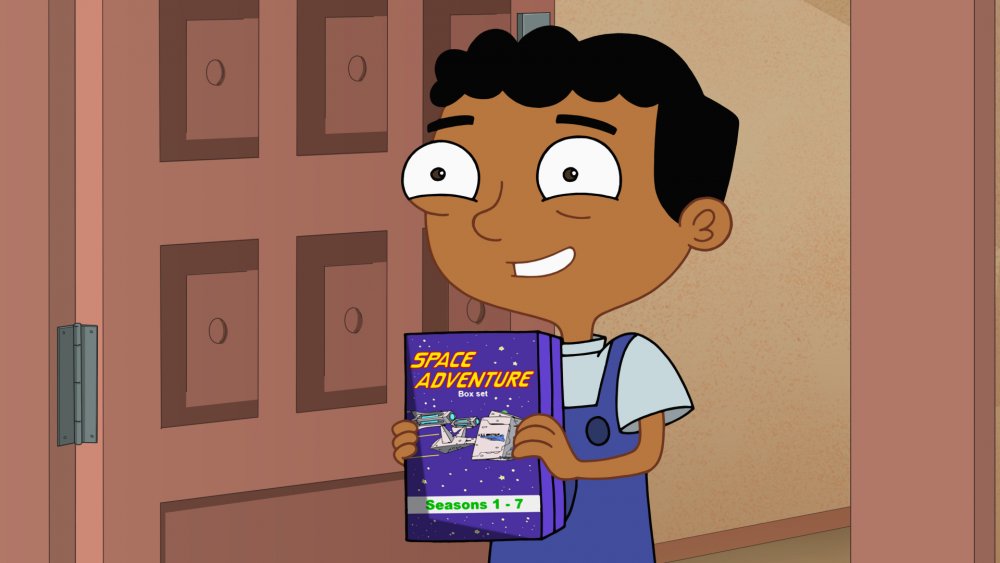 Disney+
Who could forget Space Adventure, the biggest movie series of all time? (Well, except maybe Stumbleberry Finkbat, the other biggest movie series of all time.) Phineas and Ferb are huge fans of the very Star Trek-esque films, and now, it looks like they're about to become fans of a companion Space Adventure TV series as well. 
You may remember that multiple characters across several episodes of Phineas and Ferb have sung snippets of the Space Adventure theme song (featuring the lyrics, "Space adventure! It's an adventure in space!") – but in Phineas and Ferb the Movie: Candace Against the Universe, we'll finally get to hear the whole thing. It's even on the movie's official soundtrack.
Won't someone think about the watermelons?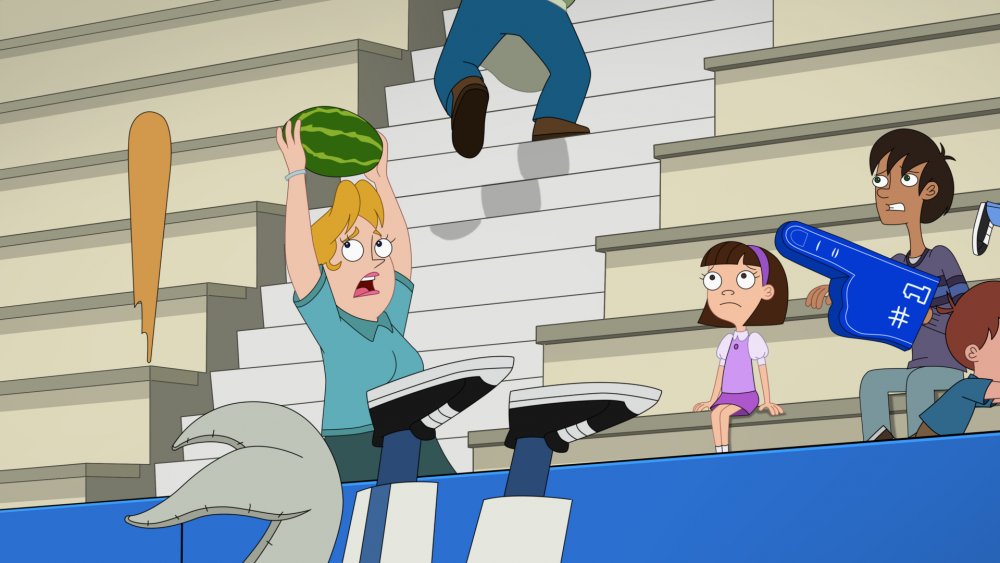 Disney+
Phineas and Ferb the series incorporated many running gags — like a super-silly one involving fruit. On the show, during moments when chaos broke loose and everyone in town was trying to run away from danger, a woman could be seen desperately trying to protect the watermelon that she was lugging around. Her panicked exclamation was always the same: "MY WATERMELON!" 
The gag was a fan favorite, and we'll be seeing and hearing it again in Phineas and Ferb the Movie: Candace Against the Universe. Don't worry, though — no actual watermelons were harmed in the making of the film.
For some reason, we're suddenly hungry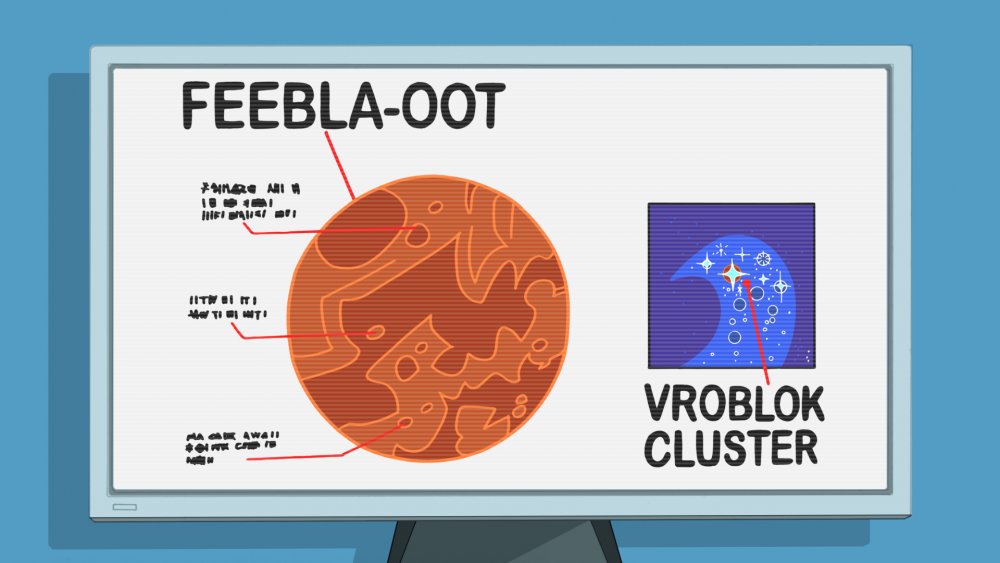 Disney+
At one point in Phineas and Ferb the Movie: Candace Against the Universe, we'll glimpse a chart illustrating the location that Candace has been spirited away to: a planet in the "Vroblok Cluster" called "Feebla-Oot." 
Well, first things first: "Vroblok" is probably just another funny made-up word, which isn't uncommon in the world of Phineas and Ferb. As to the name of the planet, though: Does its color and texture remind you of anything? A burger patty, perhaps? When read backwards, "Feebla-Oot" becomes "Two all-beef" — as in, "Two all-beef patties." Add special sauce, lettuce, cheese, pickles, onions, and a sesame seed bun, and you've got a McDonald's Big Mac.
Something familiar about a few of these characters in Phineas and Ferb the Movie: Candace Against the Universe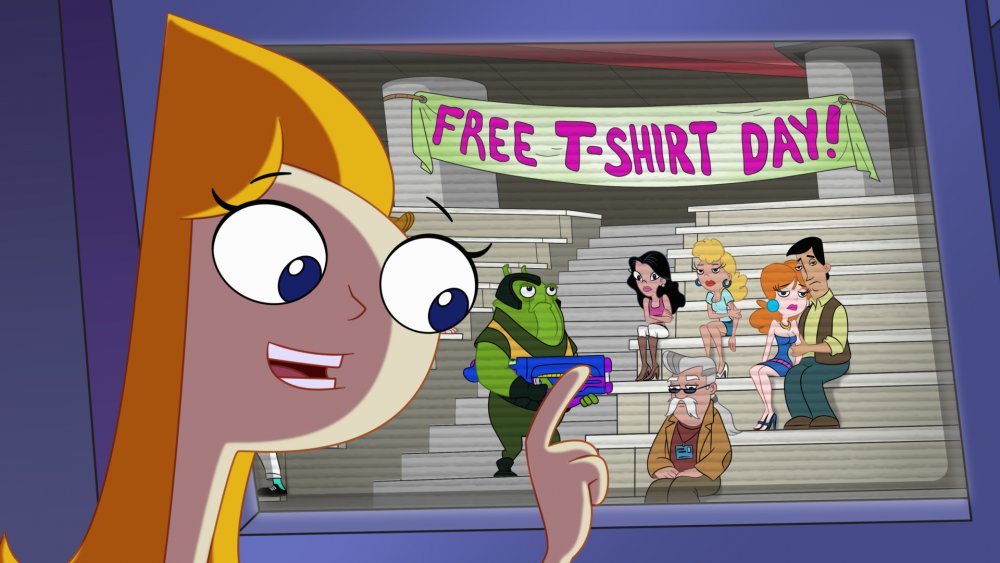 Disney+
Phineas and Ferb was also known to pepper the proceedings with memorable one-off or recurring characters, often voiced by ridiculously famous people. You can bet that more than a few of those will also be showing up in Candace Against the Universe. There's Clive Addison, the famed special effects guru behind the Space Adventure movies (voiced by Kevin Smith on the episode "Nerds of a Feather"). And there's Mishti, the long-lost friend (and crush) of the boys' best friend Baljeet (voiced by Tiya Sircar on multiple episodes). 
There's also Paul, the delivery guy who has been known to bring our heroes the construction materials for their big projects. (He's voiced by Christian Slater on multiple episodes.) Do you think these will be the only appearances by recurring Phineas and Ferb characters in Candace Against the Universe? We think not.
Sly visual gags for astute Phineas and Ferb fans in Candace Against the Universe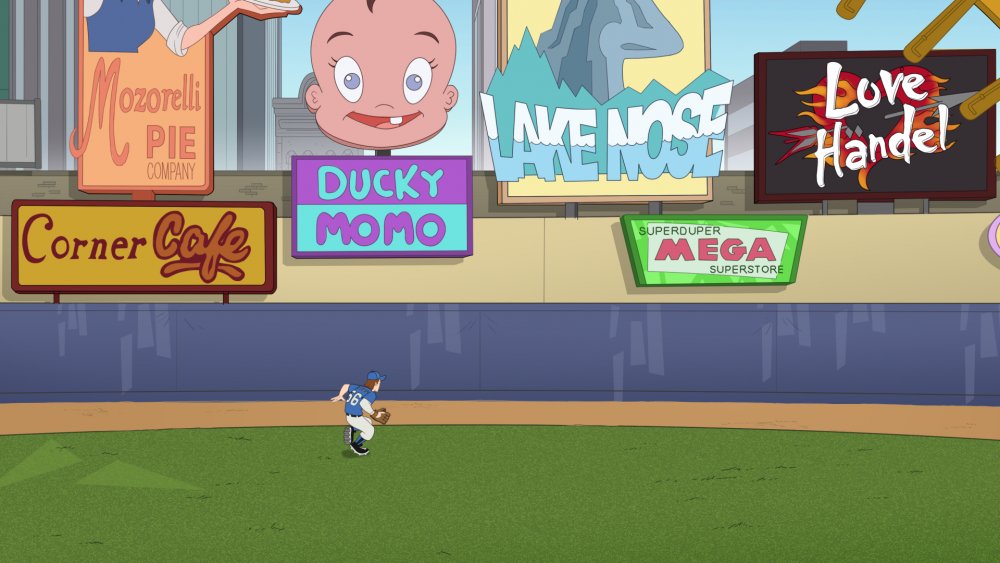 Disney+
Of course, Phineas and Ferb fans to know to keep their eyes peeled for gags and references in pretty much every frame, and Candace Against the Universe will be no different. 
The still above contains a slew of immediately identifiable references for fans: There's a banner advertising Ducky Momo, the Japanese children's show of which Candace is a longtime fan; the logo for Love Handel, the popular band that has shown up a time or two (they even performed Paul the Delivery Guy's theme music for a brief time); a billboard for scenic Lake Nose, where the boys once had to rescue a friendly monster from one of Dr. Doofenshmirtz's plots, despite misguided attempts by Candace to intervene; and the Giant Floating Baby Head, one of Phineas and Ferb's weirdest recurring gags.
More sneaky references should be tucked into Phineas and Ferb the Movie: Candace Against the Universe, so be on the lookout.
Not everything needs a Self-Destruct button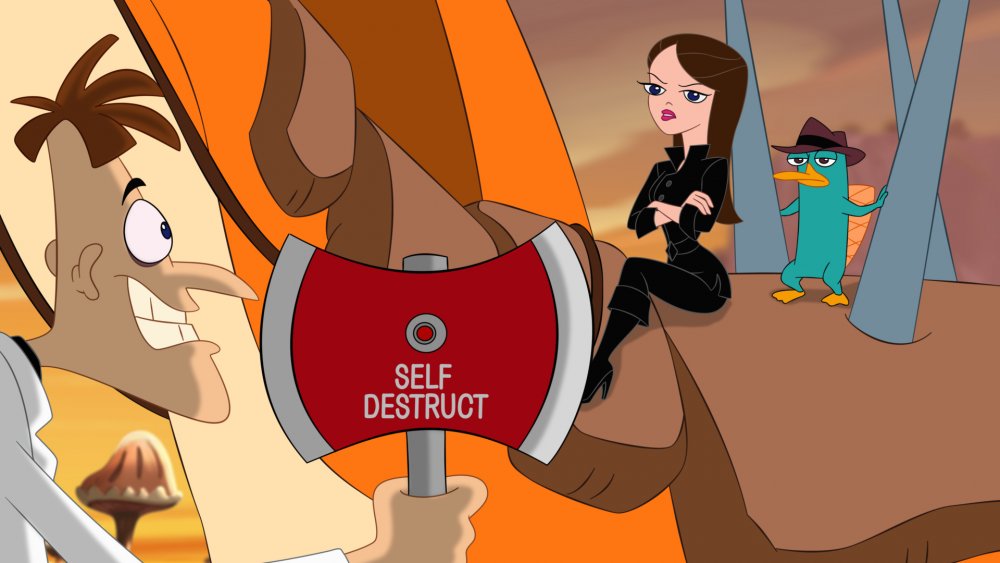 Disney+
As fans of Phineas and Ferb are well aware, Dr. Doofenshmirtz is kind of his own worst enemy when it comes to actually carrying out any of his nefarious schemes. When he's not sunk by his own bumbling incompetence, he's often stymied by the failure of one of his self-created devices, which nearly always come with the suffix "-inator" attached. 
Perhaps that's because he just can't seem to keep from installing Self-Destruct buttons on everything — a habit which, as you can see from the image above, he hasn't managed to kick. Watch out for a special appearance by the infamous Self-Destruct button in Candace Against the Universe.
A shout-out to one of Phineas and Ferb's greatest hits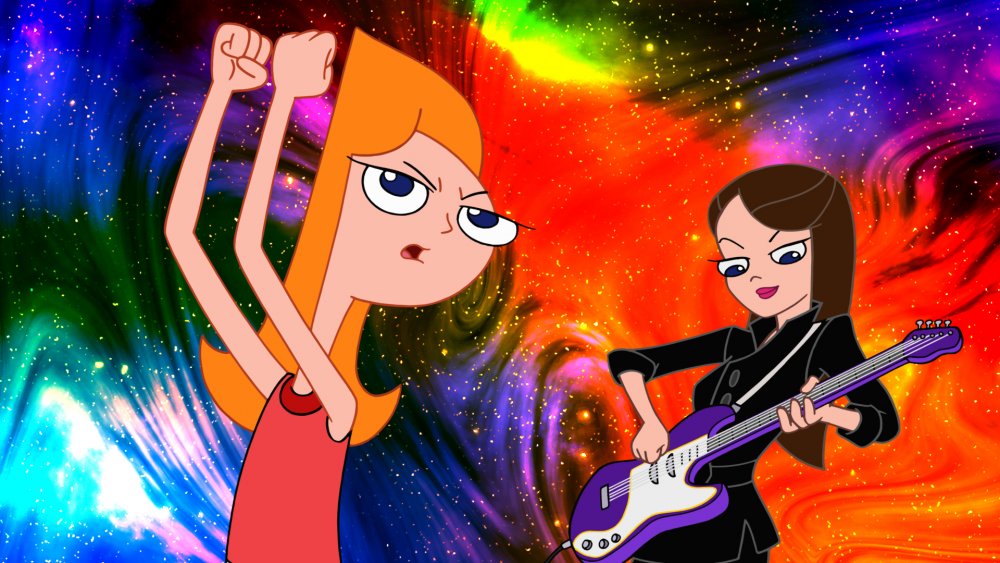 Disney+
One of the most popular tunes throughout the run of Phineas and Ferb is "Busted," which debuted on the episode "I Scream, You Scream" as a duet between Candace (who's singing about her brothers) and Vanessa Doofenshmirtz, the daughter of Heinz (who's singing about dear old Dad, whom she hopes to expose to her mother as an evil "genius"). 
While the characters never actually interact on the episode, the cleverly-cut musical number lets them both take center stage simultaneously. During one of Candace's tunes in Candace Against the Universe, you'll spot a visual callback to "Busted."
Pretty sure we've seen these guys before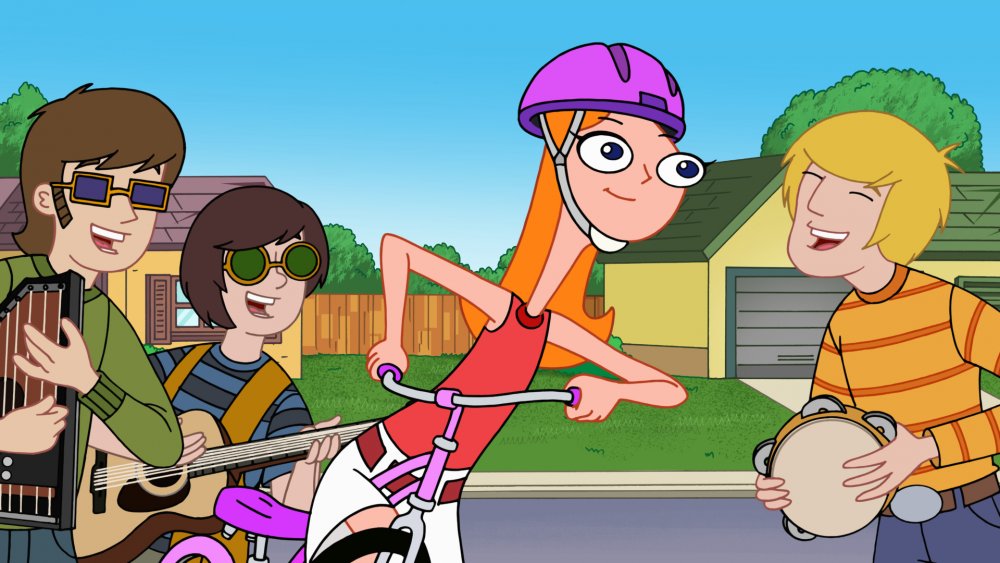 Disney+
When you were watching that clip of "Such a Beautiful Day" from Phineas and Ferb the Movie: Candace Against the Universe, you probably noticed a trio of shaggy-haired boys who looked a bit familiar. The musicians who randomly materialize to help Candace out with her tune appeared on a number of Phineas and Ferb episodes in a similar capacity. 
Most notably, the trio popped up on the episode "It's About Time" as back-up for Dr. Doofenshmirtz on "My Nemesis," his tribute to Perry the platypus. That song and these characters are both highly reminiscent of the Lovin' Spoonful, a group whose mid-to-late '60s run of hits included such timeless classics as "Summer in the City," "Did You Ever Have to Make Up Your Mind?," and "Do You Believe In Magic." The group's since become a bit obscure by name, at least for younger audience members, but as others have noted, the connection between this unnamed trio and the Spoonful is made clearer thanks to the fact that one of them is playing a zither — something notably done by Spoonful member John Sebastian.
Keep your eye on the sky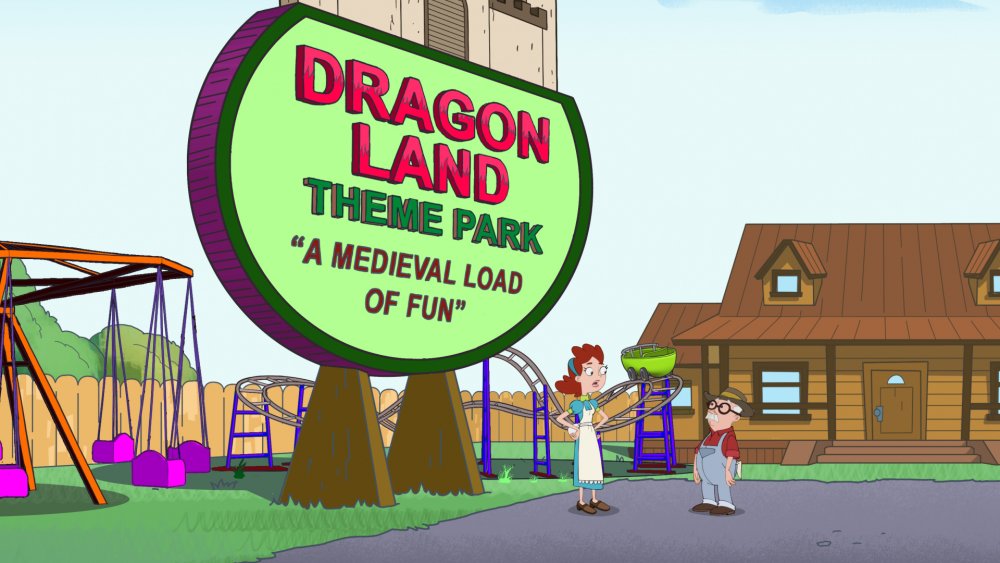 Disney
When watching Phineas and Ferb the Movie: Candace Against the Universe, viewers should also look out for the reappearance of one of Phineas and Ferb's most reliable gags: the farmer and his wife, who frequently have their lives intruded upon (and business prospects serendipitously improved) by the activities of Phineas, Ferb, and Perry. The couple always have a different business venture going on, but the farmer never seems to be able to remember to stock the right materials. After his wife's recurring admonishment that whatever they need isn't going to just fall out of the sky, the materials ironically do drop into their yard. 
Now that you're up-to-speed on the Easter eggs to spot in Phineas and Ferb the Movie: Candace Against the Universe, mark your calendars for its premiere on Disney+ this Friday, August 28.