Colin Farrell Looks Unrecognizable As The Penguin In The Batman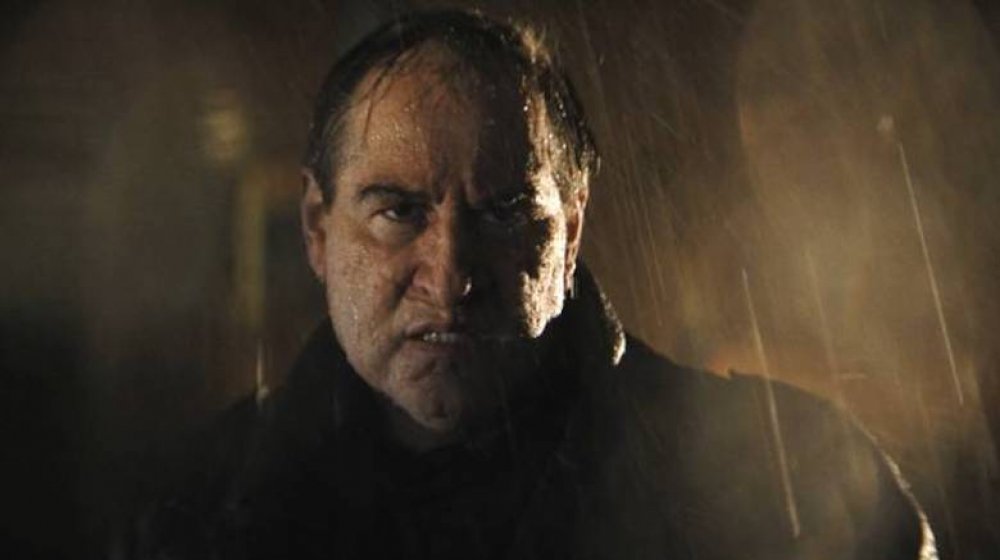 Warner Bros.
DC FanDome finally gave us our first real look at a certain superhero who's calling himself "vengeance."
In the first official teaser trailer for Matt Reeves' The Batman, Bruce Wayne ominously refers to himself simply as "vengeance" — and frankly, the scene in which Robert Pattinson utters that line in the teaser is so bloody brilliant, we'd be happy to call Bruce Wayne's masked alter-ego that name for all eternity. The footage also offered up glimpses at some of the people who will be working with and/or against Batman, depicted in his early 30s and clearly struggling with more than just his status as a city-protecting vigilante. 
While fans were no doubt elated to get a look at Jeffrey Wright as Gotham City Police Department commissioner James Gordon, Zoë Kravitz as Catwoman, and Paul Dano as the Riddler (shown throughout the trailer with his face obscured by a mask and goggles), it's the appearance of a certain other iconic Batman villain that has everyone talking.
That villain is Oswald "Oz" Cobblepot, who's destined to become the nefarious Penguin from Batman lore. 
In the new film, Colin Farrell portrays pre-Penguin Cobblepot (according to Reeves, he doesn't like being referred to as the Penguin at this point in time), and in order to bring the well-known Batman baddie to life, Farrell apparently had to undergo an intense transformation. The Batman trailer shows what everyone is claiming is Farrell as Oz Cobblepot, looking categorically unrecognizable behind a truckload of prosthetics and sporting a balding wig. He looks so unlike his regular self — a dashing Irishman with dark eyes and a thick head of hair for a man of 44 — that many fans didn't realize it was actually Farrell they were seeing in The Batman's teaser, and others are still in disbelief that it's truly Farrell. 
We might not be seeing that much of Colin Farrell or the Penguin in The Batman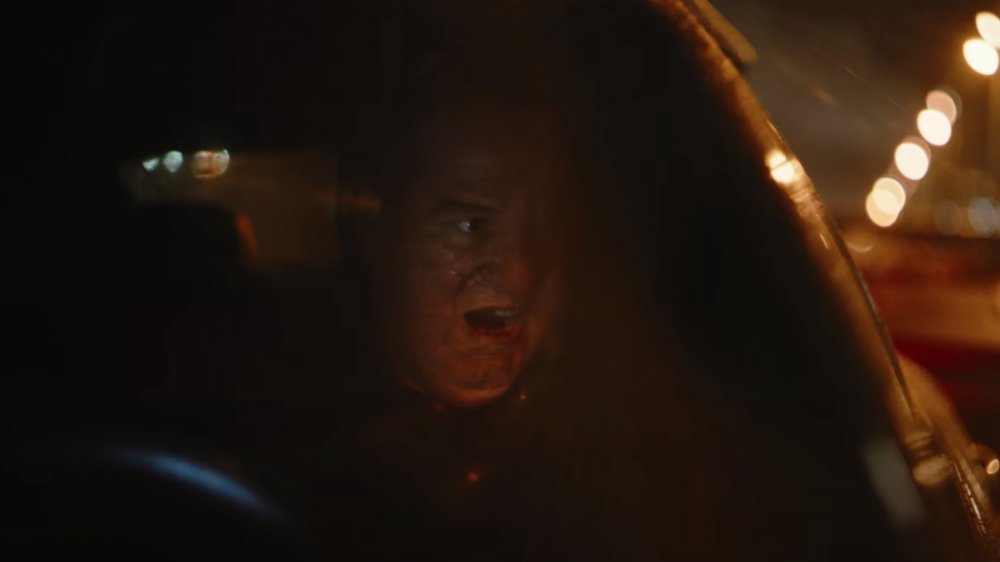 Warner Bros.
Filmmaker Ben Mekler quickly took to Twitter upon hearing the digital buzz about Farrell and the Penguin in The Batman. In an effort to clear up the confusion, Mekler tweeted that he reached out to his pal and The Batman co-screenplay writer Mattson Tomlin to get confirmation that the man seen in the Batman trailer is 100 percent Farrell. "Immediately texted @mattsontomlin to make sure cause I couldn't believe it – it's him alright," Mekler wrote. 
Additionally, prosthetic makeup designer and artist Michael Marino — who has worked on projects like Black Swan, Project Power, True Detective, I Am Legend, and more — took to Instagram to hint at his involvement in turning Farrell into Oz Cobblepot. Marino, listed as the prosthetic makeup design artist for The Batman (via IMDb), shared screenshots of Farrell in the teaser trailer with the caption, "Link in bio, if you haven't seen it yet check out Matt Reeves teaser trailer for The Batman." Just another confirmation that that's really Farrell. 
Farrell's shocking look in The Batman actually jibes with the actor's claims that the silver hairdo he was photographed with a few months back wasn't for The Batman, but was instead a personal grooming experiment gone horribly wrong. As he explained during an appearance on The Ellen DeGeneres Show in January 2020, in which he's seen sporting his usual brunette locks, "At the end of films usually I like to do something, it may be something as simple a paint a nail black, get a haircut, shower. And I decided to dye my hair when I came back to Los Angeles. So I went to Rite Aid and spent about $80 on L'Oréal's finest. It went t**s up. It went bad."
As it is, Farrell's prosthetic-heavy appearance in the Batman trailer means the character may be far more of an unknown quantity than expected. That's likely a good thing, as the footage for The Batman paints Reeves' new Bat-flick as more of a grounded, noir-tinged tale of hero versus villains — meaning a more comics-faithful adaptation of the Penguin would feel extremely out of place. 
In a recent interview with GMA News, Farrell also teased we'll be seeing less of his character in the villain-packed The Batman than previously thought. "I haven't got that much to do," he shared. "I am not all over it by any means."
It seems that Farrell's two blink-and-you-miss-him scenes in The Batman's teaser trailer may represent the bulk of his screen time for the film. Happily, though, the actor went on to note he's still got a few choice moments with Mr. Vengeance in The Batman: "There are a couple of some tasty scenes I have in it and my creation and I can't wait to get back. It feels original and fun. But I am only at the start of the journey so I can't wait to get back and really get into it."
That "start of the journey" tease may not sound like much, but with Farrell apparently playing second fiddle to the Riddler in The Batman, it could mean his Penguin is setting up to feature prominently in a Batman sequel.
The Batman is set for release on October 1, 2021. The film also stars Andy Serkis as Alfred Pennyworth, the Wayne family's faithful butler and Bruce's most trusted confidant; John Turturro as mob boss and Batman enemy Carmine Falcone; Peter Sarsgaard as district attorney Gil Colson; and Jayme Lawson as mayoral candidate Bella Reál — as well as Charlie Carver, Max Carver, and Gil Perez-Abraham in undisclosed roles.