Here's Your First Look At Robert Pattinson As Bruce Wayne In The Batman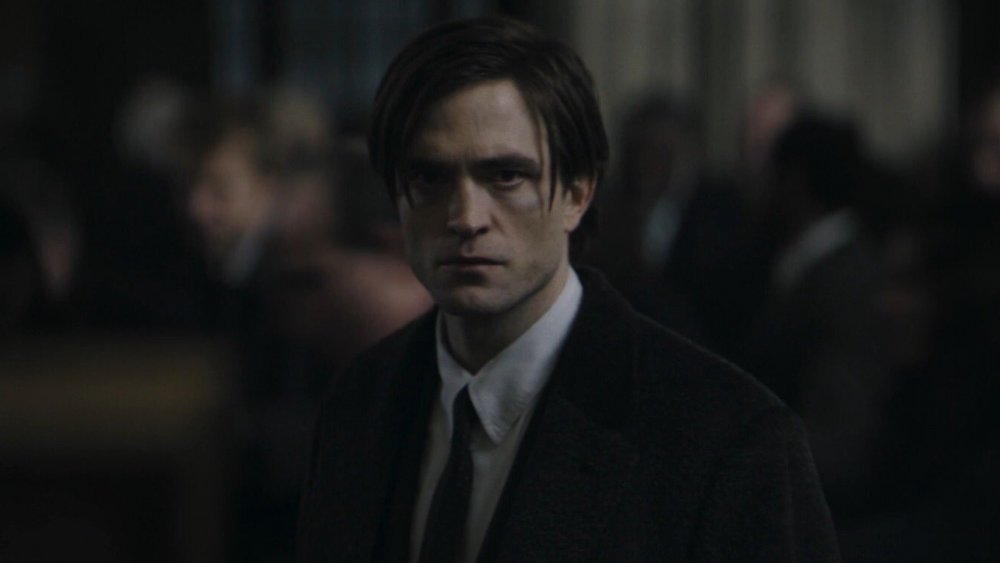 Warner Bros./DC Entertainment
Robert Pattinson is cooking something up — and this time, it doesn't involve blowing up a microwave.
In anticipation of a discussion panel promoting The Batman at the virtual DC FanDome event, images hit the internet offering us our first look at the man under the cowl. We got our first look at Battinson all suited up back in February, shortly before production on the movie was forced to shut down with the rest of the film industry. At that time, fans immediately went about analyzing every element of the red-drenched promo clip, from the suit's handmade aesthetic to the shattered-gun emblem on his chest. Now, we can apply our detective skills to Pattinson's incarnation of the sunken face and haunted eyes of billionaire Bruce Wayne.
One image finds Pattinson's Wayne donned in an unassuming suit and tie, backed by a crowd of what may be funeral mourners. White flowers can just be seen in the corner of the frame, and the out-of-focus assembly behind him seems to be made up of both formally-clad civilians and uniformed police officers. As for Pattinson himself, he's got a perfect Batman brood going, his face a blend of unquenchable sadness, simmering rage, and grim determination. In another pic, Wayne can be seen silhouetted in the gloom of his garage-Batcave, working at a computer station while the Batmobile looms behind him.
A third still features Pattinson in close-up, clearly wearing the suit of the Dark Knight, sans cowl. The dark eye make-up that blends with his mask is on full display — a striking and unusual choice for a Batman movie (see the moment in Batman Returns when the makeup disappears between shots as soon as Michael Keaton's Bruce Wayne removes the cowl). It lends him the air of an angsty emo teen, or a moping Winter Soldier, or a sad raccoon. Whatever he's going through, he's certainly having feelings about it. 
Batman's not okay (we promise)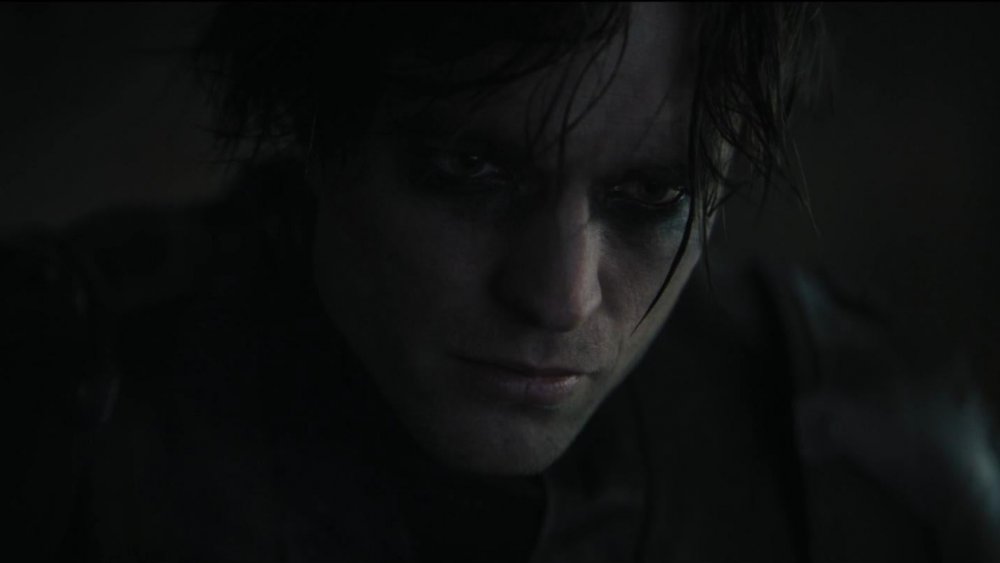 Warner Bros./DC Entertainment
The effect of Pattinson's Bruce Wayne brooding in darkness with black circles smeared around his eyes certainly struck a chord with fans on social media. Within minutes of the images' arrival, Twitter was inundated with jokes comparing Battinson to My Chemical Romance frontman (and Umbrella Academy co-creator) Gerard Way. "When he was a young boy his father definitely took him into the city to see a marching band," cracked musician Paul O'Sullivan, referring to MCR's anthem "Welcome to the Black Parade." Twitter user erasermulaney observed, "I mean this in the best way possible but robert pattinson's batman looks like roman roy if he was going as 2004 gerard way for halloween," positioning this Bruce Wayne as the midpoint between Way and Kieran Culkin's Succession character.
As funny as it all is, it doesn't seem to be doing anything to dampen anticipation for director Matt Reeves' film, set to flap into theaters October 1, 2021. Reactions have been widely positive, with fans eager to accept Pattinson's brooding but probably bonkers embodiment of the Caped Crusader. As writer Gavia Baker-Whitelaw simply said, "robert pattinson's batman cowl eyeliner... welcome."