What Murder, She Wrote And SNL Fans Will Love About The Mapleworth Murders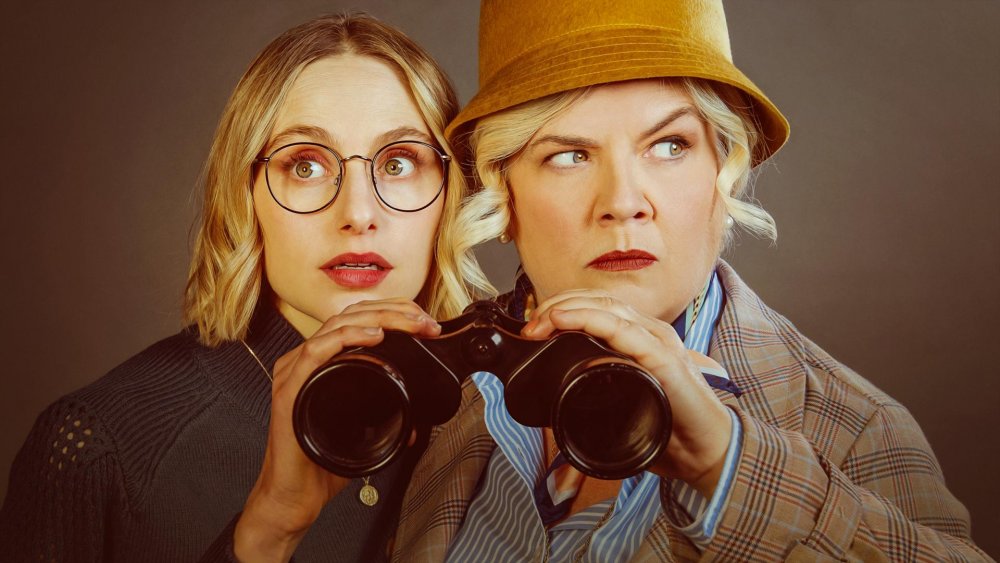 Quibi
All the best parodies come from a place of deep love and understanding of the subject being lampooned. Having an affection for what you're making fun of sharpens the jokes, makes the details more deliciously specific, and keeps things from becoming too mean spirited. Mapleworth Murders, Quibi's spoof of shows like Murder, She Wrote, understands the formula for good satire. Although it doesn't pull punches when it makes fun of the tropes of the cozy mystery genre, it's all done with loving nods and allusions that only actual aficionados would understand. And it's probably no coincidence that Mapleworth Murders was conceived of by cozy mystery fans. Paula Pell, who plays Abigail Mapleworth and co-created the show with John Lutz, told ScreenRant in an interview, "Well, Murder, She Wrote is one of my favorite things of all time – and it's John's."
Don't let the reverence for the subject fool you, though. Both Pell and Lutz are former Saturday Night Live writers, and the outrageous, irreverent, and often crude ethos of the venerated sketch comedy show is alive and well in Mapleworth Murders. And we're not just talking about the fact that basically half of the characters are played by former SNL cast members. 
What Mapleworth Murders is able to pull off is a tightrope act that manages to use the brash humor of SNL to poke fun at cozy mysteries, while still being a cozy mystery itself.
There are actual mysteries to be solved in Mapleworth Murders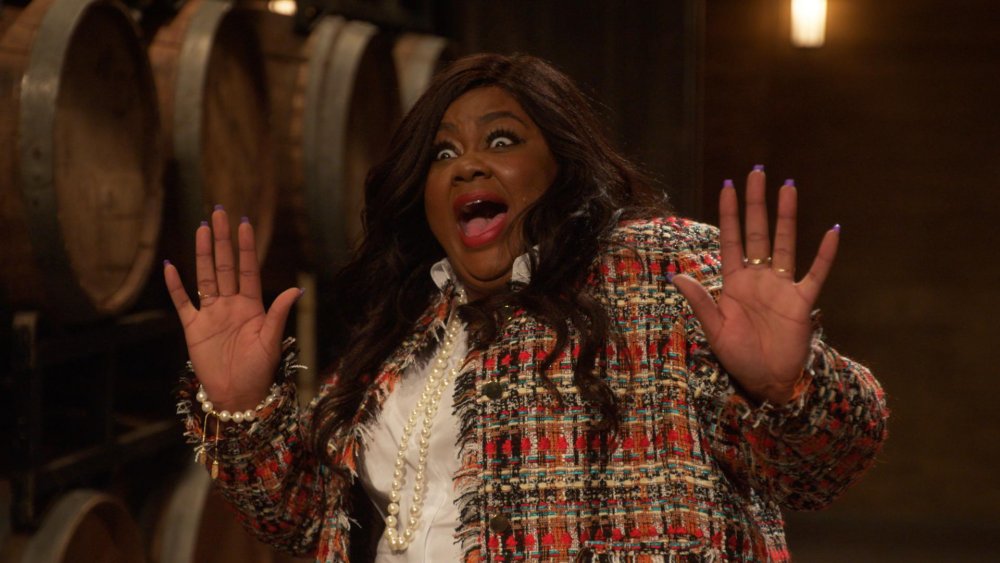 Quibi
It can be easy to forget that shows like Murder, She Wrote are composed of two equally important elements: enviably cozy settings and deliciously intriguing mystery. Even with a strong cozy aesthetic, there still has to be a thrilling riddle at the center. This is something that Mapleworth Murders smartly incorporates into its satire.
Now, we're not saying that the whodunits in Mapleworth Murders are ingenious headscratchers, but the writers clearly understand the ingredients that go into a good murder mystery. In the second trilogy of episodes, entitled "The Case of the Case of Wine," the question of who murdered vineyard owner Julia Squift (Nicole Byer) is more complex than the Wile E. Coyote manner in which she dies. There are multiple suspects — including a jealous friend, a scorned business partner, and a rival winery owner — as well as several red herrings to throw viewers off the trail. Although the investigation wraps up fairly quickly, there's enough to keep you curious through the three installments.
The show also ties these mystery elements into the humor. The more suspects there are, the more chances for wildly funny supporting characters, and that's an area where Mapleworth Murders doesn't disappoint.
Mapleworth Murders lets its characters shine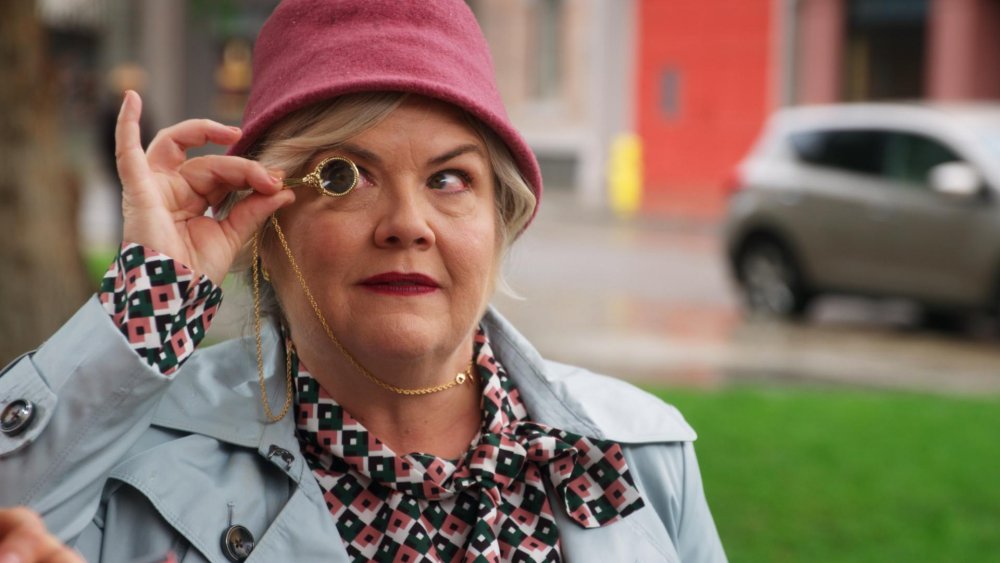 Quibi
While Mapleworth Murders puts effort into its story and plotting, the show also shares an important quality with SNL — the characters are the key to the humor. Just about every person we meet throughout the series has their own absurd personality and quirks, which yield much of the series' comedic moments. Yes, there are punchlines and physical gags, but so many of the funny moments on the show rely on the characters themselves.
Take, for example, the smarmy Brett Davenport (Drew Tarver). This overbearing Lothario casually reveals his grossness by announcing he's a "Wash before type of guy" when it comes to bathroom etiquette. Or Camille Canelli-Twat (Pam Murphy), the enraged ex-wife of a murdered butcher who both fiercely hates her dead husband, and fondly recalls their prolific sex life, even when she isn't asked.
The characters on Mapleworth Murders all have their own schtick, and the ones who appear across multiple episodes just get funnier over time. That should be no surprise to those who are familiar with Pell's work on SNL, as she's credited with creating some of the show's most memorable recurring characters, such as Debbie Downer and the Spartan Cheerleaders.
The show doesn't skimp on the coziness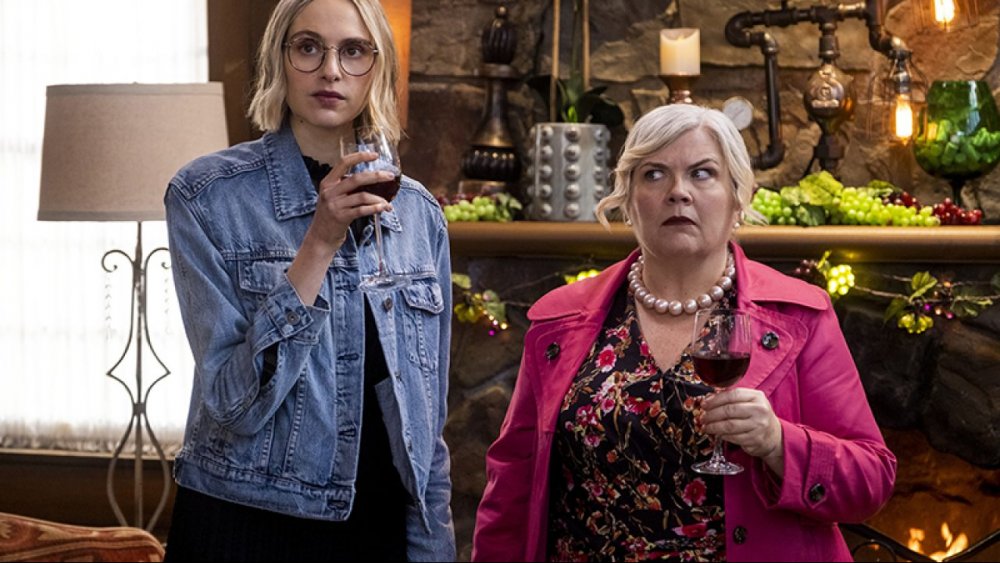 Quibi
Humor and the thrill of murder may be the biggest draws for some viewers, but the show wouldn't be what it is without its aesthetic. Like peanut butter and chocolate, cozy vibes and murder mysteries just go well together. Even though it's a parody, Mapleworth Murders gives viewers both.
The town of New Woodstream, where the series takes place, is a quintessential bucolic New England village. While we don't spend a ton of time on the picturesque main street, the series does an excellent job of capturing the vibe. Everyone knows everyone, even if they don't necessarily like each other, and most of the notable sights in town are cemeteries. Abigail herself is an extension of that small-town quaintness. From her mumsy accent and her bucket hats to her cluttered house where she writes novellas at an old-timey typewriter, the show makes sure that despite her often bawdy humor, she's someone you would want to have tea with on a chilly autumn day.
In the end, it's no great enigma just how Mapleworth Murders manages to appeal to both Murder, She Wrote and SNL fans. The show invests in its cozy aesthetic, silly humor, and engaging mysteries in equal measure. The results are to die for.