Cameos You Don't Want To Miss In Mapleworth Murders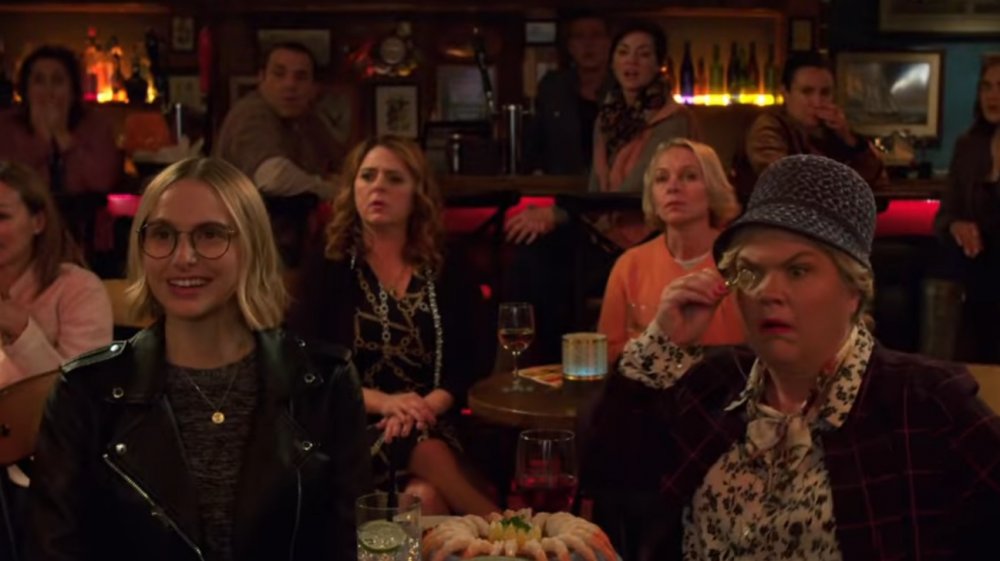 Quibi
This content was paid for by Quibi and created by Looper.
One of the most important aspects of any great cozy mystery is the location. In the case of Mapleworth Murders, Quibi's humorous send-up of the genre, the action takes place in the idyllic New England town of New Woodstream. Like any quaint little village, New Woodstream is home to half a dozen cemeteries, a charming main street, limited cell reception, and its own resident mystery writer, Abigail Mapleworth (Paula Pell).
But that's not all. Among the citizens of New Woodstream, viewers will recognize many familiar faces. That's because Mapleworth Murders is chockablock with cameos from some of the funniest actors in the business. Many of the speaking parts on the show, from bartenders and servers to the town's many murder victims, are played by performers that will make you stop and say, "I've definitely seen them in something before."
There are so many celeb cameos on the show that you might feel overwhelmed by the talent at first. But don't worry — we're going to help you out by highlighting some of the best cameos in Mapleworth Murders that you don't want to miss.
Mapleworth Murders is full of former SNL stars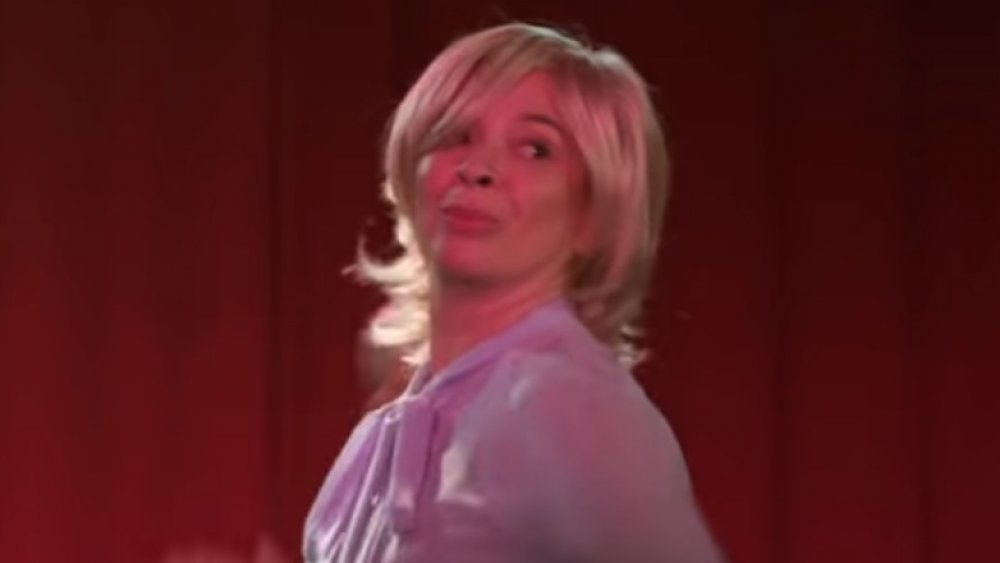 Quibi
In addition to playing the lead role, Pell also co-created the series. Other than headlining her own Quibi original, Pell is best known for her nearly two-decade stint as a writer on Saturday Night Live. It should come as no surprise, then, that many former SNL stars pop up throughout Mapleworth Murders. You needn't look any further than the very first installment, "A Murderer's Beef — Part 1," to get a taste.
The series' first mystery to be solved involves two rival butchers played by Chris Parnell and Tim Meadows. Parnell joined the cast of SNL in 1998, where he became known for his impertinent impression of famed TV news anchor Tom Brokaw. Meanwhile, Meadows was a performer on the show throughout most of the '90s. His standout character, the Ladies Man, was one of the more popular from that era, and even spun off into a feature film of the same name.
As is the nature of the show, both men have small roles, but when they are on screen together, the comedic chemistry is great. And once their storyline is over, keep your eyes peeled for other SNL stars that pop up throughout the season, including Maya Rudolph, Fred Armisen, Horatio Sanz, and Andy Samberg.
In addition to SNL, both Parnell and Meadows would both go on to appear on 30 Rock — and they aren't the only alums from that celebrated sitcom to pop up in New Woodstream.
Keep your eyes peeled for 30 Rock stars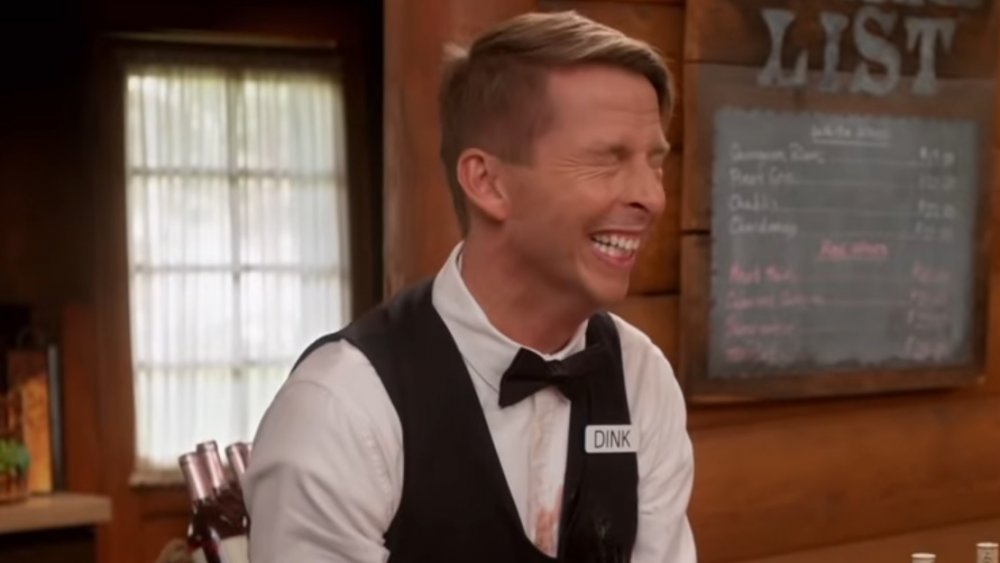 Quibi
It should be no surprise that wherever SNL actor cameos can be found, 30 Rock actor cameos will follow. The show was famously created by former SNL head writer Tina Fey and was loosely based on her experiences working at the venerated sketch show. Fey herself appears as Martha Tweenis in the fourth episode of Mapleworth Murders, "The Case of the Case of Wine — Part 1." Tweenis is the town's church organist, who has a penchant for getting drunk and loudly singing hymns with dirty words substituted in for the holy ones.
When she bursts into the wine tasting that provides the backdrop to the series' second investigation and starts singing a vulgar rendition of "What a Friend We Have in Jesus," you'll notice another 30 Rock alum in the crowd of horrified onlookers. The bartender at the winery is played by Jack McBrayer, who played the lovable country bumpkin Kenneth Parcell on 30 Rock.
And while these aren't cameos, we should also mention that Mapleworth Murders was created by and stars two 30 Rock actors: Pell and John Lutz. Pell played Paula Hornberger, while Lutz played, well, Lutz, the perpetually picked-on dweeb of the TGS writers' room.
Nicole Byer gets big laughs with limited screen time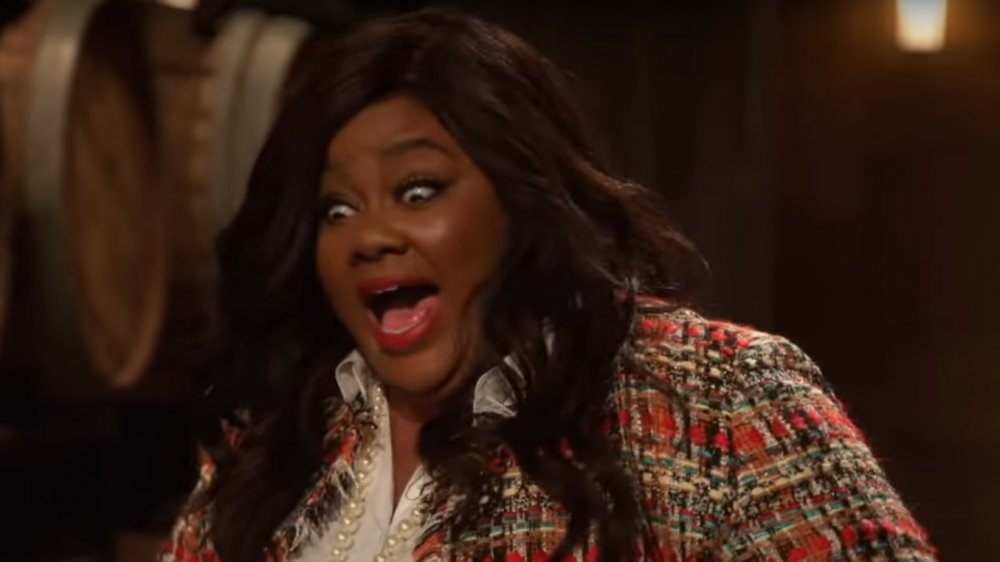 Quibi
SNL and 30 Rock alums aren't the only ones you'll see on the streets of New Woodstream. The first half of the series features appearances from The Mindy Project and Blockers star Ike Barinholtz as an overly enthusiastic cork purveyor and Drew Tarver of The Other Two as Brent Davenport, a tragically unsmooth ladies man. However, we would be remiss if we didn't give a special shout out to the work of Nailed It! host Nicole Byer.
Byer plays Julia Squift, the owner of a vineyard hosting a wine tasting that turns deadly. Squift is a broad character — a woman so vain that she moans in ecstasy when she tastes her own wine — but Byer makes some very distinctive and hilarious choices with her acting that make the small part shine. In the scene where Squift is chased down and flattened by a wine barrel rolling at a snail's pace, Byer turns Squift's death rattle into an elongated, single-note scream that perfectly highlights the absurdity of her easily avoidable murder. It's a bittersweet moment, because as funny as it is, you're left wishing there was more of Byer in the show.
Those are just some of our favorite cameos on Mapleworth Murders. But make sure to keep your eyes open while spending time in New Woodstream... everyone's a suspect, and they're probably famous, too.