Why You Should Watch Hoops On Netflix - Exclusive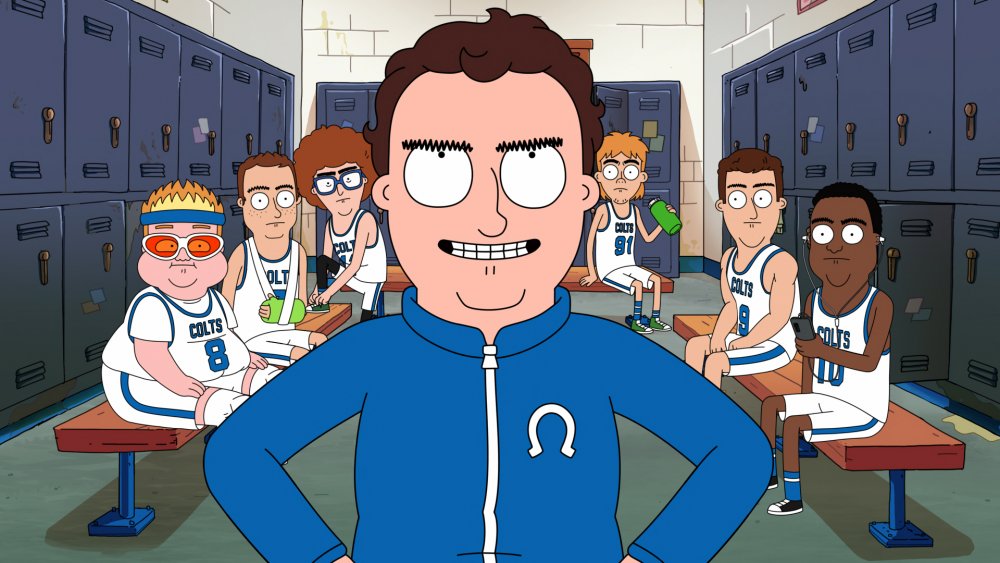 From Bojack Horseman to Tuca & Bertie to Big Mouth, Netflix has established itself as a place where creators of original animation can deliver a clear, specific vision to their audience — whether that vision is Hollywood satire, stories of unconventional friendship, or just well-developed vehicles for a whole lot of jokes. Hoops, the new animated series from creator Ben Hoffman, fits neatly into the latter category — and that's exactly what drew the all-star voice cast led by New Girl alum Jake Johnson and prolific funnyman Rob Riggle to the project. 
Fast, loose, and unabashedly foul-mouthed, Hoops follows the life and adventures of high school basketball coach Ben Hopkins (Johnson), who finds his job and his pride on the line when his superiors start demanding his losing team show a little bit of improvement. It's easier said than done. In addition to struggling to win back his estranged wife (Natasha Legerro), who happens to be dating his best friend (Ron Funches), Ben also struggles to get out of the shadow of his more successful father (Riggle) and to convince a local tall kid named Matty (A.D. Miles) to join his team. He does it all with an extremely short fuse. 
Ahead of the show's premiere on Friday, August 21, Johnson and Riggle sat down for an exclusive interview with Looper to talk about the show's humor, what it was like working together, and why you should be watching Hoops. 
Hoops is "funny for the sake of funny"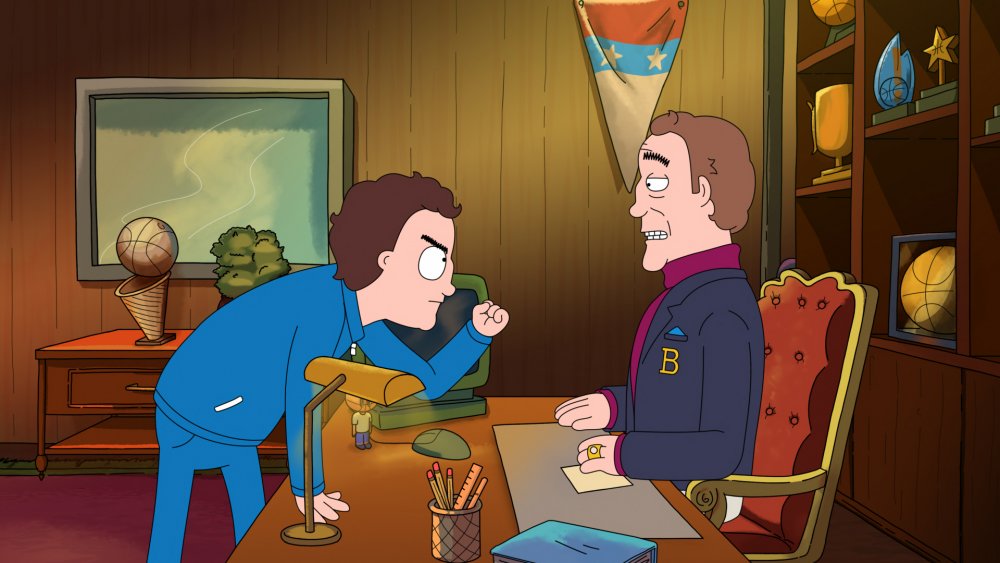 Netflix
For Johnson — who's been involved with Hoops for years after first voicing his character in a pilot presentation, and who also serves as an executive producer — a key ingredient to the show's success isn't in the way it changed on the road to becoming a full-fledged series, but in the way it didn't change. Johnson and Hoffman were able to handpick the voice cast ensemble for Hoops and build it into a full show; staying true to the original, filthy style was always imperative. 
"It has not evolved, and it has not evolved on purpose," Johnson told Looper. "This show is what it is. It's a sophomoric joke-fest, and so that's what it was at the start. When we made it, the idea was we were doing a pilot presentation for MTV, and we wanted to see if we could make something so loud, that was really funny, but that they would have to pass on. We pulled it off! They passed on it."
He continued, "So Netflix came and ordered 10 [episodes], but we didn't want to change that original spirit. This was a show made with the intention of just trying to be funny for the sake of funny. So everybody we cast on it, we cast because if you look at it, it's a murderer's row of mostly standup comedians, and it was because we wanted everybody to be somebody who knows their own comedic talent and could carry a show. There's not a person in our main cast, going all the way down to like Nick Swardson or Steve Berg on our team, everybody could be the lead of their own show. We have a cast that's 10, 11 deep of funny individuals, and we try to make sure everybody scores when they talk."
For Riggle, who has a history of working with funny people thanks to his work on The Daily Show and films like Step Brothers and The Other Guys, the spirit of individual comedic talent on Hoops presented plenty of opportunities for individual showcases as well as a spirit of communal fun. 
"It was a dream, getting a chance to work with people that you admire, respect, and make you just genuinely happy, because they make me laugh," Riggle said. "Everybody makes me laugh. I always feel like I'm breaking all the time, but I just love being around funny, talented people and getting to play with them. It's the best gift in the world."
Riggle also shared that because Hoops ensures everyone involved gets to work to their strengths, the end result is a hilarious, genuinely enjoyable series that was creatively fulfilling to its cast.
"The material is so great. Like Jake said, everybody gets set up to win, which doesn't always happen. So it was a joy to get to go in there and be just a really obnoxious dad to a really angry kid," he said. "That's a side of your personality you don't get to take for a walk very often, or at least you shouldn't, so when you get the opportunity, it's the best thing on Earth."
Those who love heightened humor and raunchy animated antics will love Hoops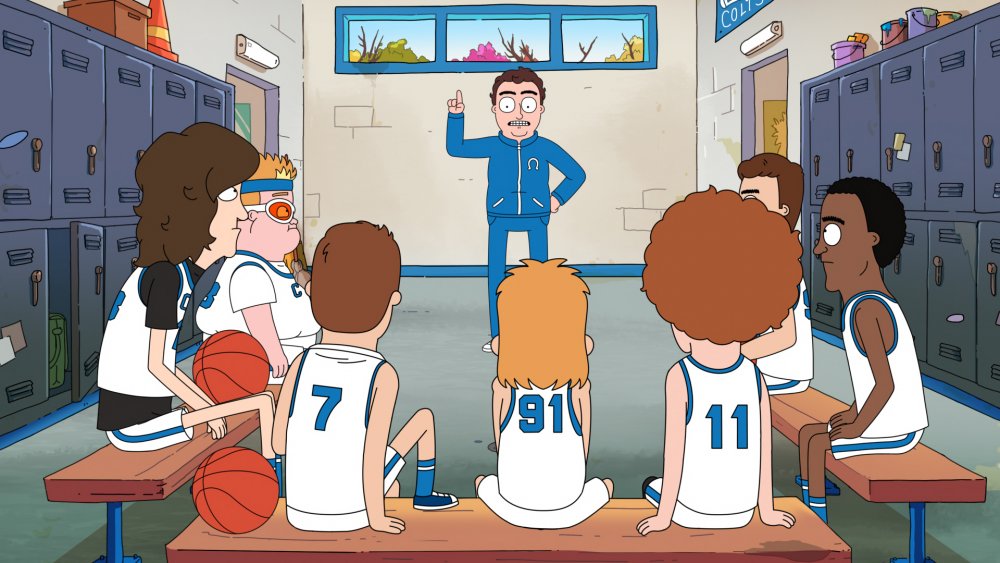 Netflix
Like many animated series, Hoops had a long road from conception to completed first season. Throughout that journey, Hoffman and Johnson fought to keep the show's concept rooted to the core idea of something that's purely and unabashedly funny in its own unique way. The result is a joyous ensemble collaboration that revels in the show's rather heightened sense of humor and keeps pushing it further episode after episode. That's why, according to Johnson, Hoops is a series that will deliver — as long as you're willing to buy into the premise from the start.
"Hoops is a filthy show, but it's filthy by nature. It's a hard R. You should not watch it with young people. You should not watch it if you're easily offended. If language puts you off, which is fair, this one isn't for you," Johnson said. "What sets this one off is, within two minutes of this show, you'll know what the joke is, and I do think we continue to heighten that joke for 10 episodes."
He added, "If you're sitting at home watching and this gives you a chuckle, I think we're going to really deliver that over and over, and we will not fall off of that joke. It will not be a show that you go, 'Man, they really changed.' It is what it is, and I think we've hit what it is pretty hard, but what it is is a filthy R-rated animated show for adults."
If that sounds like your cup of tea, check out Hoops when it hits Netflix on Friday, August 21.