Why Violet From The Babysitter: Killer Queen Looks So Familiar
This content was paid for by Netflix and created by Looper.
The Babysitter: Killer Queen promises to bring more laughs, and lots more splatter, to fans of the hit 2017 slasher comedy The Babysitter. Past viewers will be thrilled to know that most of the original cast is returning for the sequel, with Judah Lewis, Hana Mae Lee, Robbie Amell, and Bella Thorne all reprising their roles. But wait... who's this "Violet" character listed on IMDb, played by Amanda Cerny?
Violet may be a new character to the world of The Babysitter, but Amanda Cerny is hardly new to the world of the internet. The very definition of prolific in the modern media landscape, Cerny has been a constant comedic presence on pretty much every new social media platform since Vine. With another career breakout just around the corner, let's explore the unconventional path this hilarious actor has followed to a stardom measured in tens of millions of fans and followers.
Social media superstar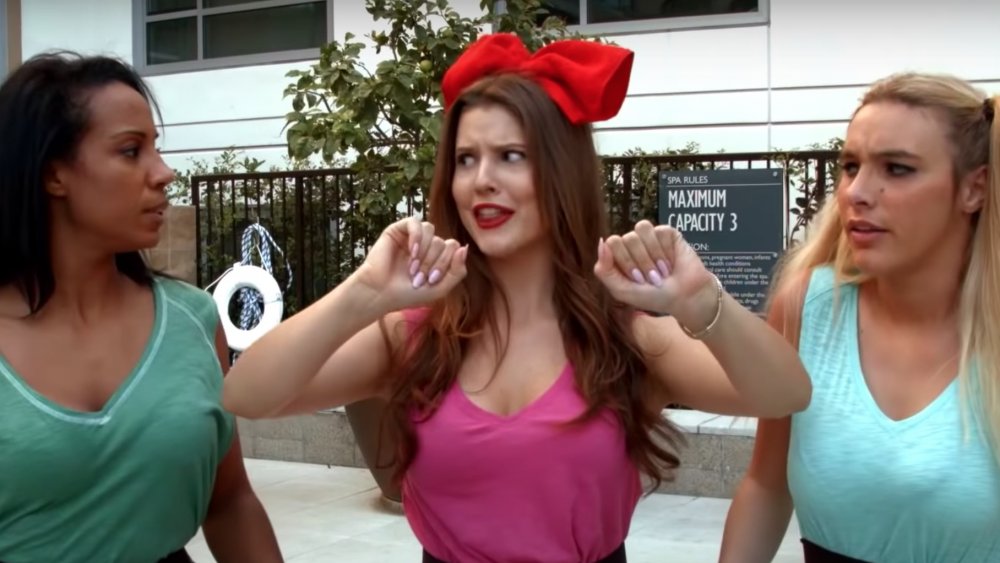 While some of us still mourn Vine's untimely demise, many Vine stars like Amanda Cerny were able to use it as a launchpad to bigger and better things. Cerny's Vine follower count peaked at over 4.6 million. Starting in 2015, Cerny smashed out dozens of comedic micro-videos, and by the time Vine went bust, she was already established on platforms like YouTube and Instagram. A relentless content producer by any standard, you can bet that Cerny will have a presence on any new social media platform in the future, just in case it turns out to be the next big thing.
At the time of this writing, Cerny has 2.81 million subscribers on YouTube, 8.6 million followers on TikTok, and a mammoth 25.7 million followers on Instagram. Her IG stories are some of the most watched in the entire world. Cerny's rapidly growing YouTube base has led to some notable collaborations on the platform. You've probably seen some of her videos with Lele Pons ("Keeping Up With the Powerpuff Girls") and BB Ki, to name just a couple.
Cerny really leaves no stone unturned when it comes to online video content, so you've definitely seen her face pop up in one web sketch or another. However, unlike so many of her new media peers of the 2010s, Cerny has managed to parlay her social media success into a career in movies and TV. You've got to admit, this star's got hustle.
Part time Workaholic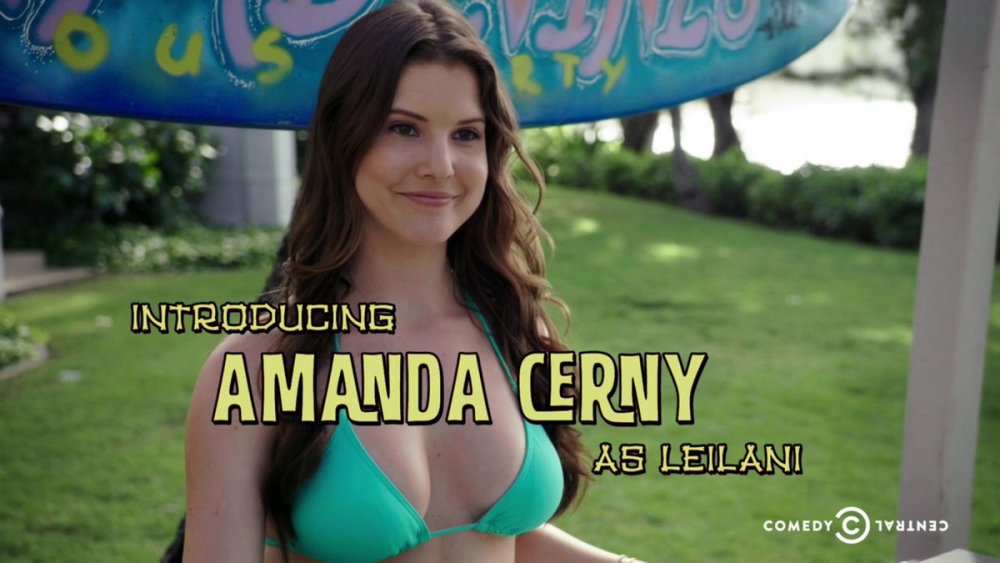 Internet sketch comedy is dominated by a smaller community of creators than you probably realize. This leads to rivalries and Twitter feuds, but some personalities like Amanda Cerny go the other way, creating creative friendships that yield some hilarious results for everyone involved.
One of the first YouTube sketch comedy groups to make the jump from the internet to TV were the boys from Mail Order Comedy — Adam Devine, Blake Anderson, and Anders Holm, who would go on to make The Workaholics on Comedy Central. Amanda Cerny first showed up as a guest on Adam Devine's House Party, a part-scripted, part-standup variety show on Comedy Central hosted by Devine, built on the goodwill earned from the success of Workaholics. The next year, Cerny got to be a character on a real Workaholics episode: season 7's "Bill and Tez's Sexcellent Sexventure," playing a computer lingerie model in the movie parody adventure.
Just like Adam, Anders, and Blake have started to pop up in TV and film comedies, Cerny's repeated appearances on Comedy Central made it clear that the sky was the limit for where her comedic talent could take her.
Internet Famous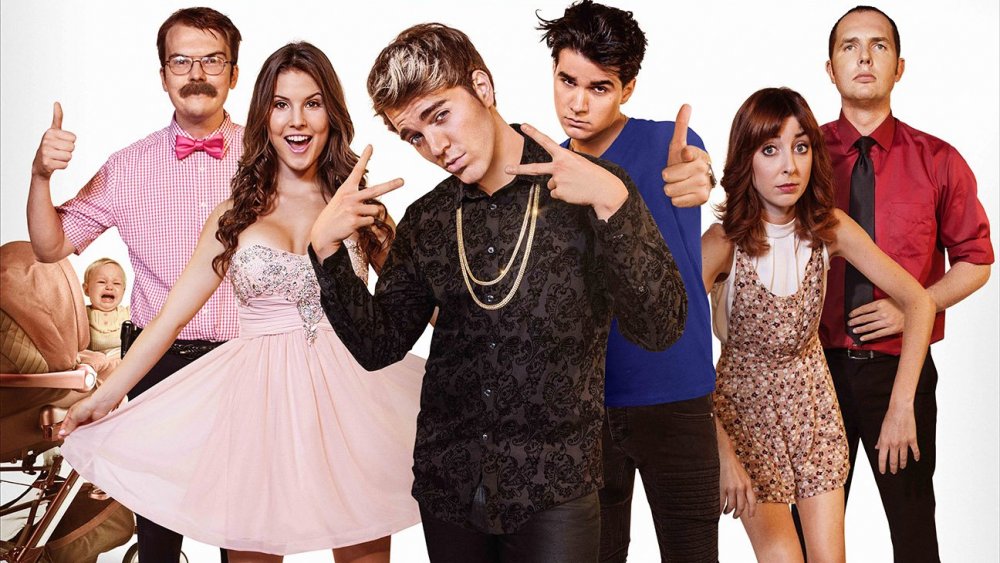 Amanda Cerny has been making content relentlessly since the Obama administration, but 2016 was the first time she appeared in a film. Poking fun at web celebrities like herself, Internet Famous featured numerous social media influencers like Christian Delgrosso, Steve Greene, and (of course) Cerny. Filmed in a mockumentary style reminiscent of The Office and Christopher Guest movies like Best in Show and A Mighty Wind, Internet Famous is a fun flick backed by some very significant players.
Internet Famous was produced by a production company called Maker Studios. Not ringing any bells? Well, Maker is the short-form content division of none other than Disney, meaning that if you squint, Amanda Cerny may now qualify as some kind of Disney princess. Semantics aside, this is where Cerny's story starts to get interesting, because the movie was picked up in mid-2016 by Netflix, where it was made available to global audiences for the first time. Cerny's jump from Vine star to universally visible comic actor was complete.
Airplane Mode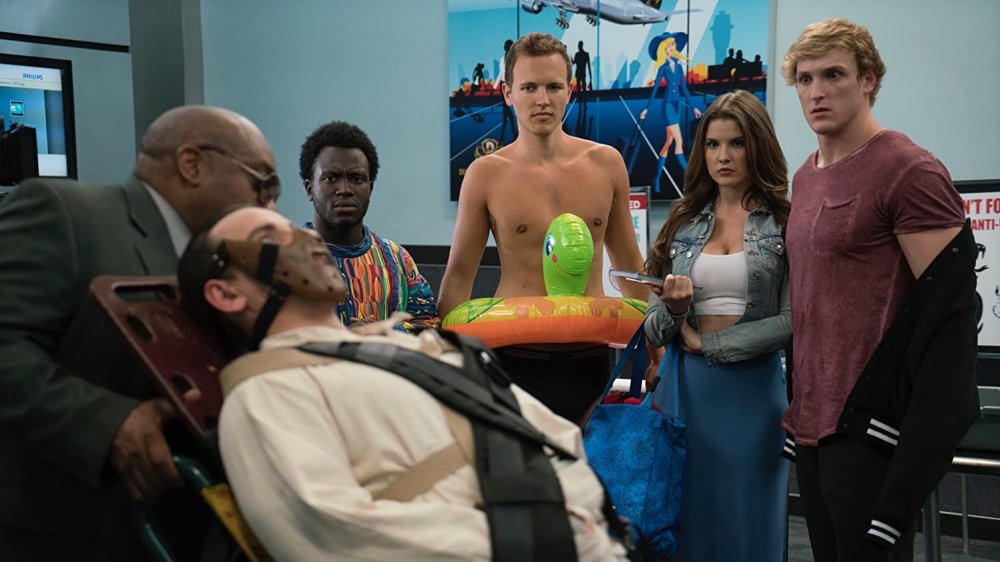 It wasn't long before Amanda Cerny booked a role in another feature lampooning the internet scene that birthed her career. This time she appeared alongside Jake and Logan Paul of YouTube fame. Airplane Mode is a parody of social media influencer culture, with a whole stable of real world influencers appearing to portray fictionalized versions of themselves (including Lele Pons, Andrew Bachelor, and Nick Bateman, just to name a few!).
In the movie, Logan Paul (older brother to Jake in real life) plays an exaggerated version of himself, and is forced to overcome his fear of flying in an emergency plane landing. Either Jake steps up and lands the plane, or the social media mavens die! We won't spoil the thrilling conclusion, but suffice it to say, Airplane Mode milks every second for maximum mirth.
Rim of the World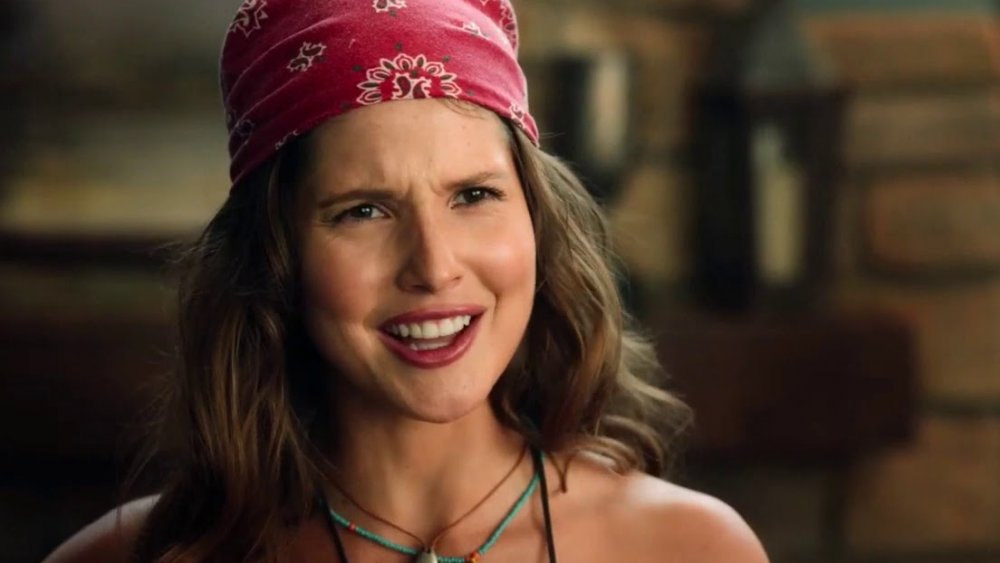 Netflix introduced Amanda Cerny to a broad new audience in 2019 with Rim of the World, an in-house production about kids that witness an alien invasion while away from home at summer camp. Cerny's camp counselor Lucy delivers double entendres with confidence earned in thousands of internet sketches, and plenty of her IG fans were watching — Rim of the World debuted at #1 on the SVOD service in the UK.
Rim of the World is a throwback to the sci-fi movies of the '80s that featured kids in the hero's role. Fans of E.T. and The Goonies, as well as modern franchises like Stranger Things, will all find something to love in Rim of the World. For her part, Amanda Cerny proved that her edgy internet content could transition to a family-friendly creature feature. Oh, and by the way, this creature feature just so happens to have been directed by McG, who has further direction credits to his name in Netflix's The Babysitter and The Babysitter: Killer Queen.