The High-Powered Fantasy Anime That's Dominating Netflix Right Now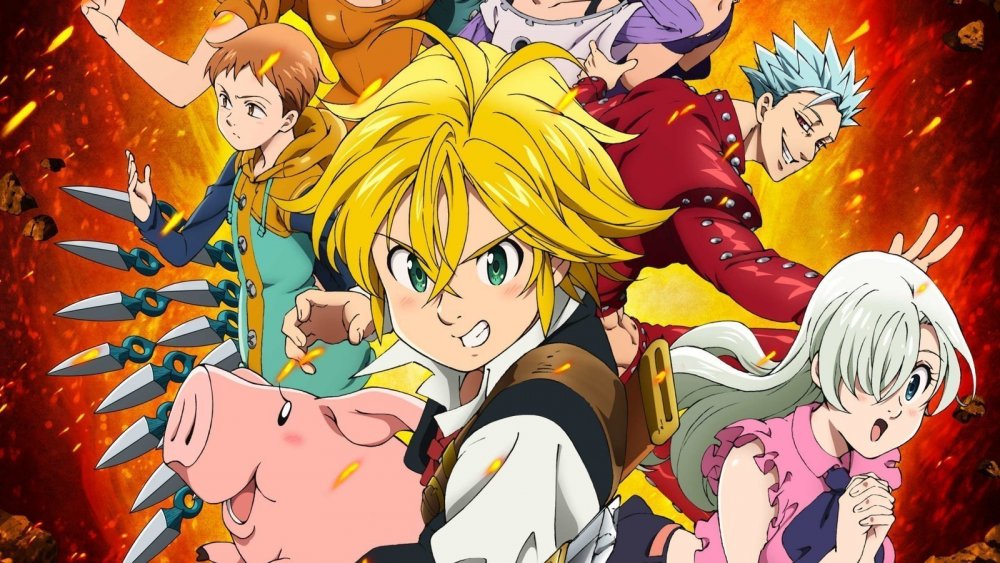 JNN/Netflix
Netflix's substantial catalog of action-packed anime has been a low-key fixture of the streaming platform since its inception. In fact, the format has been so successful for the streamer, that content execs decided early on to commission their own translations of popular series in Japan. It's one of those Netflix exclusive anime series that's currently dominating the TV charts — the shōnen fantasy series Seven Deadly Sins.
Seven Deadly Sins began its media lifecycle as a manga, serialized by Kodansha in its popular Weekly Shōnen Magazine. The comic is written and illustrated by Nakaba Suzuki, an up-and-coming creator who cites classic properties like Fist of the North Star and Dragon Ball as inspirations for his work. Seven Deadly Sins has been a break-out hit for Suzuki, with over 30 million copies of the manga in circulation as of this writing. 
Suzuki began publishing his magnum opus in 2011, but it took until 2014 for Kodansha USA to begin publishing an English translation. The anime adaptation debuted in Japan on several Japan News Network stations that same year, and in 2015 the English streaming rights went to Netflix, making it only the second anime exclusive in the streamer's history. On November 1 of that same year, 24 English-dubbed episodes of Seven Deadly Sins began streaming, and fans showed up for it in droves. The company's bet obviously paid off, since five years later English-speaking fans are still flocking to the colorful characters and whimsical faux-medieval European setting of Seven Deadly Sins. Here's why subscribers love this high-powered animated adventure.
Seven Deadly Sins brings an anime aesthetic to traditional Western fantasy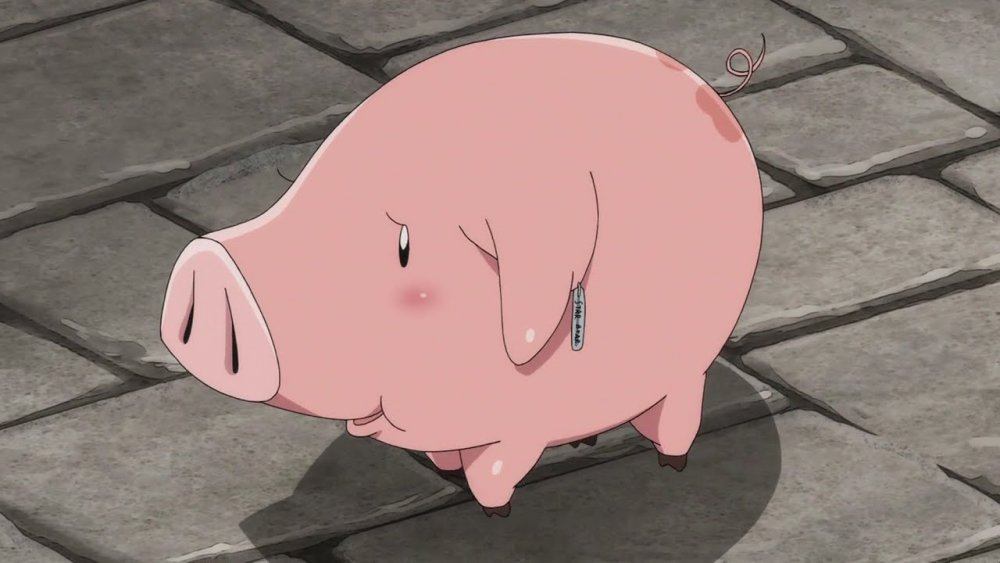 JNN/Netflix
The titular Seven Deadly Sins are actually characters in the anime — a roaming band of knights charged with keeping the peace in the fantastical world of Britannia. Several years before the start of the series, these keepers of the peace were disbanded by the Holy Knights, who seized control after the Sins were framed for instigating a coup against the King of Liones.
At the outset of the series, those same Holy Knights are now in control of Britannia, though their motivations are certainly suspect. We soon learn that the Holy Knights — in a move that would make Tywin Lannister proud — actually organized the rebellion that allowed them to seize power. The series principally follows Liones' Princess Elizabeth (voiced by Erika Harlacher) and the Sins' former leader Meliodas (Bryce Papenbrook), who connect by happenstance and set out to regroup the Sins and challenge the Holy Knights. They quickly learn that all is not what it seems in Britannia, and that the Holy Knights may be under the influence of demonic forces. Without spoiling too much, we'll just say that Meliodas has his own demonic issues to address as well, so the plot gets pretty twisty.
Also, there's a talking pig named Hawk, Captain of the Order of Trash Disposal. Sorry to bury the lede.
Seven Deadly Sins puts a new spin on familiar Western fantasy tropes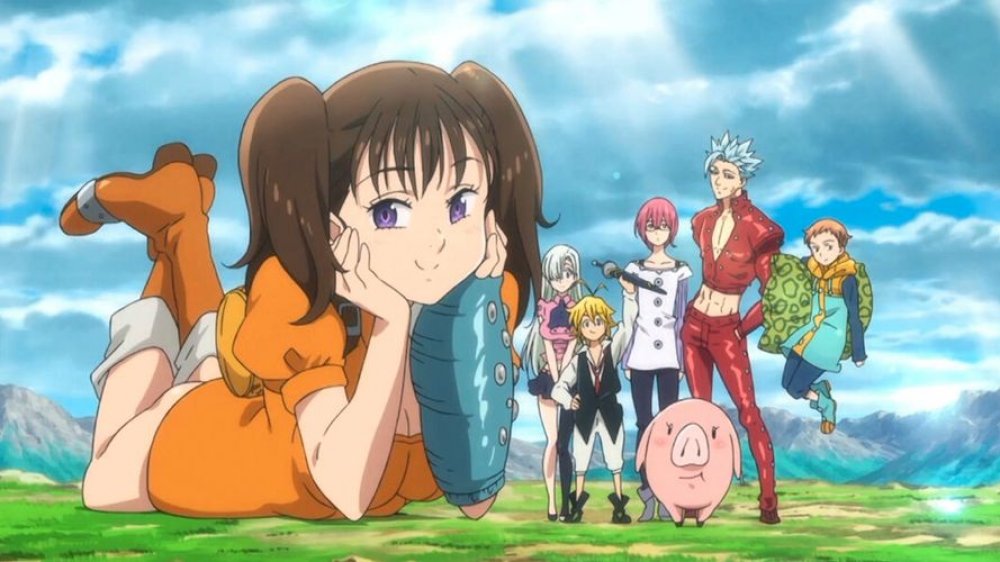 JNN/Netflix
Even if you haven't had a chance to experience the anime or the manga, you likely already see the subversion in the plot. The "Holy Knights" of the realm appear to fulfill heroic archetypes on the surface, though they're ultimately in thrall to a bunch of demons — definitely not so holy. The "Seven Deadly Sins," on the other hand, are portrayed as heroic men and women of the people, ready to mount arms in defense of Britannia even after they've been shunned. The "Sins" square off against the "Ten Commandments," and there's no question who we're supposed to be rooting for.
It's similar to the subversion George R.R. Martin achieved by populating his white-cloaked Kingsguard — once a noble order — with liars and devious scum, whereas his black-cloaked Night's Watch — traditionally the refuge of murderers and thieves — turns out to be home to some of the series' great heroes. Fantasy is such a trope-ridden genre, that contemporary creators have to thread a difficult needle satisfying audience expectations without being too derivative. Suzuki's facility navigating this dilemma is at the heart of what makes Seven Deadly Sins so great.
Needless to say, Seven Deadly Sins is eminently watchable even if you're not a huge fan of fantasy; if you are, however, all the fun Suzuki has with the classic tropes of the genre will just enrich your experience.