Exclusive: Wynonna Earp Season 4 Clip Teases WayHaught Monster-Trapping Mission
What do you get when you mix an unexpected visitor with kombucha and a mysterious monster lurking behind a barn? The next episode of Wynonna Earp – part of it, at least.
Ahead of its premiere on Sunday, August 9, Syfy Network has shared with Looper an exclusive clip from the upcoming Wynonna Earp season 4 episode. 
Entitled "Look at Them Beans," the fresh season 4 installment finds our badass revenant-returner Wynonna (Melanie Scrofano), her half-sister Waverly (Dominique Provost-Chalkley), and the ageless Doc Holliday (Tim Rozon) making a startling revelation. When they had spent just a handful of days in the Garden fighting off a vicious, shape-shifting version of Eve who presented herself as Waverly's girlfriend Nicole Haught (Katherine Barrell), over a year and a half passed by in the real world — 18 months, three weeks, and four days, to be exact. Much has changed in the town of Purgatory during that time, and when the trio returns, things are pretty topsy-turvy: Wynonna's in trouble with the law, Doc's got a new partner, and Waverly's learning that her girlfriend is working a different type of beat beyond deputy sheriff of Purgatory. 
In the exclusive sneak-peek clip, another plot point is teased. Waverly wakes up, still dressed in pajamas, and finds a young woman named Rachel Valdez (Wynonna Earp newcomer Martina Ortiz-Luis) — the daughter of Black Badge Division scientist Gloria Valdez — sitting at the kitchen table. After scrambling to grab a coat to cover herself and accepting a glass of Rachel's homemade kombucha, Waverly asks her, "So, you're staying here?"
Suddenly, a bell rings and Nicole comes barreling down the stairs. "There's something in the trap," Rachel tells Nicole, who asks, "Which one?" Rachel confirms that the "something" is stuck in a trap set behind the barn — and as the pair grab their weapons and head for the door, a gun-toting Nicole tells a confused Waverly that they're trapping monsters. Waverly gives a half-shrug, half-smile and plucks an oversized spoon decoration from the kitchen wall before following Nicole and Rachel outside.
Anyone who called for a WayHaught monster-trapping mission with a heaping side of Rachel — order's up.
What Doc and Wynonna will get up to on Wynonna Earp season 4, episode 3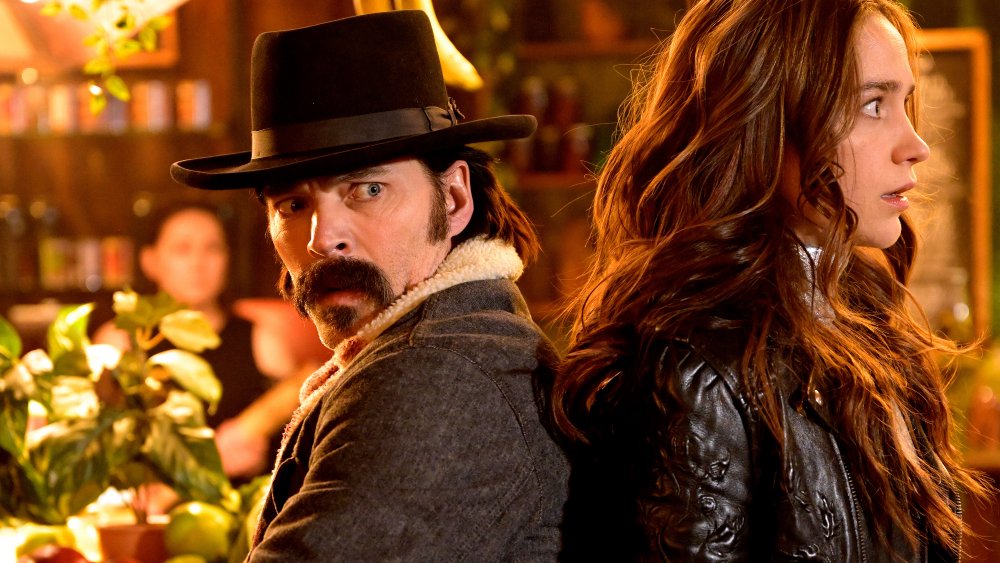 Michelle Faye/Syfy
Of course, that isn't all that will happen on the upcoming season 4 episode; this is Wynonna freakin' Earp we're talking about here. There's also the matter of Doc and Wynonna's antics to attend to — and boy, are fans in for a barrel of treats in that regard. 
Courtesy of Parade, another sneak peek from the episode sees Doc and Wynonna entering their old drinking hole to find it completely changed — outfitted with macrame decorations, fresh fruit galore, and a menu filled with smoothies, fro-yo, and a hilariously named chicken bone broth concoction. When Wynonna catches sight of Chrissy Nedley (Dana Hollenbach), she thinks she's found a friendly, familiar face who can tell her what the heck is going on. But Chrissy doesn't react warmly to a reunion with Wynonna, instead sparking a physical fight with her. Before things can get too intense between the women, however, a trio of gunman flash their weapons at Wynonna and insist that she let Chrissy go. Dun, dun, duuun!
Fans can find out exactly how the Way-Haught-plus-Rachel storyline and the Doc-Wynonna-Chrissy plot pans out when Wynonna Earp season 4 returns with episode 3 this Sunday, August 9 at 10 PM ET on Syfy.