Here's What Happened When Lil Nas X's Stylist Got 'Arrested'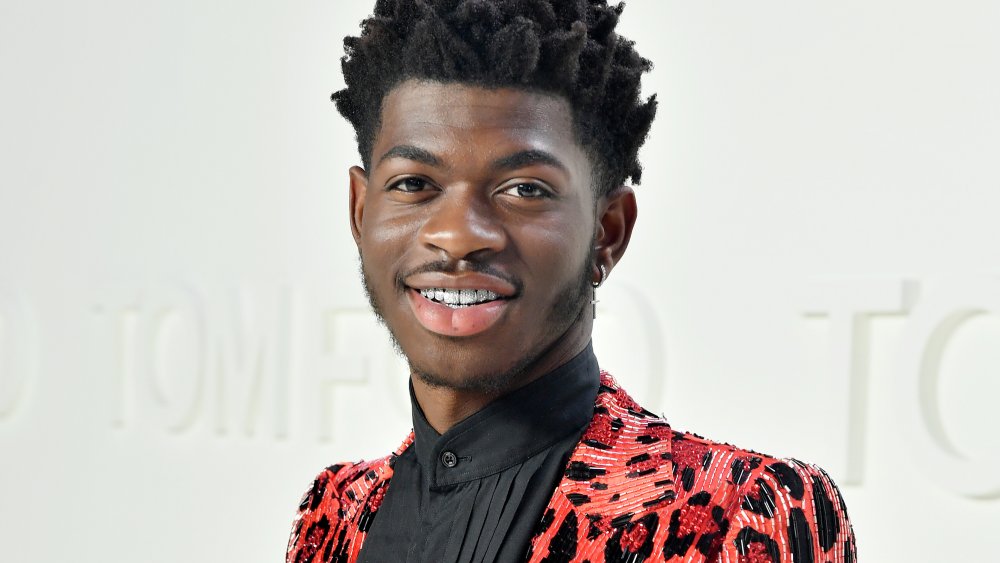 Stefanie Keenan/Getty Images
This content was paid for by Quibi and created by Looper.
Punk'd, the hidden-camera prank series originally hosted by Ashton Kutcher that first aired on MTV in 2003, has made its return on the streaming platform Quibi – this time with Chance the Rapper in the role of host. Like the OG series, Quibi's Punk'd features elaborate pranks played on famous actors, musicians, influencers, and more. Everyone from Megan Thee Stallion to Adam Devine to Ty Dolla $ign has been Punk'd already, resulting in some truly hilarious freakouts.
One especially notable Punkee is none other than Lil Nas X, whose chart-topping smash hit "Old Town Road" spent a record-breaking 19 weeks at the top of the Billboard Hot 100 charts in 2019. Born in April 1999, Lil Nas found tremendous pop culture success before he was even old enough to legally drink in the U.S. He also wasn't even four years old yet when the original Punk'd began airing. His status as an internationally known celeb paired with his young age made him a perfect candidate for a Punk'd pranking — but how did the successful young artist react to being on the show? Chance the Rapper and his team hatched a scheme to find out, employing the aid of Lil Nas' stylist, Hodo Musa.
Here's what happened when Lil Nas X's stylist got "arrested."
Setting up Lil Nas X's Punking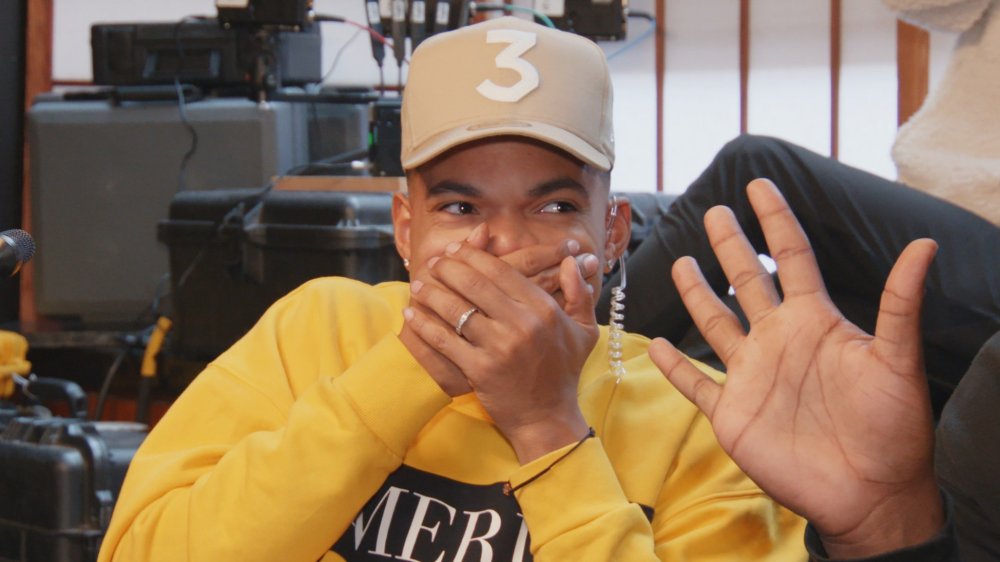 Quibi
The set-up for Lil Nas' own personal punking is pretty simple: He's prepping to perform at the Grammy's when a fake government organization, the NIS, arrives to arrest Hodo Musa. Lil Nas is told that Musa has been evading her taxes. It's even suggested that Musa purchased items for the Grammy's performance but somehow didn't pay taxes on any of them. Of course, this is all a lie — and Musa is in on the prank from the start.
When Lil Nas' friends tell him that Musa is in trouble, the rapper wastes no time messing around; he says he's not interested in the details of whether or not his stylist is guilty. All he's concerned with his telling what he knows to be true and protecting Musa.
Musa was born in Somalia in 1983, but fled to Sweden to escape a civil war. She was doing stylist work in Europe and Asia prior to working with Lil Nas, but only received her visa to work in the U.S. in late 2018, a few months prior to the 2019 Grammys. The consequences of an arrest by a government agency, especially for a non-citizen, would be enough to make anybody extremely nervous.
Lil Nas X gets blamed for his stylist's tax evasion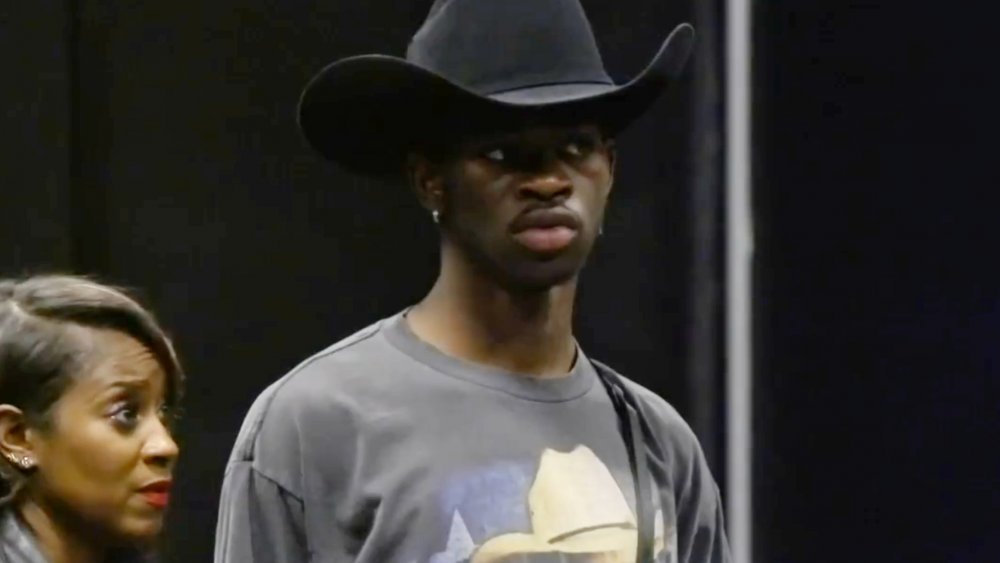 Quibi
The point of Punk'd is to see how people will react to the pressure of unlikely, stressful situations. In fact, part of why Punk'd tricks celebrities who are usually familiar with the show's host rather than random people on the street is because of just how unexpected reactions can be. Thankfully, Lil Nas X remained pretty level-headed — but that doesn't mean he wasn't nervous for his stylist.
As the prank heats up, requests for everyone's cell phones are made and the two fake agents begin the interrogation. The agents first ascertain that Lil Nas is the person in charge. They demand to know, "Are you paying for all this?" Lil Nas deadpans, "Pretty much." The agents demand to know what Lil Nas and his team are doing, with the rapper simply explaining that they're rehearsing for the Grammy's.
This is when the agents tell Lil Nas that not only is Musa guilty of tax evasion, but also that Lil Nas is responsible for her actions since she was making purchases with his money. "This concert won't happen unless we figure this out, right here, right now," the agents say. At this point, Musa is taken away in handcuffs by one of the fake agents, and the mood quickly changes.
Lil Nas X finally learns it's all a prank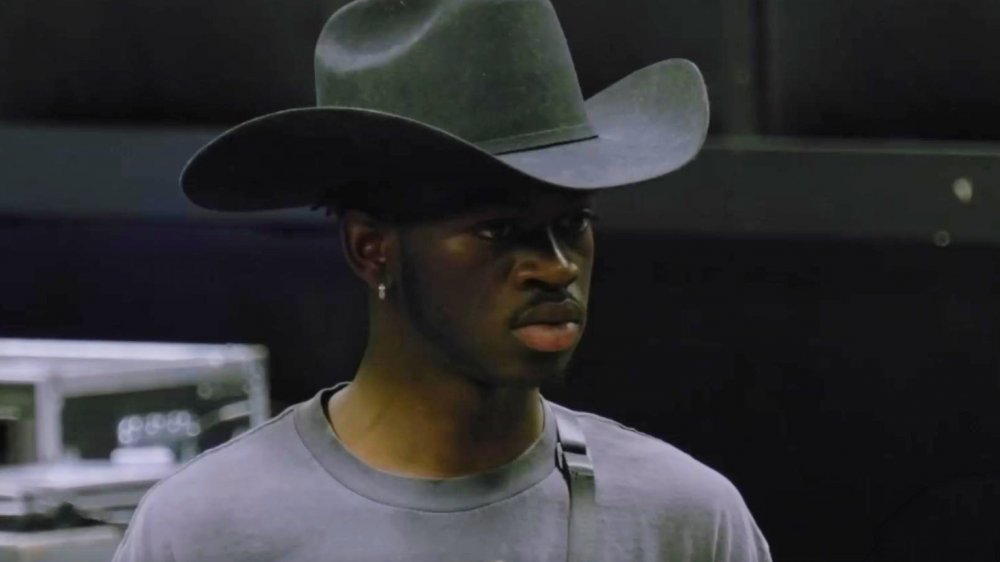 Quibi
The remaining agent immediately admits to Lil Nas, "I know exactly who you are. You did that song with Billy Ray [Cyrus]. That's a great song." Lil Nas is visibly uncomfortable with the recognition before the agent strikes him with an unorthodox offer: "Maybe we can work this out where this happens after the Grammy's. Quid pro quo. Tit for tat."
What is it that the agent wants in exchange for a delay in Musa's (fake) imprisonment? A video, naturally! The agent pulls out his phone and begins to dance, saying he wants Lil Nas to sing some of "Old Town Road" while the two agents act as his back-up dancers. 
"You cool with that?" asks the agent. "No," Lil Nas answers in disbelief.
But the humiliation isn't over yet. The second agent returns, and tells Lil Nas he has "30 seconds" to make a decision. The second agent also pulls out his phone, insisting, "Sing a verse of your song for my brother, because my brother loves you."
What Lil Nas doesn't know is that the "brother" that the agent is calling is actually Chance the Rapper. He then gives the phone to Lil Nas, and Chance starts singing "Old Town Road" as Lil Nas covers his face in frustration upon realizing this stressful situation was all an elaborate ruse.
Thankfully, this is the point where Chance is satisfied that Lil Nas has been sufficiently tormented. Chance runs onto the scene, embracing Lil Nas; moments later, Musa also enters, sans handcuffs. Visibly relieved, Lil Nas says to Musa before hugging her tightly, "That's not okay — I was really scared for you."
And that's how Chance the Rapper Punk'd Lil Nas X.