Why Keanu Reeves Was Somewhat Hesitant To Play Constantine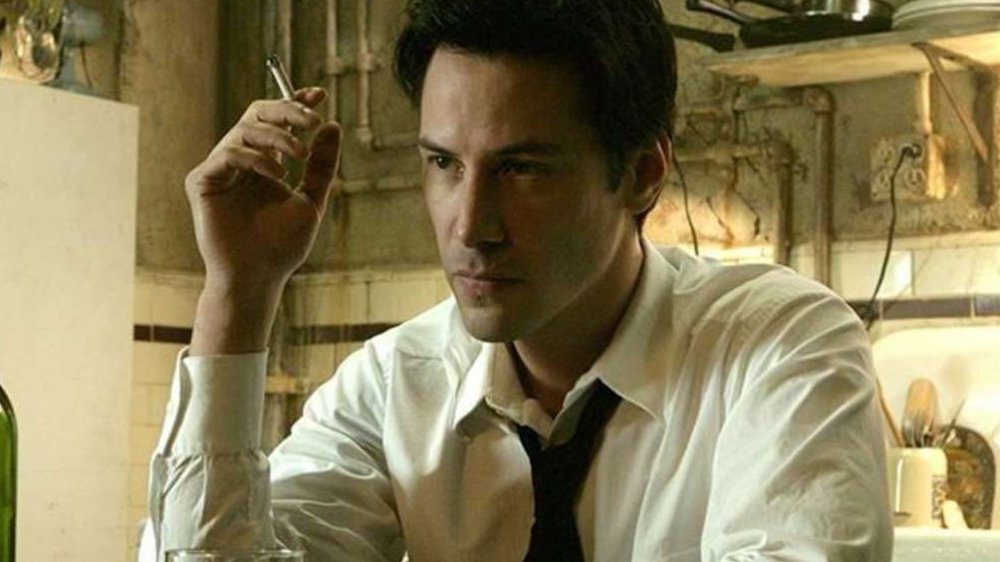 Warner Bros. Pictures
Even the ever-cool-and-confident Keanu Reeves can have subtle doubts.
To celebrate the 15th anniversary of the gritty-and-gloomy 2005 superhero film Constantine, director Francis Lawrence, producer Akiva Goldsman, and lead actor Reeves reunited for a retrospective panel aired as part of 2020's San Diego Comic-Con@Home on Saturday, July 25, 2020. At the panel, moderated by Collider's editor-in-chief Steven Weintraub, Reeves opened up about what it was like embodying John Constantine — a man who's been damned to Hell for attempting to take his own life, who continues chain-smoking despite having terminal lung cancer, and who possess the ability to wield dark arts and perceive angels and demons on Earth. 
It was certainly a dark role for Reeves to take, but there was a lightness about John Constantine that gave the actor a bit of pause. Not a figurative lightness, though — a literal one. 
During the panel, Reeves admitted he was a bit worried that he wasn't going to look the part of Constantine since Constantine is fair-haired and Reeves is dark-haired. Another difference between character and actor? Their accents. As Reeves shared, "I did some research on the character, and I was ... not hesitant, but I'm not English and I'm not blond, and the character is. So I had to reconcile that." The actor did so by focusing on who Constantine is rather than what he looks and sounds like. 
Asked if there was ever any discussions about bleaching Reeves' hair blond and/or having him speak in an English accent to mirror Constantine's Liverpool roots, Reeves, Lawrence, and Goldsman all shook their heads. "No," said Reeves with a slight smile. Lawrence elaborated, "No, we never talked about it. I remember in costumes, too, the one other big change for the Constantine character was the coat. We did try the Constantine coat and ended up going with a black one, which is different from the character from the comic books and graphic novels. We just wanted to do what was right for what we were doing."
Making Constantine brunette with a rhotic accent and a black coat was, for the Constantine team, the perfect choice.
Keanu Reeves has a lot of love for John Constantine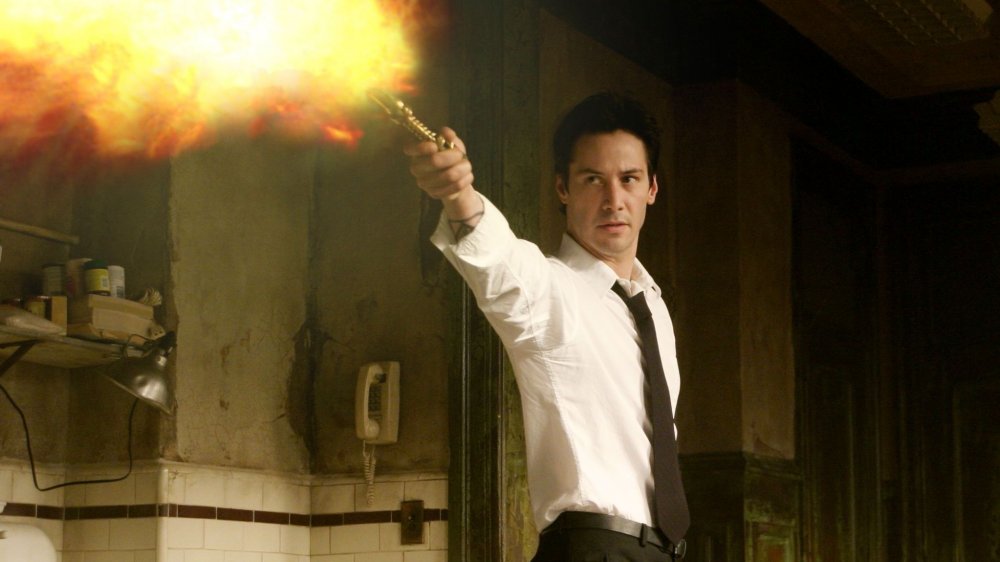 Warner Bros. Pictures
In mentioning that his way of dealing with the physical differences between himself and his character, Reeves shared all the things that he likes about Constantine.
"[I focused on] what was the base of the character, what could I bring to the character, [and] why even do it? It's a beautiful character, this kind of humanitarian cynic — tired, world-weary, tired of all the rules and morals and ethics and angels and demons, but still a part of [that world]," said Reeves during the Comic-Con@Home panel. "And I loved his sense of humor, so I was really excited. [...] I love the film, I love the character, so it was cool to be able to play that role and jump into it."
So deep and genuine is Reeves' love for Constantine that the actor has been said to be up for reprising the role in a sequel, should one ever come to fruition. As Constantine producer Avika Goldsman told Slashfilm in a July 2020 interview, "We have been talking about it recently. It's always stuck with all of us because we all love the movie, and especially realizing there's a real cult following for this movie, it'd be fun to make. Keanu, Akiva, and I have actually talked about it."
Fingers crossed that talk will one day turn into action.