Rick And Morty: Why The Season 4 Renewal Took So Long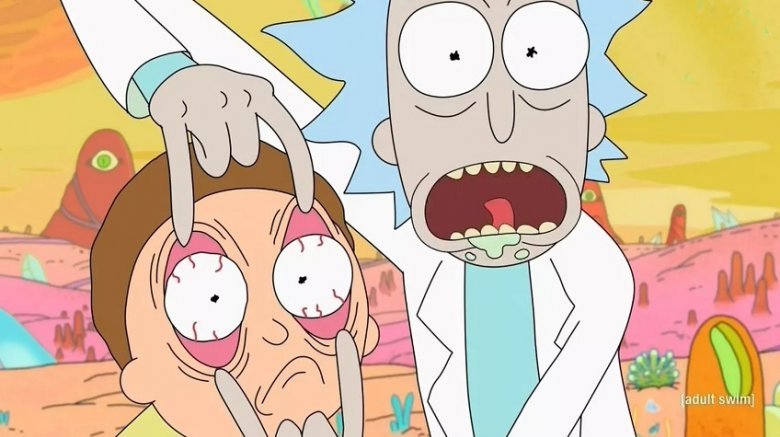 It took quite a while for the much-adored Adult Swim animated series Rick and Morty to score its promised "Rick and Morty forever and forever, a hundred years of Rick and Morty." The deliciously weird, undeniably wacky result of creators Dan Harmon and Justin Roiland collaborating, Rick and Morty was a smash hit in its first and second seasons, and fans clamored for a third — which was, after what felt like eons of waiting, well received by audiences worldwide. Unfortunately, things took an intense turn when fans learned that Adult Swim still hadn't ordered a fourth season of Rick and Morty several months after the season 3 finale aired. 
The network finally ordered Rick and Morty season 4, plus a whole lot more, in a massive 70-episode deal earlier this year. Though fans' worries have been put to rest and the outcries have fizzled out, the lengthy renewal delay and the enormous greenlight move has everyone asking the same question: why did it take so long for Rick and Morty to score a fourth season in the first place?
Speaking with GQ for an in-depth profile ahead of the super-sized renewal, Harmon explained that he and Roiland were in talks to expand the show beyond just a single season pickup. The network did, in fact, renew Rick and Morty for a fourth season, but the minds behind the television phenomenon were still in negotiations for additional episodes. 
When the creative pair sat down with Adult Swim brass about crafting Rick and Morty season 4, they wanted to ensure that they were locked in continue making the show as great as possible for as long as possible, a kind of security they weren't given before. The piece details that Harmon and Roiland were "holding out for a contract that grants them immortality," or at least "many, many, many more seasons" so that they could give the series "the full attention it deserves" instead of splitting their focus and taking on side projects to keep a steady flow of income between seasons of Rick and Morty . 
Following the pickup confirmation, Harmon was elated that things panned out in his and Roiland's favor. "I can finally actually breathe and be as excited as I've wanted to be," he said. "From now on, the reason I'm not writing the show will be because I'm done writing it for the day, and I'm having fun. That'll be nice."
So there you have it, Rick and Morty fans: the season 4 renewal took so long because Harmon and Roiland wanted to give viewers not just one but as many as seven new seasons, and hoped to make the show their main priority for the foreseeable future. How's that for a happy ending?