Hulu's Helstrom Gets A Release Date And Epic First-Look Trailer
And you thought your family reunions were bad. 
During the virtual panel for the upcoming Marvel Cinematic Universe-set series Helstrom that aired during 2020's San Diego Comic-Con@Home, Hulu unleashed a fresh trailer for the show. To add a cherry on top of the comic book adaptation sundae, the streamer also announced the release date for Helstrom: October 16, 2020. Those interested can catch all ten episodes of Helstrom season 1 on Hulu that day.

Like all good first-look trailers should do, the one for Helstrom introduces audiences to the central characters and sketches out the core story of the series. Based on the Marvel Comics characters Daimon and Satana Helstrom and created for television by Paul Zbyszewski, Helstrom stars Tom Austen as Daimon and Sydney Lemmon as Ana (shortened from Satana) — siblings who are the children of a terrifying serial killer, their father, and the long-institutionalized Victoria Helstrom (Elizabeth Marvel), their mother. 
Daimon works as an ethics professor in his day-to-day life, while Ana toils away as an auctioneer. During their downtime, however, the Helstrom siblings have much different agendas: Daimon is an exorcist, and Ana — well, she likes to dabble in a bit of vigilantism, tracking down humanity's evilest individuals and serving them their just desserts. Daimon's in on the evil-hunting, too, and together, they make a pretty formidable pair. 
The two must rely on that dynamic, plus their shared determinism, when they pay their mother a visit. In the Helstrom trailer, we see the siblings confronting Victoria, who cackles at the sight of Daimon and stares blank-eyed at Ana when she asks what Victoria set loose on the world before she was institutionalized. "I think you know. No stone unturned," Victoria says as one of her eyes does a full rotation inside her skull. Not exactly the kind of parent-children reunion you'd expect, huh?
Helstrom will kick off with a trio of wild episodes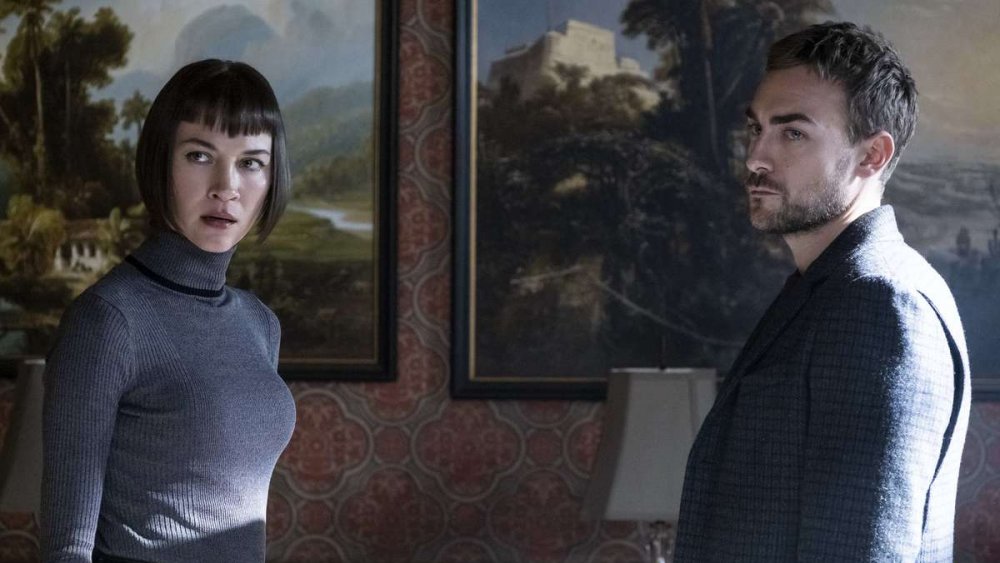 Katie Yu/Hulu
This new trailer for Helstrom does a keen job of conveying the premise, getting audiences acquainted with the leading lady and starring dude, and establishing a truly spooky tone. Even more goodness awaits in the full series, which will come out of its cage swinging with three episodes sure to captivate and creep out audiences in kind (via Syfy).
The debut episode, entitled "Mother's Little Helpers," will see Daimon traveling to Oregon to investigate the possession of a young boy. Back in San Francisco, Ana hatches a plan: set up an auction that's specifically designed to expose a criminal. When something "disturbing" happens at St. Teresa's, the hospital where Victoria Helstrom has been held for the last 20 years, Daimon and Ana must come together to address growing concerns. 
Episode 2 of Helstrom season 1, entitled "Viaticum," finds Daimon teaming with Gabriella Rossetti (Ariana Guerra), a Vatican agent who's sent to assist the Helstrom siblings in navigating their uniquely dark endeavors. While Daimon and Gabriella work to save someone's soul following a gruesome accident, Ana makes a discovery that leads her to St. Teresa's. Elsewhere, Ana's business partner Chris Yen (Alain Uy) begins experiencing obsessive tendencies over his work in the auctioning business. 
Next up is "The One Who Got Away," aka The One Where Daimon and Ana Learn Things About Their Father. Directed by Marcus Dalzine, the episode will unravel unsettling facts surrounding the Helstroms' father's past actions, leading them and Gabriella to a potential victim. Before they know it, the three are in over their heads — and things only get more intense when another stunning revelation is made.
Of course, the seven other episodes that complete the first season of Helstrom are bound to continue that streak; we simply don't know the details of those installments just yet. What we do know is that fans will get to meet all these characters — plus Ana's occult-oriented friend Caretaker (Robert Wisdom) and Helstrom ally and psychologist Louise Hastings (June Carryl) — in just a few months. 
Helstrom season 1 hits Hulu on October 16, 2020.