His Dark Materials Season 2 Trailer Will Blow Fans Away
New worlds await. Are you prepared to take the trip?
During the virtual Comic-Con@Home panel for HBO and BBC Studios' His Dark Materials held on Thursday, July 23, 2020, the very first trailer for the series' upcoming second season was unveiled. 
Just over seven months have passed since the season 1 finale of His Dark Materials, the television adaptation of Philip Pullman's novel series of the same name, so to say that the season 2 trailer reveal was both hotly anticipated would be an understatement. Luckily for His Dark Materials fanatics, the wait was undoubtedly worth it. What's shown in the His Dark Materials season 2 trailer is the stuff that could alight a spark in anyone's soul and leave them clamoring for more. 
A standout element of the fresh footage is the first-ever look at Cittàgaze, a mysterious city that exists within a parallel universe. In Pullman's novels, Giacomo Paradisi, who wielded the subtle knife before Will Parry (played on the show by Amir Wilson) did, describes Cittàgaze as such: "This was a mercantile city. A city of traders and bankers. We thought we knew about bonds. We thought a bond was something negotiable, something that could be bought and sold and exchanged and converted. But about these bonds, we were wrong." 
Speaking of the subtle knife, it makes an appearance in the His Dark Materials season 2 trailer. The marine explorer Colonel John Parry (Andrew Scott), Will's father who's also known as Stanislaus Grumman, holds up the knife as he explains, "This knife could cut between worlds."
The focus of His Dark Materials season 2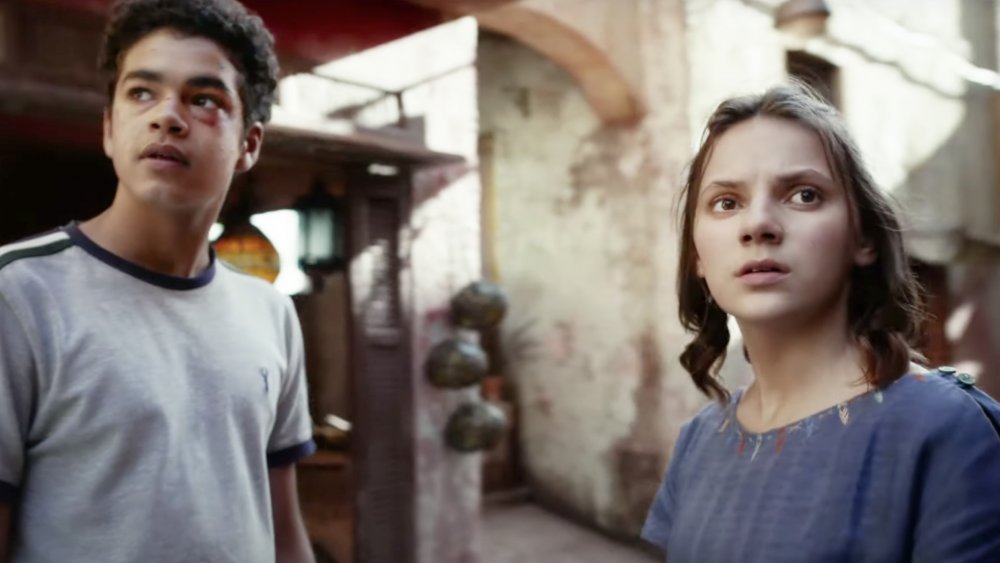 HBO/BBC Studios
That's the main crux of His Dark Materials season 2: the existence of multiple worlds, and the fact that many people are looking for our headstrong protagonist Lyra Belacqua (Dafne Keen) after she escapes into the unknown following the death of her best friend. 
Lyra goes after her father Lord Asriel (James McAvoy), who has built a bridge to a new world, and enters Cittàgaze. There, she meets Will, described in a press released obtained by Looper as "a boy from our world who is also running from a troubled past." The two come to discover that their fates rest in getting Will reunited with his father ... but the mission won't be one easily completed, with dangers lurking around every corner and tensions rising as the early phases of war begin. 
Many people will be after Lyra — causing heartache for Lyra's mother Marisa Coulter (Ruth Wilson), an elite Magisterium figure and an explorer, and the aeronaut Lee Scoresby (Lin-Manuel Miranda), who swore to protect the young girl. As Marisa says at the start of the season 2 trailer, "There are multiple worlds out there, and people will be looking for her. Not all of them good."
HBO and BBC Studios haven't yet announced an exact release date for His Dark Materials season 2, but it's scheduled to debut sometime in fall 2020.