Seth Green On What It's Really Like To Be Part Of The Star Wars Universe - Exclusive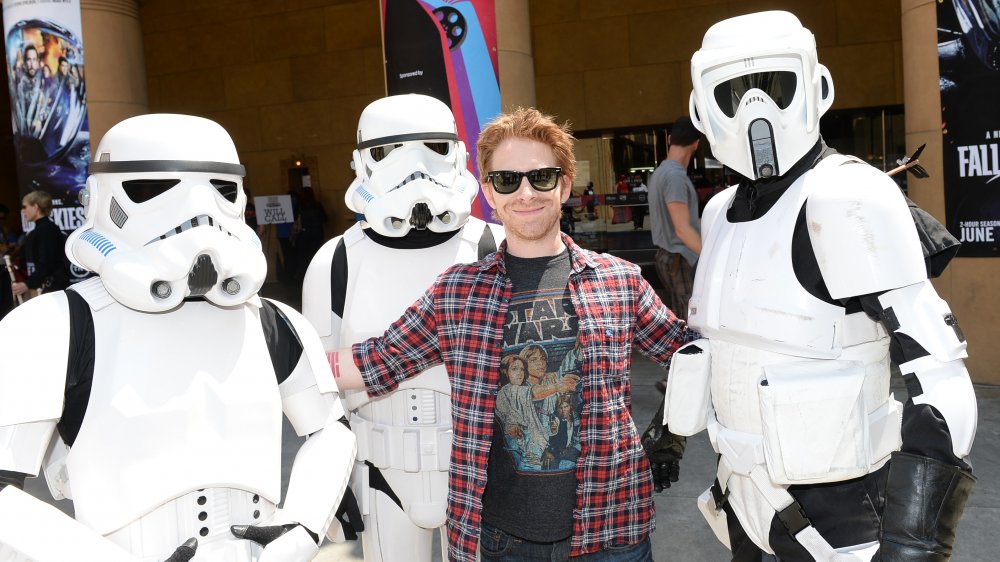 Michael Buckner/Getty Images
As recognizable as Seth Green's face is — having appeared in such iconic fare as the original It miniseries, the Austin Powers franchise, and Buffy the Vampire Slayer — so too is his voice. For the past 20-plus years, he's voiced Chris Griffin on the Fox hit animated series Family Guy – and, for almost as long, various characters (including the Nerd, Batman, Obi-Wan Kenobi, and Anakin Skywalker) on his own late-night stop-motion show Robot Chicken, which airs on Sundays at midnight on Cartoon Network's Adult Swim.
As a self-avowed Star Wars geek, Green has used Robot Chicken as a platform to parody the blockbuster franchise with special Star Wars episodes. That could have easily backfired, but instead, it opened the door for Green to enter the Star Wars universe and grabbed the attention of Star Wars creator George Lucas, who has lent his voice to his own Robot Chicken character. So far, there have been three Robot Chicken: Star Wars specials, and Green has voiced characters on the animated series Star Wars: The Clone Wars and Star Wars Rebels.
Looper recently caught up with Green for an exclusive chat about what it's really like to be part of the Star Wars universe.
Seth Green had to remember not to geek out when working on Star Wars projects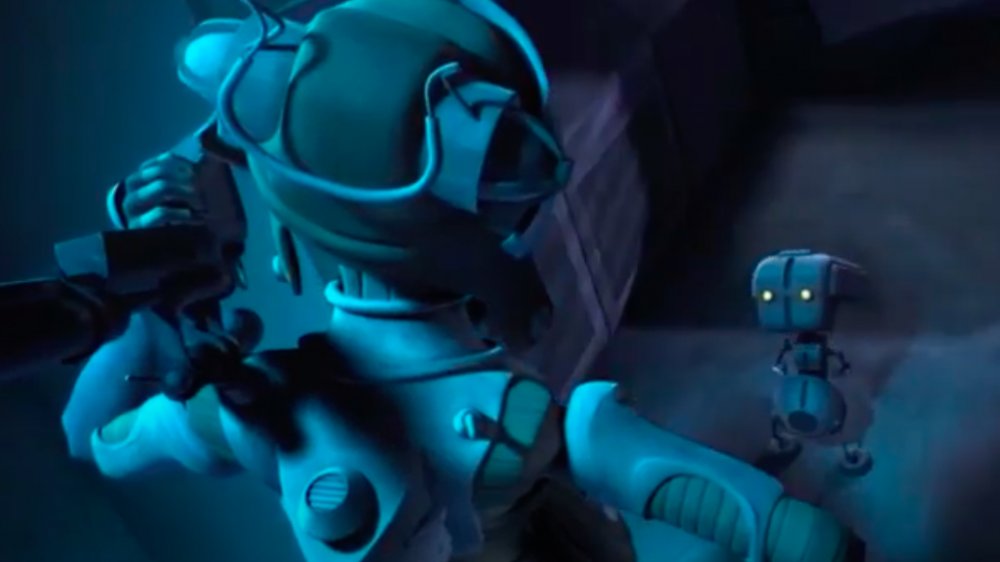 Lucasfilm Animation
For Green, being accepted with open arms into the Star Wars universe is a dream come true.
"Being a lifelong fan of Star Wars, it is an incredible honor to be able to participate in the legacy of it, especially the time I got to spend with George Lucas and the relationship that we were able to form," he told Looper. "To get to spend so much time with such an iconic creator like George and to get to have casual moments with him in the midst of making things, that's worth more than anything as an actor, as a creator. It's invaluable."
For a brief time, Green voiced Todo 360 and Ion Papanoida on Star Wars: The Clone Wars, and once portrayed Captain Seevor on Star Wars Rebels. It's work he found immensely enjoyable, but sometimes, he had to remind himself that he was there to get a job done, not geek out.
"It's just fun," said Green of working on the animated series. "Everybody's so cool and nice and collaborative that anytime I've gotten to do voiceover stuff for Star Wars, it's just been fun."
He continued, "Anytime I've gotten to work with heroes of mine or really, really talented artists, I try to remember that I'm there on purpose, and that it's my responsibility to bring the best of myself to that situation. But I also marvel in the opportunity to just get to witness and share and listen to whoever it is."
Seth Green created an animated Star Wars series, but we may never see it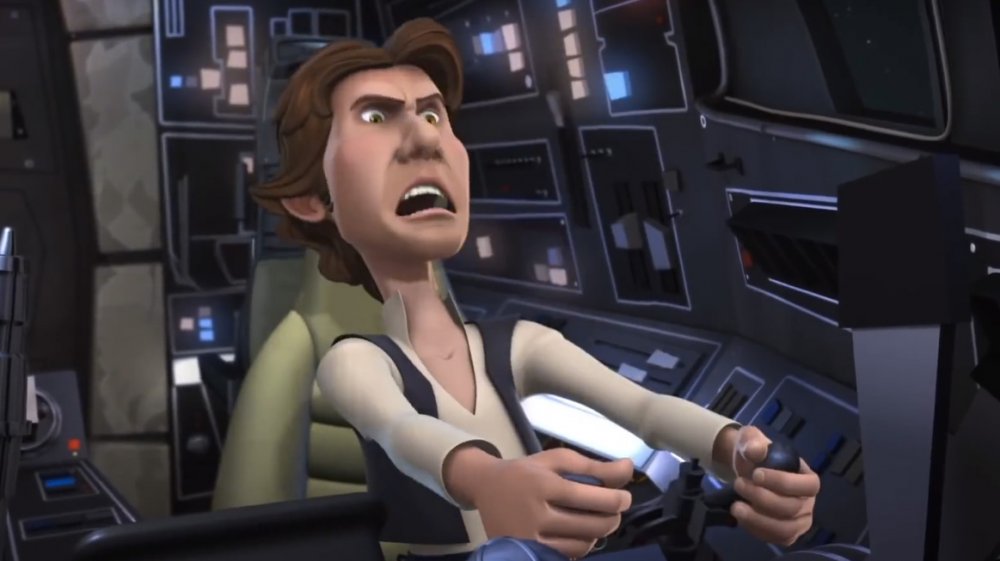 Lucasfilm Animation
In addition to his voice work, Green has, in fact, created an animated Star Wars series — but it has yet to see the light of day. In 2010, alongside Lucasfilm Animation, Green and his Robot Chicken cohort Matthew Senreich co-created Star Wars Detours, which parodies the franchise. Of course, that creation happened before the Walt Disney Company bought the George Lucas-owned Lucasfilm (and its Animation subdivision) in December 2012. Since then, Star Wars Detours has sat on a shelf, despite having nearly two seasons completed.
While Green says there's no plan to release the series to the public, he isn't bitter about the decision at all. In fact, he greatly admires film producer and current Lucasfilm president Kathleen Kennedy.
"Talk about getting to spend time with your heroes. Kathleen is one of the most brilliant producers I've ever had the privilege of getting to collaborate with, and I was in awe of her long before she took over Star Wars," said Green. "The months that I spent having these conversations with her [about Star Wars Detours], I treasure it."
On the future of Star Wars Detours, Green added that there isn't currently a place in the galaxy far, far away for the series to fit, but an opening may crop up in the future. While Green isn't ruling anything out, he also doesn't know what — if anything — will come of Star Wars Detours.
"When Kathleen took over the company, she said something to me that I'll never forget. It was her responsibility to steward the brand into the future, into perpetuity, and to that end, it was about what the next 30 years of Star Wars was about. And she made it very clear how dutifully she accepted the challenge of giving new content to the next generations in all these different forms," Green explained. "So the only thing I can say about Detours is there hasn't been a moment where the shape and style of the show, which was created at a time when there wasn't a plan to make new Star Wars movies, has been able to fit into what the company's intended offerings are. Whether that'll change in the future, I can't say."

Robot Chicken airs Sundays at midnight on Cartoon Network's Adult Swim. The season 10 finale will air on Sunday, July 26.