Cursed Star Daniel Sharman Dishes On The Weeping Monk - Exclusive Interview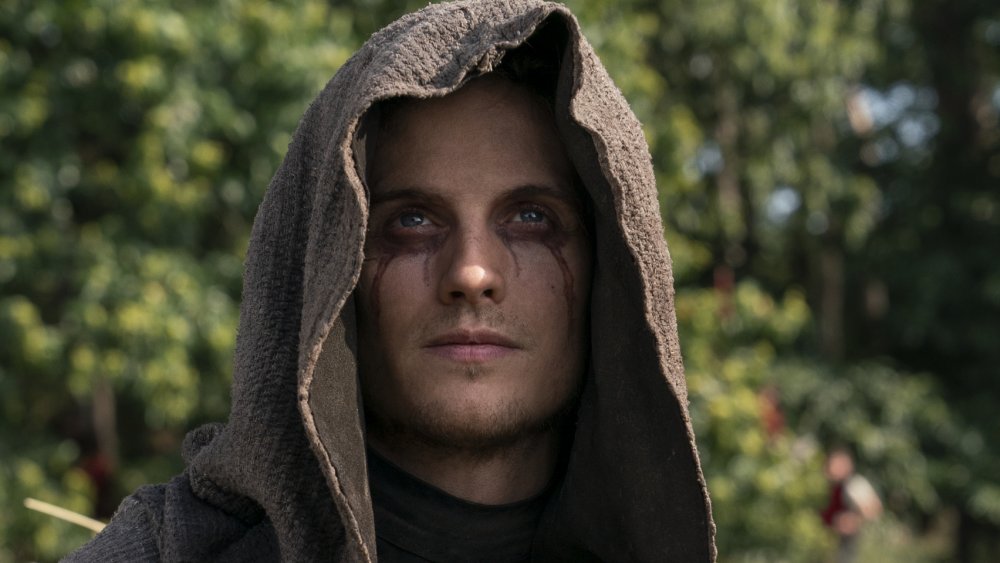 Cursed, Netflix's dark reimagining of the classic Arthurian legends, has one heck of a cast. 13 Reasons Why star Katherine Langford headlines the series as Nimue, the future Lady of the Lake and, in this retelling, Excalibur's original owner. Vikings and Westworld veteran Gustaf Skarsgård plays Merlin. Devon Terrell, who played a young Barack Obama in 2016's Barry, returns to Netflix for a charming, roguish take on Arthur (just Arthur — he's no king yet), while former Teen Wolf, Immortals, The Originals, and Medici actor Daniel Sharman appears as the Weeping Monk, Cursed's most fascinating villain.
As designed by comic book maestro and Cursed co-creator Frank Miller, the Weeping Monk is a fearsome and frightening Fay-hunter with a mysterious and surprisingly tragic past, and while he begins the series as a cypher, he ends up playing a major role in Cursed's revamped Arthurian mythology. As you'll see, he's not exactly a brand new character, but he is a new spin on a well-trod archetype, and Sharman deserves all the credit for bringing the Monk's menacing presence to the screen.
In this exclusive interview, Sharman discusses what drew him to Cursed, how he prepared to play the role, and how the Weeping Monk's distinct costume ended up scaring the bejeezus out of everyday English citizens. Just don't expect any spoilers — if you want to know the Weeping Monk's biggest secrets, you're just going to have to watch the show.
How Daniel Sharman got ready to play the Weeping Monk on Cursed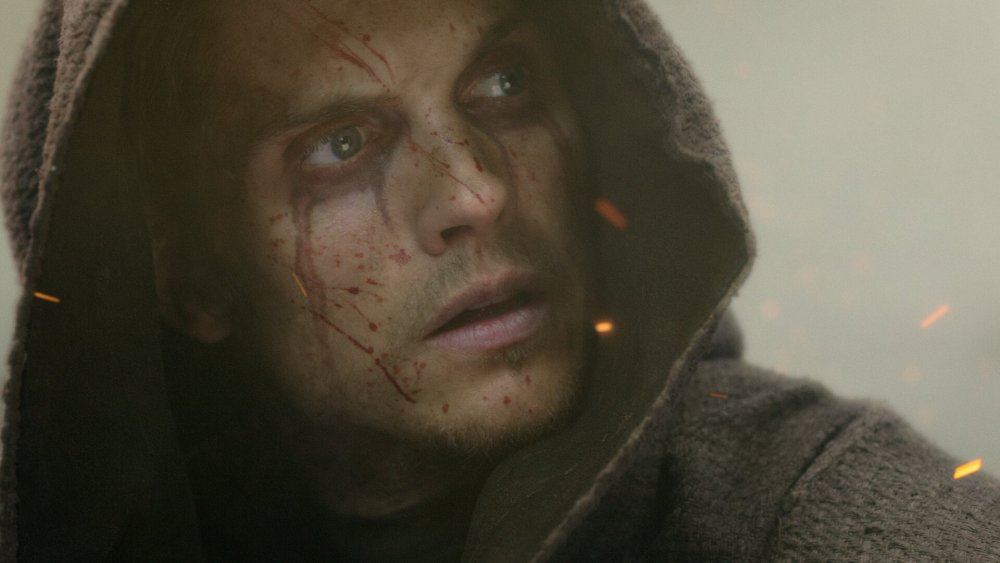 Being a London native and an actor who's worked on so many British projects, what was it like working on a show that twists the classic Arthurian legends?
It was interesting. It was one of the reasons I wanted to do it, because it was such a twist. There are lots of twists in it, and that was fun because, obviously, my interpretation of it was always this very stereotypical version of Arthurian legend, and to have that subverted was really cool. It challenged my idea of what that would look like, and I thought that was important if you're going to do something that's been done a million times. You have got to have a reason for doing it, and a different way of doing it.
And this, to me, seemed like a different take. There were plenty of surprises along the way. This wasn't the archetypal thing that we've seen over and over again, and I enjoyed that. And then, going back to England was strange. I hadn't been back in a long time. So it was an added thing of going back home and being back in the country that I grew up in.
How did the illustrated Cursed novel influence your performance? How much of your own spin did you put on the character?
Well, Frank [Miller] had these incredible drawings that we worked with, and there were certain things I wanted for the character that we weaved into to the narrative of who he was. All that came down to the fabric of his costume and stuff like that. So there were little things I really wanted, but largely Frank had this idea of what it was going to look like, and what the sword looked like, all of that stuff. It was cool, and then you step in and you get to use all of that stuff to make a backstory, make up who this person is. And then you get to play, which takes the pressure off. You're collaborating with people who know what they're doing.
The Weeping Monk has some swordplay in Cursed's first season. Did you have any special training for the part?
Yeah, lots of fight training. I'd just done a project where I'd been on a horse and also been fight training, and so it wasn't entirely new to me, although this was a whole different level of training. I obviously had to get in pretty amazing shape, because the rigors of it were so particular, so lots and lots of work on that, going through the routines and then going through moving my body in that way and pushing my body to the limit. And then also finding out how he fought, what it looked like. And so, getting influences from different kinds of fight and different kinds of disciplines to put myself in a space where I could find how he moves. That was layer upon layer upon layer of trying to make this character.
The Weeping Monk has some pretty interesting makeup. Were there any other variations of his makeup before the final design?
Yeah. We tried a few looks, a birthmark. I wanted him to have a sense of looking like that. At one point it was going to be like a full AC/DC thing. So we worked on it, and we went through a number of different iterations until we found something that works that isn't too crazy.
What filming Cursed was like behind the scenes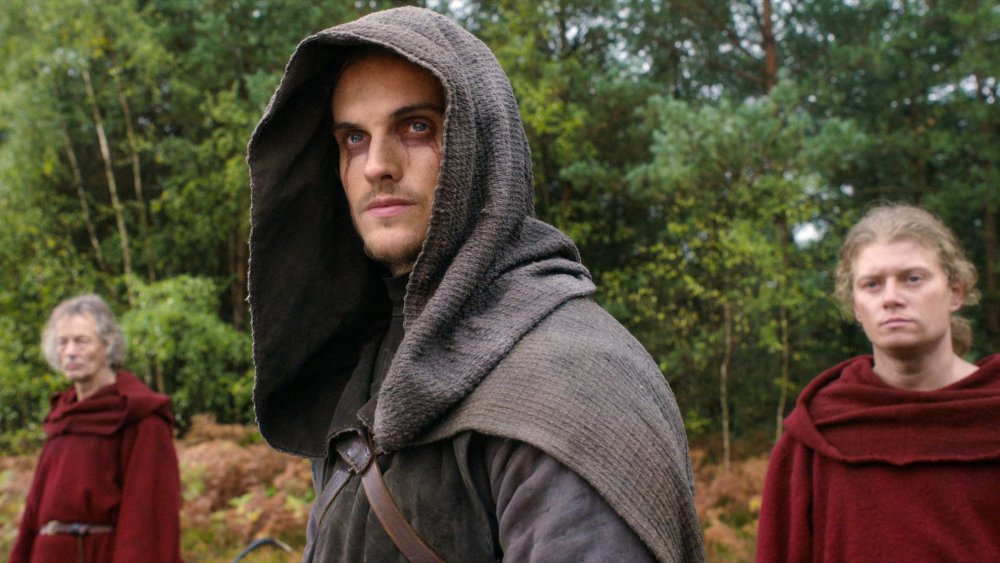 What was it like working with actors like Katherine Langford and Gustaf Skarsgård?
It was great. I'm sure you you've been told by the other actors, but we were largely kept apart because they were such different stories going on together. So we didn't see a lot of each other working, which is rare for me because usually you get to know everyone really well and you have a relationship with everybody. You build up some bonds with people, but for this, we were so separate that I only ever saw Gustaf in the gym. We swam, did odd bits of music here and there, but largely we were missing each other at work.
So it wasn't a big together set in that sense, not for me. I was largely isolated. I would come in and do my job and then leave. I had some friends and family in London, so I had somewhere to go and reconnect. So I largely didn't get to see much of them, but it's lovely to see them on this because we actually get to all be like, "Hey, how are you?"
Do you have any favorite moments or favorite stories from behind the scenes?
Well, the big thing is that costume was amazing just to look at, but very hard to fight in. Once, I twisted my ankle before going on to set. I went to basically your version of Accident and Emergency in a hospital in the middle of England in my full Grim Reaper outfit, my whole cloak. Sitting in the waiting room of this emergency room with all these people coming in and thinking, "Oh God, death has really come."
They asked me to go and wait in a different room because I was scaring some of the other patients. So we sat there in full garb, because they couldn't cut the boot off. We sat there scaring the people of middle England with me basically looking at them, thinking, "You're next."
What should your fans expect before they watch Cursed?
Well, I think there's a big epic fantasy, a dark fantasy. So you can expect a story that looks like a fairytale that turns into a Frank Miller world very quickly. So there's a bit of a journey to go on, and if you stick with it to the end, I think you'll come away and think, "Wow, that's, that's an entire world that was just created."