The Real Reason Daniel Sharman Joined Netflix's Cursed - Exclusive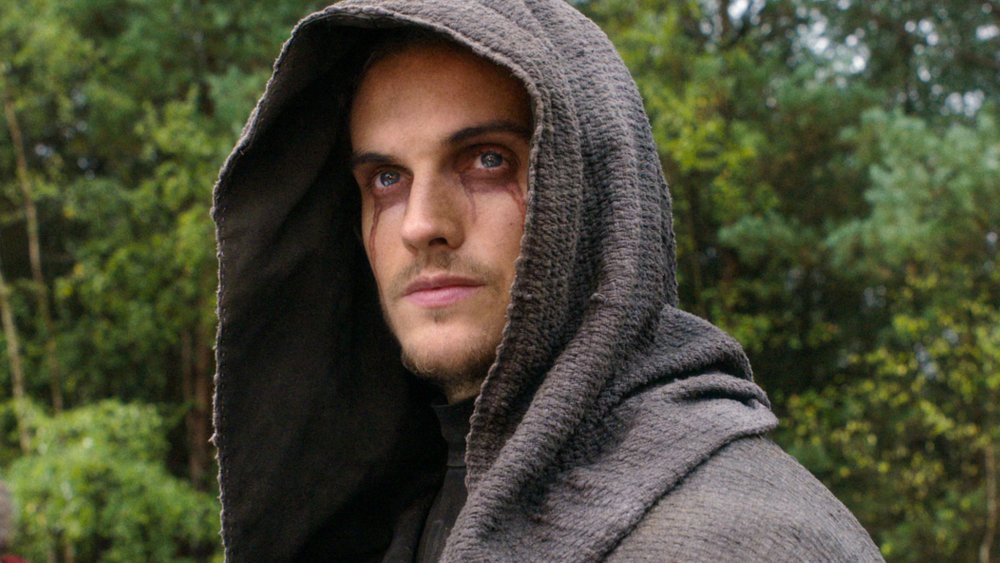 Netflix
Netflix's Cursed isn't like any adaptation of the Arthurian legends that you've seen before. Not only does the whole enterprise play fast and loose with the classic stories — in this version of the tale, Nimue is the one holding Excalibur, not Arthur — but it's also filtered through the unique vision of comic book writer and artist Frank Miller, who co-created and illustrated the novel the show is based on.
As a result, Cursed is full of bold takes on these timeless characters, as well as a few brand-new ones. Of those, the Weeping Monk is by far the most memorable. As played by actor Daniel Sharman, the Weeping Monk is a fearsome and mysterious figure who makes for a very formidable villain, thanks largely to Sharman's performance and one of the best costume designs on the whole show.
So, what attracted Sharman — who's a veteran of TV shows like Teen Wolf, Fear the Walking Dead, The Originals, and Medici – to the series? As he tells Looper in an exclusive interview, it's all about the novelty. 
"One of the reasons I wanted to do it is because it was such a twist," Sharman says. "My interpretation of [these stories] was always this very stereotypical version of Arthurian legend, and to have that subverted was really cool. It challenged my idea of what that would look like."
In fact, Sharman goes so far as to say that re-inventing Arthurian mythology is more or less necessary for any modern interpretation. "I thought it important — if you're going to do something that's been done a million times, you have to have a reason for doing it," he tells us. "This, to me, seemed like a different take, and there were plenty of surprises along the way. This wasn't the archetypal thing that we've seen over and over again."
Of course, there was an added bonus for Sharman, a London native who's been living in the United States for years: Cursed filmed all over the UK, which gave him a chance to visit his homeland for an extended period of time.
"Going back to England was strange. I hadn't been back in a long time," Sharman admits. "So it was an added thing of going back home and being back in the country that you grew up in." Still, odd as it felt, Sharman did use the opportunity to catch up with some old acquaintances — at least when he wasn't busy filming: "I had some friends and family in London, so I had somewhere to go and reconnect."
Why Frank Miller's artwork is so important to Cursed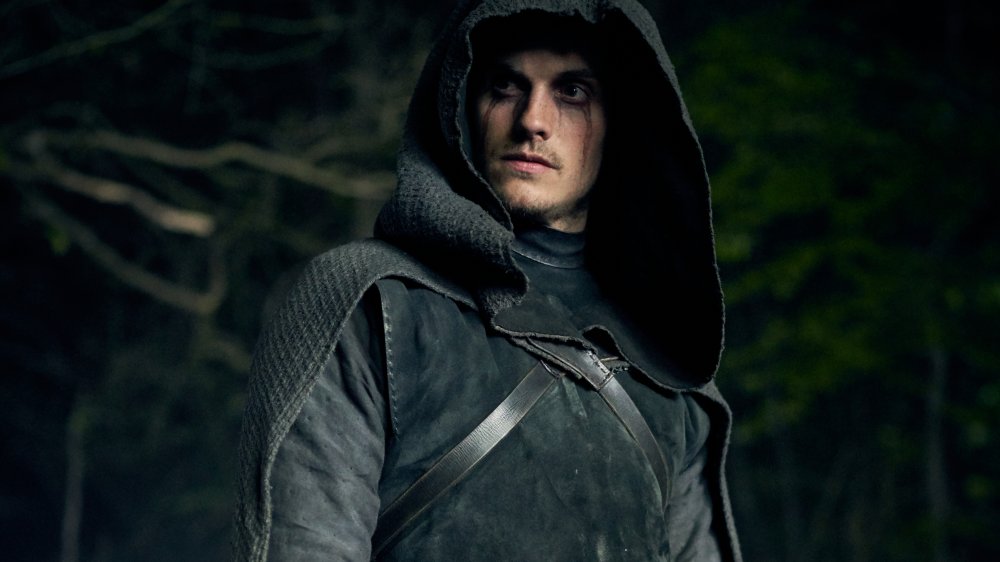 Netflix
For Sharman, one of Cursed's other big draws was Frank Miller, the world-famous comic book creator who's known for a character-defining run on Daredevil, iconic Batman stories like The Dark Knight Returns and Batman: Year One, and creator-owned projects including Sin City and 300. Miller serves as a producer on Cursed, but his links to the property go much deeper than that: He also co-created the franchise with writer Thomas Wheeler, and contributed 38 illustrations to the novel that kicked the whole thing off.
As fans know, Miller has a very distinct art style, and Sharman says he enjoyed seeing the world of Camelot filtered through the artist's unique vision. "I think it's a big, epic fantasy, dark fantasy," he shares, "so you can expect a story that looks like a fairytale that turns into a Frank Miller world very quickly."
Miller's designs helped Sharman get into character as the Weeping Monk, too. "Frank had these incredible drawings that we obviously worked with," Sharman says. "So there were little things I really wanted, but largely Frank had this real idea of what it was going to look like." 
And that was a boon for Sharman, not an obstacle. "You step in and you get to use all of that stuff to make a backstory, make who this person is. And then you get to play, which takes the pressure off," the actor says. "You're collaborating with people who know what they're doing."
Besides all that? With Miller handling the visual designs, Cursed simply looks really, really cool. Just look at the Weeping Monk to see what we mean.
Cursed's 10-episode first season is available to stream on Netflix now.