Rob Liefeld Gets Real About The Possibility Of Deadpool 3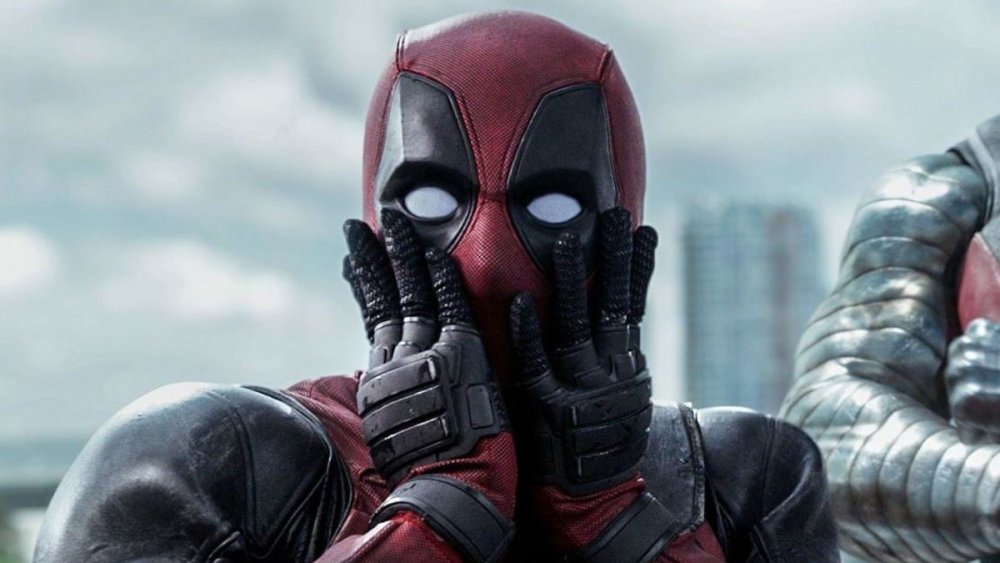 20th Century Studios/Disney
Still waiting for an announcement as to when Deadpool will make his big Marvel Cinematic Universe debut? Don't hold your breath, says the creator of the Merc with a Mouth.
Rob Liefeld recently sat down with Collider to discuss the future of Deadpool on the big screen, and what he had to say isn't terribly encouraging. Sure, we all know that the film and television industry has been battered and bruised this year due to the ongoing COVID-19 pandemic, but Liefeld seems to think that this circumstance has little to do with why we haven't gotten an update on Deadpool 3 in months. In fact, he appears convinced that since acquiring rights holder Fox (now 20th Century Studios) in 2019, Disney has simply lost interest in the franchise — despite 2016's Deadpool and 2018's Deadpool 2 having a combined gross of over $1.5 billion at the worldwide box office.
"You know what? There may not be another Deadpool, and I'm fine," Liefeld said. "Because I have to live with the fact that I had two amazing experiences, two movies I'm extremely proud of, I love knowing everybody on those movies. I love Ryan [Reynolds], Josh [Brolin], Zazie [Beets], [Deadpool 2 director] David [Leitch], [Deadpool director] Tim Miller. All of them. The work they did was fantabulous, those movies are here to stand the test of time. You know, but in the world we live in, nothing is guaranteed. And it takes a lot to make movies. And post-quarantine, it's weird."
This isn't the only time Liefeld has whistled this tune recently. Back in May, he told Variety that he had a pretty good handle on the MCU's road map for the next five years, and that Deadpool 3 was not part of Marvel's plan for that time frame. "Until a movie is put on a schedule, it's not taken seriously," he said at that time. "My take on [Deadpool 3] is it's not a huge priority. I wouldn't look for it any time soon."
Has Disney really given up on the Deadpool franchise?
We'd be remiss not to mention that if indeed ol' Mickey has given up the ghost on the cash cow that is the Deadpool series, it would come as news to a fair number of concerned parties. Chief among them: Ryan Reynolds, who just this past December announced on national television that, yes, Deadpool 3 is in development at Marvel Studios (via ScreenRant).
Marvel head honcho Kevin Feige might also be a bit surprised by Liefeld's remarks, given that shortly after Fox was acquired by Disney, he strongly implied not only that the franchise would continue, but that future installments would retain the raunchy aesthetic and R rating of the first two. "There's no question that Deadpool is working, so why would we change it?" he said at the time — and given that Feige has also said that Deadpool's fellow X-Men might take a good four or five years to integrate into the MCU, it stands to reason that even if Liefeld's remarks about Marvel's five-year plan are accurate, they might not mean much.
Also likely to be taken aback by the creator's words: franchise screenwriters Rhett Reese and Paul Wernick, who said in October 2019 that they were waiting on Feige and Reynolds to give them the green light to start writing. One might even assume that, by the time Reynolds made his December announcement, they had been given the go-ahead — especially considering that Reynolds' co-star Morena Baccarin told Entertainment Weekly in June 2020 that, as far as she knew, Reese and Wernick were hard at work.
All of which is to say that despite Liefeld's doubts, all available evidence points to the fact that Deadpool 3 is moving forward — although it may, as he suggested, simply not be happening any time soon. Of course, we'll be keeping an ear to the ground for any and all news fit to report on the three-quel, and we'll be sure to keep you informed.