The Truth About Billy Butcher's Dog On The Boys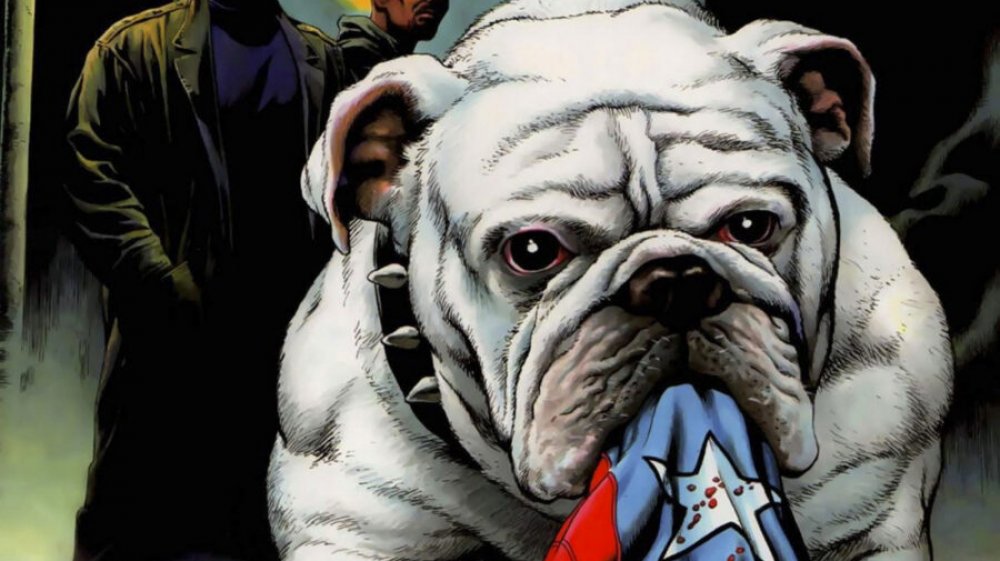 Dynamite Entertainment
Amazon's television adaptation of The Boys has been praised for its general faithfulness to Preacher writer Garth Ennis and comic book illustrator Darick Robertson's co-creation. While some networks might have cut down on the dark humor, gritty ultraviolence, and searing politics in favor of something more universally palatable, showrunner Eric Kripke aggressively embraced the source material's subversive tone, visual style, and story structure in the show's debut season.  
That dedicated interpretation earned the show a certified fresh rating on Rotten Tomatoes and, though Amazon may not have offered up any specific numbers, could partly be why The Boys is allegedly one of the streamer's most-watched shows (via IGN). Still, Kripke did make a few obvious adaptation choices, changing or leaving out a few characters or developmental elements fans of the comics expected to see in the show's first season. That includes the dog of former CIA operative and Boys leader Billy Butcher (Karl Urban). Terror, as the English Bulldog is called, is Butcher's loyal companion, and always at his side in the comics. Fiercely loved and protected by his owner, Terror sinks his teeth into a few of The Boys' enemies and is willing to hump anything on Butcher's command. 
In the show, Terror is largely nonexistent save for a flashback and a brief easter egg. In one scene, newest The Boys member Hughie (Jack Quaid) glimpses dog toys in Butcher's car and inquires about whether Butcher has a pet. Butcher denies it, but as we see in a scene from his past married life, Terror does appear, though there's no explanation as to what happened to him. 
Terror was cut from Amazon's The Boys TV series due to the challenges of having animals on the set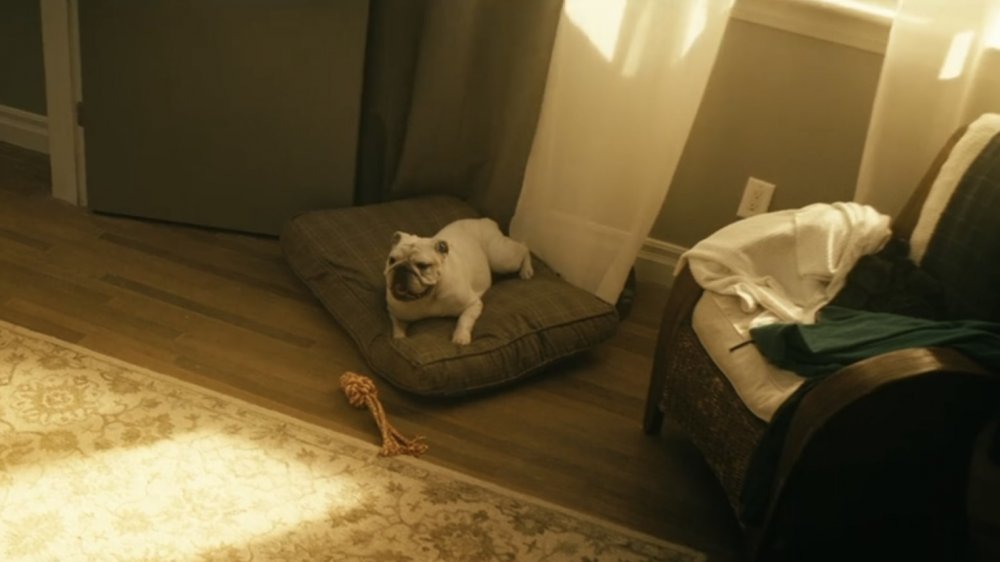 Amazon
After fans tore through the first season, many wondered why the series had opted to show so little of Terror. In an interview with Entertainment Weekly, Kripke got pretty frank about why he chose to limit the English bulldog's presence on the show, revealing that it was mostly about production demands. The Boys showrunner called his reasoning "boring," but emphasized the challenges of having an animal that had to appear practically any time your lead was on the screen. Adding a dog into a production mix full of difficult stunts and special effects was, in his view, too much.
"The reason Terror doesn't have a larger role this season is the most boring and practical one, which is it's so f***ing hard to work with animals," Kripke told EW. "We have such an unbelievably challenging show anyway that I was just too intimidated by the idea of having an animal who doesn't listen to directors and doesn't care about your stunt or pyrotechnic and your CG or your green screen, just doesn't give a s*** about any of it."
Kripke addressed the issue again during a Reddit AMA after one fan asked him when viewers are "going to see ... the lovable mutt?" Kripke noted that Terror had appeared in the flashback before expounding on why he regretfully opted out of giving the dog a more significant role. "I really sadly had to make the choice to not play Terror — cause with everything else we have going on with this show, shooting with dogs is JUST TOO F***ING HARD," he wrote.
Eric Kripke promises Terror will make an appearance on The Boys season 2
Despite Terror's minimized role in The Boys season 1, fans remained hopeful that they might get to see more of the trusty pup in the future. During that same AMA, Kripke revealed that he had granted fans' wishes for season 2 — sort of. The Boys showrunner promised that viewers would not only see the English bulldog in the upcoming season, which scored an early renewal from Amazon, but that he'll appear in his very own character-centric episode. "I can spoil — we bring Terror back for one episode in Season 2, where he has a starring role. He's too important a character to the world — and to Butcher — not to explore," Kripke told the fan.  
In his post-season 1 finale interview with Entertainment Weekly, Kripke reiterated that news before speaking about they opted to feature Terror for one big hurrah before retiring Butcher's beloved pet. According to the Supernatural and TImeless creator, he and the show's other writers felt that the fans needed Terror. 
"We had to bite the bullet and have one f***ing pain-in-the-a** episode to shoot with the dog, and then at the end, the dog will return to the safe and comfortable place it's been," he told EW. "But it does come out of retirement for one more mission with Butcher, and so we can at least put Butcher with Terror for one big episode."
CinemaBlend reported that during a 2020 Chicago Comic & Entertainment Expo panel, The Boys star Karl Urban hyped Terror's appearance, telling the crowd, "You know what? You're gonna love Season 2 ... If you love Terror, you'll love Season 2." 
While there are few other details about Terror's season two appearance, in his AMA, Kripke assured fans that they would see Terror's (in)famous move: Humping on command. 
The second season of Amazon's The Boys will premiere on September 4, 2020.