The Indiana Jones Reference You Totally Missed In Deadpool 2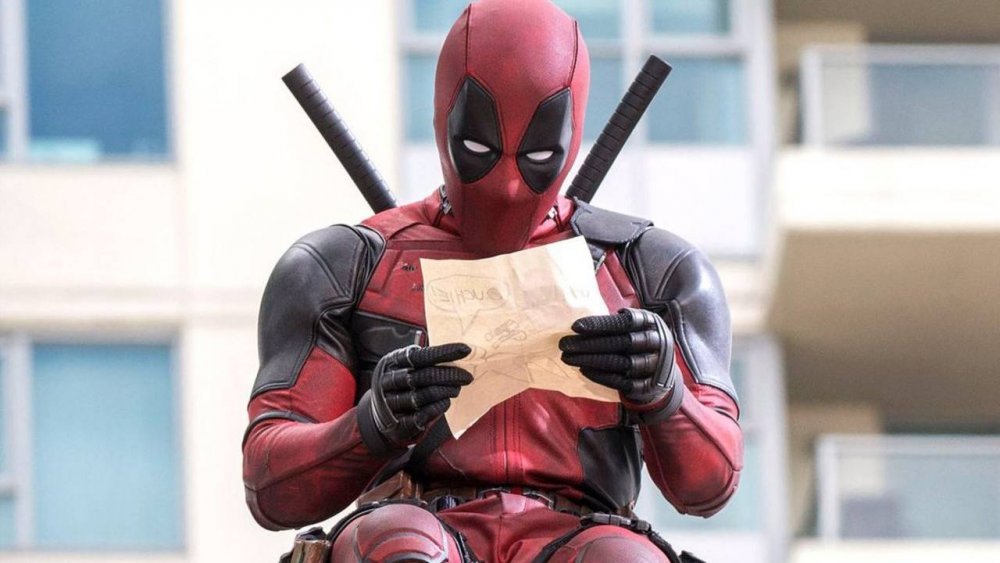 20th Century Studios/Disney
Deadpool had more than its rightful share of labor pains, but when Ryan Reynolds' adaptation eventually arrived on the big screen in 2016, he handily changed movies. The witty, comedic marketing stunts. The inventive use of C-list characters. Absurdly amazing action on a relatively shoestring budget of $58 million. Open mockery of the superhero genre. Somehow, all of this translated to a great movie that raked in a cool $135 million during its first three days in theaters, comfortably breaking the opening weekend record for R-rated releases. Of course, this resulted in Deadpool 2, which added Cable (Josh Brolin), Domino (Zazie Beetz), and X-Force in the mix, and upped the ante with an increased budget, bigger set pieces, and an almighty soundtrack that even harnessed the power of Celine Dion. 
Disney's acquisition of Fox Studios' film and TV assets in March 2019 means that we have no idea about the status of Deadpool 3. Still, while we're waiting for (hopefully good) news, we can console ourselves with the fact that the Deadpool franchise is a gift that keeps on giving. In fact, Reynolds recently revealed that Deadpool 2 included a cool Indiana Jones-themed easter egg that likely went unnoticed for most viewers. Here's the Indiana Jones reference you totally missed in Deadpool 2.
Deadpool 2 replicated a famous Raiders of the Lost Ark scene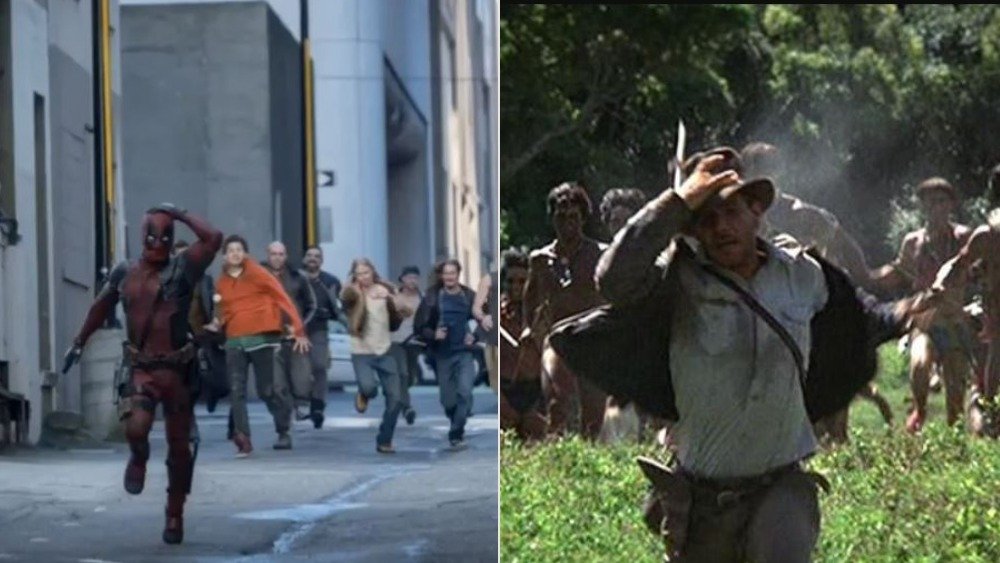 20th Century Studios/Disney, Lucasfilm
The first Indiana Jones movie, Raiders of the Lost Ark, featured a number of memorable scenes. One of the most hilarious of them is the short chase scene near the beginning in which Dr. Jones (Harrison Ford) emerged on a small hill, running for dear life and screaming for his pilot friend to start his seaplane's engine. After a small beat, we saw that everyone's favorite action archeologist was being chased by a large group of the indigenous Hovito people, who had cast in their lot with Indy's greatest rival, Dr. René Belloq (Paul Freeman). 
It's an iconic moment in a movie full of iconic moments, and Ryan Reynolds recently revealed in an Instagram Story (via Cinema Blend) that Deadpool 2 couldn't resist paying a small homage to this admittedly very Deadpool-ian scene. In Deadpool 2, the Merc with a Mouth did an extremely similar runner from a group of angry henchmen, holding his head in the same way Indy held his hat. As a cherry on top of the cake, Deadpool even screamed to his friend/henchman Dopinder (Karan Soni) to start his cab as he runs. 
Since the scene fits Deadpool's personality like a glove, it might be difficult to connect the dots unless you actually know about the Indy homage. That said, now that Reynolds has pointed it out to us, good luck watching the movie without immediately seeing the scene's similarities to its Raiders of the Lost Ark counterpart.