Harvey Guillén Reveals His Favorite What We Do In The Shadows Season 2 Moment - Exclusive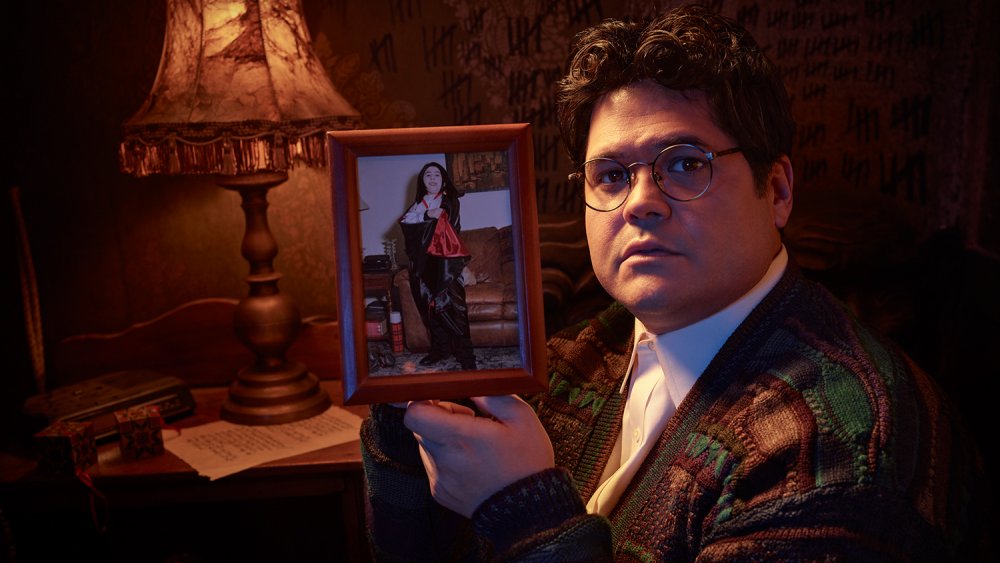 FX
When the dark comedy mockumentary What We Do in the Shadows was released in 2014, it was met with immediate critical acclaim. Really, there was so much to love about the film: It came from comedy geniuses Taika Waititi and Jemaine Clement; starred those two, plus Jonathan Brugh and Ben Fransham, as a group of vampires living in modern-day New Zealand; and followed the mishaps of the blood-suckers as they dealt with the unique mishaps that plague us humans in the 21st century. With such a fun and hilarious concept, the franchise — much like its subject matter — couldn't stay dead for long. A TV series was announced in 2018, and in 2019, What We Do in the Shadows was released on FX. 
The What We Do in the Shadows series tells a different tale than the film off from which it spins: It story follows a group of vampires living in New York, and this time, they have a caring familiar named Guillermo de la Cruz to help them. Despite being the familiar to Nandor the Relentless (Kayvan Novak) for over a decade now, Guillermo is bent out of shape that he still hasn't been turned into a vampire yet. At the end of What We Do in the Shadows season 1, we learn that Guillermo is a long-lost descendent of the infamous vampire slayer Van Helsing. On season 2, Guillermo really becomes a standout as he struggles between wanting to become a vampire and grappling with his knack for killing practically every bloodsucker he comes into contact with.
In an exclusive interview with Looper, Harvey Guillén, who plays Guillermo on the show, revealed his favorite moment from the season that was filled with standout scenes. Warning: Spoilers are ahead!

Harvey Guillén loved his big action moment on the What We Do in the Shadows season 2 finale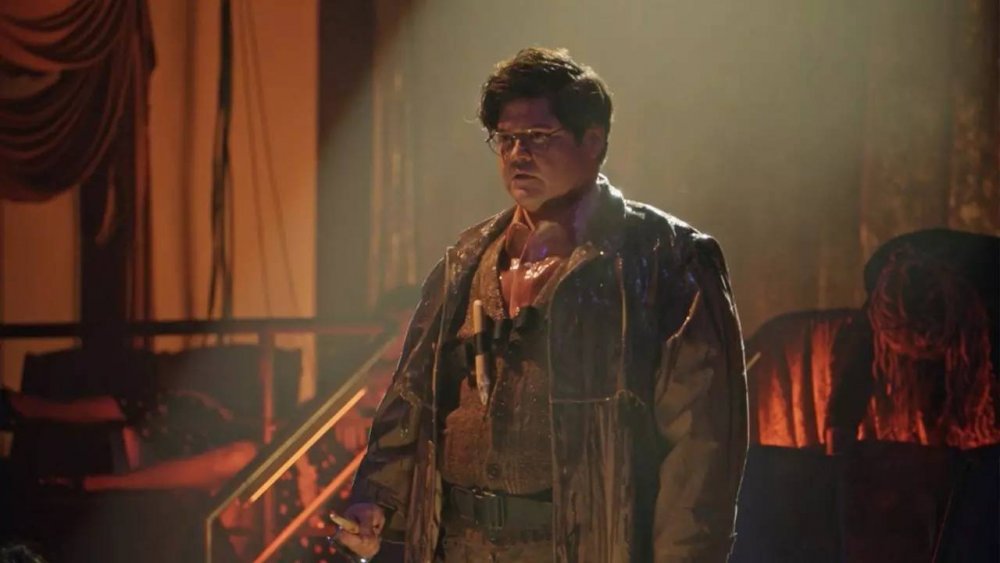 FX
Season 2 of What We Do in the Shadows ends with a bang: Nandor, Laszlo Cravensworth (Matt Berry), Nadja (Natasia Demetriou), and Colin Robinson (Mark Proksch) have been trapped by the Vampire Council and are about to pay for their crimes of killing other vampires — even though they actually didn't do anything and Guillermo was the one who killed everyone. They're about to be decapitated when the only person who can save them, Guillermo, shows up and slaughters an entire theater filled with the undead. It's an amazing sequence, and it was Guillén's favorite to film for season 2.
"It really showcased Guillermo coming into his own and taking initiative and actually saying his full name out loud for the first time, where we set up [that] the vampires don't even know his last name," Guillén said of the scene. "The joke was, 'Guillermo Biermo.' They've been working with someone for so long — ten years have gone by, you don't bother to learn someone's last name. The power in that is that you don't know somebody. You think you know somebody, but you don't, and you don't know the power that they have. And so for me, personally, it was just a great trajectory for his character. Guillermo coming to his own, which leads to the great cliffhanger, and now where do we go from there for season 3?"
On season 2, we also dove deeper into a side of Guillermo we hadn't really seen before: his family. As Guillén told us, "We introduced his mom and his household, which I loved, and I was very hands-on with. I wanted to make sure that we were authentic to the character as possible, being of Mexican background and the household and his mom, who was amazing. Just the small little details." That opened the door for many possibilities going into the future. Will Guillermo's mom play a larger role moving forward? Will we see more of his connection to Van Helsing? We'll just have to wait and see.
For Guillén, he has a clear vision of what he'd like to happen for Guillermo on season 3, but he's open to anything and everything.
"Every time I think I have an idea of what I want Guillermo to be for the new, upcoming season, the writers and the producers always have something up their sleeve that gives us a curve ball and it's like, "Oh, I didn't see that coming, but that works, and I love it,'" he told Looper. "For me personally, I would love to dive more into his heritage, how he got these kind of natural powers to be this vampire killer, and to see the family lineage."
Guillermo de la Cruz really came into his own on season 2 of What We Do in the Shadows. It definitely seems like the power dynamic has changed, and Guillermo is going to be on a bit more equal footing with his vampire compatriots. Now's the perfect time to catch up on the series, available to stream now on Hulu.