How Season 8 Could Change Brooklyn Nine-Nine Forever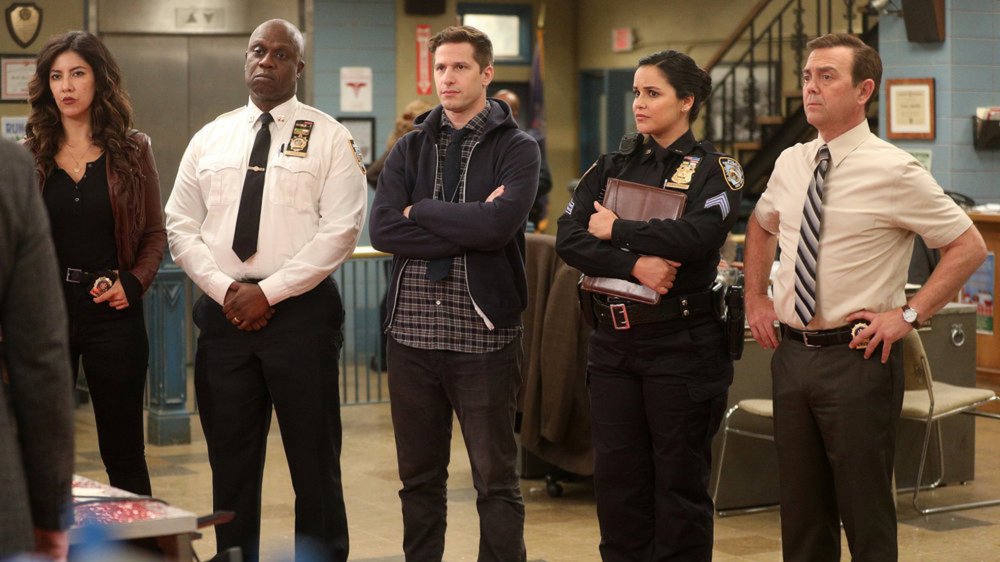 NBC
You may not recognize Brooklyn Nine-Nine when it returns for its eighth season.
In the midst of Black Lives Matter, a monumental civil rights movement that was recently brought to the forefront by the brutal murder of George Floyd (an unarmed Black man) at the hands of police (and decades of police brutality that has been disproportionately directed at Black Americans) NBC's silly, upbeat cop show may be making some big structural changes.
Many fans of Brooklyn Nine-Nine have been wondering how to balance a desire for an enormous change in American policing with their favorite show, which stars Andy Samberg as Jake Peralta, a detective in the NYPD's 99th precinct who manages to balance his goofball attitude with serious sleuthing skills. However, according to Samberg, the upcoming eighth season may look very different.
While promoting his new film, Palm Springs, Samberg, who has led Brooklyn Nine-Nine since it premiered on Fox in 2013 (the show moved to NBC for its sixth season after Fox canceled the series in 2018), told People that the minds behind the show are considering some big changes going forward. As Samberg said, "We're taking a step back, and the writers are all rethinking how we're going to move forward, as well as the cast. We're all in touch and kind of discussing how you make a comedy show about police right now, and if we can find a way of doing that that we all feel morally okay about."
Samberg continued, "I know that we'll figure it out, but it's definitely a challenge, so we'll see how it goes."
Other Brooklyn Nine-Nine stars have spoken up about the big changes to come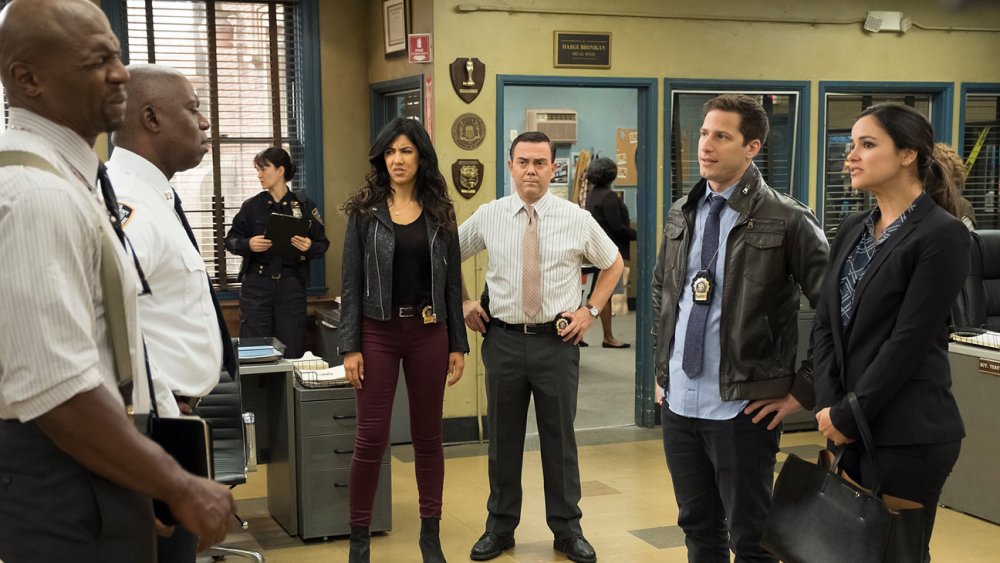 NBC
Samberg isn't the only Brooklyn Nine-Nine star who has recently opened up about what the future may hold for this optimistic comedy. Terry Crews, who plays Sergeant Terry Jeffords on the show, told Access Daily that season 8 was starting from scratch as an ode to the Black Lives Matter movement.
As Crews told the outlet, "We've had a lot of somber talks about it and deep conversations and we hope through this we're going to make something that will be truly groundbreaking this year. We have an opportunity and we plan to use it in the best way possible. Our show-runner Dan Goor, they had four episodes all ready to go and they just threw them in the trash. We have to start over. Right now we don't know which direction it's going to go in."
The cast also literally put their money where their collective mouth is in support of the Black Lives Matter movement. After Stephanie Beatriz, who plays Detective Rosa Diaz, donated $11,000 each to bail funds in support of those protesting for Black Lives Matter, Goor and the rest of the cast teamed up, ultimately donating $100,000 to the National Bail Fund Network and encouraging fans to give to local bail funds.
Watching a show that glosses over the extraordinarily problematic aspects of modern policing and police culture — and makes jokes about it — might have been hard for many viewers to stomach in this climate, so it's heartening to know that Brooklyn Nine-Nine is working towards a brighter future. You can stream the series in its current iteration on Hulu now.