Star Trek: Lower Decks - What We Know So Far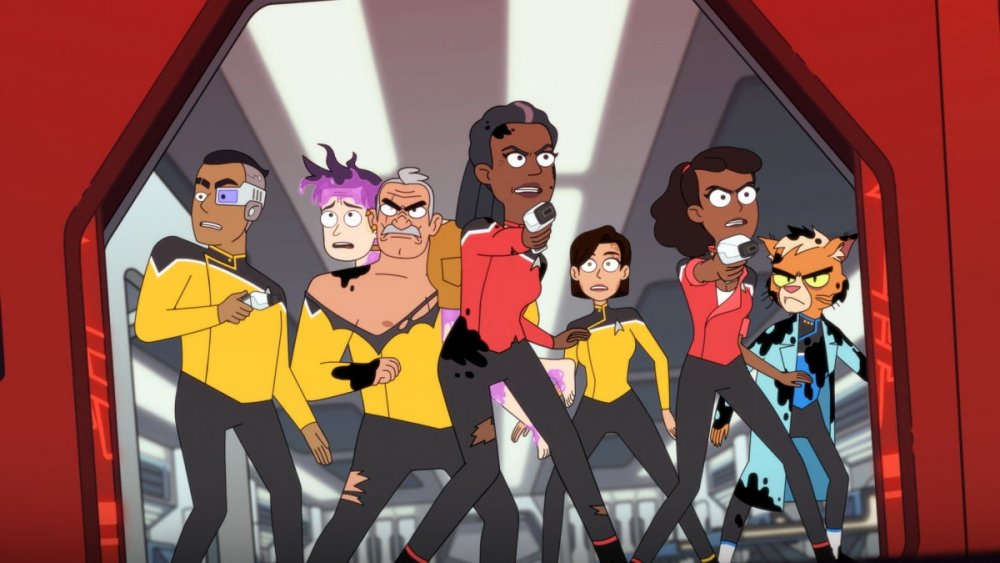 CBS
Star Trek: Discovery debuted on CBS All Access on September 19, 2017. Since then, the show has been successful enough to foster two more seasons, a series of abbreviated adventures called "Short Treks," and of course, the long awaited return of Sir Patrick Stewart in Star Trek: Picard.
As you might imagine, CBS is keen to keep the Star Trek ball rolling. With a Pike-Spock spin-off in the works, Star Trek: Strange New Worlds confirmed, and a series based on the shadowy organization Section 31, in the pipeline, Trek is firing on all cylinders — even cartoon ones.
The next Star Trek series airing new episodes exclusively in the US to CBS All Access is the animated Star Trek: Lower Decks. On July 1, 2020, CBS tweeted out confirmation that the show will air episodes beginning August 6, 2020. To prepare you, here's everything we know so far about Star Trek: Lower Decks.
What's the plot of Star Trek: Lower Decks?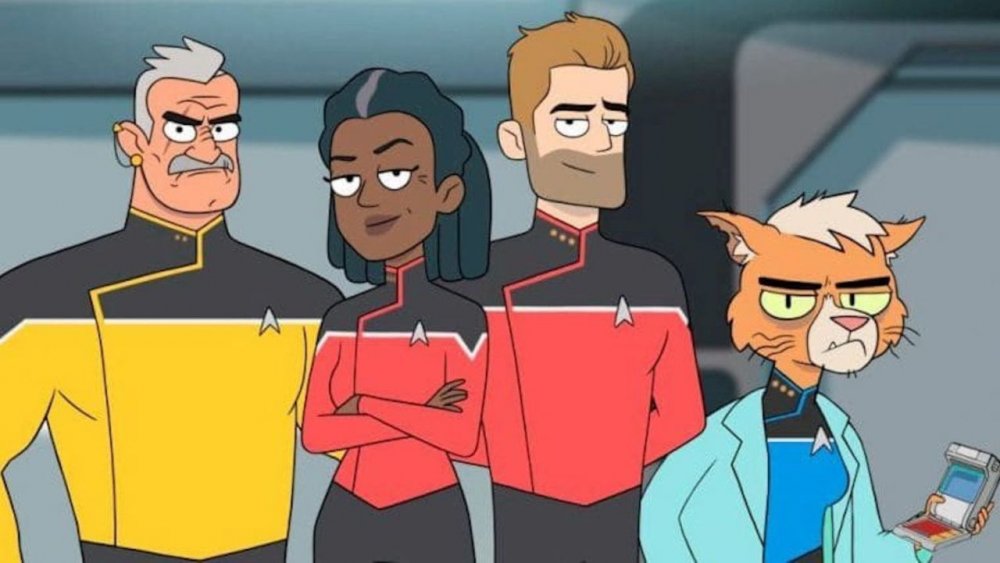 CBS
The elevator pitch for Star Trek: Lower Decks is an answer to the question, "What if Star Trek was told from the perspective of the ensigns and junior officers?"
From the original series all the way up to, and including, Star Trek: Picard, Trek has always been primarily about the senior officers, meaning bridge crew ensigns and above. According to a press release from CBS All Access, Lower Decks will go even further and "focus on the support crew serving on one of Starfleet's least important ships," the U.S.S. Cerritos. Basically, this is a show focused on the lowest rung of the Starfleet ladder. A lot of it focuses on junior officers, but even the senior staff don't really have the clout to know what's happening with the rest of Starfleet.
The show is set in 2380, after the events of Star Trek: Nemesis but well prior to Star Trek: Picard. The first season will run 10 episodes.
What's the historical context for Star Trek: Lower Decks?
CBS
If you're a Trekkie and the name "Lower Decks" sounds familiar, there's a reason for that. Star Trek: The Next Generation had an episode in its seventh and final season called "Lower Decks." In that episode, rather than focus on the usual characters, we meet a group of junior officers all vying for promotion and yearning to earn their place on the Enterprise.
"Lower Decks" was considered to be among the best episodes of the season. Some of the characters from "Lower Decks" were so popular, in fact, that, had TNG gotten an eighth season, at least one of them would have become a recurring member of the Enterprise crew. A false rumor even began to spread that the cast of "Lower Decks" were set to star on the then-upcoming series Star Trek: Voyager.
The other important context with which to arm yourself is the history of Star Trek animation. Star Trek: Lower Decks is not the first cartoon within the Trek canon. From 1973 to 1974, William Shatner and most of the rest of the Star Trek: The Original Series cast returned for Star Trek: The Animated Series which spanned two seasons and 22 episodes. Star Trek: The Animated Series offered Trek an opportunity to exist outside the limitations of a live-action budget and bring a host of non-humanoid aliens into the world.
Both the "Lower Decks" episode and Star Trek: The Animated Series represent the seeds that make Star Trek: Lower Decks possible.
Who's behind Star Trek: Lower Decks?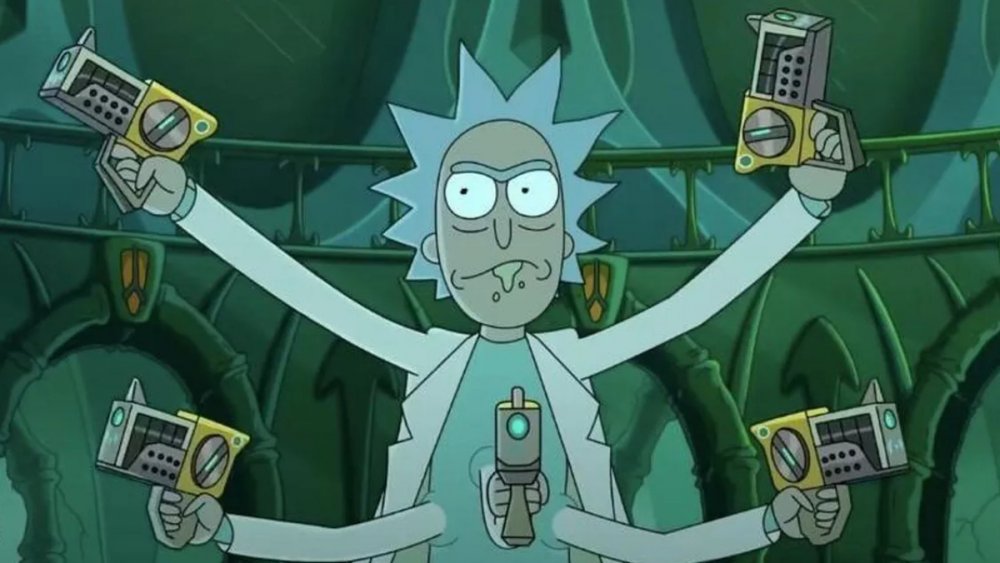 Warner Bros.
In June 2018, Star Trek: Discovery producer, Alex Kurtzman inked a $25 million deal with CBS TV Studios to expand his role within the Trek franchise. Part of that expansion means crafting new shows, Star Trek: Lower Decks among them.
Star Trek: Lower Decks was officially announced in October 2018 with a built-in two-season order. Also announced was a separate animation production arm for CBS called CBS Eye Animation, with animation veteran Katie Krents (who, among other projects, helped executive develop Steven Universe) set to oversee it.
Kurtzman will be joined by producers Heather Kadin, Rod Roddenberry (son of Gene Roddenberry), Trevor Roth, and showrunner Mike McMahan. McMahan is a notable name for most animation fans because of his work writing and producing the massively popular sci-fi comedy Rick and Morty. McMahan was selected after he pitched Lower Decks to Kurtzman as a show about, "The people who put the yellow cartridge in the food replicator so a banana can come out the other end."
The cast and characters of Star Trek: Lower Decks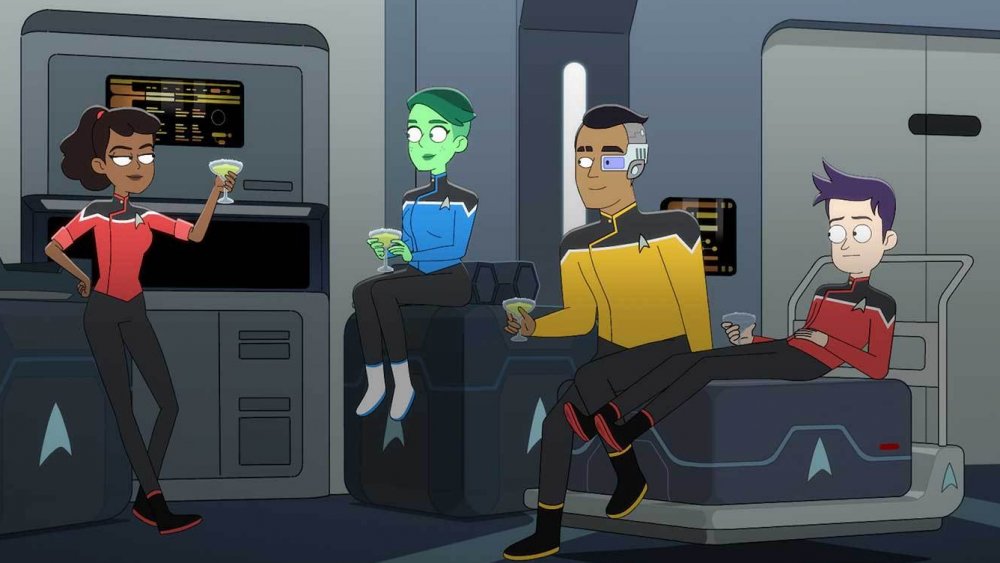 CBS
At San Diego Comic-Con 2019, the cast of characters was introduced. The ensigns consist of Mariner (Tawny Newsome), Boimler (Jack Quaid), Tendi (Noël Wells), and Rutherford (Eugene Cordero).
Newsome describes Mariner as a "weirdo rock and roll party queen." Boimler is more book smart than street savvy. According McMahan, "There's no gross alien illness that [Tendi's] not just absolutely thrilled to be dealing with." Rutherford is a part-cyborg engineer, who McMahan says is, "Like Goerdi LaForge" but, "he does not solve the problems by the end of every episode."
There will also be some senior staff represented on Star Trek: Lower Decks. There's Captain Carol Freeman (Dawnn Lewis), Lieutenant Shaxs (Fred Tatasciore), and Dr. T'Ana (Gillian Vigman). T'Ana, in particular, is a real throwback to Star Trek: The Animated Series, as she is a cat person — something that can't be easily represented on a live-action show. Also joining the cast is the star of the sci-fi classic Sliders Jerry O'Connell in the role of Commander Jack Ransom.
The trailer for Star Trek: Lower Decks
On July 12, 2020, CBS All Access dropped the official trailer for Star Trek: Lower Decks. Clocking in at two minutes and 15 seconds, the trailer opens with rather rousing narration ahead of a "delicate, high-stakes operation of diplomacy" ... before the footage cuts to inside the U.S.S. Cerritos ship, wherein Boimler is pretending to record a captain's log and Mariner gives him a hard time for it. 
The trailer then teases the general chaos on the U.S.S. Cerritos — the ship is basically falling apart, Tendi gets handed a human heart at one point, and our core four are all wondering whether the bottom of the hierarchy is where they'll stay forever. While Mariner describes the lower deck squad as "the cool, scrappy underdogs," Boimler is hoping to one day be promoted to a position with more clout. That trajectory gets thrown off course when the members of the ship — lower and upper decks alike — face threats of galactic proportions. It all ends with the promise that Star Trek: Lower Decks will boldly go where no Star Trek series has before — and we're inclined to believe it.
A few weeks later — on Thursday, July 23 during the Star Trek Universe panel at the virtual 2020 San Diego Comic-Con — CBS All Access unveiled a first-look clip from the first episode of Star Trek: Lower Decks. The footage may seem familiar to some fans, since bits of it were included in the trailer for the upcoming series — namely the moment where Boimler is pretending to record a captain's log.
What Star Trek: Lower Decks means for Star Trek: Discovery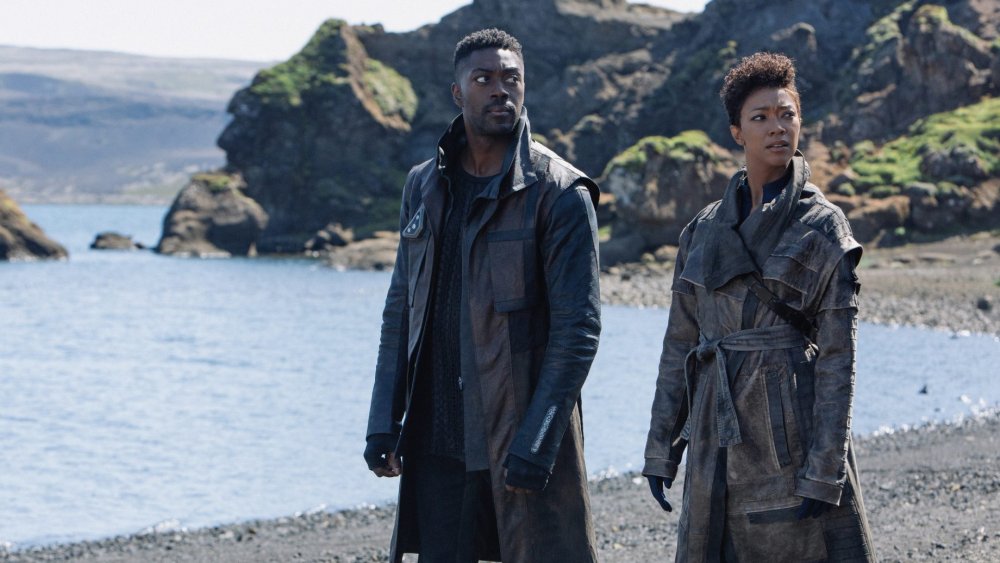 CBS
One of the big questions a lot of people have is how Lower Deck's August release will impact the transmission of Star Trek: Discovery season 3. As yet, there remains no official release date for Discovery, but it is still anticipated for release in 2020. Something worth considering, however, is that even before the onset of the novel coronavirus pandemic, Kurtzman had gone on record stating that he wanted to stagger Star Trek series with no overlap. Star Trek: Discovery's third season is filmed, but the editing process has been slowed due to it all being done remotely.
If we factor in 10 episodes for Star Trek: Lower Decks, the earliest Discovery might return based on Kurtzman's plan is mid-October. What's more, considering there is no way to film more Star Trek: Picard or begin production of Star Trek: New Worlds and Section 31, it's a safe bet October is the earliest Discovery's third season will see release.
For now, Star Trek: Lower Decks is locked and ready to go. While there remains as of this writing no official word on international distribution, Lower Decks' first episode will release exclusively to CBS All Access in the United States on August 6, 2020.