The Umbrella Academy Fans Just Got The Best News Ever
To quote Allison Hargreeves, we heard a rumor that The Umbrella Academy will be back before you know it. But it's not a rumor at all. The Umbrella Academy season 2 is officially dropping July 31, according to an announcement video posted to Netflix's YouTube channel.
The exciting news came with an added treat: The cast reunited, remotely from their respective quarantines, to announce the return date while recreating the dancing scene from season 1. "I Think We're Alone Now" by Tiffany really hits differently in 2020, doesn't it? On the first season of The Umbrella Academy, Luther, Diego, Allison, Klaus, Vanya and Number Five all danced to this song in their rooms... but they weren't really alone in the mansion the way they are now. The new video comes in hot with Tom Hopper's arms (and then the rest of him), followed by Emmy Raver-Lampman, Robert Sheehan, Ellen Page, David Castañeda, Justin H. Min, and Aidan Gallagher. They did all the same awkward dance moves seen on The Umbrella Academy. Castañeda practiced knife tricks using stuffed animals. Of course, Sheehan had all of the props he needed to capture Klaus' essence in quarantine. Are you even surprised? 
At the end, we see everyone dancing alone in separate rectangles the same way the show did by making Hargreeves' mansion look like a dollhouse. The Umbrella Academy didn't know it at the time, but it kind of invented "gallery mode." The only big difference between this video and the original is that Ben (Min) and Number Five (Gallagher) get to join in this time — Ben was invisible/a ghost before, and Five was... off doing time travel.
What we know about The Umbrella Academy season 2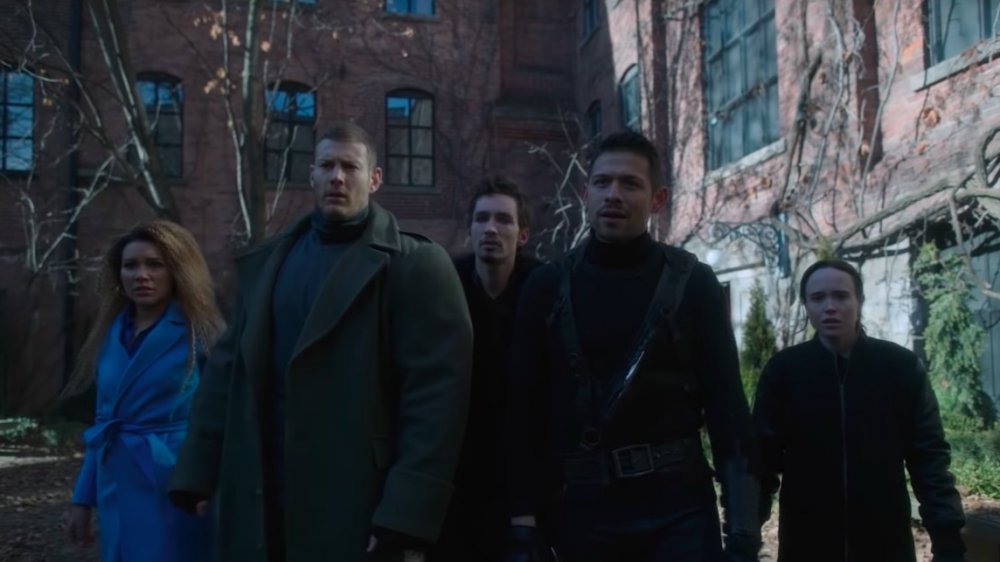 Netflix
What can we expect when The Umbrella Academy returns? There are a couple of new cast members to get to know, even though they didn't participate in the announcement on YouTube. 
According to Deadline, season 2 has added at least three new characters. Ritu Arya (Sherlock, Humans) will play Lila Pitta, a trickster with a dark sense of humor. Yusuf Gatewood (The Originals, Good Omens) is Raymond, a charming leader type. Finally, Marin Ireland (Homeland, Sneaky Pete) plays a character called Sissy, a young mom looking for something different. It doesn't appear that any of these characters are from Gerard Way and Gabriel Bà's Umbrella Academy comic series. However, Deadline notes that Sissy lives in Texas, which could confirm that season 2 is covering volume 2 of the graphic series, entitled "Dallas," especially since season 1 was largely drawn from volume 1, "Apocalypse Suite." 
Hopefully the date announcement means that a trailer for The Umbrella Academy season 2 is coming soon. Then, fans will have a better idea of what the Hargreeves children will be up against this summer.