The Most Expensive Stunt In James Bond History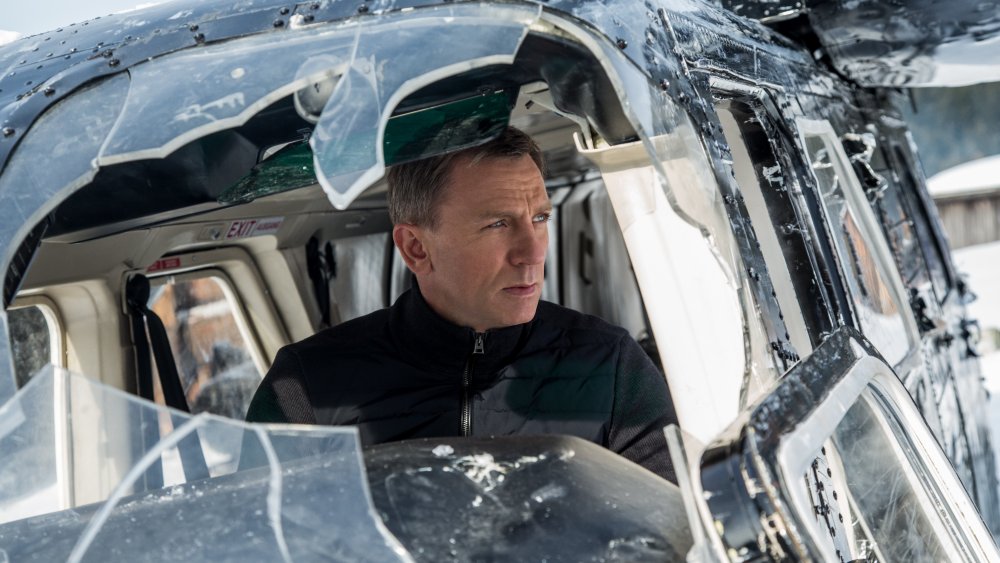 Sony Pictures
Despite his hesitancies and a slew of early critics, Daniel Craig managed to hold on to his titular role in the long-running 007 spy series for a whopping 14 years. While his tenure hasn't always been critically consistent, it has resulted in grand praise, with outlets like GQ declaring his run, which concludes in November with No Time To Die, as proof he's "the best Bond yet." 
After taking the reins from Brosnan with 2006's Casino Royale, Craig redefined the character and the series, restoring Bond to its former tentpole glory. This restoration wasn't only Craig's doing, however. Supporting his dynamic, brooding performance as the man with a license to kill was an impressive list of increasingly expensive action sequences. Allegedly, Craig's tenure not only yielded the most expensive Bond stunt in the franchise's history, but possibly the history of cinema, full stop. 
Over 57 years and two dozen James Bond movies, there's never been a more expensive action scene than in 2015's Spectre. The sequence, which seriously injured an assistant director, featured a caravan of Land Rover Defenders alongside a vintage airplane careening through the snow-covered Austrian Alps (via Robb Report). The film reportedly had a $300 million budget, with each of the eleven Defenders priced at $100,000 or more, according to Bloomberg. The cars were custom-made by Bowler, a firm that specializes in the construction of the vehicles for off-road motorsport and defense clients, including the British government. Labeled the SVX Concept (or Spectre Defender), the cars featured 37-inch tires, a heavy-duty roll cage, and a toughened suspension. 
In addition to the jaw-dropping cost of the Land Rovers, the plane piloted by Craig's Bond — a 1960s British light utility aircraft known as the Britten-Norman BN-2 Islander — had a $250,000 price tag. But it wasn't just the cars or planes that made the sequence so pricy. There was also the insurance.
Spectre was an expensive attempt to top Skyfall, and in more ways than one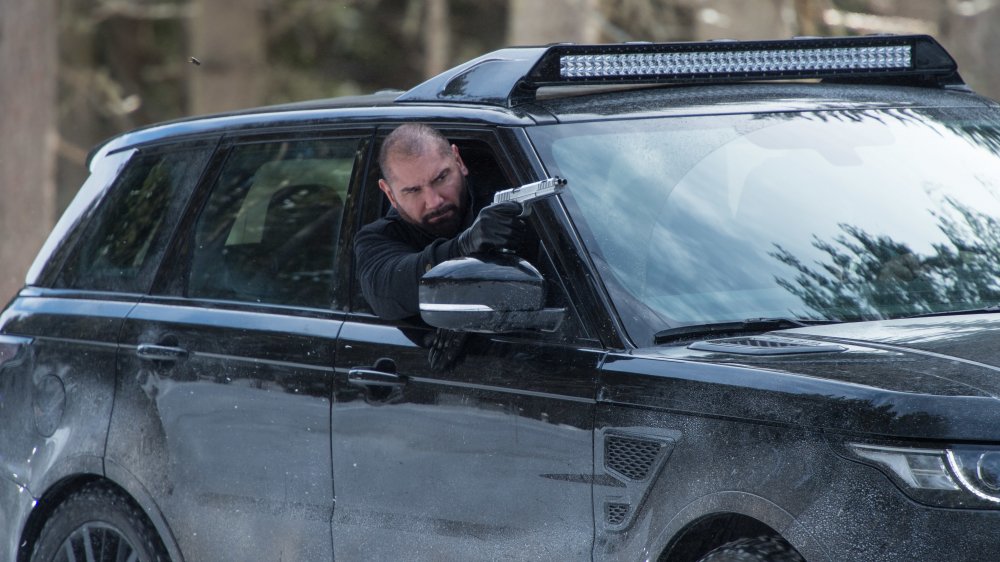 Sony Pictures
Business Insurance reported that auto damage on the film's Range Rovers, Aston Martins, and several Jaguar C-X75s cost some $34.5 million. At the same time, Bloomberg noted the production blew up a slightly higher $48 million worth of cars. It was a costly, but necessary move, according to Spectre production designer Dennis Gassner. 
"Our influence on this movie was Skyfall — we had to top that," Gassner told Bloomberg. "It's also about honoring a franchise. Every day I would think, 'What would the audience want to get out of this?'"
The cars for the Alps chase were designed to embody a sinister look that mirrored their drivers and Bond antagonists, with three of the eleven Defenders outfitted especially for close-up shots in the Sam Mendes-directed film. Unlike their counterparts, these SUVs featured a special hydraulic system that ensured they flipped the exact moment they collided with Bond's vintage airplane. One was even put up for auction at RM Sotheby's during the company's inaugural auction in Essen, Germany. Before the sale, Gord Duff, the global head of auctions at the company, spoke about the signature nature of the car that would eventually sell for $130,000.
"This was not a case of simply putting on a few cosmetic enhancements for the purposes of filming," Duff said. "[The Defenders] are highly developed and engineered vehicles, bespoke builds by Land Rover's special vehicles division."
While at least one Defender landed in the hands of a private owner, several different Land Rover models never made it to Austria for filming. That's because five of the firm's Land Rover Sports, which were modified and priced at at least $111,000 each, were stolen from Rover headquarters in Neuss, Germany (via The Hollywood Reporter). Somehow, the $1 million value of those cars still didn't eclipse the expense of the film's full carbon fiber Bugatti, which cost an eye-popping $2.5 million.