Netflix's Warrior Nun - What We Know So Far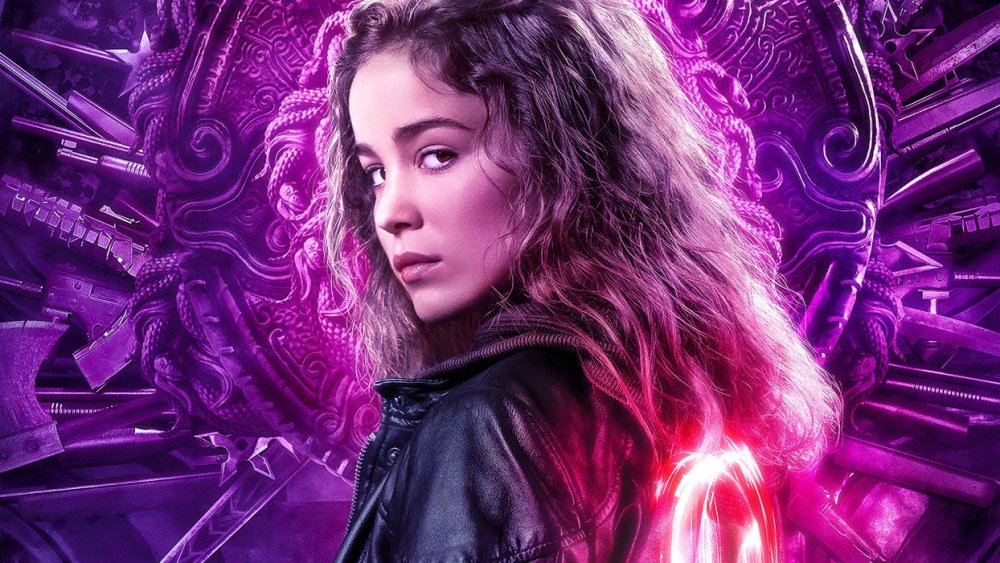 Netflix
Grab your rosary and dust off your holy sword — it's time to do some demon-slaying. Way back in 2018, Netflix announced that it would be adapting a popular comic titled Warrior Nun Areala, created by Ben Dunn, into a live-action original series (via Deadline). That adaptation, now simply titled Warrior Nun, will soon be upon us, and we've got some details about what to expect.
Warrior Nun tells the story of a young woman who is tapped to join an ancient order of demon hunting sisters. The series was created by Canadian writer, director, and producer Simon Barry. Barry is perhaps best known for Continuum, a time travel drama that ran for four seasons and aired on the Syfy Channel in the US. He's also written and directed a number of episodes of the modern vampire hunter series Van Helsing. Given what we know about Warrior Nun, it seems to be right in Barry's wheelhouse.
There's a lot more to discuss about this upcoming Netflix original. So, let's jump in and break down everything we know about Warrior Nun's release date, cast, and plot, along with its bombastic trailer.
What's the release date for Warrior Nun on Netflix?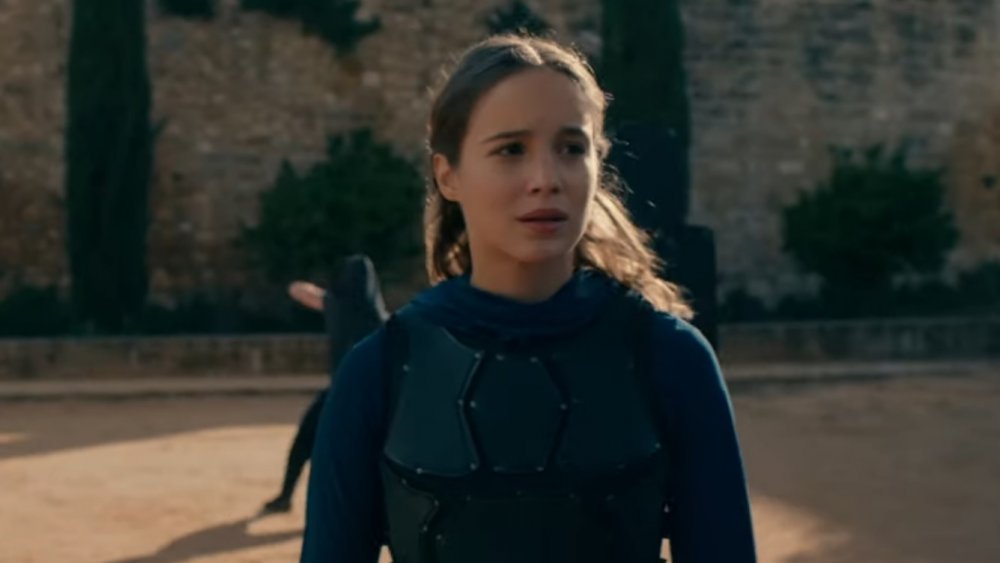 Netflix
If your interest in demon slaying nuns has been piqued, then we have some great news. Netflix hasn't left us hanging with an ambiguous "Coming Soon" release window. The streaming service announced that Warrior Nun is set to drop its first season on July 2 (via What's On Netflix). 
The first season will consist of ten episodes, each titled for a Bible verse (via WGAW). It's too soon to say if Warrior Nun will become Netflix's new ultra-popular series, or if it will be a one-season wonder. However, the comic it's based on enjoyed a long run. Warrior Nun Areala: Series 1 was published way back in 1994, and since then, there have been over a dozen sequels and follow-ups (via MyComicBookShop.com). This doesn't necessarily mean Netflix's adaptation will have the same longevity, but it does indicate that if the streaming service is bullish on the series, they'll have a wealth of material to draw from for future seasons.
Who is in Warrior Nun?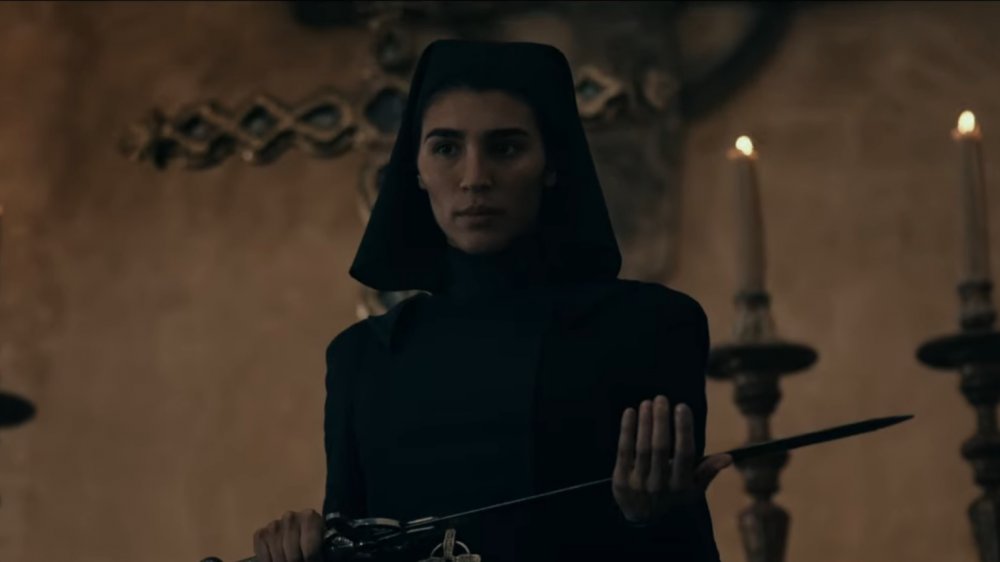 Netflix
Although Warrior Nun is an American production, it sports a very international cast of talent that you might not yet be familiar with. The series stars Alba Baptista as Ava, a young orphan whose life is upended when she's called upon to fight the demonic forces of hell. This will likely serve as her introduction to most American viewers, but Baptista has already established herself as a TV and movie star in her native Portugal.
Another Iberian actor attached to the project is Tristán Ulloa as Father Vincent, one of the heads of the secret order. Ulloa is a veteran of Spanish cinema who has had roles in Open Your Eyes (remade in the U.S. as Vanilla Sky), Sex and Lucia, and Mataharis, for which he was nominated for best actor at the Goya Awards, Spain's version of the Oscars. He also had a small role in 2019's Terminator: Dark Fate.
Italian actress Sylvia De Fanti plays Mother Superion, Father Vincent's partner in organizing the order. Also in the order is Toya Turner, who plays the evocatively named Shotgun Mary. Turner has appeared in guest-starring roles on Empire and Chicago Med, as well as serving in the background voice cast of The Incredibles 2. She's joined by fellow Sisters Beatrice, Lilith, and Camilla, played by Kristina Tonteri-Young, Lorena Andrea, and Olivia Delcan.
What's the plot of Warrior Nun?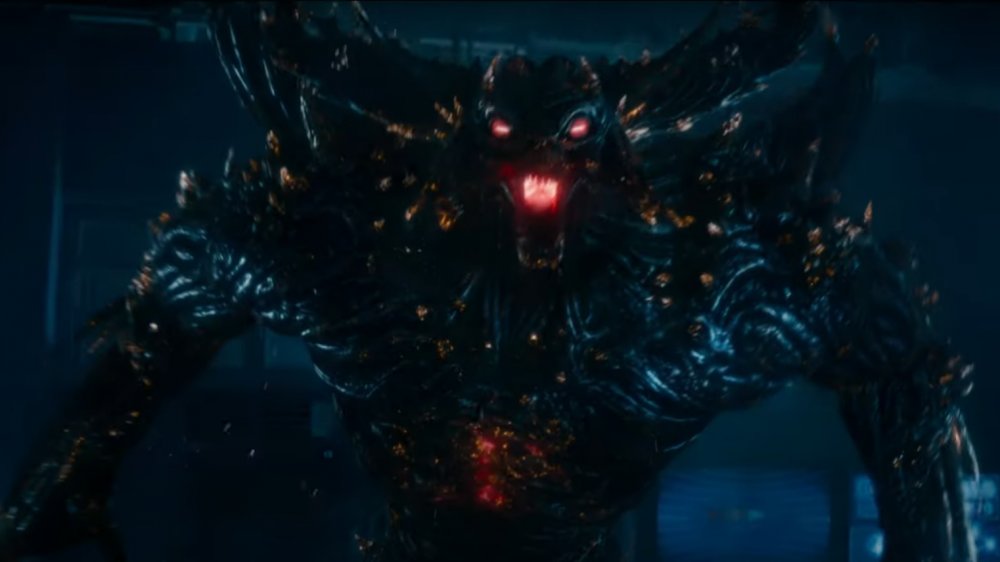 Netflix
The thing about Warrior Nun is that most of what you need to know about its plot is right there in the title. Our protagonist is Ava (Alba Baptista), an orphan in the process of getting her adult life in order. That is, until she dies, and then wakes up on the slab in a morgue. Not only has she been brought back from the dead, but she also has a halo burned in her back. This marks her as a member of a special order of holy women who have been chosen to figuratively and literally kick demons that roam the earth back to Hell.
The order that Ava unwittingly finds herself a part of is called the Order of the Cruciform Sword, and thankfully for her, she's not alone. Now that she's been branded, Ava trains with her fellow sisters to hone her demon-slaying abilities and learn how to wield the new powers she's been gifted.
Of course, as with all divine callings, joining the order is both a blessing and a curse. Ava must not only contend with the demonic forces she's tasked with slaying, but also the loss of her old life. Being drafted into a war between the forces of Heaven and Hell is probably not what she envisioned for her entry into adulthood.
Warrior Nun's wild trailer
The trailer for Warrior Nun dropped on June 17, and it teases tight action and sharp character comedy in hefty doses. Things start off with an introduction to our heroine, Ava, who says that she sometimes dreams of being dead. Turns out some dreams are more real than they seem. We see several mysterious figures turning her over to brand her back with a fiery halo, which gives her the power to annihilate a demon who wakes her from her eternal slumber.
From there, we get flashes of exactly what Warrior Nun has in store for us. The fight sequences look well-choreographed and thrilling, the banter-laced dialogue as each of the nuns are introduced hits just right, and the costumes and set design look stunning. While it doesn't give away too much of its plot, we do get introduced to a scientist character who appears to have discovered a portal to Heaven. Toward the end, a giant demon complete with cloven hooves and barbed horns crashes onto the screen. Just from this preview, it's clear that Warrior Nun is an ambitious piece of action-comedy storytelling.
Thankfully, if you enjoy the trailer, you won't have to wait long to binge Warrior Nun. Just make sure you're stocked up on holy water before July 2.