The Murder Mystery Movie That's Killing It On Netflix Right Now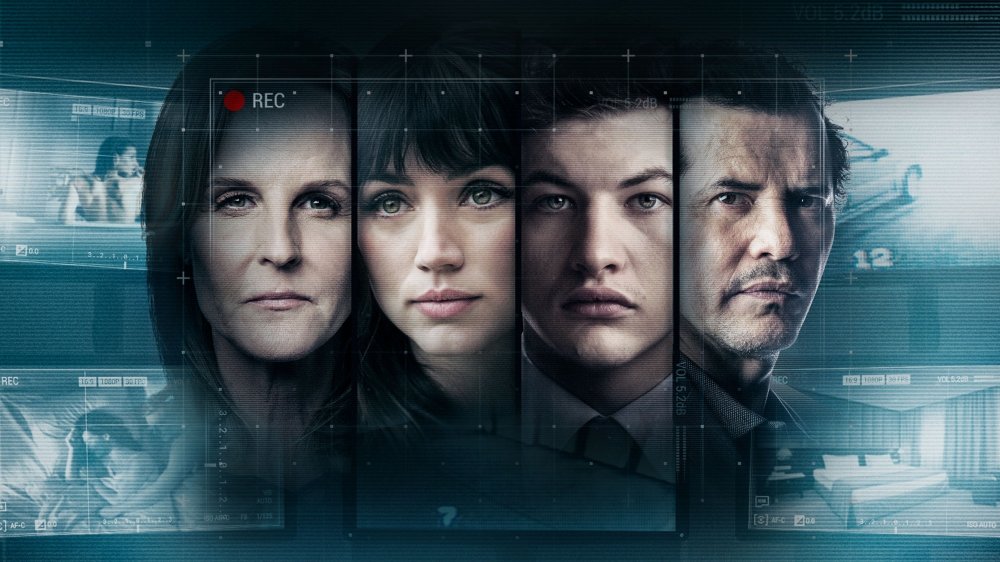 Saban Films
If you're in the market for a killer mystery featuring some top-shelf acting talent, Netflix has got a movie for you.
The unheralded 2020 feature The Night Clerk has made a strong entrance onto the streamer's Top Ten chart, debuting at number six. The flick stars Tye Sheridan (Dark Phoenix) as Bart, a motel clerk with a penchant for spying on his charges — and who sees way more than he ever wanted to.
The Night Clerk has an interesting pedigree both in front of and behind the camera. Sheridan, perhaps best known for his lead role in Steven Spielberg's Ready Player One and for portraying the younger version of Scott Summers (a.k.a. Cyclops) in the X-Men movies, is an extremely capable young actor. The flick surrounds him with an excellent supporting cast, which includes Ana de Armas (Knives Out), Helen Hunt (Mad About You), and John Leguizamo (When They See Us).
The film was written and directed by Michael Cristofer, who in the late '70s won a Pulitzer Prize and a Tony Award for his Broadway stage production The Shadow Box. He's penned screenplays for flicks like The Witches of Eastwick and The Bonfire of the Vanities, directed movies such as Gia and Original Sin (both of which helped to make a star out of Angelina Jolie), and even appeared as an actor in a slew of television series and feature films — most recently as Phillip Price in the hit USA series Mr. Robot.
The Night Clerk is Cristofer's first turn in the director's chair since 2001, and for Netflix viewers, it's hitting the sweet spot. 
What is The Night Clerk about?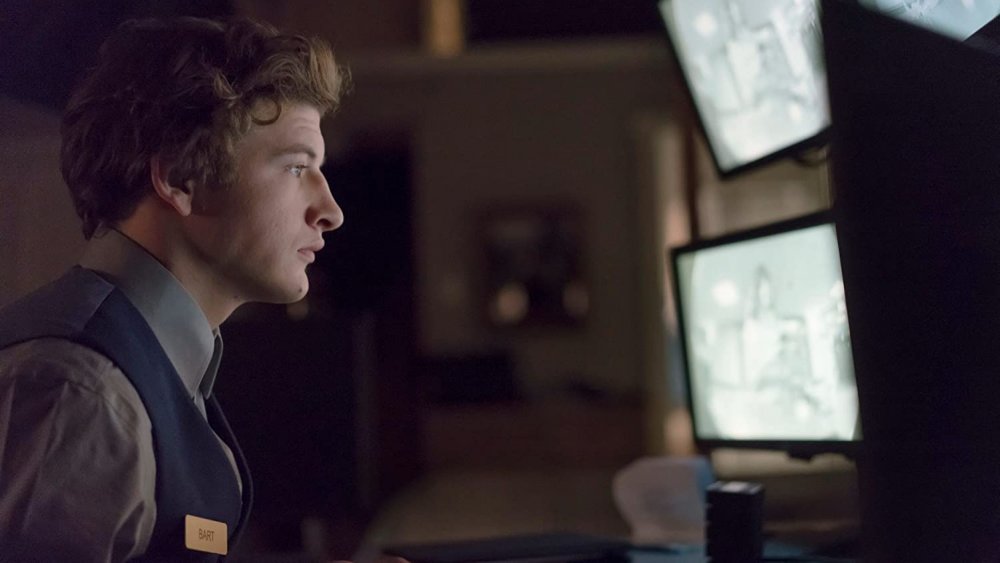 Saban Films
Bart is a young man who lives with Asperger's syndrome. He works the lonely night shift on the Mercer hotel's front desk. Unbeknownst to anyone, he has set up five surveillance cameras in one of the rooms, but not for any nefarious purposes. He uses the footage, which he can access with his laptop, to try to gain a better understanding of how to engage people in conversation and alleviate his own social awkwardness.
One night, a woman named Karen checks in, and Bart gives her his wired room. He completes his shift, gets some ice cream, and goes home, where he watches Karen. Unexpectedly, a man shows up — and that's when everything starts to go pear-shaped for Bart. There's a violent altercation, he makes the unfortunate decision to return to the hotel and try to help Karen. The young woman ends up dead of a gunshot wound, with Bart apparently the only person nearby.
Bart is able to remove most of his surveillance equipment, but he's then questioned by a suspicious police detective (Leguizamo) and reassigned to a different hotel. There, on his first shift, he promptly meets another attractive young woman (de Armas) who takes an interest in him. It becomes apparent, though, that she knows more about his situation than she's letting on — and that she has a mysterious agenda which might spell doom for our hero.
Why have I never heard of The Night Clerk?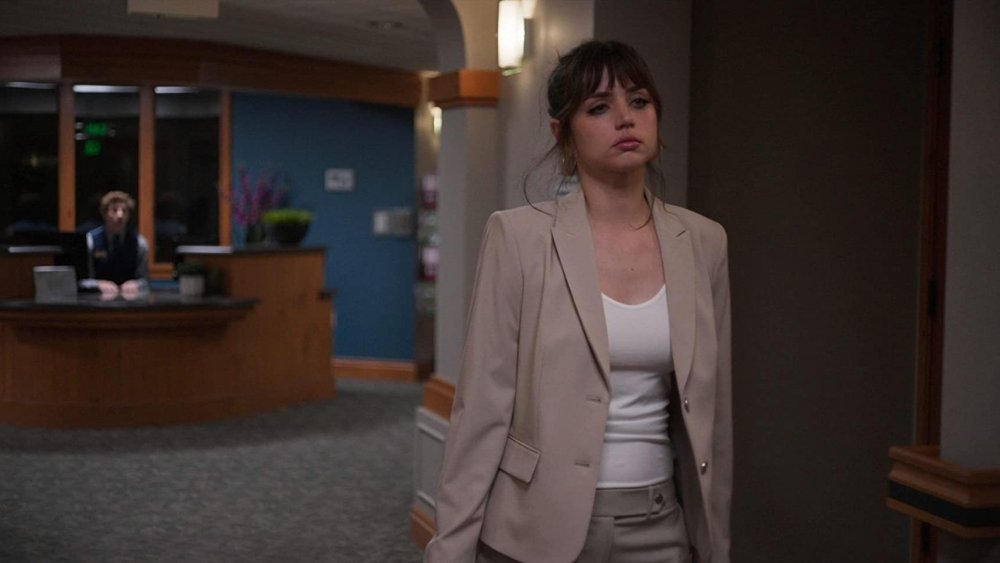 Saban Films
The Night Clerk failed to secure theatrical distribution. It's brought to us by Saban Films, which does a fairly brisk business snapping up low- to mid-budget pictures and shuffling them directly to home video. The flick was released directly to VOD platforms in February of this year, and with virtually no advertising or promotion to speak of. It would probably be more surprising if you had heard of The Night Clerk before it made the leap onto Netflix's Top Ten.
With a great many of us still staying at home whenever possible due to the ongoing coronavirus pandemic, a lot of obscure movies are getting their shots at the spotlight — and in the case of The Night Clerk, audiences are liking what they're seeing. The movie was only just released to Netflix on June 6, and it took virtually no time at all for it to become one of the streamer's most watched titles.

There's a reason for that: It's a nifty little murder mystery, featuring excellent performances from Sheridan and de Armas, two actors whose stars are decidedly on the rise. You can catch Sheridan next in the sci-fi thriller Voyagers, which is expected to be released in November of this year. De Armas will next appear in the 25th James Bond film, No Time to Die, also slated for release in November.
Critics don't agree on the merits of The Night Clerk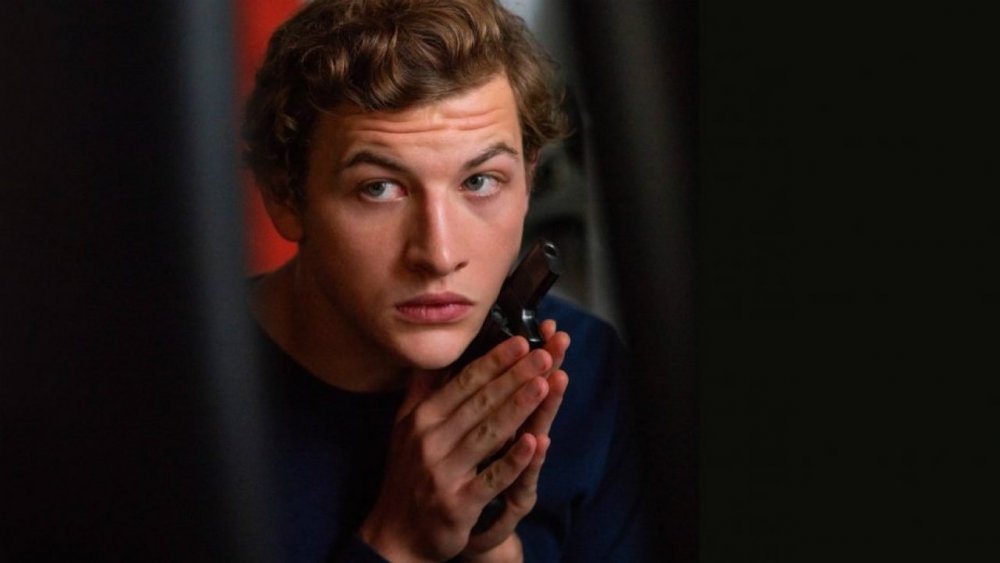 Saban Films
Though The Night Clerk has climbed its way up the Netflix rankings ladder, it's at the lower end of the scale when it comes to critical reviews. The flick has a "rotten" score on the review aggregator Rotten Tomatoes, and its critical consensus paints it as having a "poorly conceived story" that not even its "pair of charismatic leads" can bring to life. Its audience rating isn't much better — it's actually worse by a single percentage point — but it's important to note here that only 79 registered Rotten Tomatoes users submitted audience scores. Likewise, only 43 Rotten Tomatoes-approved critics had their reviews of The Night Clerk logged on the site. 
What we're getting at is that there is something to be said about what both critics and audiences think of a movie, but one must also take into consideration how well the film in question is performing on a larger scale when deciding whether it's worth a watch. While The Night Clerk may not have pulled in rave reviews, it's certainly pulled viewers in on Netflix — potentially by the millions. There must be a reason for that, hey? 
If you're still tossing up whether or not to spend an evening with The Night Clerk, go with your gut. And if you end up disappointed, well, there are thankfully a ton of other mystery movies to watch on Netflix.