The Real Reason Dora Madison Burge Left Chicago Fire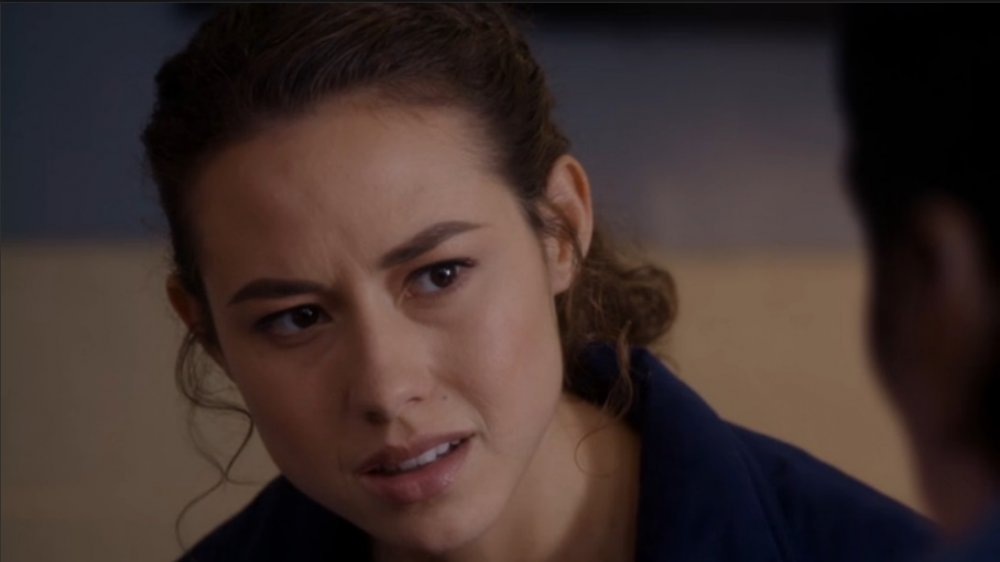 NBC
During the third season of Chicago Fire, Firehouse 51 got a new shot of energy in the form of Jessica "Chili" Chilton, played by Dora Madison Burge. The actress had previously appeared on Chicago P.D. as police informant Alissa Chilton, Chili's twin sister. When Chili was introduced as the new paramedic for Ambulance 61 in a special crossover event with Chicago P.D. and Law & Order: SVU, it seemed to fans that an important new character in the Dick Wolf Universe (DWU) had been introduced.
Unlike the annual chili cook-off, however, Chili herself didn't endure. The character had an emotional and traumatic arc that left her feeling defensive and alone despite her colleagues' attempts to reach out to her. Just when viewers were starting to get invested in the new paramedic around the firehouse, she was fired, resulting in a dramatic mid-season exit.
Of course, characters in the One Chicago world come and go, but it's still hard to argue that, after what seemed like a meaningful introduction, Chili's departure wasn't abrupt. It left some viewers wondering what the real reason was that Dora Madison Burge left Chicago Fire.
What happened to Chili on Chicago Fire?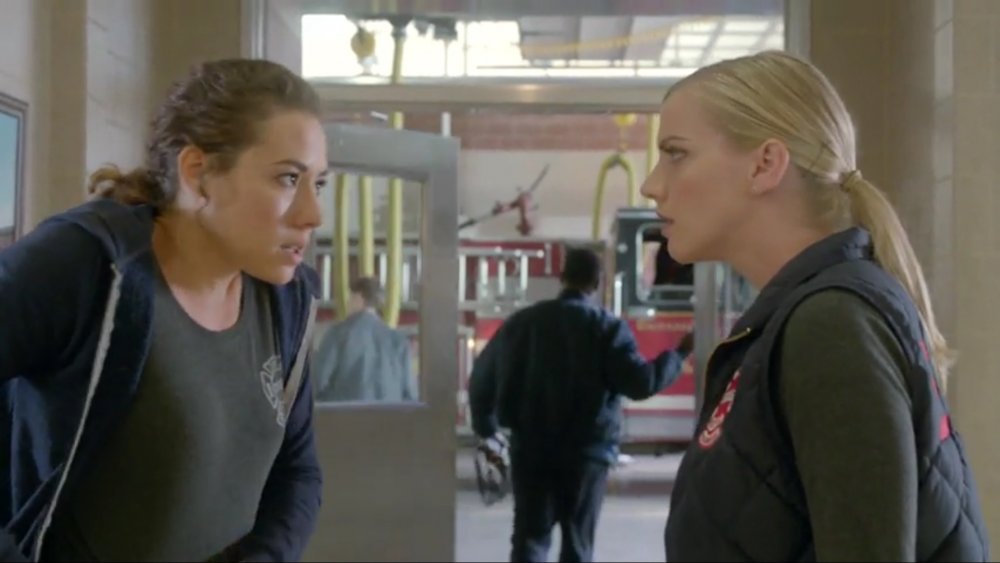 NBC
Although she brought a feisty, and often fun, attitude to the show, Chili's time on Chicago Fire was mostly marked by tragedy. After a rocky introduction to Firehouse 51 in season 3, she seemed to find her footing with her new colleagues by the final episode. When she returned for season 4, however, things began to unravel. After a relationship with a colleague had to be broken off due to concerns about professionalism, Chili became despondent and easily irritable.
It is soon revealed that Chili's strange behavior has a cause more serious than a doomed love affair: Her twin sister, Alissa, was found dead in her home. Chili is not only having personal issues after her sister's death, but she's also beginning to make critical mistakes on the job. Soon, it's revealed that she is sneaking away to drink during her shifts. After she is caught and confronted by Kelly Severide (Taylor Kinney), she is forced to confess to Chief Boden (Eamonn Walker). Even though she promises to go to rehab, Boden fires her on the spot.
It's a shocking end to a tragic story. Despite being billed as a series regular in season 4, Chili's final episode came midway through the season. This left fans wondering exactly why the character left the show when she did.
The reasoning behind Dora Madison Burge's mid-season exit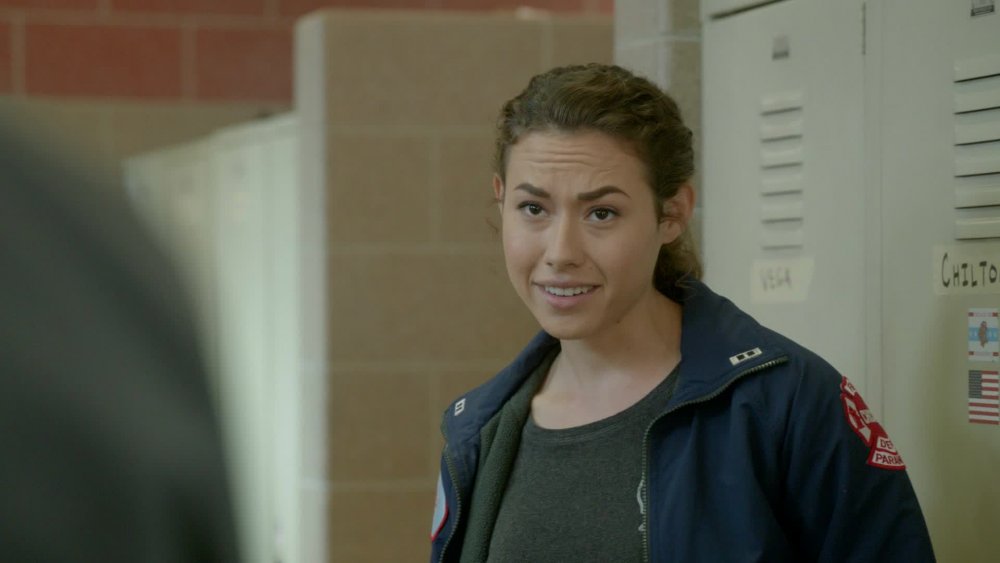 NBC
When actors exit TV shows, it's sometimes because they want to move on to other projects, or because there was some kind of behind-the-scenes drama. Other times, it's simply because the writers and producers felt the moment was right for their character's story arc to come to an end. When it comes to Chili, it appears to be a case of the latter.
In an interview with The Hollywood Reporter, showrunner Matt Olmstead clarified that Chili's firing meant the character was gone for good, adding, "It's hard ... We liked the actress a lot and she did a great job."
As for why it happened in the middle of the season, Olmstead said that was a strategy to make sure the show didn't fall into a pattern of comings and goings: "You can't just save up the big moments and departures and entrances for characters at episode one and episode 22 ... So you can threaten people leaving and you can kind of rattle your saber here and there, but unless you follow through on it, no one is going to believe you."
So, it seems that poor Chili was a necessary sacrifice to keep viewers on their toes.
What Chicago Fire fans thought about Chili's departure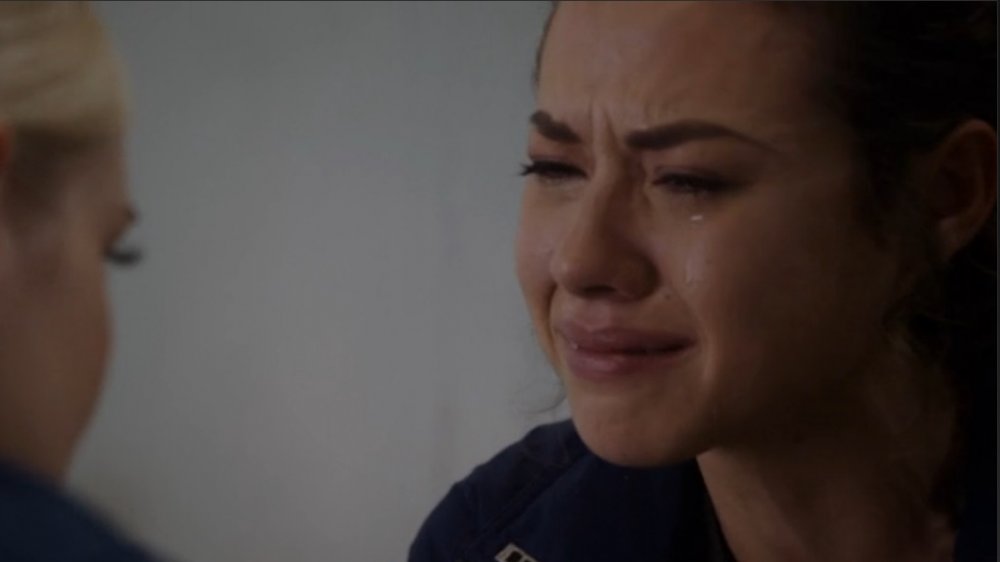 NBC
It's hard for fans of a show to lose one of the characters they've grown attached to, but in the case of Chili, it seems like most fans agreed with Chief Boden. In a poll conducted on the official Chicago Fire Twitter account, 53% of respondents backed Boden's decision to fire the troubled paramedic.
The responses from fans on social media echoed those results. In a reply to the poll, one Twitter user said, "I think it was for the best. Drinking on the job — especially such an important job — is never good." Another added, "Never really liked her or her character. Was happy when Boden fired her. 3rd strike! Don't mess with Boden!"
Not everyone, however, was down with Chili's firing. Some fans pointed out that people with substance abuse issues should be offered rehab and counseling, not be outright fired. As one fan said in response to the question of whether Boden should have fired her, "She came clean and asked for help. So no. I'm all disillusioned with Boden now. I get she had already pushed it, but still."