The Real Reason The Tenet Trailer Debuted In Fortnite
It's not time travel — it's time inversion. 
That's the heart of esteemed director Christopher Nolan's upcoming feature film Tenet, the first full-length trailer for which was released on Thursday, May 21 in a most peculiar fashion. Heated online chatter claimed that the Tenet trailer would drop at or around 12pm ET on Thursday, and when that didn't happen, many wondered what was up. Did studio Warner Bros. purposely delay the release of the trailer for some unknown reason? Did folks just have their facts wrong? Would a trailer even be hitting our devices any time soon?
A few hours after the waves of disappointment crashed upon the internet's proverbial shores, the truth came out in an unexpected way. None other than the official Twitter account for Fortnite announced that the Tenet trailer would premiere exclusively in the game's outdoor theater on the Party Royale island — first at 8 PM ET, and then every hour on the hour following the initial drop. That's right: A trailer for a film from the brilliant mind of Christopher Nolan — the same director responsible for Dunkirk, the Dark Knight trilogy, and Inception — premiered in the hottest battle royale game on the planet, played by everyone from elementary school students to multi-millionaire Twitch streamers to elders simply enjoying the fun the game provides. 
Seems like a pretty out-of-left field decision, especially for a film as highly anticipated as Tenet. Why not drop the trailer on YouTube like every other film studio does?
Well, according to Donald Mustard — the Worldwide Creative Director at Epic Games, which develops and publishes Fortnite – there's a specific reason why the Tenet trailer debuted in Fortnite.
The Tenet trailer drop in Fortnite was supposed to be the 'next best thing' to a real-life screening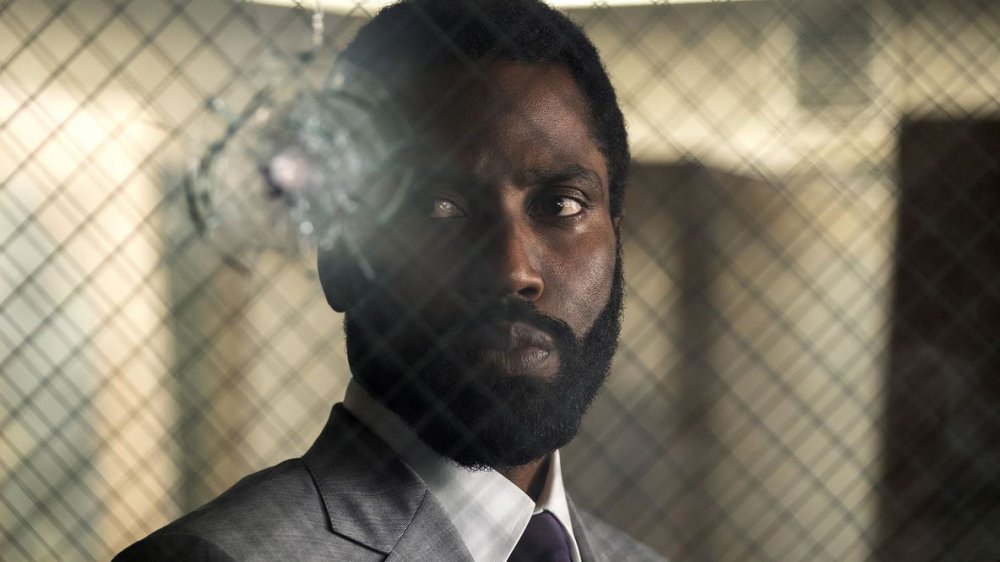 Taking to Twitter, Mustard explained that having the trailer for Tenet premiere in Fortnite was meant to replicate the feeling of something that no one can experience given the current state of the world: watching new movie trailers in an actual theater, the vast majority of which around the globe are closed.
"The idea of debuting the TENET trailer came from a phone call with Christopher Nolan. We were all talking about our love of seeing new trailers in a THEATER and how sad we were that we can't do that right now — but how maybe this could be the next best thing. Hope you love it!" wrote Mustard, a self-professed "massive" fan of Nolan's work. He added in a follow-up tweet, "When we do anything like this, it's always born and driven from a relationship between creatives trying to bring something we think is awesome to life."
Not only did the Tenet trailer screen exclusively in Fortnite before hitting the rest of the internet, but the film is also set to screen in its entirety within the game upon its release on July 17. 
Per the film's trailer, the intention is for Tenet to have a theatrical run. According to IMAX CEO Richard Gelfond, Nolan himself is truly gunning for this outcome. Gelfond relayed hope that Tenet will be the first major studio release when cinemas open back up, stating, "Chris really would like to be coming out with the film that opens theaters. I don't know anyone in America who is pushing harder to get the theaters re-opened and to get his movie released than Chris Nolan."
Wait, what's Tenet actually about?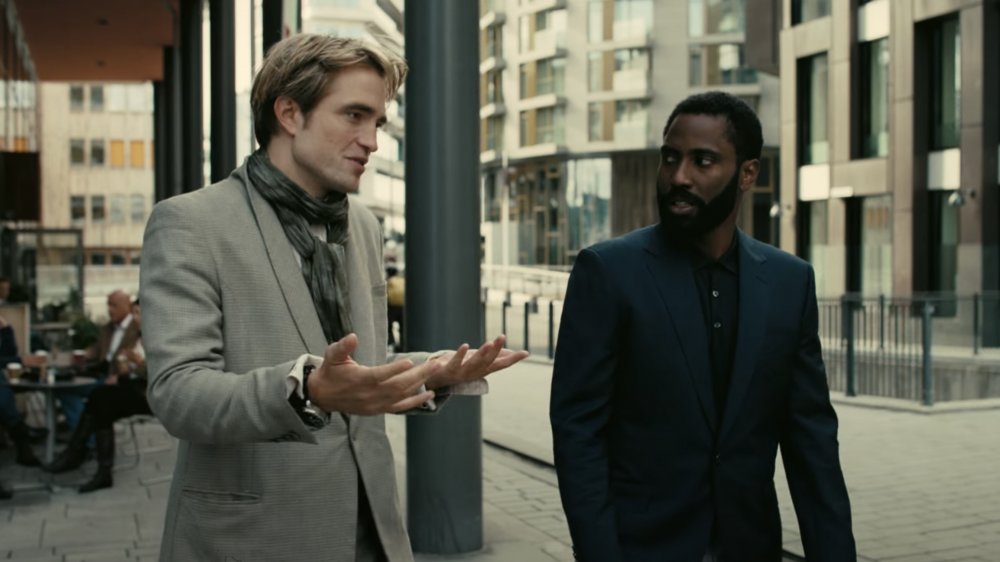 Even with the release of the full-length trailer for Tenet, not a whole lot is known about the film. What Warner Bros. has unraveled about Tenet thus far has offered just enough interest-piquing, appetite-whetting details — all while leaving big questions unanswered and dangling threads begging to be pulled.
It's clear that Tenet is a sci-fi action-thriller centered around the idea of time inversion — likely the reason why its title is a palindrome, or a word or phrase that can be read the same way forward and backward, and why Tenet is stylized as TENƎꓕ, ending with an inverted E and T. The trailer solidifies this concept and sheds the faintest amount of light upon it as it teases a skeleton of a plot. Lead actor John David Washington's character — presumably called the Protagonist, if Warner Bros. trailer description is to be taken at face value at this time — can employ the word "Tenet" as a way to "open the right doors, and the wrong ones, too." Martin Donovan's nameless character warns that he must use "Tenet" with extreme caution, though it's never fully explained why such care must be taken with those five letters. 
An exchange between the so-called Protagonist and the woman played by Clémence Poésy (she doesn't have a name as of yet either — go figure!) hints at the stakes: He is attempting to prevent a third World War alleged to be even worse than the Biblical Armageddon. To achieve this mission, the Protagonist catches the attention of a foreboding Russian national (Kenneth Branagh), teams with a dapper man with a flair for the dramatic (Robert Pattinson), entangles in international espionage, and visits crime scenes that haven't actually happened yet — events that comprise a mission unfolding in "something beyond real time."
It's quite head-trippy, evokes a distinct vibe of "Inception on Red Bull and coffee," and shows that there really isn't a way to pin Tenet down for the time being. Even Pattinson himself was at a loss when asked during a recent interview with GQ how he would describe Tenet, admitting, "I genuinely don't know if I'd be able to." All he could share about Tenet? "This thing, it's so insane."
That air of dark mystery is what makes Tenet, like most all Nolan-directed flicks, so appealing. Those hungry to discover what Tenet's all about can do so when the film is released on July 17.