Trailer Park Boys: The Real Reason Julian Almost Always Has A Drink In His Hand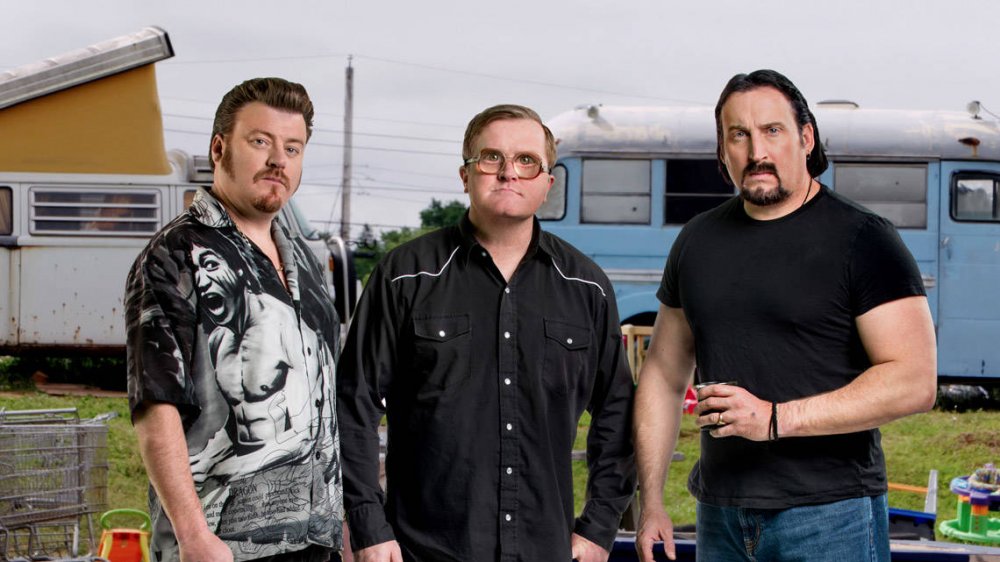 Showcase
Considering the amount of screen time given to Julian on Trailer Park Boys, his beverage consumption is downright impressive — if concerning. Across 12 seasons, the de facto leader of the titular crew of Nova Scotian miscreants is almost never seen without a cocktail. 
Julian has downed thousands of rum and cokes while protecting the park and solving the myriad problems of its down-and-out residents. Given that level of commitment to his spiked soda, you'd think that the team behind Trailer Park Boys were hoping to say something about Julian. But it turns out that the trademark started as a practical solution to a problem we've all encountered: not knowing what to do with your hands. 
The drinking habit reportedly came from a tip offered by Trailer Park Boys director Mike Clattenberg. During the filming of the movie that launched the franchise, he told actor John Paul Tremblay that he should mix a drink in order to have something to occupy his hands while he read his lines.
Julian is also the catalyst for the entire series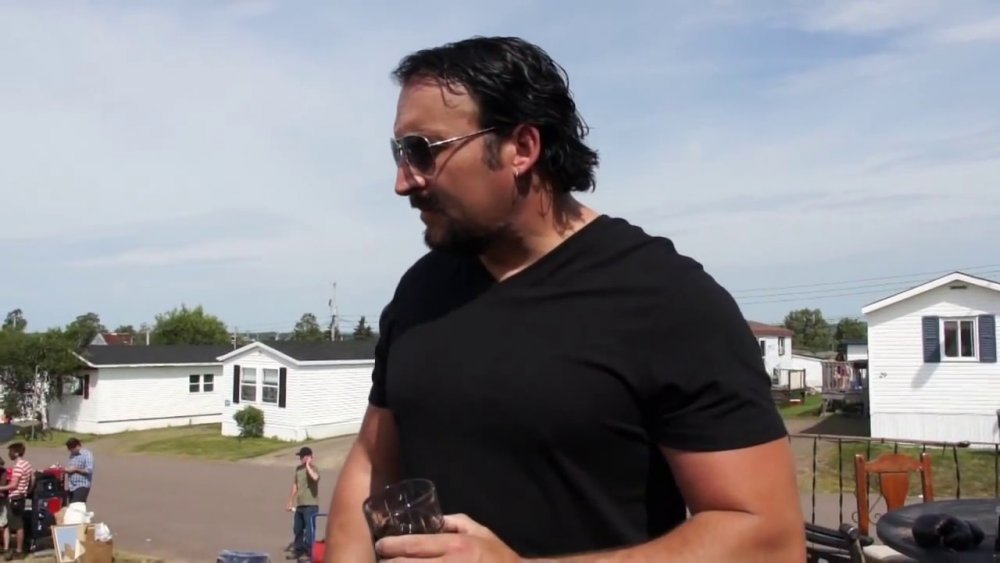 YouTube
The character of Julian is the whole reason that Trailer Park Boys exists, at least in-universe. The petty criminal and trailer park resident invited the "documentary crew" to follow his life after a fortune teller's prediction spooked him to his core. Believing that his life was coming to an end, Julian hired a camera team to follow him so that they might turn his story into a cautionary tale. 
Julian had spent his life scamming and scheming, and it left him living in desperately poor conditions. He hoped that people could view his story (and his imminent death, which didn't happen) as a warning to avoid the sort of life he lived. He thought that a film that scared other people into avoiding his lifestyle might balance out all the bad he'd done. Instead, the fictional crew fell for the colorful cast of characters that lived in the park, much in the same way real-world viewers got hooked and made the show a success.
The Trailer Park Boys cast almost never breaks character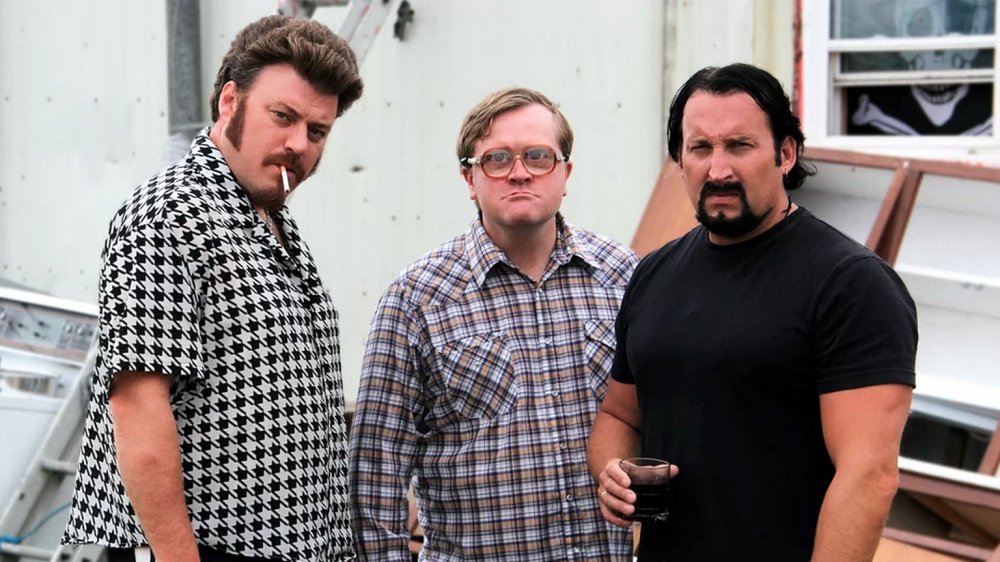 Showcase
The omnipresent drink is just the beginning of Trailer Park Boys' commitment to the bit. Because the trio at the heart of the series are meant to be real-life residents of a Nova Scotian trailer park, the actors almost always give interviews in character — not that the kayfabe is necessary to get the characters across. 
As John Paul Tremblay said in a rare out-of-character interview, the TPB leads resonate because everyone has met the sort of down-and-out strivers and knuckleheads who populate the park.
"You hear that from everybody. Everybody knows a Ricky, Julian or Bubbles and went to high school with these guys or lived next door to people like us. It's unreal," Tremblay said.
That deep connection with the characters has helped the show run for nearly 20 years, spinning off into an animated series and making fans anxious for a 13th season.
John Paul Tremblay is still playing Julian on another version of Trailer Park Boys — and the drink is still in his hand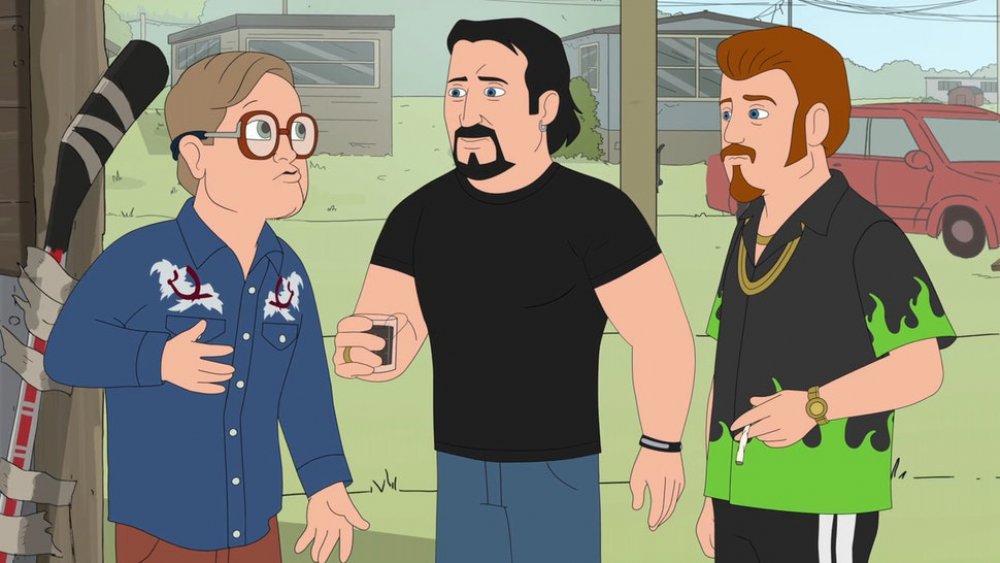 Netflix
Though Trailer Park Boys hasn't officially ended — and work on a new season was announced in October 2019 – the show has received its own spin-off, Trailer Park Boys: The Animated Series. A continuation of the live-action show, Trailer Park Boys: The Animated Series features everyone's favorites voicing cartoon versions of their live-action counterparts: Robb Wells as Ricky LaFleur, Mike Smith as Bubbles, John Dunsworth (posthumously) as Jim Lahey, Patrick Roach as Randy, Cory Bowles as Cory (and Steve French and Naked Man), and, of course, John Paul Tremblay as Julian. 
True to form, even the animated Julian has a drink in his hand as he and the boys get up to all sorts of misadventures in and around the Sunnyvale Trailer Park. It just goes to show that when a behavior or an item becomes a character's signature, it sticks with them no matter what. 
The first season of Trailer Park Boys: The Animated Series premiered on Netflix in March 2019. Its second season will arrive on the platform on May 22, 2020.