Why This Mad Max: Fury Road Character Was Almost Cut From The Film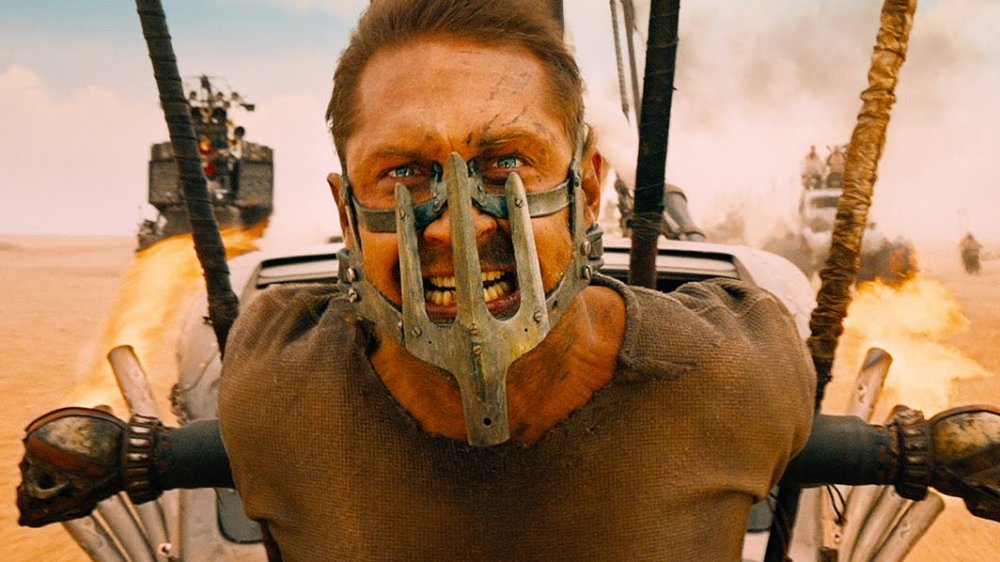 Your favorite character almost didn't make the final cut of Mad Max: Fury Road.
If you're a fan of George Miller's 2015 epic, you definitely remember the Coma-Doof Warrior (otherwise known simply as the Doof Warrior), a guitar-wielding madman strapped to the front of a truck that blasts music during some of the film's best and most high-octane battle scenes. It's difficult to imagine Mad Max: Fury Road without him, but according to a new oral history of the film, the Doof Warrior (played by iOTA) was almost cut from the action entirely.
The New York Times' Kyle Buchanan took to Twitter to reveal some "outtakes" from the comprehensive oral history of Mad Max: Fury Road that he penned. One of those outtakes was about the Doof Warrior's close call when it came to staying in the film. According to Buchanan, the Doof Warrior's music proved to be a problem until the Mad Max: Fury Road team finessed his performance, keeping him in the final cut.
"Here's something alarming: WB wanted the Doof Warrior cut from FURY ROAD!" Buchanan tweeted. "'The Doof Warrior tested really badly at first,' Miller told me. 'We had temp music, and whenever the Doof Warrior played in the test screening, it was the same riff, so it got annoying.'"
According to Buchanan, Miller further explained, "A couple people at the studio said, 'Oh, we've got to drop the Doof Warrior.' I said, 'No no, it's way too early to even think of that.'" Buchanan added that "once the Junkie XL score was added to the cut, Miller's instincts proved correct: 'He became one of the most popular characters in the film.'"
The Doof Warrior and his guitar are an integral part of Mad Max: Fury Road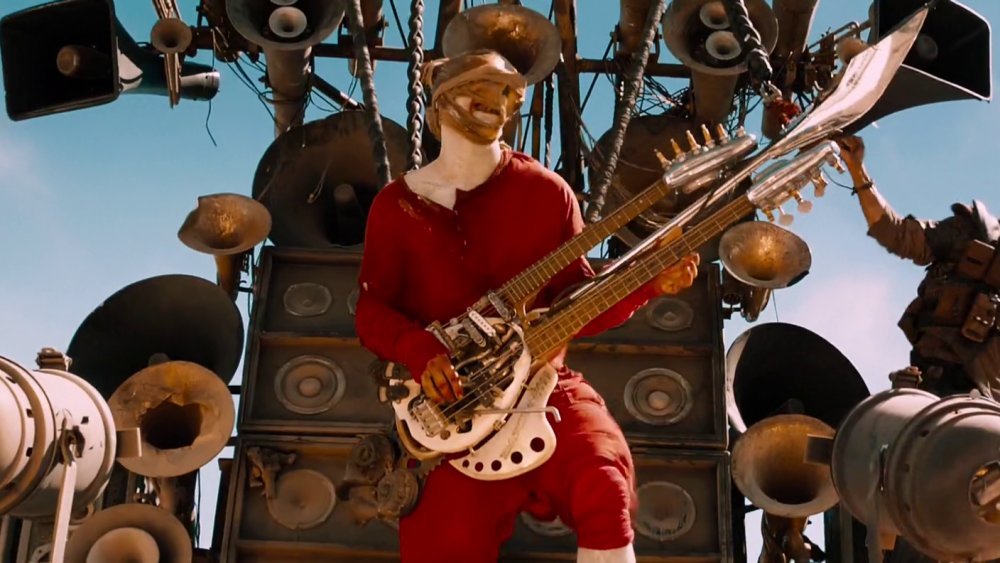 Luckily, Miller and his team figured out a way to use the Doof Warrior, whose flame-spewing guitar and perfect music ended up providing one of the film's defining images. In case you were curious about his guitar, another tidbit Buchanan revealed is that the instrument actually spat out flames on set and played music, forgoing special effects.
According to production designer Colin Gibson, "It shot flames, it looked beautiful, it had 60 moving parts. I was really proud of it, and then George [Miller] came to visit and said, 'I'm really looking forward to hearing it play.' For some reason, I hadn't imagined that when we were out in the middle of the desert with 36 V8s rolling, that we would actually need the guitar to make sound. Fortunately, one of my salvage artists was a guitarist and was able to make it work."
Ultimately, the Doof Warrior — who comes with his own complex backstory courtesy of Miller — remains one of Fury Road's most popular characters, lending even more excitement and spectacle to a movie already full of amazing thrills. It's definitely a good thing that he stayed in the film.