The Office Fans Can Now Experience The Series In A Whole New Way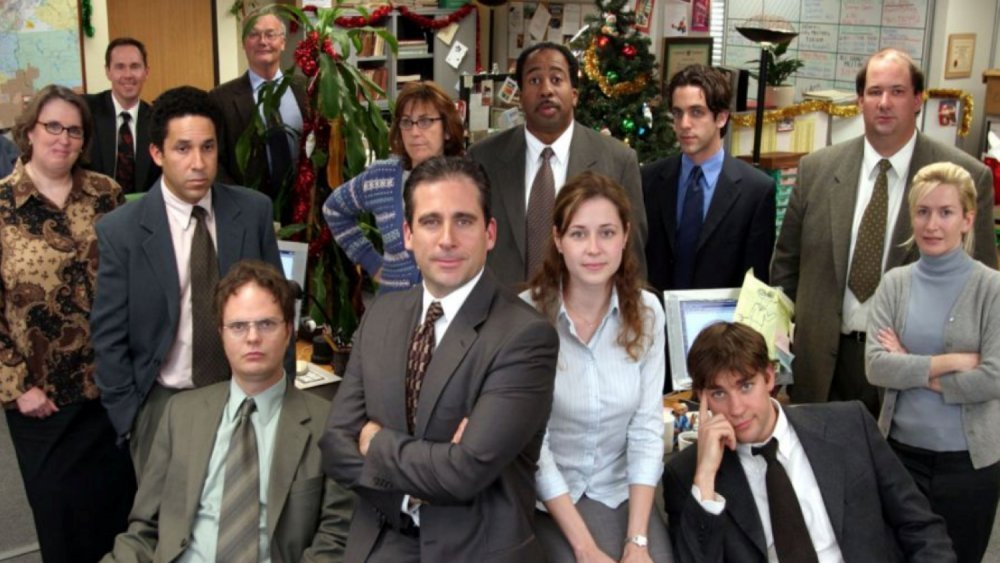 NBC
If you've ever wanted to work at Dunder Mifflin, now's your chance.
Some enterprising fans of NBC's The Office, who make up a creative collective called MSCHF, have set up an Office Slack that recreates your favorite episodes off screen. MSCHF posts in various channels and threads, running through the episodes' scripts, and will perform all of the episodes of The Office over Slack — allowing fans to watch in real time and relive episodes like "The Injury" and "Office Olympics."
Over the course of nine seasons, The Office told the story of the Scranton, Pennsylvania branch of Dunder Mifflin, a mid-sized paper supply company, and the lives of its employees. Originally a mid-season replacement when it originally premiered on NBC in March 2005, the series was adapted from Ricky Gervais and Stephen Merchant's British show of the same name; after an abbreviated first season, the U.S. Office grew in popularity to become one of the most popular sitcoms of the last few decades.
Thanks to stars like Steve Carell, Ed Helms, John Krasinski, Mindy Kaling, and more — many of whom went on to become extraordinarily famous as a result of the show — and showrunners and writers like Greg Daniels and Michael Schur, The Office became a lasting success. It's certainly no surprise that fans stuck at home during the COVID-19 crisis would want to relive their favorite Dunder Mifflin moments every Monday through Friday from 9 AM to 5 PM EST. 
Here's how you can experience this new Office story and play along on Slack as well.
How this Slack story recreates Office episodes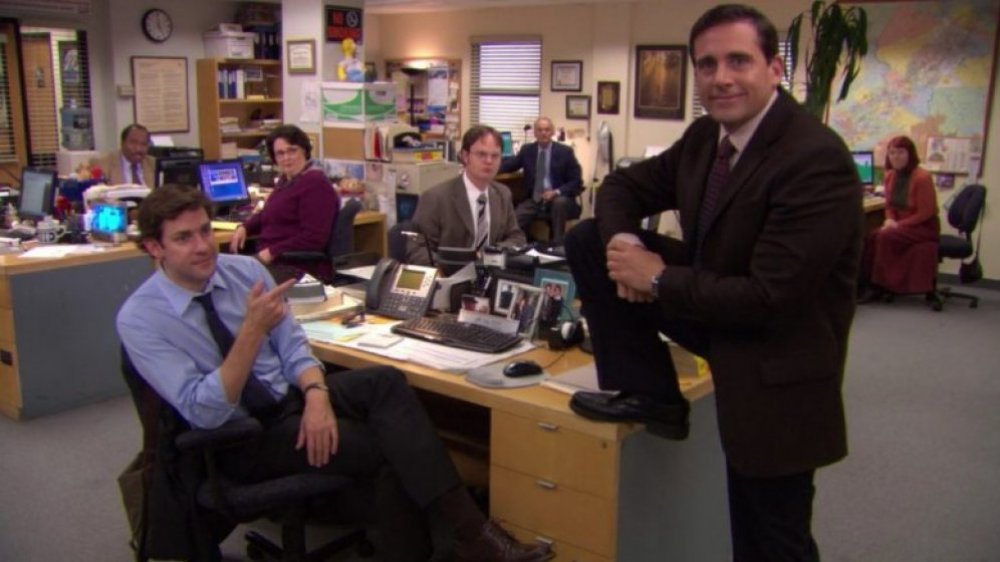 NBC
According to The Verge, MSCHF is moving through each episode of the office throughout several different Slack channels — including general office, warehouse, and accounting — that are all part of the Dunder Mifflin workspace. Viewers can tune into a live Slack and watch the episodes unfold throughout the various channels; though MSCHF asks audience members not to post anything in the "company" chats, you should definitely move from channel to channel as you "watch," since the stories take place throughout the channels as they move through the "office." 
If you're thinking that some audience members might ignore the rules and post inappropriate things, you might be right; a live feed is pretty tough to control, but MSCHF assured The Verge that they're working overtime to police any untoward behavior.
Given that The Office relies so much on physical humor, it might seem impossible to recreate its greatest hits, but with some episodes (like season 2's "The Injury"), MSCHF has found a way. On that episode, boss Michael Scott (Carell) frantically calls Dunder Mifflin's receptionist, Pam Beesly (Jenna Fischer) for help one morning, only to have the call intercepted by prankster Jim Halpert (Krasinski). As it turns out, Michael has burned his foot on his George Foreman grill trying to make bacon in his bedroom — news that Jim broadcasts to the entire office via speakerphone — and the situation only gets more ridiculous from there. For this scene, MSCHF reposts Jim and Michael's exact conversation over Slack using lines from the episodes and funny GIFs — and really, it seems exactly right that Michael would rely on goofy GIF jokes even when he's injured.
This is the perfect time to relive The Office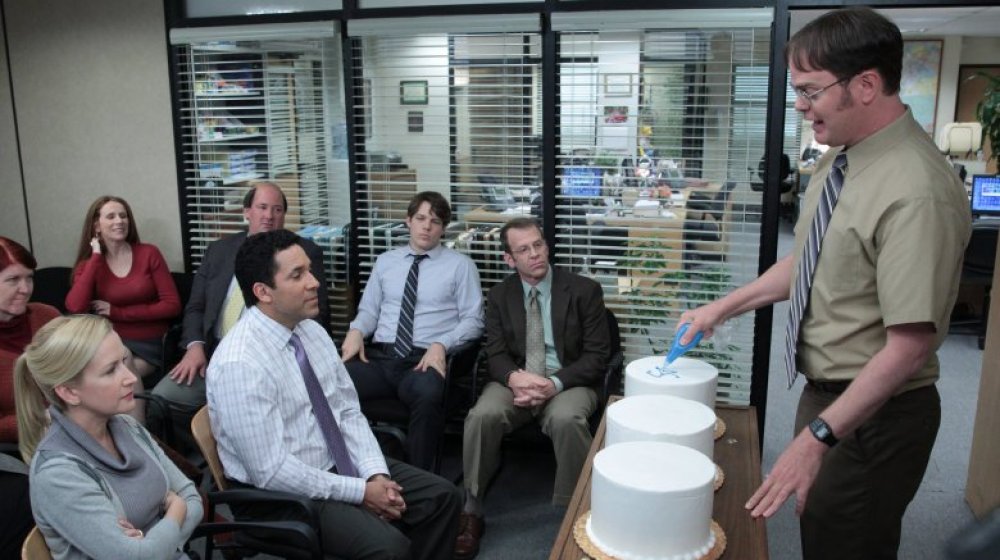 NBC
If you're going to reenact any sitcom over Slack, The Office is clearly the best choice. As Daniel Greenberg, head of strategy at MSCHF, told The Verge, "Since The Office aired, the nature of work and office culture has changed drastically, a lot of which is centered around the way we use technologies. This is a live experience by real people Mondays through Fridays, nine-to-five."
With more people working at home than ever before due to the ongoing coronavirus crisis, and the emergence of Slack as an important tool for any office (remote or otherwise), MSCHF's timing is pretty prescient. Plus, considering the story moves pretty slowly over the Slack channels, it will continue for quite some time — giving people something to do while they're sheltering in place.
Since it ended its run in 2011, The Office has been syndicated on several channels, and according to Netflix, it's been one of the most popular and rewatched shows on an incredibly consistent basis. According to Deadline, in 2018 alone, the show was streamed over 52 million times. (Unfortunately for Netflix, The Office will move to NBCUniversal's new streaming service, Peacock, upon its launch.) 
Clearly, people will rewatch The Office over and over again — and now, they can "rewatch" it in an entirely new way thanks to MSCHF.