The Brand-New Office Reunion You Never Expected To See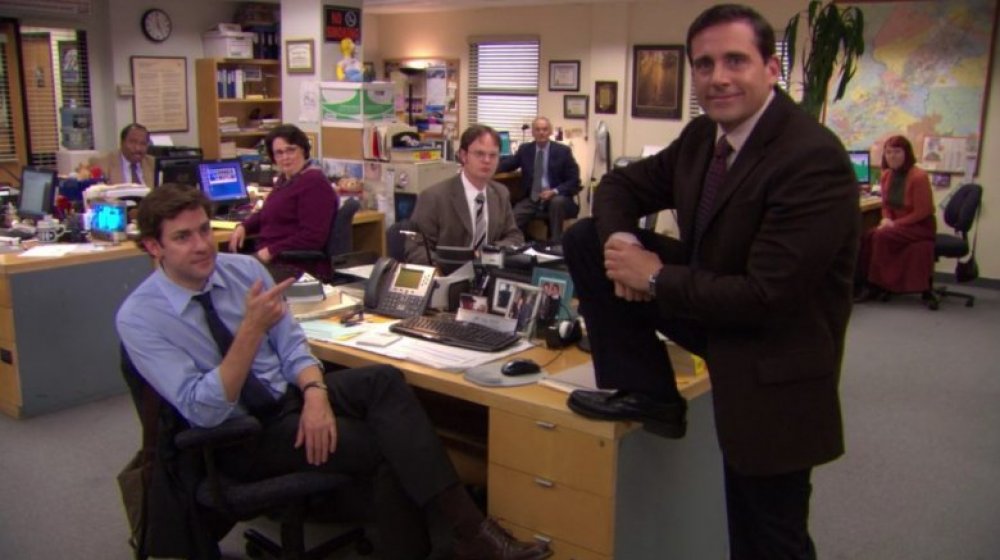 The Dunder Mifflin gang just got back together again in a way you probably never saw coming.
Ever since The Office, everyone's favorite show about everyday workers at a small paper supply company in northeastern Pennsylvania, wrapped up its momentous nine-season run in the spring of 2013, fans have wondered whether or not the series' extensive cast might meet up for an Office reunion once again. You might think that during an age of social distancing it might be harder than ever to bring The Office's cast back together, but one of its stars figured out a way to get the whole crew back on screen even as we all remain safely at home to try and stop the spread of COVID-19. 
Thanks to John Krasinski, who played Jim Halpert on the series, The Office cast reunited to create an unforgettable experience for two of its biggest fans and a touching sight for viewers across the world.
For several weeks, Krasinski has been brightening everyone's mood with his new YouTube series Some Good News, providing an unexpectedly optimistic outlook on the coronavirus crisis that has put the entire world on hold as we work to stem the spread of the disease. In every installment, Krasinski finds a way to lift the collective mood as well as help people out; this time, he reached out to two adorable Office fans to help make their wedding a reality.
Here's how the cast of The Office got back together in a totally unexpected way.
John Krasinski's very special Office wedding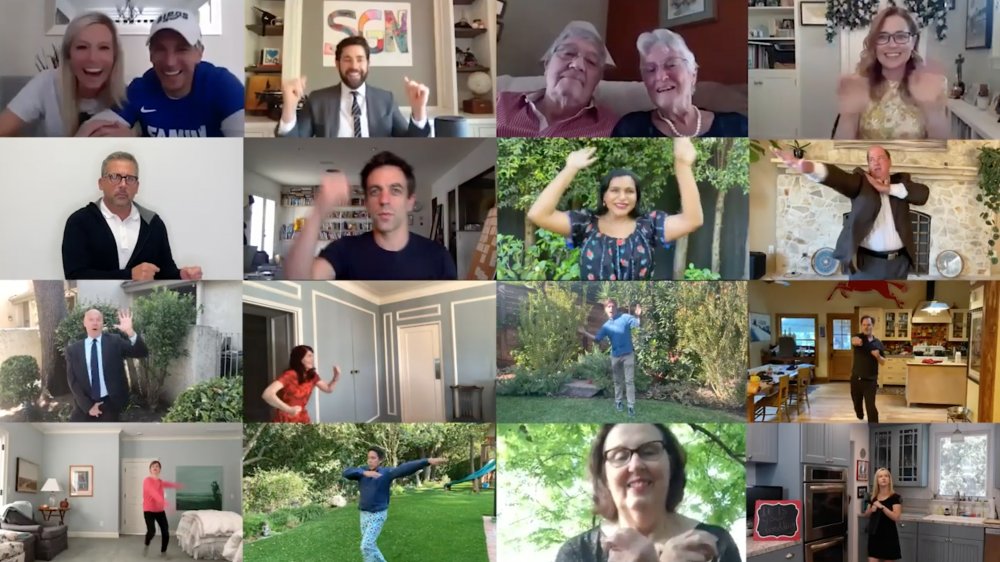 After Maryland couple John and Susan got engaged the same way that Jim and Pam (Jenna Fischer) did — in a surprise proposal at a gas station — Krasinski touched base with the duo. They told him that, just like Jim, they "[couldn't] wait any longer." After bringing the couple's parents and best friends — as well as Fischer, who served as Susan's maid of honor — on the call, Krasinski performed the wedding himself, complete with a serenade from musician Zac Brown. 
However, the surprises didn't end there.
As Krasinski put it, "Since you so elegantly ripped off our show for your proposal, I feel like it's only fitting that you rip off the wedding, too." As soon as Krasinski pressed play on Chris Brown's "Forever," the cast of The Office appeared on the call to re-enact their legendary dance from Pam and Jim's wedding. Alongside Fischer and Krasinski, Steve Carell (Michael Scott), Mindy Kaling (Kelly Kapoor), Rainn Wilson (Dwight Schrute), Angela Kinsey (Angela Martin), Ed Helms (Andy Bernard), Kate Flannery (Meredith Palmer), Brian Baumgartner (Kevin Malone), Phyllis Smith (Phyllis Lapin Vance), Oscar Nuñez (Oscar Martinez), and Creed Bratton all performed their own dances from their homes — giving the happy couple a wedding they'll definitely never forget. 
From Creed's hip thrusts to Dwight's karate chops, the cast provided a joyful, sweet experience for these two fans. And to complete the moment, Krasinski chopped off his tie as an homage to the episode, promising to send it to the couple so that they can hang the memento on their wall.
Jim and Pam's unforgettable wedding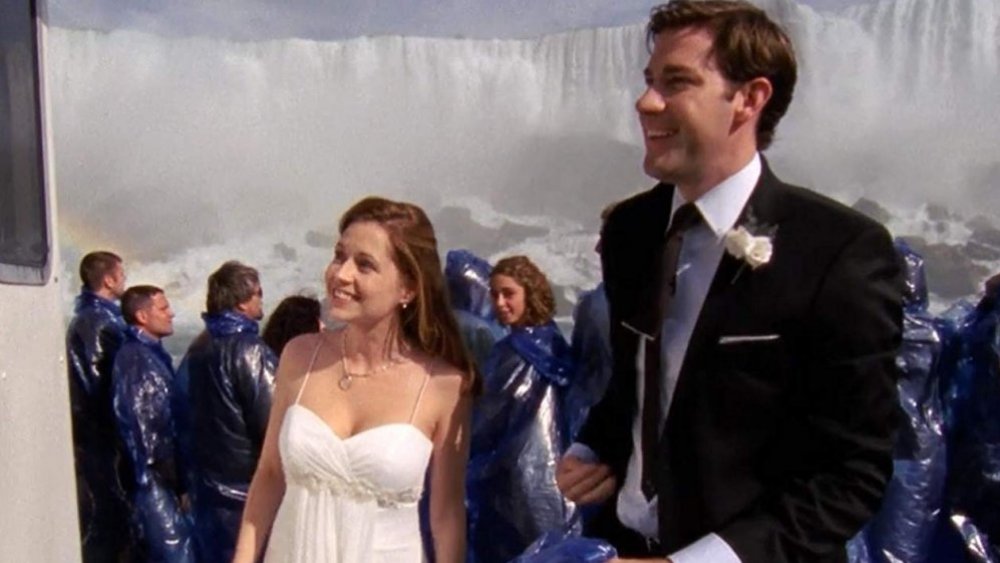 For those who don't quite remember how Jim and Pam's wedding went down, here's a refresher.
After six seasons of The Office, fans were dying to see Pam and Jim get married, and the two-part episode "Niagara" was everything viewers could have asked for. As the couple prepares for their nuptials at Niagara Falls in upstate New York, the entire office joins them for their happy day. Naturally, problems present themselves right away: Michael doesn't have a hotel room, Andy injures himself during a dance contest, and Jim accidentally outs Pam's pregnancy to her conservative grandmother during the rehearsal dinner.
However, on the day of — after Pam tears her veil (to even the score, Jim chops off half of his tie) and they realize their wedding day just isn't what they expected — they run off to secretly tie the knot under Niagara Falls by themselves, reappearing for a ceremony that also doesn't go as planned. By this point, even as Michael leads Dunder Mifflin's employees in a dance to "Forever" (itself was based on a viral video popular at the time), Jim and Pam let their expectations fall by the wayside, simply enjoying the moment no matter how chaotic it gets.
Pam and Jim's nuptials have inspired plenty of copycats over the years, but none of them have managed to reunite the core cast of The Office before. Clearly, Krasinski has his former colleagues on speed dial — Steve Carell and Rainn Wilson have both made appearances as well — but this Office reunion was the most special one yet. We can only hope that future installments of Some Good News bring viewers back to Dunder Mifflin again sometime soon.