The Office Reunion That Carell And Krasinski Really Want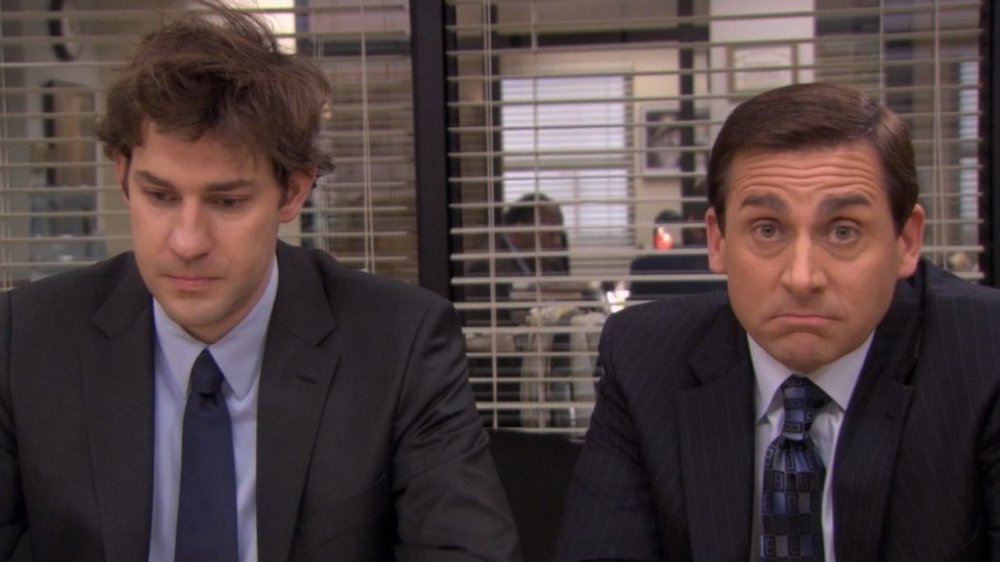 In the age of social distancing, a few cast members from The Office found a way to reunite in the sweetest possible fashion.
In the midst of the COVID-19 pandemic, everyone — including some of the world's funniest and most famous people — is stuck inside while the world hunkers down and quarantines to try to stem the spread of the virus. Sure, it's seemingly easier for celebrities, many of whom have massive estates with swimming pools and enormous yards, to stay at home. But with that said, some celebs are taking this time to get creative and do some good.
Some celebrities, like Ryan Reynolds and Blake Lively, have raised money for food banks; others, like Britney Spears, are offering to buy food and supplies for fans who contact them via social media; and some, like Sir Patrick Stewart, read a different Shakespearean sonnet every day to help keep spirits up. Meanwhile, some of the stars of The Office reunited to boost morale, thanks to a brand new news "network" from John Krasinski, who famously played Dunder Mifflin wise guy Jim Halpert, aptly called "Some Good News." 
In an effort to spread good cheer rather than COVID-19, Krasinski's makeshift news channel — which may or may not continue after all this is over — shared some of the more positive stories to come out of this often frightening crisis, and he also offered up a small gift to fans of The Office by bringing on a familiar face as his "entertainment correspondent." Read on for details on the kind of Office reunion Krasinski and one of his most famous co-stars hope might happen.
Krasinski and Carell's dream Office reunion
After a few minutes where Krasinski, clad in a suit jacket and tie, shared uplifting news stories from this trying time in front of an "SGN" sign crafted by his young daughters, he brought on his entertainment correspondent — who turned out to be none other than Michael Scott himself, Steve Carell. (Always the jester, Carell was quick to correctly point out that what Krasinski was wearing underneath his desk didn't match his dapper top half.)
Carell appeared via Zoom — entirely thanks to his wife Nancy Wells — holding up a small sign with his name on it in place of a featured graphic. Along with Krasinski, the two reminisced about some of their favorite Office scenes to celebrate the show's 15-year anniversary. The two marveled at the fact that the show turned out to be such a huge hit (Krasinski recalled that he kept his serving job after the pilot aired because he didn't think it would succeed) and featured some of their all-time favorite moments — including the cold open where Jim impersonates Dwight Schrute (Rainn Wilson). The pair also fondly remembered how incredibly emotional it was to film the final goodbye between their characters when Carell left the show in its seventh season.
As far as a reunion goes, Krasinski has one idea: "Listen, I know everybody's talking about a reunion; hopefully one day we just get to reunite as people and just all get to say hi." A visibly emotional Carell responded, "Just to get to see your face is so great!" Krasinski then told his former TV boss that he misses him "a ton."
Will an Office reunion actually happen?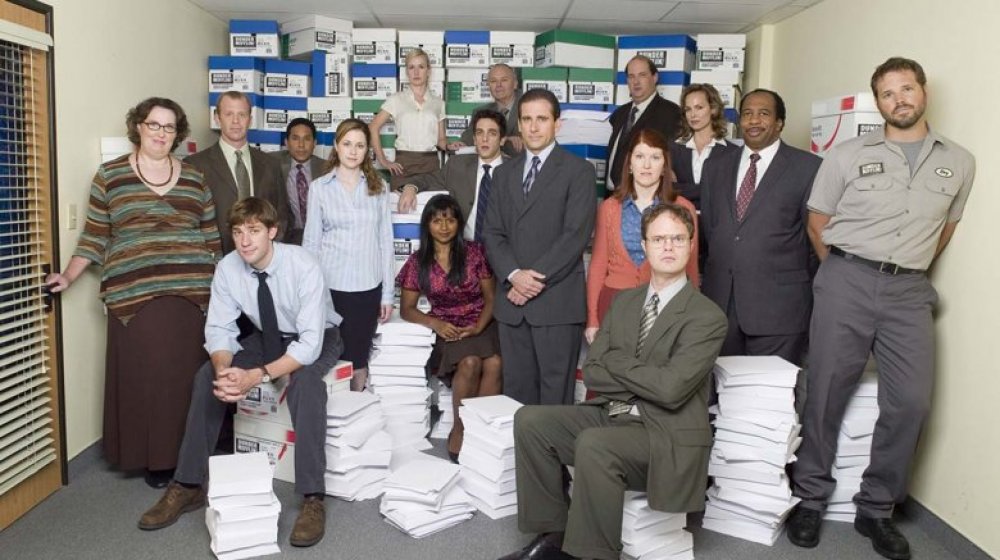 For now, Krasinski and Carell's dream of meeting up in person will have to wait while the entire world tries to "flatten the curve" and slow the spread of COVID-19 by staying home. However, this isn't the first time the show's cast has addressed the possibility of a reunion, though opinions definitely vary depending on who you ask.
For his part, Carell has been pretty firm about the fact that he's not interested in returning to Scranton, which isn't surprising; it was reportedly difficult to even convince the star to return for a cameo in the show's series finale, and the multiple Oscar nominee has plenty of film and television projects on his slate at all times (currently, he's starring in AppleTV+'s buzzy flagship series The Morning Show). Other his "Some Good News" broadcast, Krasinski has mentioned he's definitely down for anything that would bring The Office's cast back together, which makes sense considering that the show is responsible for his entire career.
In any case, any sort of Office reunion is definitely a long ways off if anything is even in the works, but fans can certainly dream of the day that the employees of Dunder-Mifflin can reunite somehow. In the meantime, do as Carell and Krasinski do: stay at home and stay safe until the pandemic passes.