The Into The Spider-Verse Easter Egg You May Not Have Even Known To Look For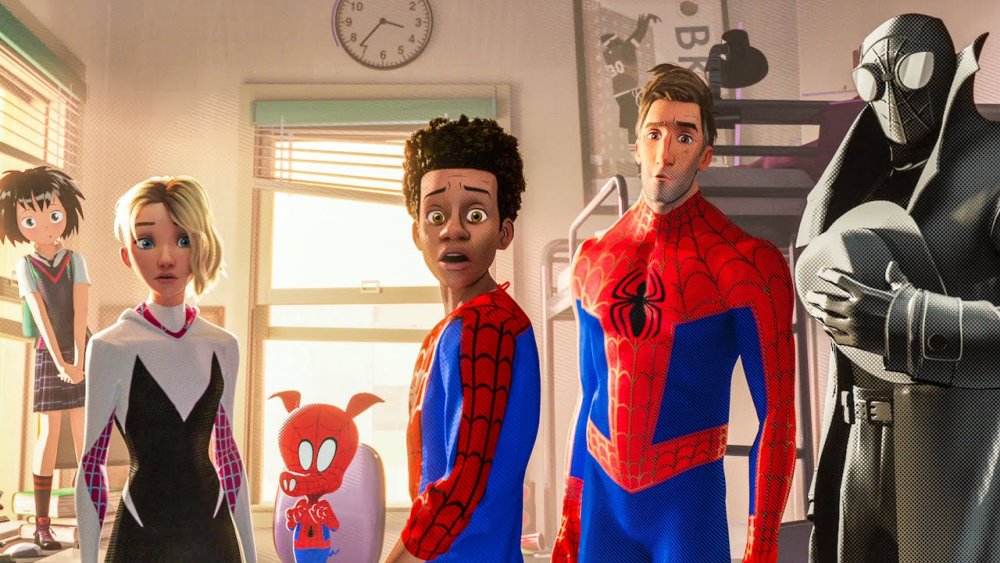 Sony Pictures
Fandom-favorite filmmakers Phil Lord and Chris Miller apparently have a very strange aquatic calling card, and even though they didn't actually direct Sony Pictures' award-winning 2018 animated feature Spider-Man: Into the Spider-Verse (those honors were reserved for Bob Persichetti, Peter Ramsey and Rodney Rothman), they still managed to sneak their squeaky little totem into the final version of the film.
Miller revealed on Twitter that he and long-time creative collaborator Phil Lord make sure to sneak a dolphin into every film that they work on as a little Easter egg for devoted fans and Where's Waldo? enthusiasts to pick out.
According to IMDb, Lord developed both the story and the screenplay that eventually became the 2018's universe-hopping Spider-Venture. Just how he managed to slip a dolphin into the final animation from behind a writer's desk is anyone's guess, but the photo Miller posted to Twitter (featured below) proves that it is so.
Can you find all of Phil Lord and Chris Miller's dolphins?
This quirky admission on the part of Miller is likely to set off something of a dolphin scavenger hunt among fans with a fair amount of time on their hands. A cursory examination of Lord and Miller's oeuvre reveals that they do, indeed, have a propensity for inserting nonessential cetaceans into their cinematic work.
On Clone High, the animated sitcom that Lord and Miller co-created with Scrubs and Cougar Town showrunner Bill Lawrence, the team claims to have worked a dolphin into every single episode. The dynamic duo also managed to put a dolphin noise into the smash hit LEGO Movie, which they directed in 2014. Miller confessed to Coming Soon, "Yup, there's dolphin noise where there shouldn't be. The animators put in all sorts of details. We were approving shots and looking at every single shot 20 times. Even in the final mix, there were things that made us go, 'I never noticed that! Over in the far left corner, that thing is happening!'"
One Twitter user asked Miller where he and Lord intended to place their dolphin homage in Solo: A Star Wars Story, had they been allowed to see the project through to completion. Miller replied, "one of Chewie's moans," suggesting that the filmmakers would have worked a live recording of a dolphin song into Chewie's Wookie-speak. Seems reasonable enough.
Now that we've got you started, we'll let you hunt down the rest. A sequel to Spider-Verse is already slated for release in 2022. Lord and Miller are not currently attached to the project, so we'll have to wait and see whether or not we can expect another hidden dolphin.