Rick And Morty Co-Creator Reveals His True Thoughts About The Divisive New Episode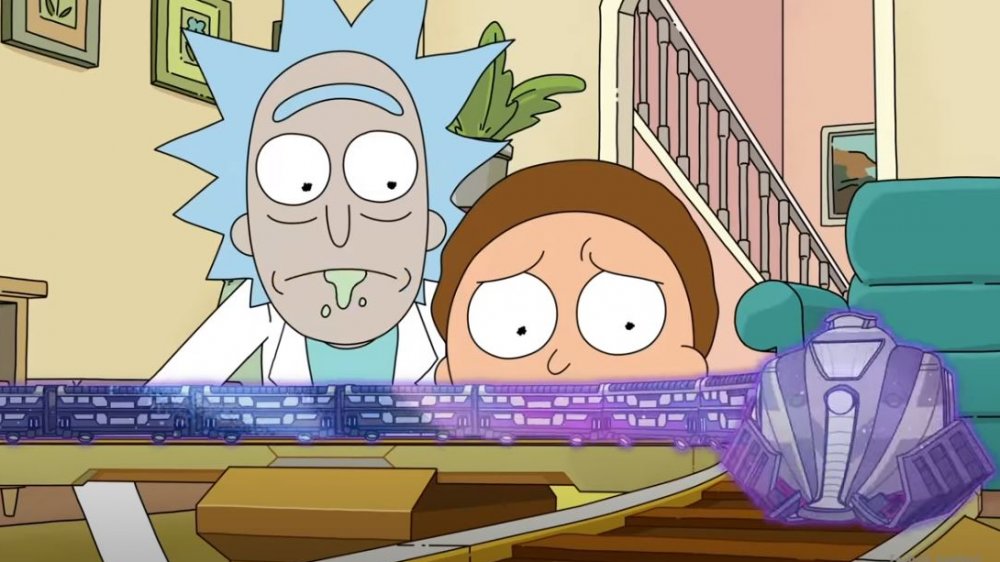 Adult Swim
Contains spoilers for Rick and Morty season 4, episode 6, "Never Ricking Morty"
Rick and Morty returned from its mid-season hiatus on Sunday, May 3, with the sixth episode of season 4, "Never Ricking Morty." While the post-credit tease had most fans racing to the internet to see if the advertised story train website was real, the incredibly meta episode was otherwise rather contentious among viewers, drawing an uncharacteristic line of division down the middle of the show's usually devoted, enthusiastic fanbase.
The title "Never Ricking Morty" is, of course, a play on The NeverEnding Story, but instead of going full 1980s fantasy on the audience, it goes... elsewhere. The episode finds our heroes Rick Sanchez and Morty Smith (both voiced by series co-creator Justin Roiland) on a "Story Train," and rather than placing them on a cohesive plot line, it plays liberally with the concept of constructing a story while breaking the fourth wall multiple times — including making nods to past events and characters on the show, and even including references to current real-life events.
Responses to "Never Ricking Morty" have been mixed, to say the least, and fan comments on Twitter are all across the board. Some have called "Never Ricking Morty" bad, boring, disorganized, needlessly complex, and audience-alienating, while others have praised its experimental nature and the way it explores the way a cartoon show is actually made. 
But what does Rick and Morty co-creator Dan Harmon think about the divisive new episode?
Dan Harmon loves the episode, but thinks the storyline 'got away' from him and Justin Roiland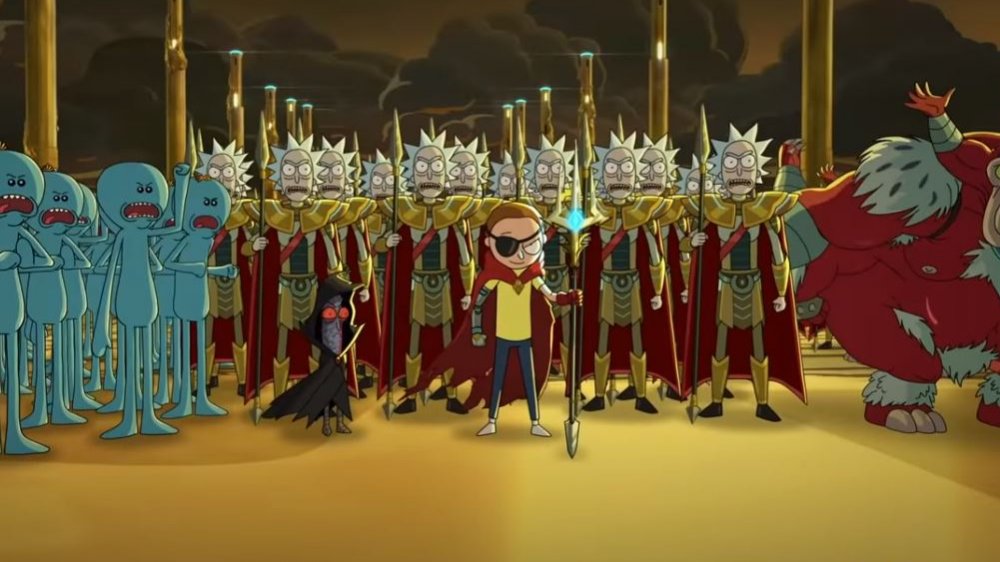 Adult Swim
One of the many meta references included on "Never Ricking Morty" is the way the episode's Story Train moves in a circle, making it a reference to Dan Harmon's "story circle" method that has been used to structure several episodes of Rick and Morty. With that in mind, it's easy to assume that Harmon is all over the episode — which he mostly is, but he also fully admits that things got a little out of hand. On an "Inside the Episode" video uploaded to Adult Swim's YouTube channel on the same day the episode itself aired, Harmon said, "I think it's going to be a favorite episode of mine, but I'd be the first to say that, like the Story Train itself, it got away from us." 
So, yeah. It appears that Rick and Morty is getting so wild that even the show's creators find it difficult to control. Knowing that, we can't wait to see what wild adventures the rest of Rick and Morty season 4 has in store.
Rick and Morty season 4, episode 7 premieres on Sunday, May 10 at 11:30 PM ET.