The Absolute Worst Thing Claire Has Ever Done On Outlander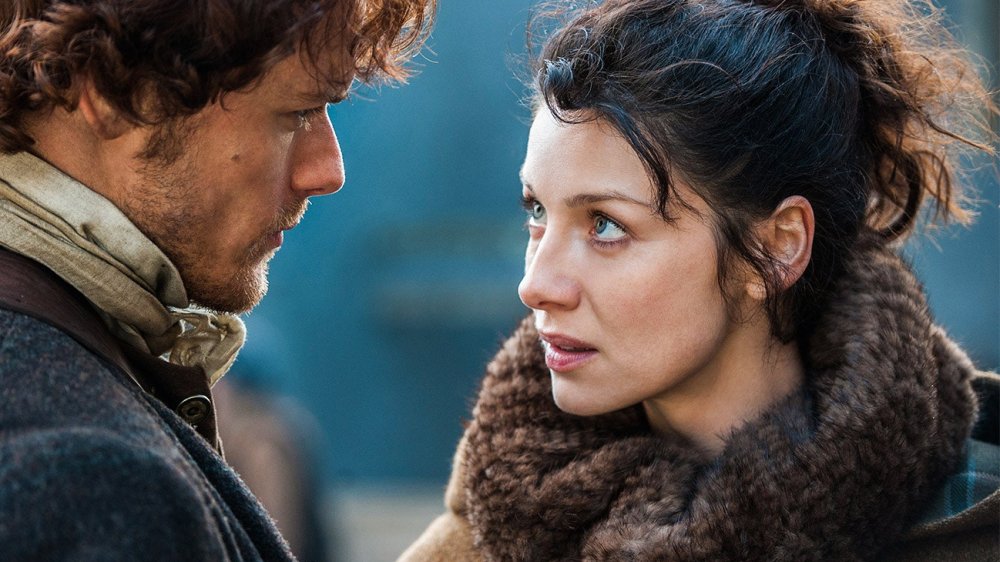 Sony Pictures Television/Starz
"Simple" isn't how you'd describe most stories of time-travel or romance, and Outlander is no exception. For Claire (Caitriona Balfe), the lead heroine of the Starz series, living and loving through the channels of time can get particularly dicey. As if starting the series torn between Scottish Jacobite Jamie Fraser (Sam Heughan) and historian Frank Randall (Tobias Menzies) wasn't enough, Claire has also had to navigate the politics and bloodshed of multiple wars, as well as violent encounters with modern and historical forms of discrimination. A fish out of water with knowledge of the future, the former World War II-era nurse-turned-doctor caught in 1700s Scotland often finds herself in tricky situations, toying with history and the lives of those around her.
But playing with time and people's hearts — even when it's well-meaning — can have dire consequences. On more personal terms, that's meant Claire has broken the hearts of two men while dipping in and out of their lives rather disruptively. It also fractured her relationship with her daughter Brianna (Sophie Skelton), whom Claire at one point almost left behind to be with Jamie. Her attempts at controlling history (and playing God) haven't always gone over so well either — whether it was trying to influence the Battle of Culloden and the Jacobite rebellion, or getting involved in the seeds of the Revolutionary War. Claire's pattern of keeping major secrets has been particularly nasty, like withholding that Jamie was Brianna's father and staying quiet about the perpetrator of Brianna's assault. And though some might consider the men who died from Claire's hand weren't the greatest, murder isn't a notch anyone should want in their belt. Throughout Outlander's run, Claire has leaned into her stubbornness and acted rather recklessly, yet there's something that has stood out among the rest.
Here's the absolute worst thing Claire has ever done on Outlander.
Claire has higher expectations of the men she loves than of herself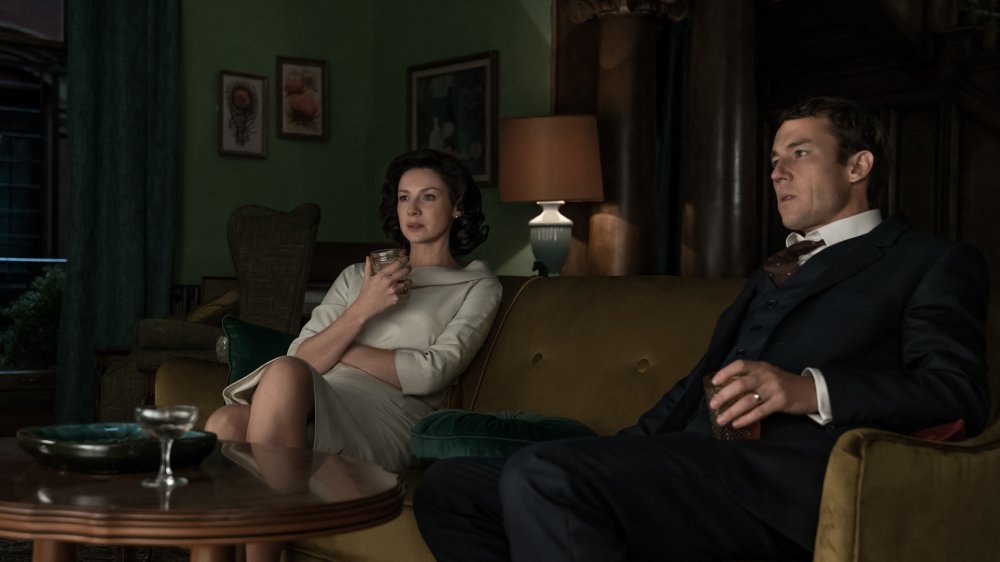 Sony Pictures Television/Starz
Claire's made a few questionable moves in the pursuit of love and survival, but the worst thing she's ever done is set unrealistic relationship expectations — both of Frank and Jamie. While one could argue that lying to your daughter about the identity of her father and planning to leave her forever for him is pretty bad, Claire's mutual arrangement with a man she didn't love cost Frank and Brianna years of a relationship with her. It also inadvertently caused Frank's death. After being forced to flee 1700s Scotland on the eve of the Battle of Culloden, a pregnant Claire returned to post-World War II America two years after her disappearance. Once back, she entered into a shaky marriage that never really had a shot.
Before Claire landed in 1743 Scotland, she and Frank were trying to reconnect after being separated for years during the war. Upon return to the present on Outlander season 3, Claire couldn't let go of Jamie. Meanwhile, Frank — who'd never given up on Claire — allowed his jealousy to seep into every crevice of their relationship. A wedge is driven between the couple, who demand harsh things from each other to remain together for Brianna. It was an arrangement that required Claire never to speak of Jamie, while Frank — unable to live up to a man he'd never met — saw other people. After years of this, Frank falls in love with someone who could love him back, and asks Claire for a divorce. Even though Claire had a whole other life with Jamie, this sparked a bitter fight between them... before Frank stormed out, got in his car, and died in a crash.
Claire may have sworn that Frank "got her first love," but because of her, Frank never really got a chance at love of his own.
Before Frank's death on Outlander, Claire blames Jamie for her miscarriage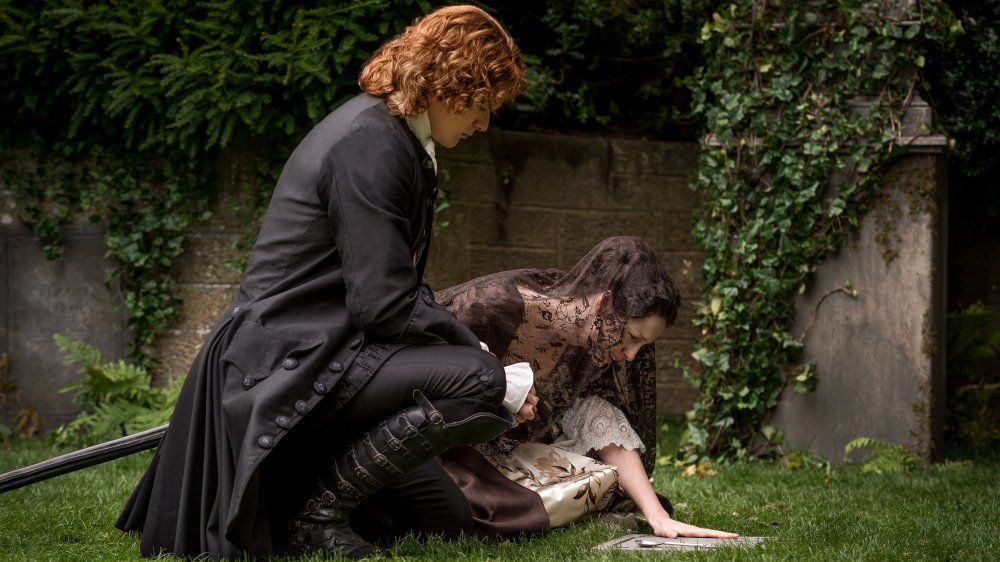 Sony Pictures Television/Starz
A season before Claire destroyed her first marriage, she nearly wrecked her second through a series of, at times, selfish actions. On Outlander season 1, Jamie is sexually assaulted by Frank's ancestor, British army captain Jonathan "Black Jack" Randall (also played by Tobias Menzies), while stuck inside Wentworth prison. Jamie struggles with the trauma of the violent experience, even as he and Claire believe Black Jack died during Jamie's escape from the prison. Unfortunately, the belief of his death was premature, as Claire becomes the first to discover he's still alive upon her and Jamie's visit to the Palace of Versailles, but she keeps the truth from her husband. 
When Jamie discovers it, he's rightfully angry Claire withheld the news from him. But things get even more twisty when Claire asks that Jamie not act on his desires to get justice after seeing Randall alive. She asks him not to agree to a deadly and illegal duel with Jamie's assaulter while they're navigating the French Court, where Randall and his brother are now a fixture. Despite his promise, the Scot's emotions get the better of him, and he goes through with the fight — making Claire believe that either Jamie erased her first love, Frank, from time or caused his own death. Jamie is arrested, and that news, among other things, results in Claire having a late-term miscarriage. She nearly dies before losing Faith, her and Jamie's first child. And in perhaps the most terrible act in a line of pretty bad moves, Claire implies Jamie is to blame for the loss of their first child, telling him that she hates him for what he did. She then heartbreakingly takes the blame for it entirely on herself.
The two eventually work things out as they always do, and they go on to have Brianna. But that lashing out, after forcing unrealistic expectations that center her on Jamie, is high on the list of worst things Claire has ever done on Outlander.