Will Michael Jordan Appear In Space Jam 2 With LeBron James?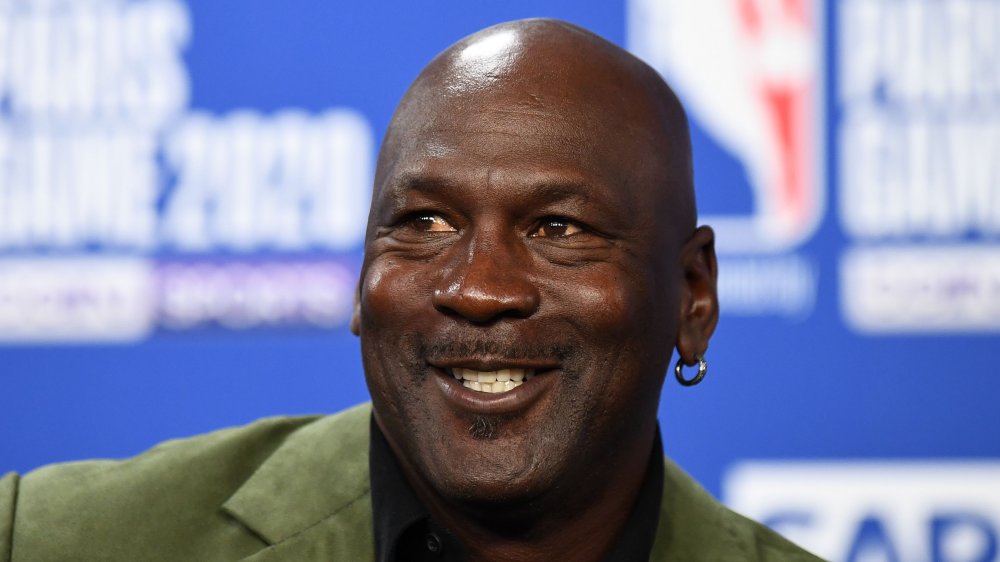 Franck Fife/Getty Images
LeBron James, NBA superstar-turned-Hollywood player, recently revealed the title of the highly anticipated, long-awaited Space Jam reboot on the way from Warner Bros. Now that we have a title, the biggest question on fans' minds is clear: What about a possible appearance from original star Michael Jordan?
In a video posted to his Instagram on April 30, the James can be seen wearing a hat with the logo reading Space Jam: A New Legacy. Later that day, the film's official Twitter account reposted James' video — which the famous athlete had captioned "2021" — confirming that it was the name of the upcoming film. Directed by Malcolm D. Lee (Girls Trip) and produced by Black Panther's Ryan Coogler, little is known about the movie's plot. However, the flick had previously scored a July 16, 2021 release.
James' longtime friend and filmmaking partner Maverick Carter also suggested that the film would be more like a reboot than a sequel. "There's already been one that was good, we gotta make a film that's great," Carter told The Hollywood Reporter back in 2018. A New Legacy will likely shape up similarly to its predecessor, focusing mainly on a single NBA star (James) and a new potential threat that will bring Bugs, Daffy, Lola, and other popular Looney Tunes characters back together on the court.
While much of the creative team heading up the reboot has been announced, little has been confirmed about A New Legacy's live-action and vocal co-stars, though Jim Carrey was rumored to appear as the Mask. Yet from the moment news broke that a Space Jam 2 was finally in the works again, fans were asking about the '90s icon's possible return. 
Michael Jordan would likely cameo, at best, in Space Jam 2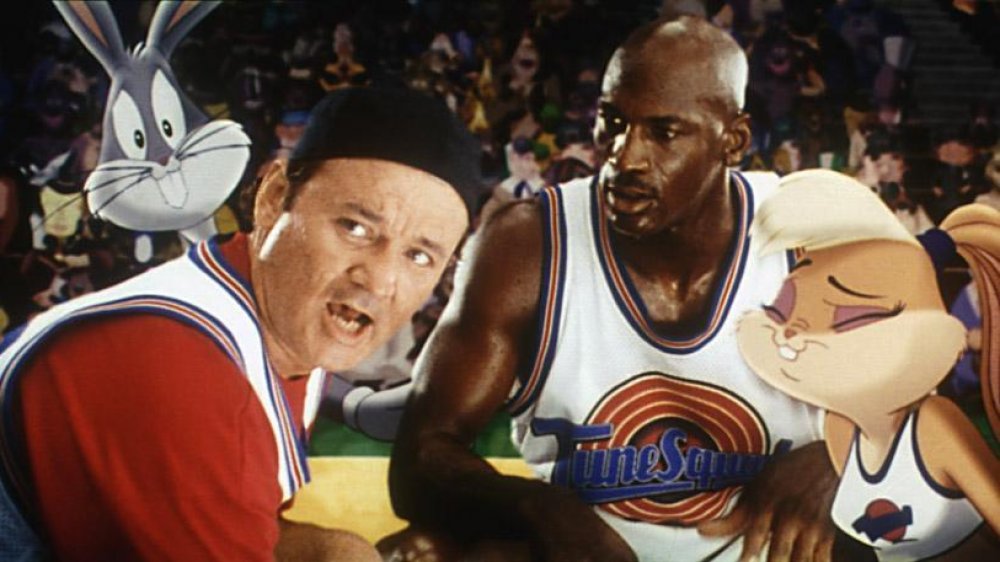 If LeBron James has called or Michael Jordan experienced interest, neither has gone public about it. It's clear, though, from Maverick Carter's comments that any role would most likely be a cameo over a significant part. Carter told THR in 2018 that "LeBron and Michael are not sitting around talking about Space Jam." Nevertheless, he and the rest of the film's creatives have been open to the idea.
"Hopefully, there will be a role for Michael if he wants it," Carter said at the time. "It doesn't matter [if James] calls him, he's gonna do whatever the hell he wants, which he has earned that right to do."
The nature of Jordan's part could see him appear more in the character vein of Bill Murray's last-minute game-saver. It could also be more like the minor roles filled by then-NBA stars Larry Bird, Charles Barkley, and Larry Johnson, all of whom have their abilities stolen by a gang of alien thugs answering to Danny Devito's Mr. Swackhammer in the original film. 
Although James and his creative partners clearly wouldn't say no, in the end, the retired basketball champion, sports icon, and owner of the Charlotte Hornets may simply not want to appear. That was the case more than 20 years ago, when a Space Jam sequel was first proposed. According to Bob Camp, an animator attached to an ill-fated attempt, Michael Jordan "wasn't the least interested in the project," which would have overlapped with his return from retirement. Allegedly, that version of Space Jam 2 had only gotten the greenlight based on a lie about his interest. Camp told Animated Views that an unnamed producer "was saying, 'Yeah, yeah, Jordan is on.' But he was lying. The guy didn't have Jordan hooked up with the project."
It seems getting Jordan to hit the court again for the LeBron James-led Space Jam: A New Legacy might prove difficult, but that makes it all the more a slam dunk if he agrees.