How The Rick And Morty Toilet Episode Is Linked To Community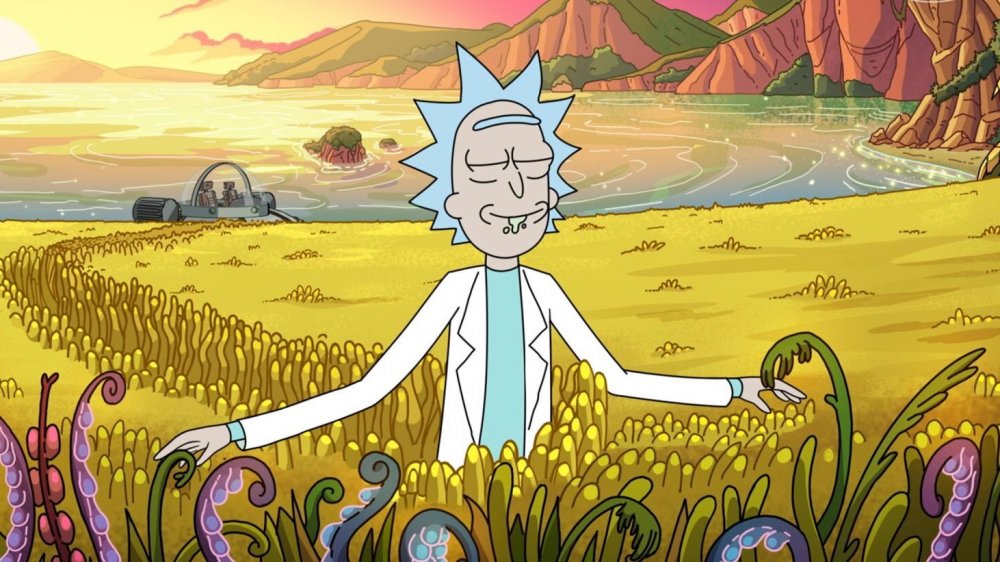 Adult Swim
As showrunner for the multi-camera sitcom Community, Dan Harmon proved he wasn't just a pop cultural savant, but a master of meta and TV easter eggs. So when his satirical homage to nerd-culture Rick and Morty premiered in 2013, it came as no surprise that the animated series embodied what had made him a recognizable name. Harmon's penchant for iconic, trope-soaked adventures as profound as they were weirdly hilarious didn't just earn Community its cult following — it also catapulted Rick and Morty into the realm of TV's most talked-about shows.
With two projects now inducted into America's pop culture canon, Harmon doing a crossover of some sort seemed inevitable. As part of an oral history of Community published by The Independent, the showrunner revealed that he already had. After explaining there wasn't much the writers couldn't tackle on the canceled NBC and Yahoo! comedy, he admitted that one unused storyline from the sitcom made its way into the first half of Rick and Morty's fourth season.
"There was one concept that was always floating in the air, which was the idea of doing an episode about Jeff Winger being a shy pooper," Harmon said. "I ended up grafting that over to Rick and Morty."
The shy pooping affliction was initially intended for Community's sarcastic, womanizing lawyer played by Joel McHale, but it instead went to the Adult Swim show's nihilistic and misanthropic scientist Rick Sanchez. On episode 2 of the fourth season, "The Old Man and the Seat," Rick makes a pit stop to use a toilet he constructed on an isolated planet. But when he arrives, he discovers someone has encroached on his "seat," and violated his pooping privacy.
Because it didn't end up in Community, fans of both series probably didn't catch this swap — but Harmon has made reference to each series on the other before, in overt fashion.
Community and Rick and Morty have crossed over twice before.
Adult Swim
Community has been canceled for half a decade, but at one time, both of Harmon's shows were airing new episodes. The showrunner took that as an opportunity to have fun with his fans.
One crossover reference took place during Community's fifth season, in a truly blink-and-you'll-miss-it moment. In episode 6, "Analysis of Cork-Based Networking," a subplot sees Abed and Britta duking it out when he spoils the end of a show they both watch. After Britta returns the favor by successfully spoiling Abed with the help of a classmate, he runs into Captain Marvel star Brie Larson's geeky coat check girl, Rachel, and invites her over for dinner. In a montage at the episode's end, Abed and Rachel can be seen sitting in front of a TV as Rick and Morty plays.
Yet another crossover took place in the Rick and Morty season 2 episode "Auto Erotic Assimilation." In a sequence similar to the Community easter egg, Rick and his former lover, the species-assimilating alien Unity (voiced by Christina Hendricks,) watch an alien version of Harmon's live-action sitcom. The show features an extraterrestrial ensemble resembling all but one member of the "study group" — and the one character missing, Ben Chang, nods to a running gag on the NBC show, as the character (portrayed by Ken Jeong) was regularly left out of the Community clique.
At one point as the two watch, Rick even directs Unity, "Now cancel it! Okay, now put it back on," a reference to Community's real-life fate. NBC canceled the half-hour comedy before Yahoo saved it, only for the show to be canceled again before it could return for a season 7. Yep, that Harmon's got some serious meta chops, and that Rick and Morty's "shy pooper" storyline is probably only the tip of his crossover iceberg.