Why Margo From Despicable Me Sounds So Familiar
This content was paid for by Netflix and created by Looper.
A full decade has passed since Universal Pictures scored one of its biggest animated hits to date with Despicable Me. Those 10 years have taught us that the world simply can't get enough of those adorable Minions, who now have their own film franchise, or the Despicable Me movie series. Fans have even helped 2013's Despicable Me 2 and 2017's Despicable Me 3 earn roughly $2 billion in worldwide ticket sales – and have made Despicable Me a full-fledged animated media franchise.
While there's little question that the Minions are a big reason fans keep returning to Despicable Me, it's equally obvious that fans continue to connect with their human counterparts. Megastar Steve Carell, who voices Gru, is the most recognizable voice among the cast of the Despicable Me films, but he's far from the only star to appear in the franchise — with the likes of Jason Segel, Russell Brand, Julie Andrews, Will Arnett, Kristen Wiig, Steve Coogan, Jenny Slate, and more lending their voices to various characters.
We wouldn't be surprised if Despicable Me fans also recognized the voice of franchise regular Margo, though we'd also imagine they may not know exactly where they've heard her voice before. That voice belongs to a multi-talented young star named Miranda Cosgrove, and she's had serious skin in the acting game since the age of seven. Here's why Margo from Despicable Me sounds so familiar.  
Miranda Cosgrove played teacher's pet in School of Rock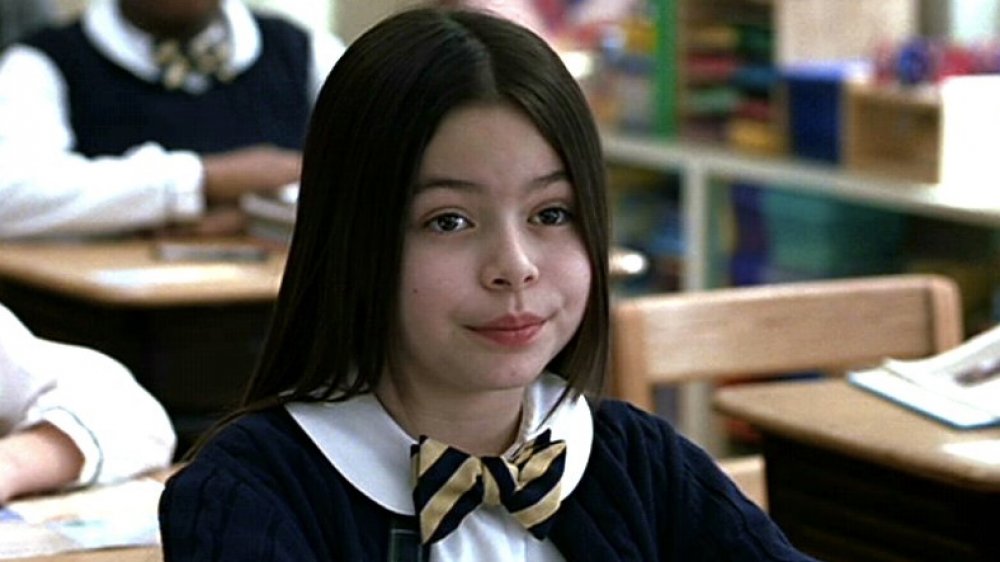 Paramount Pictures
Born in Los Angeles in 1993, Miranda Cosgrove was discovered at the age of 3 by a talent agent, who signed the youngster after noticing her singing and dancing in a local restaurant. Just a couple of years later, Cosgrove got her big break when she landed a role in a movie from indie stalwart Richard Linklater (Dazed and Confused, the Before Sunrise trilogy, Boyhood). The movie in question was 2003's raucous musical farce School of Rock, and found Cosgrove going toe-to-toe with live-wire funnyman Jack Black.
Set largely within the confines of a stuffy private school, School of Rock found Black's hard-rocking Dewey Finn busted, bandless, and on the verge of being evicted from his best friend Ned Schneebly's (Mike White) apartment. Dewey, looking to make some quick cash and pay Ned his share of the rent, claims a substitute teaching gig under false pretenses: he pretends to be Ned, who's a substitute teacher himself. Once inside the hallowed halls of Horace Green, Dewey discovers that his students are skilled musicians but know nothing about rock and roll history. He sees this as an opportunity to assemble a supergroup capable of winning the local Battle of the Bands, which would secure Dewey even more money. 
The requisite hijinks ensue, of course, with matters spinning wildly out of control for Dewey and School of Rock's young cast. You no doubt recall one of the key players in that cast was the precocious young teacher's pet Summer "Tinkerbell" Hathaway. Miranda Cosgrove played Summer, frequently side-eyeing Jack Black's Dewey and absolutely butchering the song "Memory" during her band audition — an act that apparently required Cosgrove, a gifted singer in her own right, to take "bad singing" lessons in preparation.
Miranda Cosgrove was the sassy sister on Drake & Josh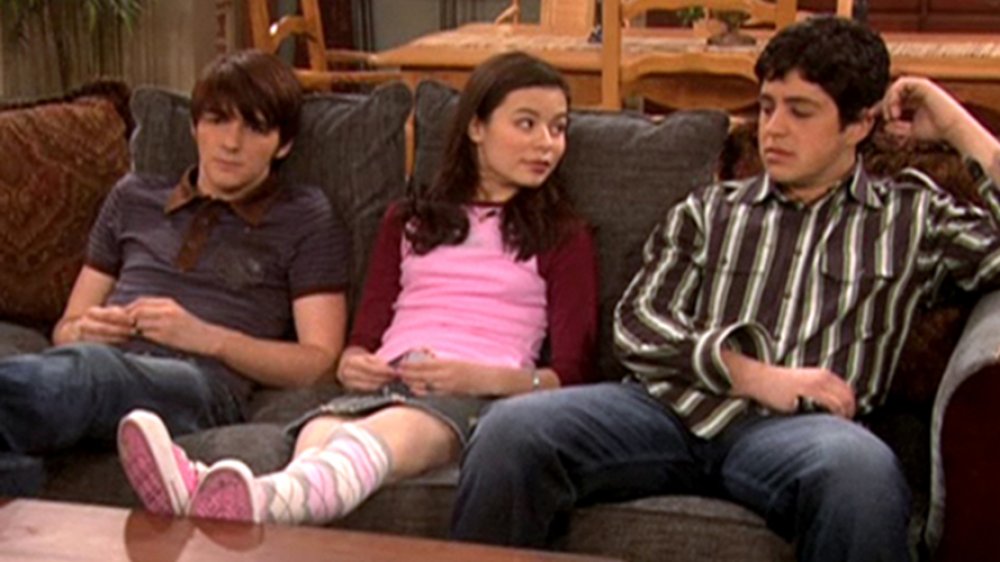 Nickelodeon
After stealing scenes in School of Rock, there was no denying Miranda Cosgrove had talent to burn as well as legitimate screen presence. Offers of work quickly rolled in after School of Rock hit theaters. Cosgrove wasted little time claiming one of those roles, and in doing so began what would become a lengthy working relationship with the folks at Nickelodeon Television. The role that started it all was Megan Parker on Nickelodeon's Drake & Josh, headlined by rising stars Drake Bell and Josh Peck.
The series aired 57 episodes on the beloved kid cable network between 2004 and 2007, and found Peck and Bell portraying the titular tweens, who'd recently become step-siblings. In spite of their differences, the two become close friends, and as such frequently found themselves getting in and out of trouble in a series of family-friendly mishaps. When they did find themselves in hot water, it was usually due to the interference of their impetuous kid sister Megan, whom they love, respect, and fear in equal measure. The role of Megan obviously required a certain sort of actor to bring out the character's boundless intellect, wit, and innocence. Cosgrove brought heaps of all three to her performance — so much so that Drake & Josh creator Dan Schneider eventually saw fit to offer the talented young star her own show. 
Miranda Cosgrove stepped into the spotlight on iCarly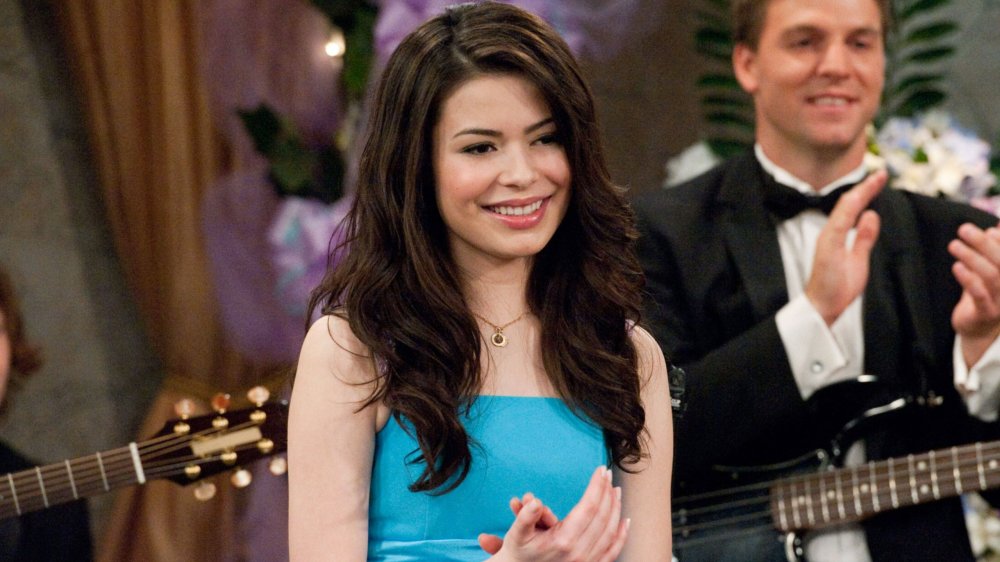 Nickelodeon
If you somehow missed Miranda Cosgrove's work in School of Rock and on Drake and Josh — or even her memorable turn among the sprawling child cast of Rene Russo's and Dennis Quaid's blended family comedy Yours, Mine, and Ours — it's likely you recognize her from her time starring on Nickelodeon's charming adolescent comedy series iCarly.
Cosgrove went directly into production on iCarly when Drake & Josh ended its three-season run. In doing so, she stepped into the spotlight as the series' star. iCarly required Cosgrove to utilize all of her star power and talent as the young host of a self-produced webcast that's part sketch show, part interview series, and part problem-solving sessions. While iCarly was very much a candy-coated pre-teen series characteristic of Nickelodeon, it was also one of Nickelodeon's bigger small-screen hits to date — running for six full seasons and airing 97 episodes. 
Needless to say, iCarly also earned Cosgrove some serious superstar status among Hollywood's coveted tween set. Coupled with her ongoing Despicable Me gig, it also considerably raised her profile in the entertainment industry. 
Miranda Cosgrove fought inner demons in The Intruders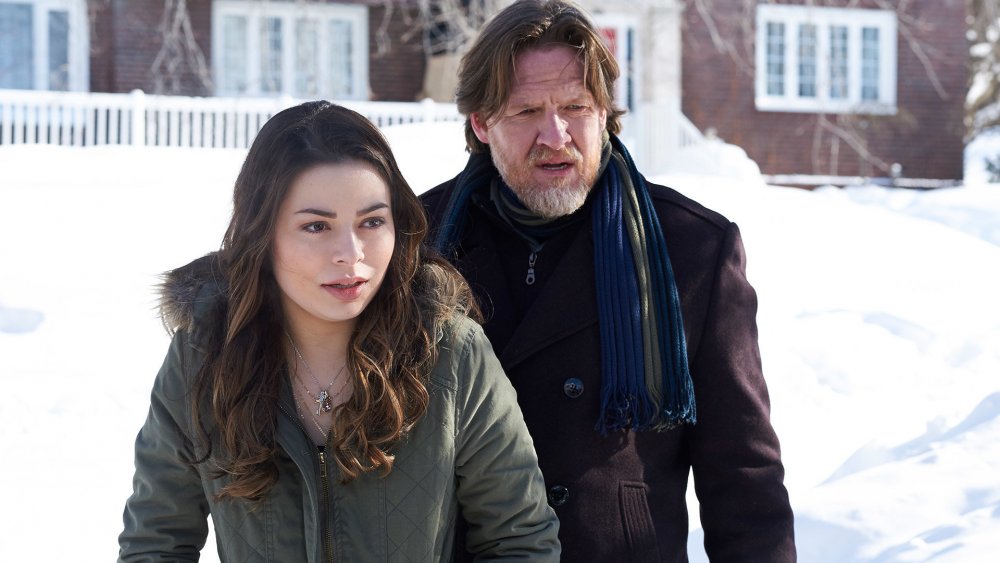 Sony Pictures Animation
While Cosgrove has yet to find an equally big break in her adult acting life, the star (now in her mid-20s) has still managed to keep herself quite busy since iCarly aired its finale in 2012. She made a one-off appearance on CBS' long-running legal drama The Good Wife in 2010, danced her way into the music video for Pharrel Williams' breakout single Happy in 2013, and scored a key role opposite Omar Epps, Kate Walsh, and Jorja Fox in 2019's sci-fi thriller 3022. 
If you've been tracking Cosgrove's career since the early days, you know one of her first TV appearances came opposite Donal Logue on his popular Fox series Grounded for Life in 2004. While we're not sure who made the call in the early days of production, the pair ended up re-uniting on camera over a decade later for 2015's horror flick The Intruders. Logue and Cosgrove played a father and daughter duo, Jerry and Rose Halshford, who, after the death of their mentally ill matriarch, move into a new home they begin to suspect is haunted.
The Intruders premiered to less than glowing reviews in early 2015, but it featured stellar work from both Logue and Cosgrove, who's continuing on her march toward making the transition from beloved child star to serious adult actor.