The Truth About Constance Nunes From Car Masters: Rust To Riches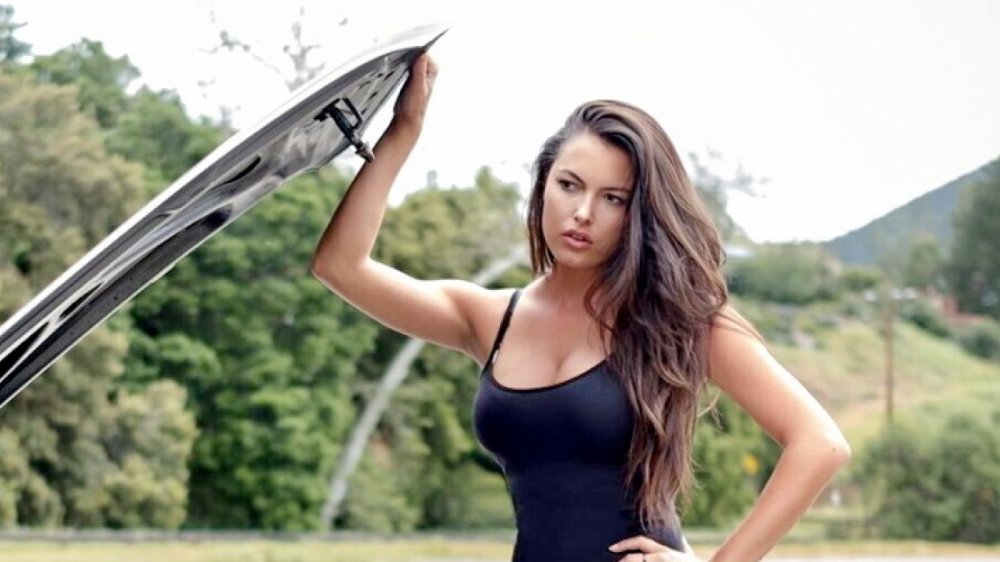 Netflix
It's never easy being the only woman in a male-dominated space. On Netflix's gearhead reality series Car Masters: Rust to Riches, Constance Nunes is the lone woman and engine specialist at Gotham Garage. Fans who have tuned into both seasons of the car building show have grown to love her not just for her no-nonsense attitude, but because she's a serious and talented mechanic who brings a lifetime of experience to her job.
Unless you're one of her nearly 700,000 Instagram followers, there's a good chance that Car Masters: Rust to Riches is your introduction to Nunes. Even though she's no stranger to being in front of the cameras, this is her first time stepping out into the world of TV. If her Netflix debut left you curious to know more, we've got you covered. Let's dive in and learn a little bit more about Gotham Garage's resident engine expert.
Constance Nunes is a model
While she's in the garage, Nunes only has one thing on her mind, and that thing is cars. However, when she's not salvaging engine parts, Nunes works as a model. According to Hot Cars, Nunes appeared as a car model at the Grand Prix of Long Beach; she's also appeared in print campaigns for Jockey, Wrangler, and Feral Cosmetics, as well as in commercials for Motorola and Kim Kardashian's mobile game, Hollywood.
On Nunes' personal Instagram, she also posts sponsored pics for brands as wide ranging as Rockstar Energy Drinks, JLUXLABEL clothing, and VP Racing Fuels. Her glamour model shots might seem at odds with her down-and-dirty auto shop vocation, but Nunes clearly relishes breaking down the barriers and getting rid of old stereotypes. On the biography section of her personal website, she declares: "[I have] a passion for representing, that in a primarily male dominated industry, you can be a feminine yet strong force."
As she says in her Instagram bio, she's: "Just a glam girl wrenching in a boys world."
Confidence is key for Constance Nunes
It's clear when watching Car Masters: Rust to Riches that Nunes has no trouble commanding respect from her male coworkers. While in the garage, she lets her work speak for itself — and after seeing her tackle a few of the wrecks the crew have brought in to work on, it's clear that she's earned the title of engine specialist for a good reason. It should come as no surprise, then, that confidence is one of Nunes' favorite traits in a person.
In an interview with Maxim, she laid out what attracts her in a partner, and it isn't timidity or good manners: "Pull up in a muscle car or on a dirt bike with questionable tattoos and a Metallica T-shirt on," she said. "Done."
When she was asked how she lets a guy know that she's interested in them, her answer was simple: "I'm pretty upfront. If I'm interested, I will tell you to your face I want to talk over a drink and then make out." It's no surprise that someone who has worked as hard as she has to get where she is today isn't afraid to ask for exactly what she wants.
Constance Nunes has a long history of working in the automotive industry
The respect Nunes garners from her fellow mechanics at Gotham Garage doesn't just come from the day-to-day work she puts in, but also her long history of working in the automobile industry. As she explained during an interview with Carlyle Motors, working on cars started a family activity. "I grew up building cars my whole life," she said. "My dad was a drag car racer, and our whole family is into building."
But car repair was never just a hobby for Nunes. She may have started out helping her family restore old cars, but she also has some serious professional credentials under her belt. According to the bio section of her website, she has worked in the service departments for car brands such as Ford, Acura, Audi, and BMW. She also works on cars for a variety of garages around Los Angeles. Car Masters: Rust to Riches may be her first TV gig, but in terms of auto industry jobs, it's far from Nunes' first time on the mechanic creeper.
Constance Nunes loves muscle cars
We have to imagine that asking a professional car builder to name their favorite type of vehicle to work on is as tough a question as asking a baker to pick their favorite type of bread. Not for Nunes, though: she revealed in her Carlyle Motors interview exactly what kinds of cars she prefers. "I like my muscle cars, I think everyone in the shop gives me a hard time about that," she said. "I do like Fords, I like my little Mustang."
The Mustang in question is Nunes' signature car, a 1964.5 model of the classic Ford cruiser that she has playfully dubbed "Babystang." According to Nunes, she's been working on the car for 14 years and is still not done perfecting it. She's aiming for a modern rebuild that will keep the car running optimally, without losing the spirit of its original design.
Considering what a splash she's made during her short stint as a Netflix star, we're sure to be seeing much more of her and the Babystang in the future.
Constance Nunes has worked as a stuntwoman and background performer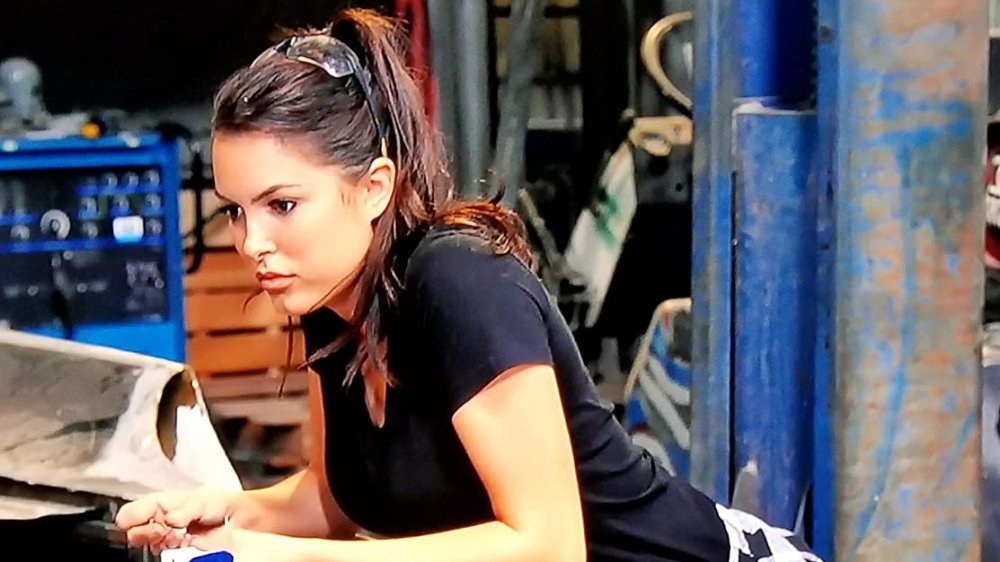 Car Masters: Rust to Riches may be the only credit on Nunes' IMDb page, but in addition to her modeling work, she has also worked as a stunt woman and background performer. According to her Model Mayhem page, Nunes did stunts in Dodgeball and several of the Bring It On films.
Specifically, Nunes lists the third, fourth, and fifth movies in the Bring It On franchise on her stunt performer resume. While there's no mention of what kind of work she did for the films, considering they are all set in the world of competitive cheerleading, it seems likely that she did stunts as part of one of the fictional cheer squads.
Nunes has also appeared in several music videos, including the house party-set Enrique Inglesias and Pitbull dance track "I'm a Freak" and Paris Hilton's "High Off My Love," featuring Birdman. Both videos have dozens of background performers, so you'll have to have an eagle eye to spot Nunes. But it's a testament to how the model and mechanic has been steadily putting in the work for years, no matter the industry.
What Constance Nunes thinks about her role as a woman in the auto industry
One of the most striking things about Nunes' appearance on Car Masters: Rust to Riches is that she's the only woman in the garage. Nunes doesn't shy away from talking about being a woman in an industry that is, at least in popular perception, mostly male-dominated. In an interview on former The Bachelor contestant Nick Viall's podcast, The Viall Files, Nunes broke down one misconception about her status as a visible woman in the automotive industry.
While discussing her career, Viall asked Nunes, "Do you find yourself to be a trailblazer?" She responded by pointing out, "You know, I think that there are a lot of women in the auto industry... like, there really are a lot of us... I just am fortunate enough to do it on a really big platform. So I guess it's more that, not that I'm a trailblazer, but like I'm a representative. And I'm doing my best to be the best representative."
While there's no news yet on whether or not Nunes and the rest of the Car Masters: Rust to Riches crew will be back on Netflix for a third season, you're sure to be seeing a lot more of this sterling representative for women kicking butt and taking names in the auto industry in the future.