Why Steve From The Main Event Looks So Familiar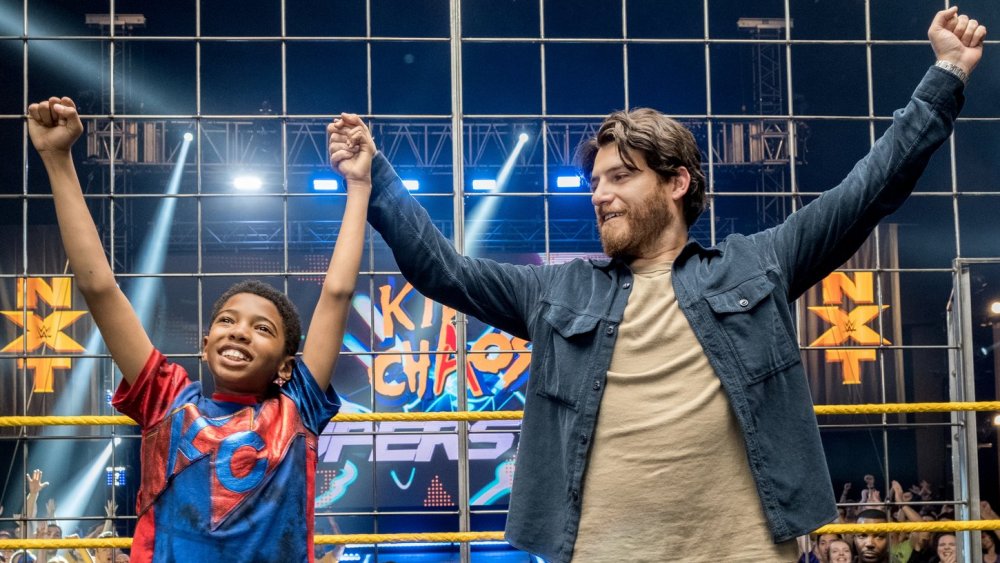 Netflix
Though some kids undoubtedly dream of growing up to be a professional wrestler with the WWE, that goal just might not be possible for everybody. However, in one of Netflix's newest original films, that dream becomes a reality for one eleven-year old boy. 
The Main Event is the sophomore feature from veteran TV director Jay Karas, and it's quickly becoming one of the streamer's hottest original offerings. The flick imagines a world where Leo (Seth Carr), a young boy who is quite possibly the WWE's biggest fan, discovers a mask that gives him extreme strength and superb wrestling skills (despite the fact that he still has the scrawny physique of an eleven year old). While running from bullies at school, Leo finds the mask and takes it for himself; not only does he gain the strength to fight back against his bullies, but he even ends up competing against professional wrestlers as Kid Chaos, defeating everyone in his path.
The Main Event features an experienced supporting cast around its young lead. Aside from funnyman Ken Marino and veteran actress Tichina Arnold (The Neighborhood), you might recognize Adam Pally as Steve, Leo's tired, overworked father who is struggling to find a way to explain why Leo's mom is no longer in the picture. If you're a comedy fan, it's very likely that you've seen Pally around before; from underdog sitcoms to sketch comedy, here's why Adam Pally from The Main Event looks so familiar.
A not-so-happy ending for Adam Pally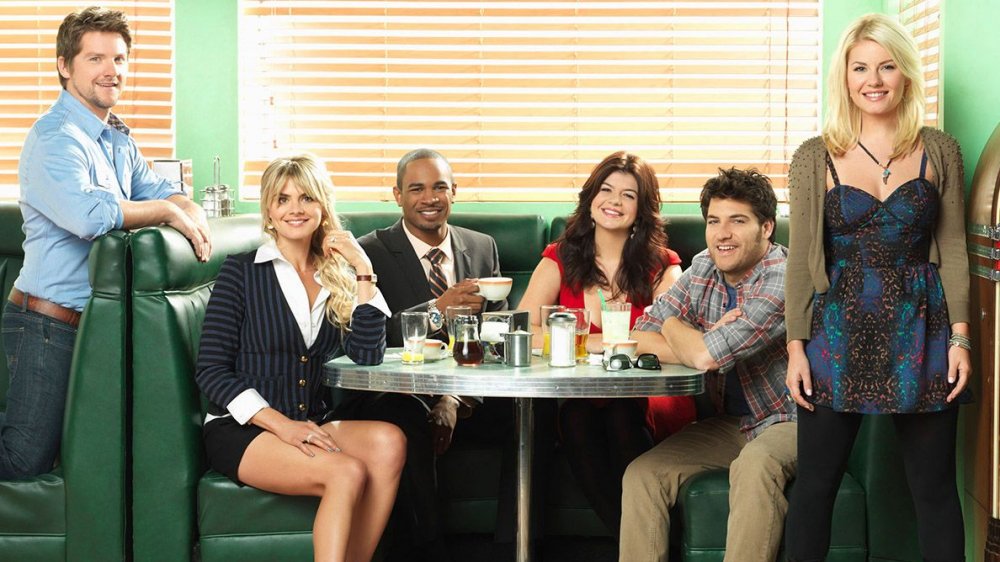 ABC
After appearances on late night shows like The Colbert Report and sketch shows like NTSF:SD:SUV, Pally finally booked a big role on a flashy new sitcom — ABC's Happy Endings. With an ensemble cast that included Eliza Coupe (Scrubs), Elisha Cuthbert (24), Damon Wayans Jr. (New Girl), Casey Wilson (Saturday Night Live), and Zachary Knighton (FlashForward), Happy Endings might have seemed like a knockoff of Friends or How I Met Your Mother at first glance — but thanks to whip-smart writing and excellent running jokes, Happy Endings proved its worth soon enough.
Pally starred on the show as Max Blum, and throughout three seasons, he succeeded in creating one of television's most layered and dynamic LGBTQ+ characters. Though Max was gay, he eschewed every single stereotype seen on most other sitcoms, paving the way for characters like Brooklyn Nine-Nine's Raymond Holt and presenting a totally different depiction of modern sexuality. Beyond his sexual orientation, Max was essentially a lovable mess; from buying an old limousine and offering totally inaccurate tours of Chicago to his entirely chaotic friendship with Wilson's flighty and free-spirited Penny, Max had no plans for his future, and he definitely liked it that way.
Sadly, Pally's journey as Max came to an end when Happy Endings was abruptly canceled by ABC, a decision that drew derision and uproar in 2013. However, now that the series is streaming on Hulu, audiences can rediscover Pally's performance and relive Happy Endings as many times as they'd like.
Pally's post-Happy Endings roles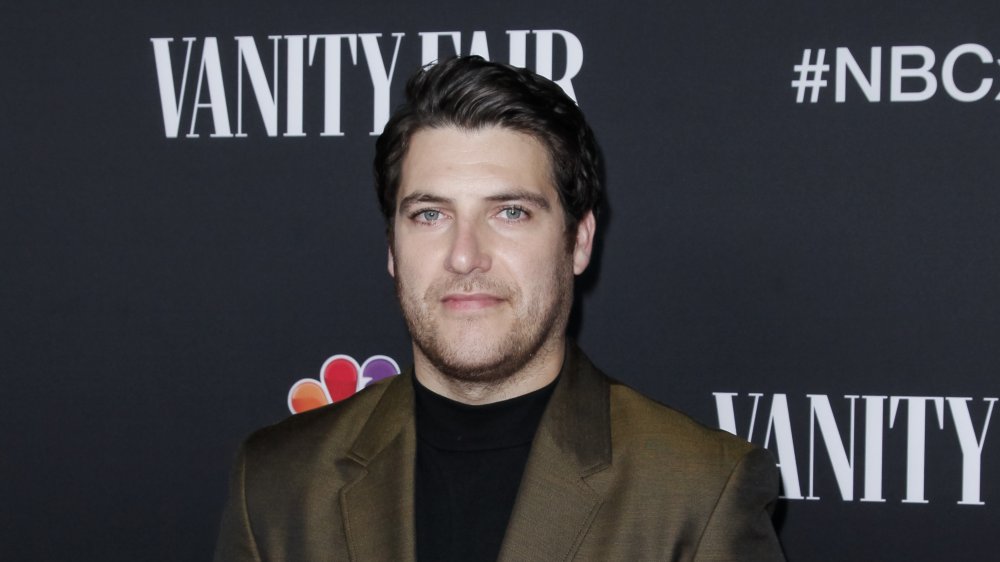 Tibrina Hobson/Getty Images
In the aftermath of Happy Endings, Pally didn't slow down one bit. In 2013, he joined Mindy Kaling's sitcom The Mindy Project as a series regular for two seasons, playing Dr. Peter Prentice, an erratic but skilled doctor at Dr. Mindy Lahiri's practice. The two ultimately became close friends, and though Pally left the show in 2015, he made occasional guest appearances until 2017.
Pally went on to appear on several high profile comedy series, including BoJack Horseman, Key & Peele, Another Period, Kroll Show, and The President Show. In 2017, he booked another starring role on Fox's Making History alongside Gossip Girl star Leighton Meester and Black Monday's Yassir Lester, but unfortunately, the show only lasted one season. After that, he showed up in a handful of feature films, including Dirty Grandpa, Don't Think Twice, The Little Hours, Sonic the Hedgehog, and even Iron Man 3.
After appearing in one episode of the Disney+ series The Mandalorian, Pally's latest project, Indebted (which was co-created by Schitt's Creek mastermind Dan Levy) premiered on NBC in February of 2020. Pally stars alongside Saturday Night Live alum Abby Elliott (who happens to be the daughter of Schitt's Creek's Chris Elliott) as Dave, who has to open his home to his own parents after they reveal that they're completely out of money. With sitcom staples Fran Drescher and Steven Weber as his parents, Pally is certainly in excellent company, and is back at home on half hour network comedies once again.
Pally's role in The Main Event might be more dramatic than his usual fare, but whether you loved Happy Endings or remember his brief role in Sonic, it's always nice to see the actor's familiar face pop up in any project.