Here's How Much Carole Baskin From Tiger King Is Really Worth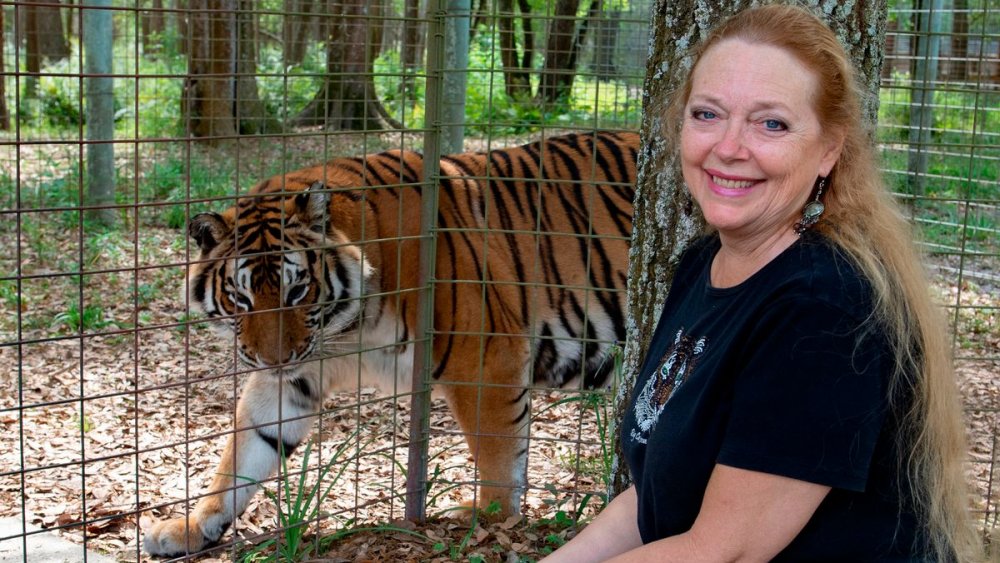 Netflix
Despite his current condition of incarceration, we know how much Tiger King Joe Exotic is worth, but what about his archnemesis?
Carole Baskin is perhaps the most divisive figure from Netflix's binge-worthy true crime docudrama Tiger King: Murder, Mayhem and Madness. As the owner of the non-profit organization Big Cat Rescue, she plays the part of crusading animal rights activist out to bring down Exotic for the abusive practices at his G.W. Zoo, a park featuring big cats. To accomplish her activism, Baskin has beside her a veritable army of volunteers. With low overhead costs, Carole's rescue is very cash flow positive — she takes in a hefty sum selling tickets to see the cats. The Cinemaholic estimates her wealth accumulated through the rescue at around $10 million, but that's far from the whole story.
Baskin also benefited from a substantial inheritance from her second husband. While the exact amount isn't publicly available, best estimates place this figure in the neighborhood of an additional $10 million. That would make Carole Baskin's net worth a cool $20 million. However, some people think Baskin may have obtained her second $10 million cash pile through dark means.
Did Carole Baskin murder her millionaire husband?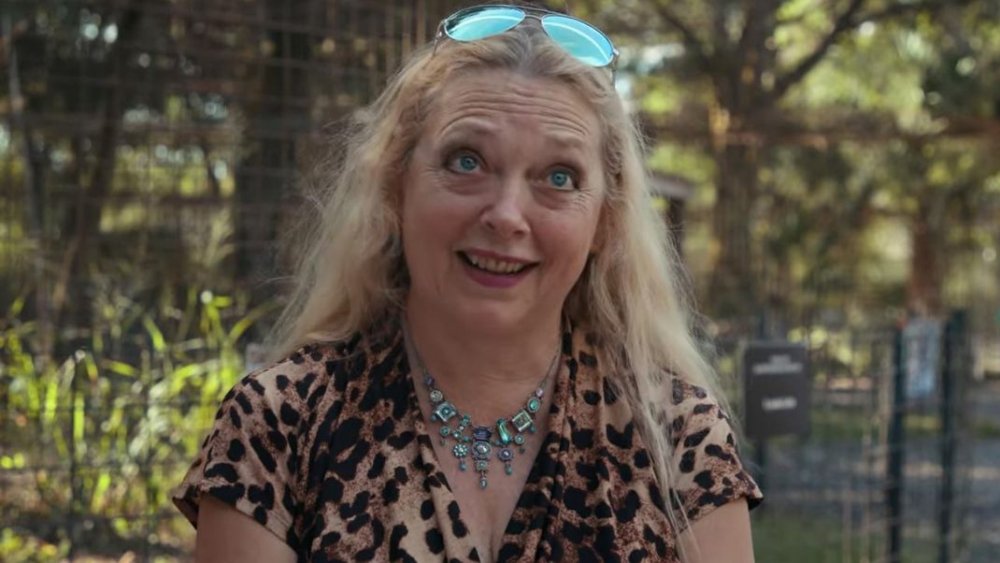 Netflix
Baskin founded Big Cat rescue in Tampa, Florida with her late husband Don Lewis. According to the Daily Beast, Baskin's relationship with the allegedly sex-addicted Lewis began as an affair while Lewis was still married to his first wife. The wealthy Lewis ultimately left his wife and married Baskin. That's where things got hairy.
As reported by Metro News, Lewis filed a restraining order against Baskin in 1997 and told the issuing authorities that Baskin had threatened to kill him. Not long after the restraining order filing, Lewis disappeared under mysterious circumstances. Lewis was ultimately declared dead in 2002, even though the County Sheriff's office in Florida found no sign of foul play. Technically, the case remains open.
You don't have to be a conspiracy peddler to wonder just who had the most to gain from Lewis' death, and that's spurred many to believe that Baskin may have committed murder. Of course, these claim are unfounded, and Baskin herself has denied any involvement in her late husband's disappearance. She called out the Netflix docudrama for misleading her about its focus, and issued a statement that read, "There are not words for how disappointing it is to see that the docuseries not only does not do any of that, but has had the sole goal of being as salacious and sensational as possible to draw viewers. As part of that, it has a segment devoted to suggesting, with lies and innuendos from people who are not credible, that I had a role in the disappearance of my husband Don 21 years ago. The series presents this without any regard for the truth or in most cases even giving me an opportunity before publication to rebut the absurd claims. They did not care about truth. The unsavory lies are better for getting viewers."
While Don Lewis' disappearance may never be solved, the case of Carole Baskin's fortune is decidedly closed: she's loaded.