Jesse Eisenberg's New Movie Is Creeping Everyone Out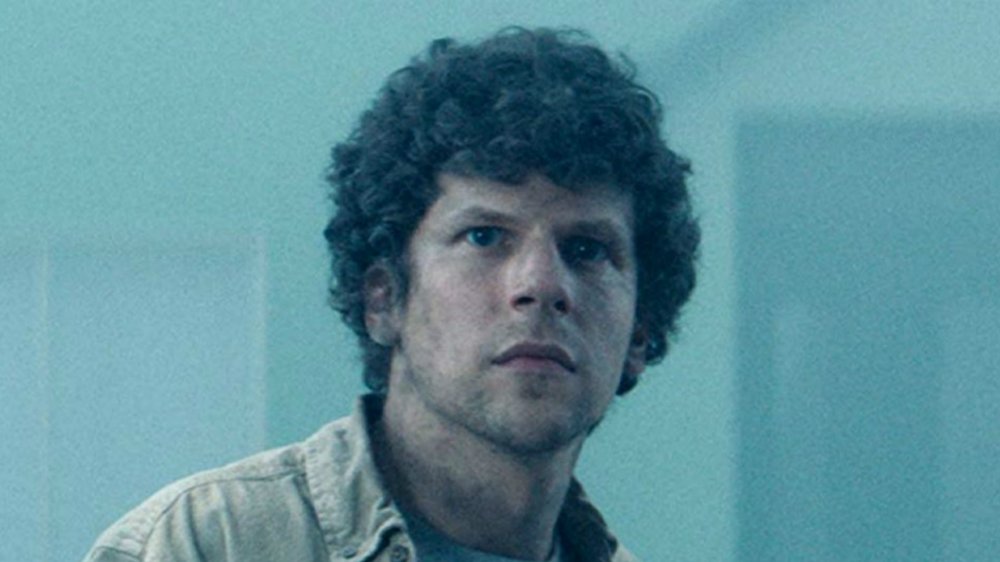 Vertigo Releasing
The internet is having a seriously tough time getting its collective head around Vivarium.
The sci-fi thriller, which stars Jesse Eisenberg and Imogen Poots as a young couple who perhaps should have waited to buy a house, is blowing minds across the land with its Twilight Zone-esque premise and chillingly claustrophobic vibe. 
Eisenberg has stuck mostly to smaller features since his not-so-well-received turn as Lex Luthor in Batman v Superman: Dawn of Justice and Justice League; he reprised his role as Columbus in last year's Zombieland: Double Tap, but has otherwise flown under the mainstream radar of late. Vivarium is certainly one of those smaller pictures; a co-production between several studios hailing from Ireland, Belgium, and Denmark, the flick was directed by relative newcomer Lorcan Finnegan (whose only other feature is the 2016 horror flick Without Name). The film made its debut at Cannes last year, where it failed to get picked up for theatrical distribution — leaving it to be discovered by home viewers looking for a creepy good time.
Those viewers have had a lot to say since Vivarium hit digital services on March 27. The film's intensely weird trailer, featuring the creepiest real estate agent anyone has ever seen, should give you some idea of what you're in for — but since you're here, you're obviously after a little more info.
What is Vivarium about?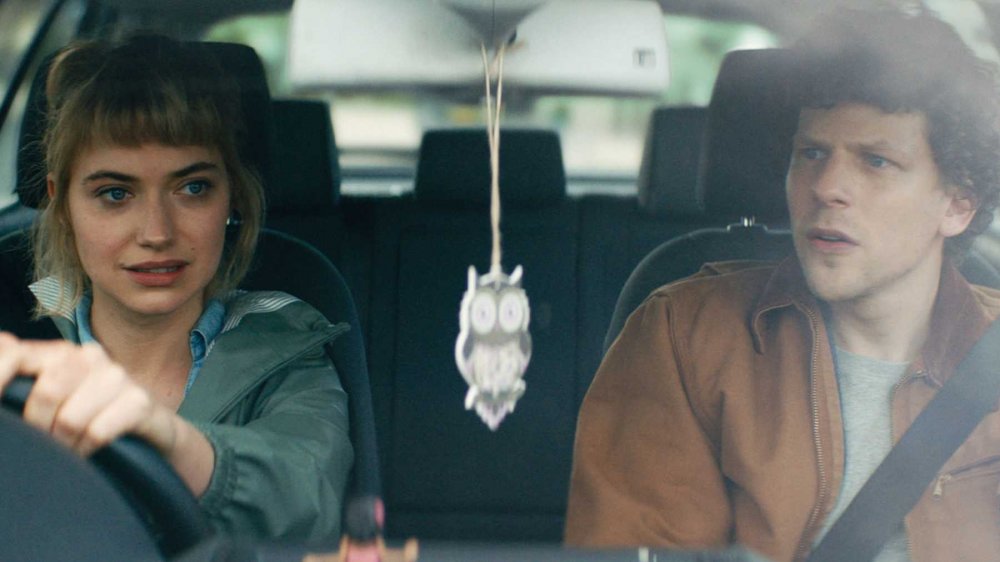 Vertigo Releasing
First off, it may be helpful to know that a vivarium is basically an aquarium, one meant to simulate an animal's natural habitat so that they can be observed as if they were in the wild. With this in mind, a brief synopsis: the flick follows Gemma (Poots) and Tom (Eisenberg), a young couple on a house hunting expedition. They're directed to a new development called "Yonder," where they meet up with Martin, the aforementioned creepy real estate agent.
He attempts to sell them on #9, a home which looks just like all the rest of the homes in Yonder — because all of the homes look exactly the same, down to the color scheme. The couple decide that it's not really what they're looking for, but there's a problem; as they attempt to leave Yonder, they find that they cannot. All roads somehow seem to lead directly back to #9, and Martin has now vanished.
They appear to be trapped, and while mysterious food deliveries allow them to survive, things just keep getting weirder. Tom climbs onto the roof to try to get an idea how large the development is; it seems to stretch on to infinity. He goes and ahead and simply burns the house down; it rebuilds itself while the couple sleeps.
Then, things get really bizarre: one of the deliveries contains not food, but an infant boy. "Raise the child and be released," an inscription on the box says — but this is no ordinary boy. He grows at an alarming rate, and seems preternaturally intelligent. As Tom becomes single-mindedly obsessed with digging a hole in the home's yard, Gemma attempts to get closer to the boy in a bid to get answers... which she receives. They're not the ones she was looking for.
What are people saying about Vivarium?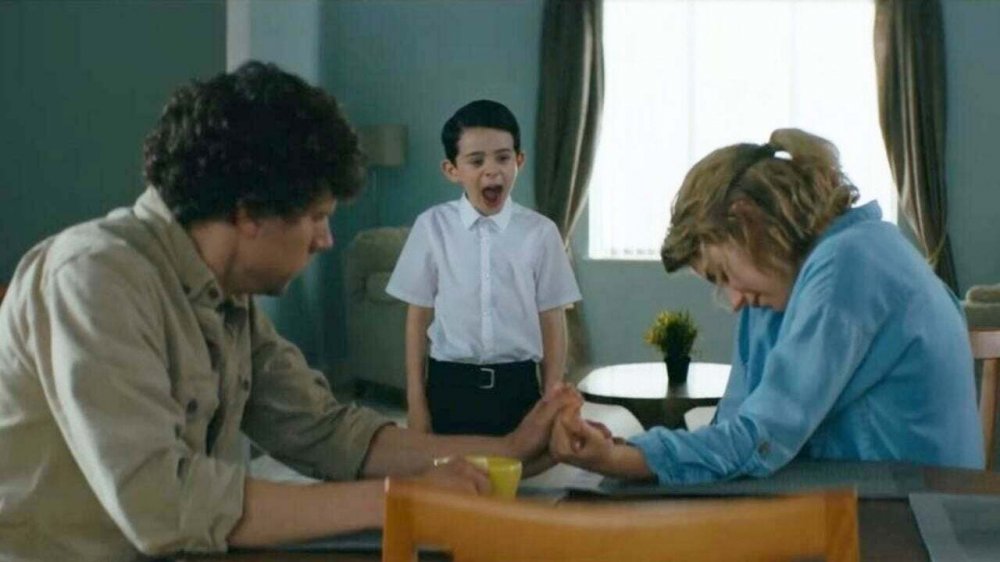 Vertigo Releasing
The Twitterverse immediately began freaking out over Vivarium, which draws heavily on deft performances from Eisenberg and Poots to maintain its paranoid, claustrophobic feel. The general consensus among Twitter users: the flick is creepy as all get-out, and Eisenberg delivers big time. Betraying a certain lack of fondness for the actor, user @Darbmilne wrote, "Vivarium was a wild ride man. It's greatest strength was it offered a performance from Eisenberg where I didn't want his character to die horribly five minutes in."
User @byAnthonyScott could barely contain his profane excitement over the flick. "Holy S**T! Vivarium is f***ing awesome," he wrote. "Don't sleep on this movie. It has some very cool s**t in it, and it's better once you figure out what's going on. Once it clicked, I was grinning ear to ear... it's a crazy ride."
@poetsonfilm similarly gushed over the flick. "Vivarium, probably this year's most bizarre and deranged film yet, is absolutely incredible," they wrote. "Both leads are amazing but Imogen Poots steals the f***ing show in this. It left me really unsettled and I don't think I'll forget this experience anytime soon. Everyone watch this!!!"
Finally, user @BQQuinn offered this, er, endorsement: "If you're looking for something to watch and want to get really unsettled by some weird, creepy s**t, then I heartily endorse Vivarium. The movie is insane. I haven't felt like this watching a flick in a very long time. I actually stopped watching at one point."
Horror fans, you have your assignment. Vivarium is available to rent on YouTube, Google Play, Vudu, and Amazon Prime.