The Reason John Bradley Hasn't Been The Same Since Game Of Thrones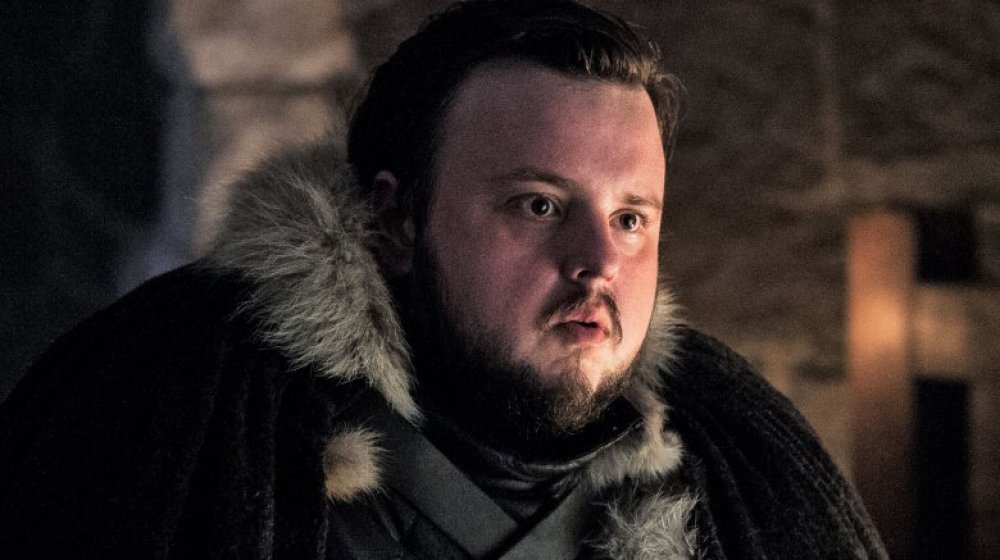 When it comes to huge HBO hits, one show likely comes to mind right away: Game of Thrones. The pop culture juggernaut — which brought dragons, magic, intrigue, and a healthy dose of violence to viewers' television screens over the course of a decade — was one of the premium network's biggest sensations in its entire history. Most actors would dream of this kind of exposure, and many of the show's younger actors — including Kit Harington (who played the brooding alleged bastard Jon Snow), Emilia Clarke (as the Mother of Dragons, Daenerys Targaryen), Sophie Turner (who played the eldest Stark daughter, Sansa), and more — had no experiences or credits to their name before they spent ten years in Westeros.
One of those young actors was John Bradley, who played the seemingly meek but surprisingly tough Samwell Tarly, a fellow member of the Night's Watch who befriends Jon Snow when the apparent Stark bastard joins the legion of men who protect Westeros from what lies beyond the wall. (Spoiler alert: the stuff that does lie beyond the wall isn't pretty.) Though Sam seems like one of the weakest Night's Watchmen, he turns out to be pretty formidable, holding his own against Jon and his brothers.
As far as Bradley is concerned, ever since playing Sam Tarly, he's definitely been changed — for better and for worse. Here's why John Bradley just hasn't been the same since his time on Game of Thrones.
Samwell Tarly's incredible journey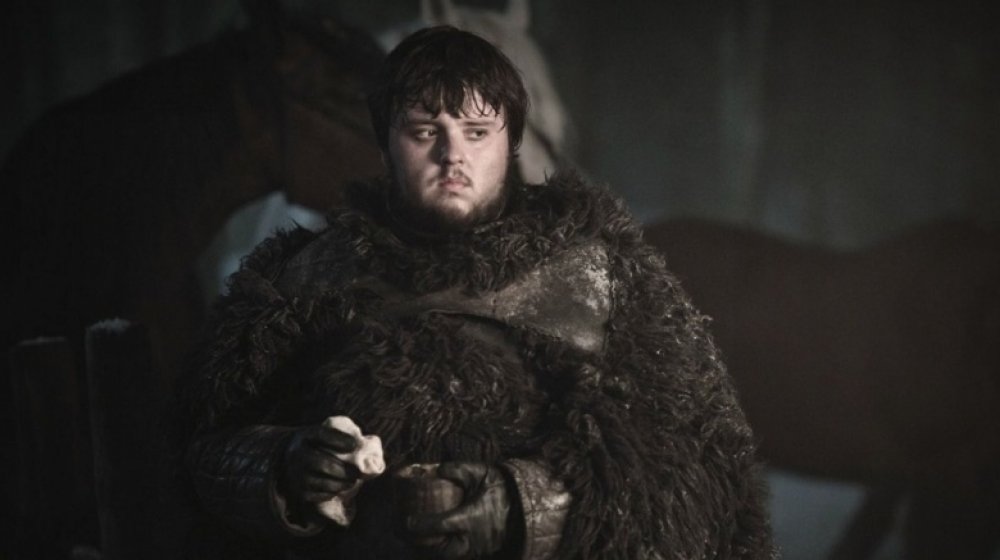 At the beginning of Game of Thrones, Sam Tarly didn't exactly seem like a hero. As one of the most frightened, confused, and seemingly lost members of the Night's Watch, it seemed like Sam might not even manage to survive training, let alone any potential battles against the terrors that lay beyond the Wall. However, he managed to hold his own time and time again, proving that he was actually one of the worthiest members of the entire Watch.
Within the first two seasons of the show, Sam evaded several White Walkers beyond the Wall and personally reported to the Night's Watch that their armies were surging towards Westeros. Shortly after that, on the third season of Game of Thrones, he used dragonglass to great effect to destroy a White Walker trying to steal a baby from the wildling Gilly (Hannah Murray). Though his father, Randyll Tarly (James Faulkner), sees him as a disgrace, Sam is a true hero — working to defend Westeros, help Jon, and protect Gilly for the rest of his life. Beyond his accomplishments in battle, he even works at the Citadel to help cure greyscale, saving Jorah Mormont's (Iain Glen) life.
Ultimately, despite intense hardship, Sam survives several trying battles, including the Battle of Winterfell against the White Walkers, and even becomes a learned Grand Maester, fulfilling his ultimate destiny of becoming one of the best scholars in Westeros.
Samwell Tarly gave John Bradley a stammer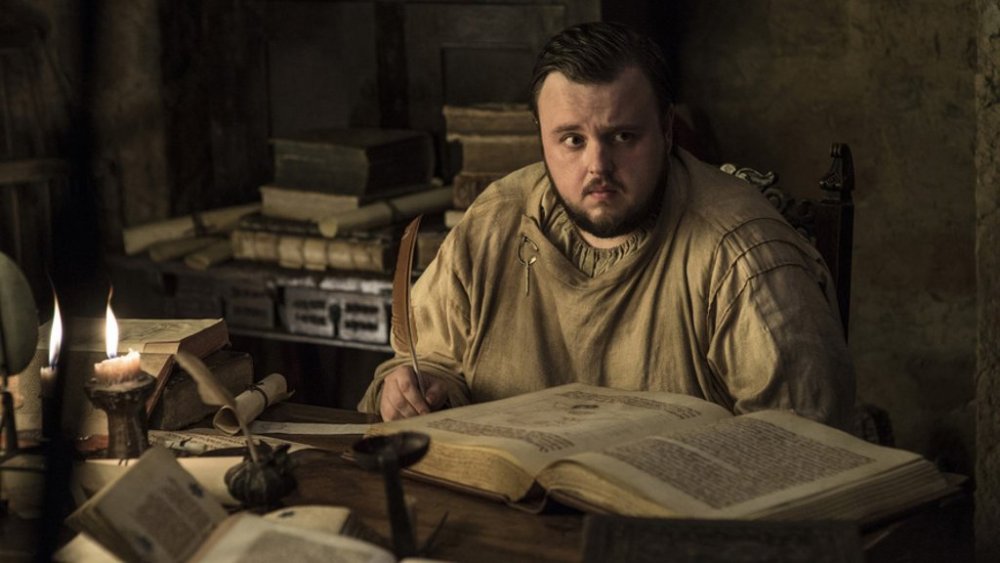 However, playing Sam wasn't exactly easy for Bradley, who admits that he struggled with the role. In fact, it even gave him a mild speech impediment.
In an interview with The Blank Podcast (as reported by Digital Spy), Bradley admitted, "Towards the end of Game of Thrones, it became the only way I could act, and I got into the unconscious mindset that people want me to do this. I got into this trap with Sam, I set myself traps, because he had a traumatic childhood and suffered a lot — and it manifested through a stammer and a twitch sometimes."
Unfortunately, this stammer caused some small issues on set. As Bradley told the podcast, "In one scene, I came in first with Kit Harrington and in the nicest way he said to me 'Can you come in a bit quicker so I can react a bit quicker?' and I was like, 'I can't, I just can't'. As lovely as the crew were, they assumed it was because I had forgotten my lines. It took me a while to get out of it and it went away over time." He continued, "I think people thought it was part of me but it wasn't, but it was performance anxiety." 
Bradley also confirmed that playing Sam was a pretty difficult task all around for a young actor. Though he was more than up to the challenge, there's no question that the role came with its own unique set of struggles, and apparently, one of those was a stammer.
The perks of playing Samwell Tarly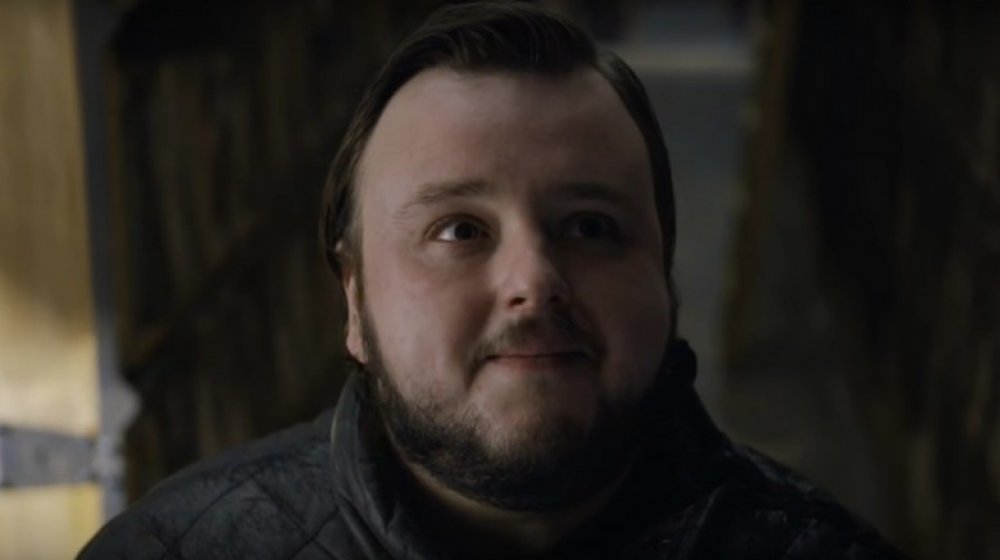 Playing Sam certainly wasn't all bad, though. As Bradley later told late night host Conan O'Brien, the show seriously helped transform his self esteem.
In an April 2019 sit-down with O'Brien, the host recalled a touching speech Bradley gave during the show's wrap party, calling it "one of the nicest speeches I've heard in a long time." Since the audience couldn't be there to see it, Bradley did his best to recreate the speech, explaining why Game of Thrones was actually excellent for his self-image.
After talking about his lifelong struggles with his weight, Bradley made a touching confession, saying, "While I was feeling bad about myself, David [Benioff] and Dan (D.B. Weiss], our producers, and everybody else connected to the show, they were looking for me. They were looking for exactly me. And it's not just a case of they're going to accept all of what I consider to be faults about myself, but they're going to see them as virtues, and they're going to be my key into this amazing experience and meeting all these amazing people."
Bradley continued, "If I'd have known that they were looking for me, and what kind of effect that was going to have on the rest of my life, then I'd have ... I just wouldn't have been able to believe it."
Game of Thrones might not have stuck the landing with its eighth and final season, but for many of its stars, it was still one of the best acting experiences they could have asked for — and that certainly includes Bradley. If you want to relive Thrones from the beginning to the bitter end, you can stream the entire series on HBO now.