Marvel-Themed Avengers Campus To Open At Disney
Marvel fans, rejoice: Disney and Marvel Studios are about to take their MCU game to the next level. 
At D23 Expo in 2019, the Mouse House revealed plans for a new immersive theme park experience featuring — you guessed it — the characters and settings of the Marvel Cinematic Universe. The MCU has become ubiquitous across all of Disney's media platforms, so it was only a matter of time before the company brought the popular franchise into the fourth dimension with a dedicated theme park campus. The new section of the Disneyland California Adventure Park in Anaheim has been dubbed the "Avengers Campus," and while we've known that it's been coming for some time, we didn't know when. That all changed with Disney's official announcement that the new campus will be opening on July 18.
The Avengers Campus is set to include an interactive Spider-Man experience entitled "Web Slingers: Spider-Man Adventure" and a Wakanda warrior training sim featuring the Dora Milaje from Black Panther. All of these new attractions will accompany the "Guardians of the Galaxy – Mission: BREAKOUT!" ride that replaced the long-running "Tower of Terror" back in 2017.
New attractions announced ahead of July opening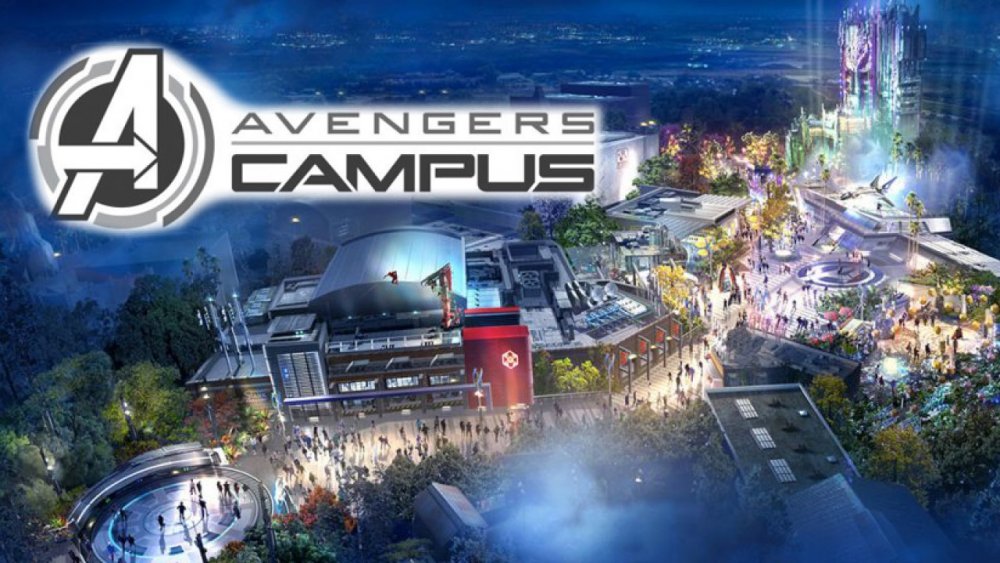 Disney Parks Blog
According to a Deadline report, Disney has finally opened its kimono regarding a few of the additional planned attractions to be featured on the Avengers Campus at its July opening. The latest announcement added a Doctor Strange experience, wherein participants can receive training in the mystic arts inside an ancient sanctum. In addition to the new interactive experience, fans can expect to encounter all their favorite characters from the MCU — Iron Man in his Mark 80 suit, Ant-Man, The Wasp, Black Widow, Thor, the Guardians of the Galaxy, Captain America, Captain Marvel, and Black Panther have all been confirmed.
Scot Drake, a creative executive at Walt Disney Imagineering, described the vision behind the Avengers Campus as such: "When we set out to create these extraordinary Super Hero experiences across the globe, we designed a new Spider-Man attraction for Disney California Adventure park in an immersive land with amazing character experiences. We also crafted an original story that ties all the experiences together in ways that are authentic to these characters. We worked side-by-side with teams that brought the Avengers films and comics to life to create a place that champions the next generation of heroes."
And what theme park experience would be complete without a little overpriced thematic food? Discerning fans can look forward to several culinary Easter eggs scattered throughout the campus — including a drinkable bottle of Pingo Doce from The Incredible Hulk and a kabob-ready Shawarma Palace straight out of the first Avengers.