Why Tom From Sonic The Hedgehog Looks So Familiar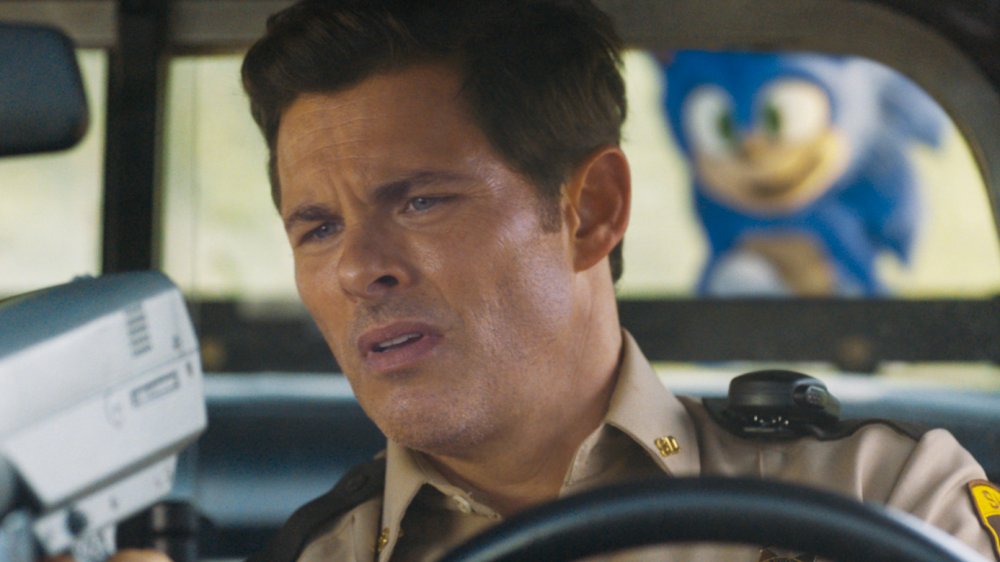 It can be tough for studios to score a successful film debut in the earlier months of the year, but that wasn't a problem for Paramount Pictures' February 2020 release Sonic the Hedgehog, which has already become one of the year's most profitable projects. The story of a supersonic hedgehog who can run at insanely fast speeds (voiced and played through motion capture by Ben Schwartz), Sonic the Hedgehog boasts an impressive comedic cast that includes Jim Carrey, Adam Pally, Tika Sumpter, Natasha Rothwell, and more.
However, the beating heart of the film (along with Sonic himself) is undoubtedly James Marsden, who plays Tom Wachowski, the sheriff of the small California town of Green Hills and Sonic's closest friend and ally. As Tom and Sonic work together to bring down the evil Robotnik (Carrey) and protect Sonic's power, the hedgehog tries to convince his human friend not to move away to San Francisco, strengthening the friendship between the two. 
As you watch the film, you might realize that Tom looks incredibly familiar. Here's where you've seen Tom from Sonic the Hedgehog before — from romantic comedies to comedy sequels to prestige HBO dramas.
James Marsden joined the X-Men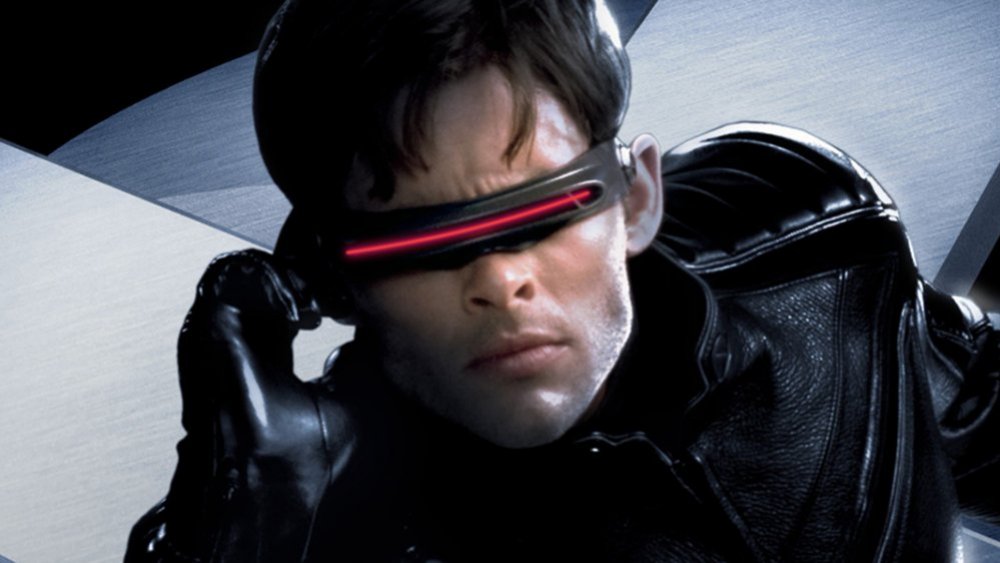 James Marsden got his start in Hollywood in the early 1990s, scoring guest appearances on shows like Party of Five and Saved by the Bell: The New Class, as well as a regular role on the fifth season of Ally McBeal. But Marsden's real big break came in 2000, when he was cast as Scott Summers, also known as Cyclops, in director Bryan Singer's X-Men. Unfortunately for Marsden, Cyclops, an important character in the comics, ended up with a diminished role in the films as the franchise continued. However, that did free Marsden up to work on other projects with Singer — including 2006's Superman Returns, in which he played Richard White, Lois Lane's (Kate Bosworth) fiancé.
After a reduced role in 2006's X-Men: The Last Stand (thanks in part to his Superman Returns gig), Marsden did make a return to the franchise for 2014's X-Men: Days of Future Past. He reappeared alongside other former cast members like Famke Janssen and Anna Paquin, who played Jean Grey and Rogue, respectively, in the first film.
James Marsden has gotten romantic
In addition to landing parts in huge superhero films, Marsden boosted his resumé by venturing into romantic comedies. In 2004, he had prominent supporting role in The Notebook alongside Rachel McAdams and Ryan Gosling. Fans will remember Marsden as Lon Hammond Jr., the man Allie (McAdams) is supposed to marry until she rekindles her romance with her childhood love Noah (Gosling). Despite his character ostensibly standing in the way of the film's central romance, Marsden infused real humanity into the ultimately kind and understanding Lon, endearing him to audiences worldwide.
After playing second fiddle in The Notebook, Marsden took his first role as a romantic lead in 2008's 27 Dresses, in which he played Kevin "Malcolm" Doyle, a reporter and wedding announcements writer pursuing Katherine Heigl's obstinate leading lady as she appears in everyone's wedding but her own. 27 Dresses was a huge box office success, proving that Marsden was a serious rom-com draw. Though he moved away from romantic comedies in the years that followed, he did appear in a second Nicholas Sparks project, The Best of Me, in 2014, stepping in to replace the late Paul Walker.
James Marsden proved he sing and dance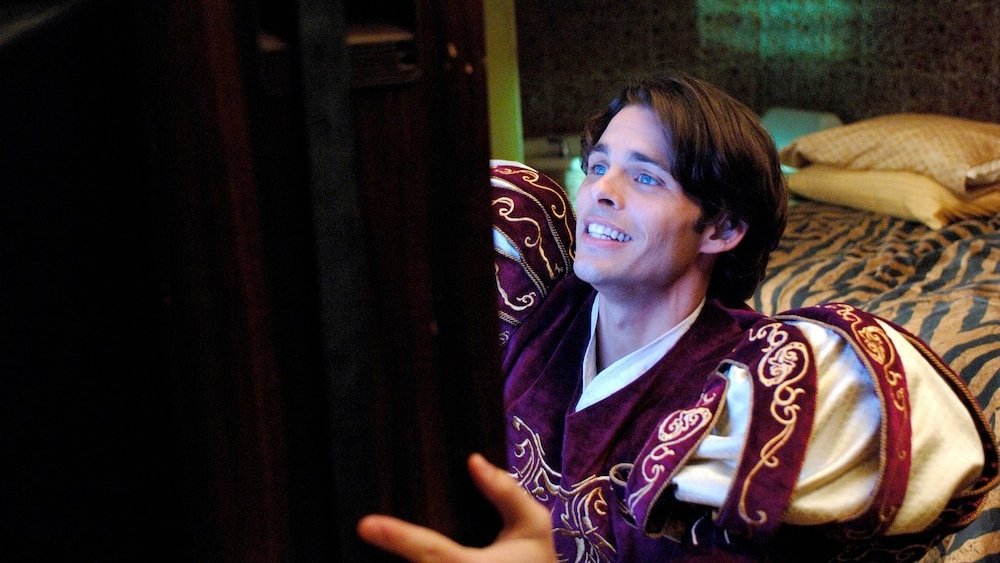 Lest you think Marsden isn't multi-talented enough, this handsome star can also sing and dance with the best of them. Marsden's musical movie debut came in 2007 with the modern film adaptation of Hairspray, based on the Broadway musical (which in turn is based on the original John Waters film) about a young girl in Baltimore desperate to become a star. In the flick, Marsden plays Corny Collins, the host of the eponymous Corny Collins Show, which anoints new stars in Baltimore in the midst of the civil rights era. Though Corny says he wants his show to be more inclusive, he doesn't initially practice what he preaches, but finally comes around and lets dancers of all sorts take their shot at stardom.
Marsden followed Hairspray with a much bigger musical role in Enchanted, the story of a Disney fairytale come to life in Manhattan. In the film, Marsden portrays Prince Edward, a pitch-perfect parody of a self-centered Disney prince pining for Amy Adams' missing Princess Giselle — who in turn has found herself in modern Manhattan adjusting to city life. Though Marsden only performs one song in Enchanted, he more than proved his musical theater skills with both it and Hairspray.
James Marsden has shown off his comedy chops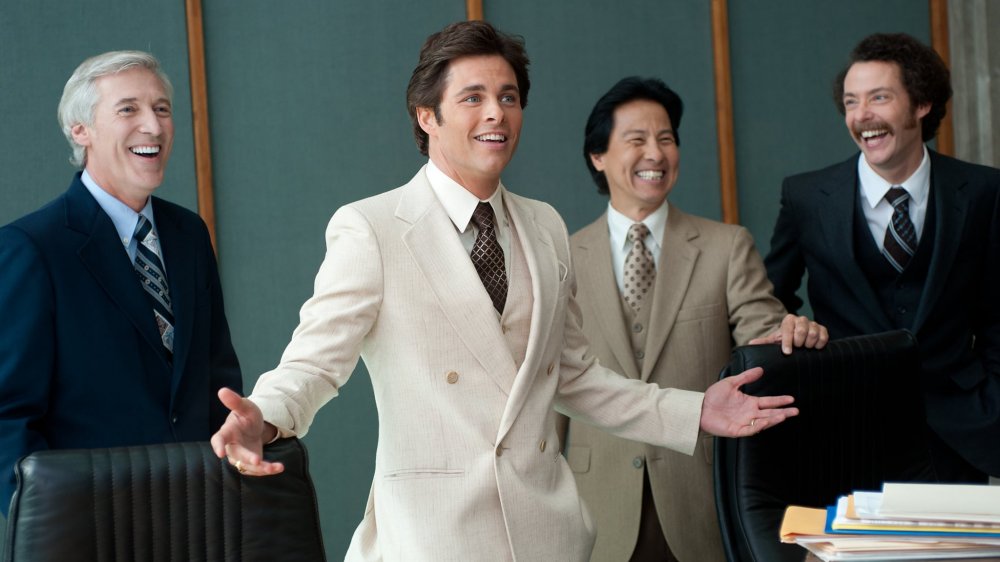 Marsden might be a handsome leading man, but he's also extraordinarily funny, which he's proven throughout several different comedic projects. From 2011 to 2013, Marsden appeared on Modern Family as the handsome drifter Barry and on 30 Rock as Liz Lemon's (Tina Fey) eventual soulmate Chris Cross. 
However, one of Marsden's funniest roles to date was as the nefarious Jack Lime in Anchorman 2: The Legend Continues. Playing a serious nemesis to Ron Burgundy (Will Ferrell), Marsden wielded his good looks and excellent timing to perfection, proving that he can play comedy just as well as Ferrell and the film's other stars. 
After that, Marsden appeared in everything from The D Train alongside Jack Black to Tour de Pharmacy with Andy Samberg. You can currently catch him on Netflix on the original black comedy series Dead to Me, starring Christina Applegate and Linda Cardellini.
When James Marsden headed west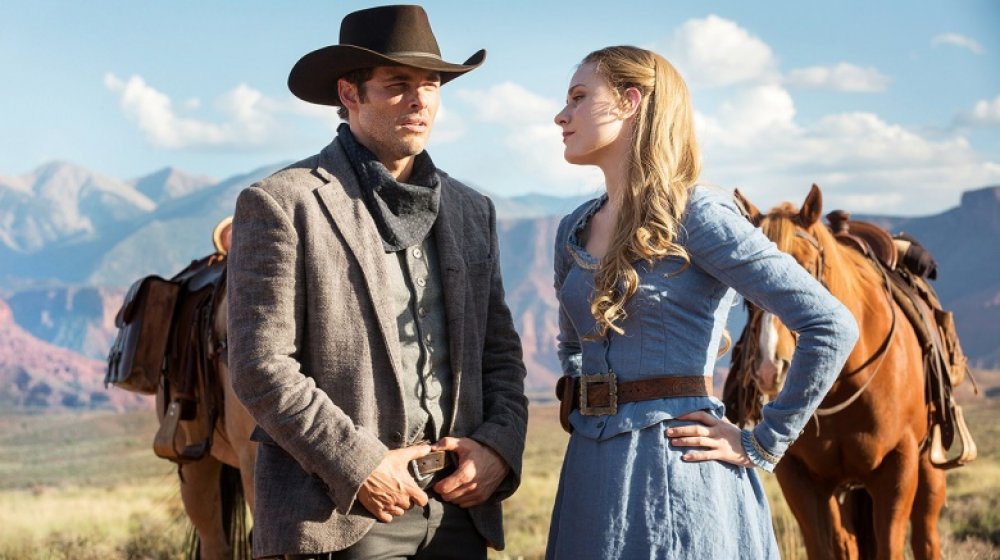 After superhero flicks, rom-coms, and standard comedies, it stands to reason that Marsden would take on some serious prestige dramas — and he did just that in 2016 when he appeared in a leading role on HBO's Westworld. In the role of Teddy Flood, a gunslinging "host" at the high-end Westworld theme park where the rich can play as cowboys in the Wild West, Marsden shines as the classic Western hero (albeit one who dies on command). However, as the hosts begin to gain sentience and understand that they're being used like toys by privileged humans, Teddy and his fellow hosts — including his long-lost love Dolores (Evan Rachel Wood) — rise up, becoming formidable foes against the completely unprepared humans.
Since its premiere, Westworld has received rave reviews and become one of HBO's most popular tentpole series — especially in the aftermath of epic, big-budget projects like Game of Thrones. Though Marsden's character seemed to meet a sticky end at the close of Westworld's second season, he has confirmed that he will appear on the upcoming third season of the series.
James Marsden's next big moves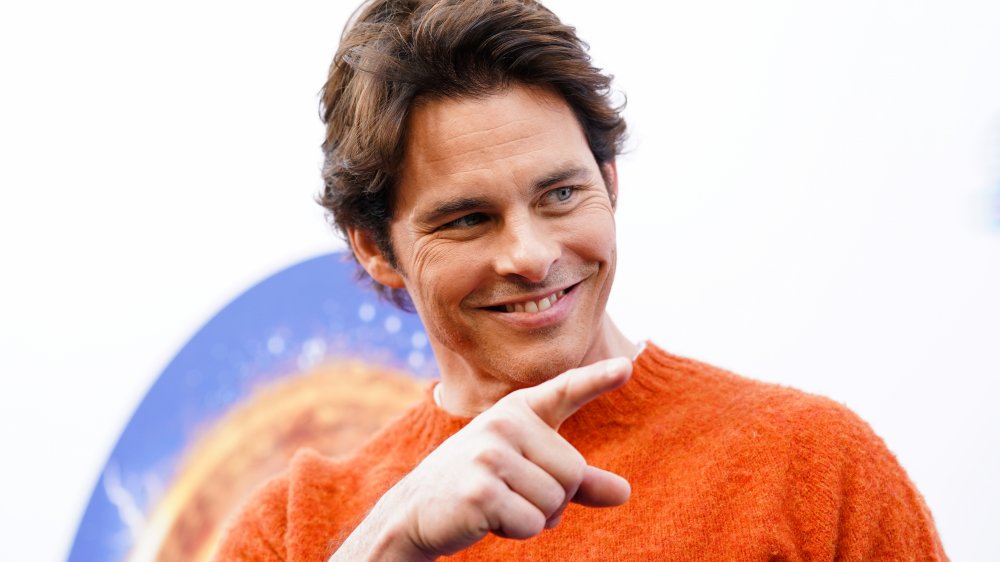 Rachel Luna/Getty Images
Looking ahead, Marsden isn't resting on any of his laurels. Between crowd-pleasing blockbusters like Sonic the Hedgehog and brain-twisting epic dramas like Westworld, he's still found time to film some other exciting projects.
In the first of two huge 2020 projects, Marsden will appear on CBS All Access' adaptation of Stephen King's The Stand. He's set to star as Stu Redman, a man who finds himself locked in a battle against an evil, demonic figure who goes by the name Randall Flagg (played by Alexander Skarsgard). For a high-profile Stephen King adaptation, the cast of The Stand is appropriately star-studded, and Marsden will act alongside Whoopi Goldberg, Greg Kinnear, and even Marilyn Manson. 
Marsden will also appear on Mrs. America, a Hulu original series chronicling the ratification of the Equal Rights Movement, which will star Cate Blanchett as Phyllis Schafly, Rose Byrne as Gloria Steinem, and Margo Martindale as Bella Abzug, among others. Marsden will play Phil Crane, a Republican politician prominent during the era.
If you need your Marsden fix ASAP, you can stream the first two seasons of Westworld and the first season of Dead to Me – or, of course, catch Sonic the Hedgehog for a second time.